Wall Street Analysts are Divided on Apple ahead of Earnings
Please note that we are not authorised to provide any investment advice. The content on this page is for information purposes only.
Later this month Apple (NYSE: AAPL) would release its quarterly earnings. The stock, which started 2022 on a bullish note and hit a market cap of $3 trillion, has since looked weak. It also lost the title of the world's most valuable company to Saudi oil giant Aramco.
Oil and gas stocks have been strong in 2022 and are in the green even as tech stocks are in a bear market. Briefly, it seemed that Apple's market cap would fall below $2 trillion but tech stocks subsequently rebounded. However, after their worst first half in over five decades, US stocks are looking shaky in the second half as well amid recession fears.
Apple posted record profits in the March quarter
In the previous quarter, Apple reported a net profit of $25 billion and a diluted EPS of $1.52 which was a record for the company in the March quarter. Its operating cash flows of $28.2 billion also surged to a record high.
Apple generates a lot of cash every quarter and uses most of it for stock repurchases. It ended the quarter with total cash and cash equivalents of $193 billion and net cash of $73 billion.
The company has scaled up its buyback program even as it continues to look for new acquisition opportunities.
Apple earnings
Analysts polled by Koyfin expect Apple to post revenues of $82.67 billion in the fiscal third quarter, 15% lower than the corresponding quarter last year. The iPhone makers' adjusted EPS is also expected to fall 24.3% to $1.13 over the period. Apple has lost billions of dollars in sales over the last couple of quarters due to supply chain issues. During the previous earnings call, the company had said that it would lose up to $8 billion in the current quarter due to supply chain issues.
There were lockdowns in parts of China in April and May which hit its economic activity. Nike also reported a sales slump in China in its most recent quarter and sounded cautious on its outlook in the country, which is its second-largest market.
Micron has lowered its estimates of PC and smartphone sales growth
Chip giant Micron, which also supplies to Apple, has said that it expects smartphone shipments to fall 5% in 2022. The company expects PC sales to fall 10% amid slowing demand. The commentary triggered alarm bells and chipmakers' stocks fell on the grim outlook provided by Micron.
Coming back to Apple, Wall Street analysts have been mixed on the earnings ahead of the earnings report. In its note, JPMorgan said that markets are getting too bearish on Apple stock and predicted that it would rise to $200 by the end of 2022.
JPMorgan is bullish on Apple stock
In his note, JPMorgan analyst Samik Chatterjee said, "Contrary to popular investor sentiment and expectations of downside to estimates on account of slowdown of consumer spending and FX headwinds, we believe near-term estimates are instead resilient relative to the conservative guide already issued by the company on the last earnings call."
Notably, Apple stopped providing hard guidance since the onset of the COVID-19 pandemic. However, in its previous earnings call, it did provide some color on the guidance. The company cited slowing consumer demand in China and currency headwinds as drags on its performance. It also expects a hit from the decision to pause sales in Russia. The company also said that while its Services business would grow in double digits, it would decelerate from the March quarter. It also projected gross margins between 42%-43% in the quarter.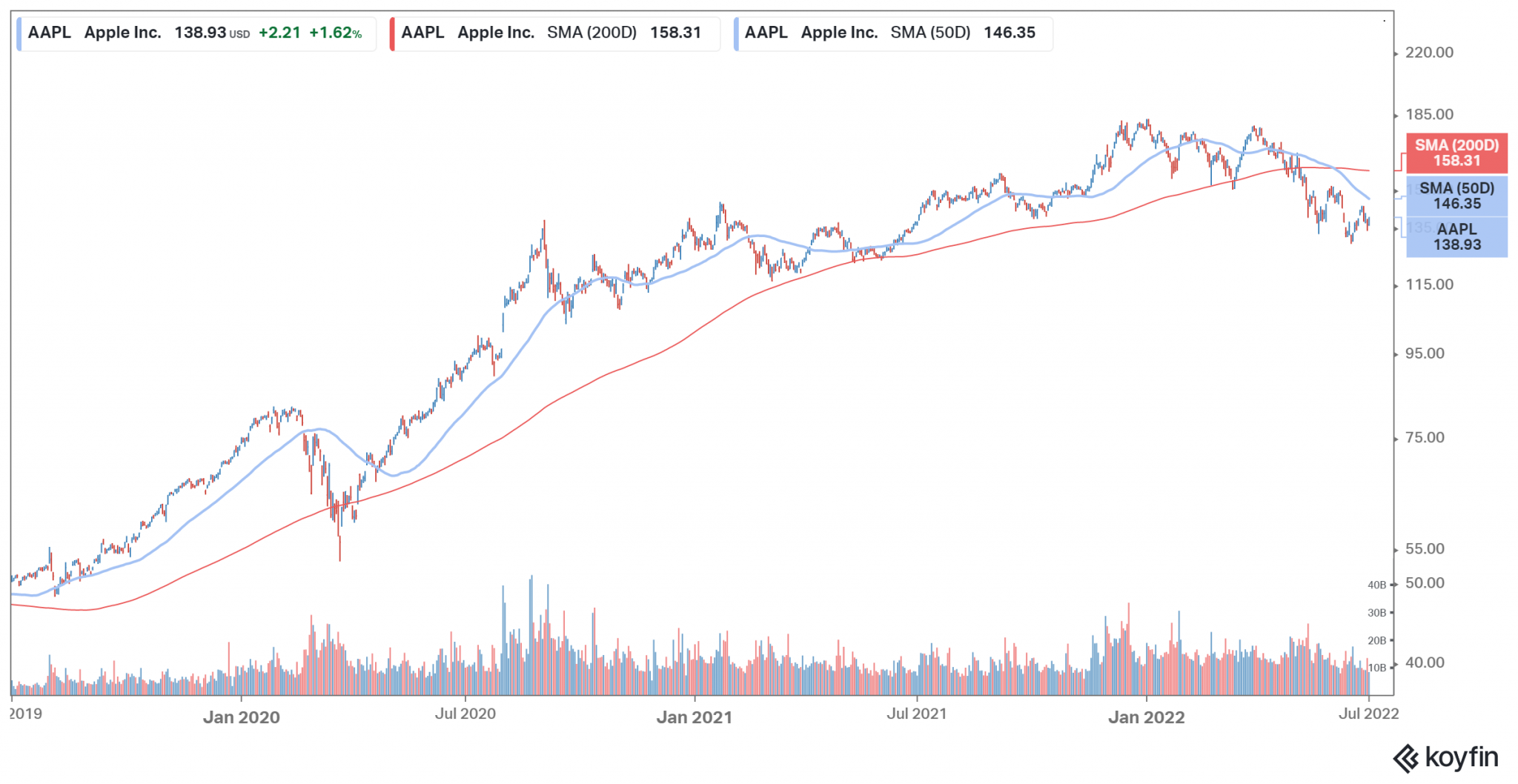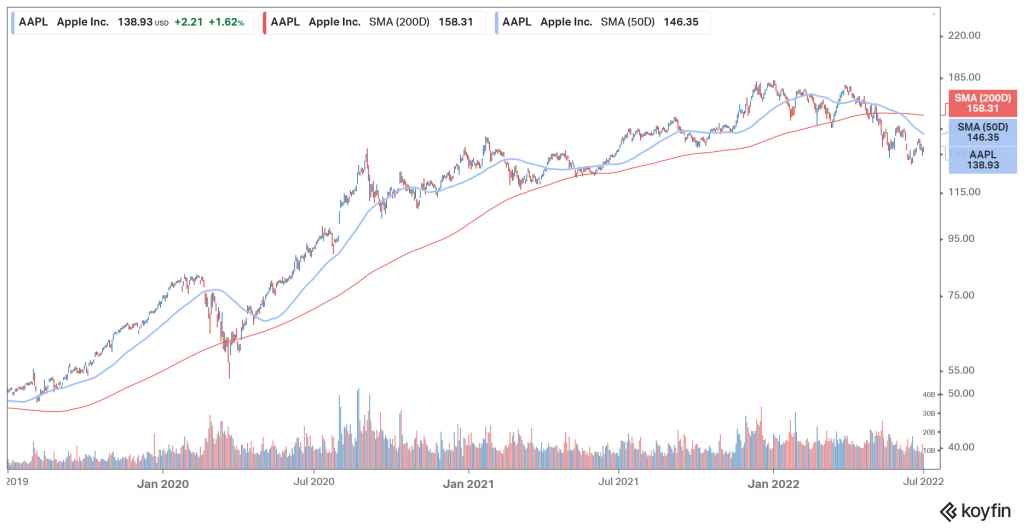 JPMorgan expects US stocks to bounce back
Here it is worth noting that previously JPMorgan had removed Apple stock from its focus list. However, now the brokerage is not only bullish on Apple but the broader market. At a time when many brokerages are predicting a recession and expect the S&P 500 to fall to 3,000, JPMorgan expects the index to climb to a new high this year.
Meanwhile, Apple's strong cash position makes some analysts bullish on the company at a time when investors have been gravitating away from speculative and leveraged names. Morgan Stanley believes that Apple is among the best positioned amid rising rates. The US Federal Reserve has raised rates by 150 basis points this year and called for another 175 basis point hike this year to tame the red hot inflation. The CPI hit a new pandemic high of 8.6% in May. Later this week, we will get the June inflation reading.
Dan Ives is also bullish on Apple
Dan Ives is also bullish on Apple and believes the markets are underappreciating the iPhone upgrade cycle. He said, "As of now we believe iPhone demand is holding up slightly better than expected (despite the various supply issues that have plagued Apple and the rest of the tech sector)." Ives added, "That said, the Street is well aware of weakness this quarter and we believe ultimately is looking past June numbers to the September and December quarters with all eyes on the iPhone 14 production/demand cycle for the Fall."
Meanwhile, not all are bullish on the stock and Bernstein believes that the risk-reward is not conducive at these price levels.
Warren Buffett
Berkshire Hathaway chairman Warren Buffett added more Apple shares in the first quarter after a gap of more than three years. Buffett instead sold some shares over the period, which he has admitted was a mistake. Apple is the largest holding for Berkshire now and the conglomerate collects billions of dollars in dividends from the iPhone maker.