UMA up by 9.49% – Time to Buy UMA?
Please note that we are not authorised to provide any investment advice. The content on this page is for information purposes only.
Investors to buy UMA as the asset maintains an upward trend
Covenant Protocol Launched
UMA Employs Optimistic Oracle To Plant 1,316 Trees
Universal Market Access (UMA) is a protocol on the Ethereum (ETH) blockchain that creates synthetic assets. Synthetic assets have the same value but represent various, underlying assets. With UMA, users can create financial contracts that they can run on the Ethereum blockchain. Investors who buy UMA can also vote on proposals and price requests.
UMA Launches Covenant Protocol
UMA has announced the introduction of Covenant protocol to solve trustless KPI-based payouts. The protocol enables governance decisions, liquidity mining, and KPI-based grants. This launch is a welcome initiative for investors who intend to buy UMA
The Covenant protocol's initial edition will include KPI-based incentives for voting and binary KPI-based alternatives for governance decisions.
Covenant uses vote incentives based on KPIs. As a result, lobbyists are protected from losing all of their money if they fail to achieve their desired result.
Covenant also allows voters to precisely price vote incentives in order to define a floor price. Lobbyists will also be able to tailor their compensation to their desired payout style: fixed or variable. The compensation must be consistent in order for both parties to have a positive experience.
According to UMA, Covenant's contracts are presently being audited. As a result, further information about Covenant's use and characteristics will be given in the next update.
UMA Employs Optimistic Oracle To Plant 1,316 Trees
Earlier in March, UMA created an outstanding strategy on Twitter. The strategy involved the increase of the payout value by $1 every time a user retweeted a particular tweet thread. This payout would then be transferred to One Tree Planted, a non-profit tree-planting charity.
Optimistic Oracle (OO) is recognised as a game-changer. The unique features of Optimistic Oracle include its flexibility and dispute resolution in the area of question or data with human input.
OO can also be plugged into any type of DeFi or Web3 protocol. The recourse and flexibility that comes with Optimistic Oracle provides a system to earn. This system retains a cross-chain bridge, a prediction market, and an insurance protocol.
UMA's Optimistic Oracle functions by employing a contract to request a piece of data. Anyone who proposes the data can earn a reward. This process helped to demonstrate flexibility during the tree-planting campaign. The oracle was to inquire, "How many retweets did the tweet at URL have at expiry?"
OO acts as security against manipulation of the external data feed. This is because users can dispute incorrect data. If Risk Labs attempts to lie about the number of retweets, anyone who chooses to dispute it could also earn money.
Technical Analysis
At press time, UMA's price is $3.29. The digital asset surged 9.49% in the last 24 hours. UMA's technical indicators reflect a bullish movement for investors who plan to buy UMA.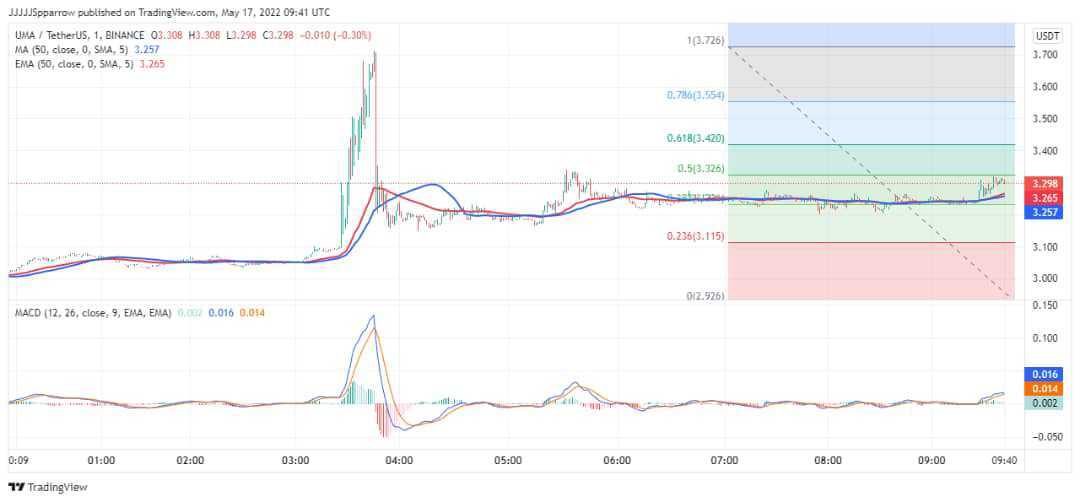 The crypto asset demonstrates a 50-day moving average (MA) value of $3.25 and a 50-day exponential moving average (EMA) of $3.26. UMA is presently trading above its long term indicators.
Currently, UMA trades within the 38.2% Fibonacci retracement threshold of $3.23. In addition, the moving average convergence and divergence (MACD) value is slightly positive, demonstrating a buy signal.
UMA's relative strength index of 64.62 indicates that the token is trading in the underbought zone. This implies that it's not too late for investors to buy UMA.
Buy UMA at eToro from just $50 Now!