The Sandbox up by 10.60% – Time to Buy SAND?
Please note that we are not authorised to provide any investment advice. The content on this page is for information purposes only.
Crypto market down by 1.36% but Sandbox surges by over 10% increase: Time to buy SAND?
Jazz-funk band partners with the Sandbox partners
The Sandbox Web3 and metaverse growth set to accelerate with a new partnership
SAND is a virtual currency that facilitates transactions in the Sandbox ecosystem and its metaverse. The Sandbox is a blockchain-powered virtual world where users can create, build, buy, and sell digital assets in the form of games. These use-cases provide reasons for investors to buy SAND and onboard into the metaverse.
Following chart patterns, SAND has established a support price and is on its way up, providing a great opportunity for investors to buy SAND. Fundamental factors are also at play to push the crypto asset to new highs. To determine if this is a great opportunity to buy SAND, we will consider the project's recent fundamental and technical performances.
The Sandbox Acquires Cualit to Accelerate Metaverse Growth
The Sandbox has announced the acquisition of Cualit, a Uruguayan full-stack development technology firm with gaming experience, to expand its Web3 and blockchain innovation and development functionality.
Essentially, Cualit will become The Sandbox Uruguay, broadening The Sandbox's global team and hastening the expansion of its ambitious metaverse ecosystem.
Cualit has developed unique digital experiences for leading brands, enabling technology innovation in Uruguay and reinforcing its position as a technology and software development innovation hub. The team's new identity as The Sandbox Uruguay will focus its efforts on accelerating The Sandbox's development around the globe.
The Sandbox Partners with Jamiroquai to Boost Musical Creativity
The Sandbox is collaborating with Jay Kay's seminal jazz-funk band Jamiroquai to bring the group's free-spirited essence to Web3. This strategic partnership was developed in collaboration with Universal Music Group's industry-leading brand management division, Bravado.
Jamiroquai is a legendary London funk and acid jazz band led by vocalist Jay Kay. The legendary band has sold over 27 million albums globally, thanks to the worldwide hit "Virtual Insanity" and several top albums and world tours. "Travelling Without Moving", the band's third album, set a Guinness World Record for the best-selling funk album of all time.
The metaverse is fueling creativity in the music and entertainment industries through new forms of expression and technology. This collaboration with Jamiroquai will contribute to the development of a new method of interaction between artists and their fans.
The new partnership will also allow Sandbox to assist artists in directly delivering content, commerce, and creativity to fans as fully immersive and innovative experiences.
The Sandbox Technical Analysis
Technical indicators indicate that SAND has reached a support price and is gearing to move to higher price pegs. This price movement provides a prime opportunity for investors who want to buy cryptocurrency to make significant profits.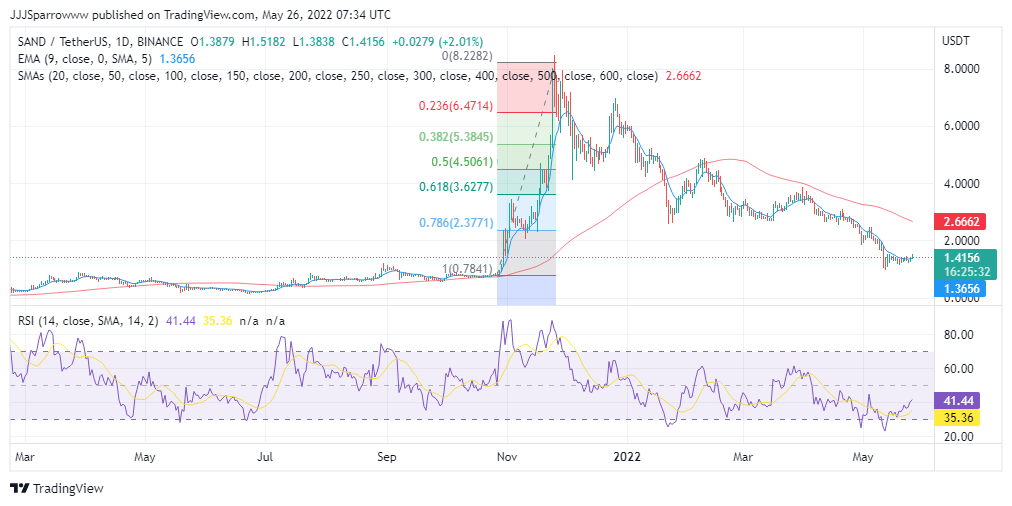 At press time, SAND trades at $1.45. This price is below the 61.8% Fibonacci retracement level value of $3.6 and the 50-hour Simple Moving Average (SMA) value of $2.6.
However, SAND's current price peg is above the 50-hour Exponential Moving Average (EMA) value of $1.3. This indicator reveals that the asset has already started its bullish march.
The Relative Strength Index (RSI) figure of 41.44 indicates that SAND is in the underbought region. This buying potential will surge its price and increase the digital asset's market value. Moreover, the moving average convergence and divergence points to a buy signal, indicating an ideal opportunity for those seeking to invest in cryptocurrency.
Buy SAND at eToro from just $50 Now!