Shopify Stock Up 11% in November – Time to Buy SHOP Stock?
The price of Shopify stock is up 11% so far in November nearly a month after the release of the firm's earnings report covering the third quarter of 2021 as positive sentiment toward this e-commerce issue remains relentless.
Shopify, Canada's largest company and a beloved growth stock, has managed to shrug off an advance in the yields of US Treasury Bonds while other similar issues have experienced steep declines during the same period.
However, the past week wasn't particularly positive for SHOP as the price declined from an all-time high of $1,763 per share to $1,628 for a – nearly an 8% drop in just three days.
Back on 28 October, Shopify missed analysts' estimates for its Q3 2021 revenues as it reported $1.12 billion versus $1.14 billion Wall Street had forecasted for the period. The company also missed earnings estimates as its adjusted EPS landed at $0.81 compared to the consensus forecast of $1.18 per share.
What can be expected from this Canadian tech stock as we move forward into the end of 2021? In this article, I'll attempt to outline some plausible scenarios for SHOP stock upon assessing its latest price action and fundamentals.
67% of all retail investor accounts lose money when trading CFDs with this provider.
Shopify Stock – Technical Analysis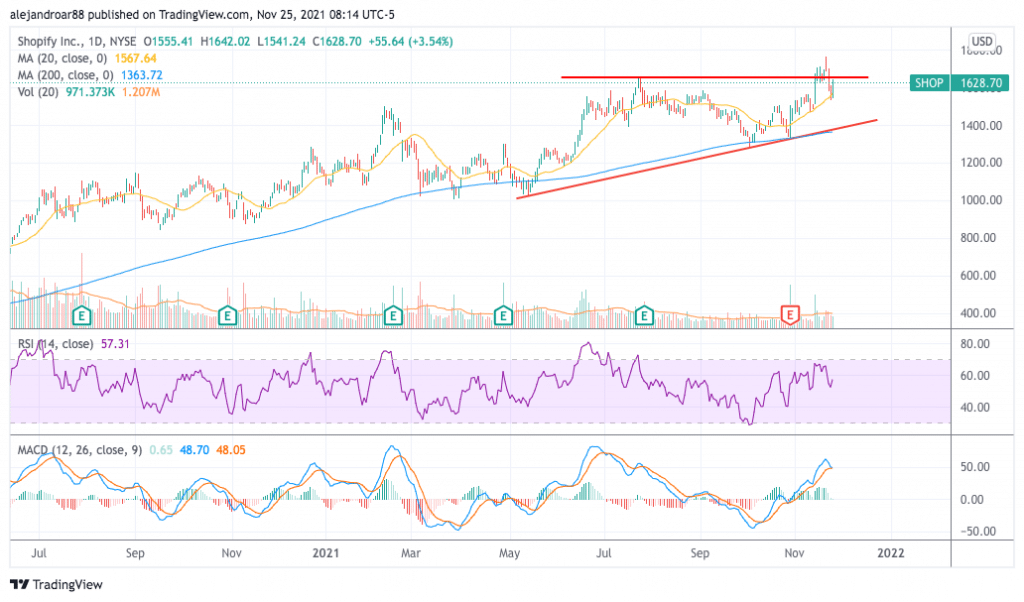 Shopify stock has been making a series of higher lows since May this year but the price has failed to advance and sustain a climb above the $1,650 level two times now. This rejection of a move above this area could prompt a short-term decline as the company's valuation keeps getting loftier.
The last 3-day decline in SHOP stock has found support at the 20-day simple moving average for now. The next few days will be crucial to determine the direction that the stock will take depending on how it behaves in relation to these markers.
At the moment, the most relevant mid-term support area for Shopify seems to be found at the $1,350 level as this is an area of confluence between the 200-day simple moving average and the trend line support highlighted in the chart. A break below this level may prompt a strong correction in the price of SHOP stock.
Momentum indicators seem to be favoring a bearish outlook as the MACD has dangerously approached the signal line although it has not yet crossed below it. Meanwhile, the Relative Strength Index (RSI) remains at 57 – still bullish.
All things considered, unless the price breaks below $1,350, Shopify's uptrend would remain intact and chances are that the stock will post fresh all-time highs if those support areas hold in the next few sessions.
Shopify Stock – Fundamental Analysis
Shopify displays all the characteristics of a hyped stock whose valuation is entirely disconnected from the company's financial performance. In the past twelve months, the firm has generated revenues of $4.2 billion compared to the $2.93 billion it brought back in 2020 as a result of the pandemic tailwind.
Lately, the firm has started to post positive operating income amid higher sales volumes. In the past twelve months, this positive figure jumped to $463.5 million while the company's GAAP EBITDA was $516.4 million by the end of that same period.
Moreover, Shopify is now cash flow positive with a total of $460 million in free cash flows produced in the past twelve months.
All those numbers indicate the positive evolution of the business's profit-generation capacity on the back of what seems to be a potentially long-lasting pandemic tailwind.
That said, do they justify its current $204 billion market capitalization? At that valuation, Shopify is trading at 33 times its forecasted revenues for 2022 ($6.12 billion). Meanwhile, if we use the firm's current GAAP EBITDA and FCF margins of around 12% and 10% respectively to estimate Shopify's bottom-line profitability for that same year, that would result in a forward EV/EBITDA and P/FCF multiples of 271x and 333x.
Even though Shopify is a great business with a lot of potential, the market is valuing the company as if it was bringing $100 billion in revenue instead of the meager $6 billion it is expected to generate next year.
Overall, Shopify seems to be significantly overvalued and most of its future growth seems to be well priced into the current valuation. With this in mind, the upside potential seems limited and, even though the hype could continue for longer, a rapid and sharp correction will probably take place at some point down the road as the valuation is heavily disconnected from the company's fundamentals.
Buy SHOP Stock at eToro with 0% Commission Now!