Shiba Inu Coin Price Up 5.7% – Time To Buy SHIB?
Please note that we are not authorised to provide any investment advice. The content on this page is for information purposes only.
Meme tokens are one of the hottest tokens in the crypto market and Dogecoin leads the pack. However, other meme tokens like Shiba Inu (SHIB) have also been trending. Is it time to buy SHIB?
Launched in August 2020, Shiba Inu surged over 21,000% during the April crypto boom. It self-styled itself the "Dogecoin killer."
Built on popular decentralized applications (dApps) platform Ethereum, Shiba Inu has also been subject to general market volatility despite its meteoric rise.
However, in the last 24 hours, Shib (short form) has rallied showing marks of recovery. This analysis explores the recent movement of the Shiba Inu coin. Has it made positive price appreciation? And is it the right time for investors to buy SHIB? Let's jump right into it.
Shiba Inu: Popular 'Dogecoin Killer'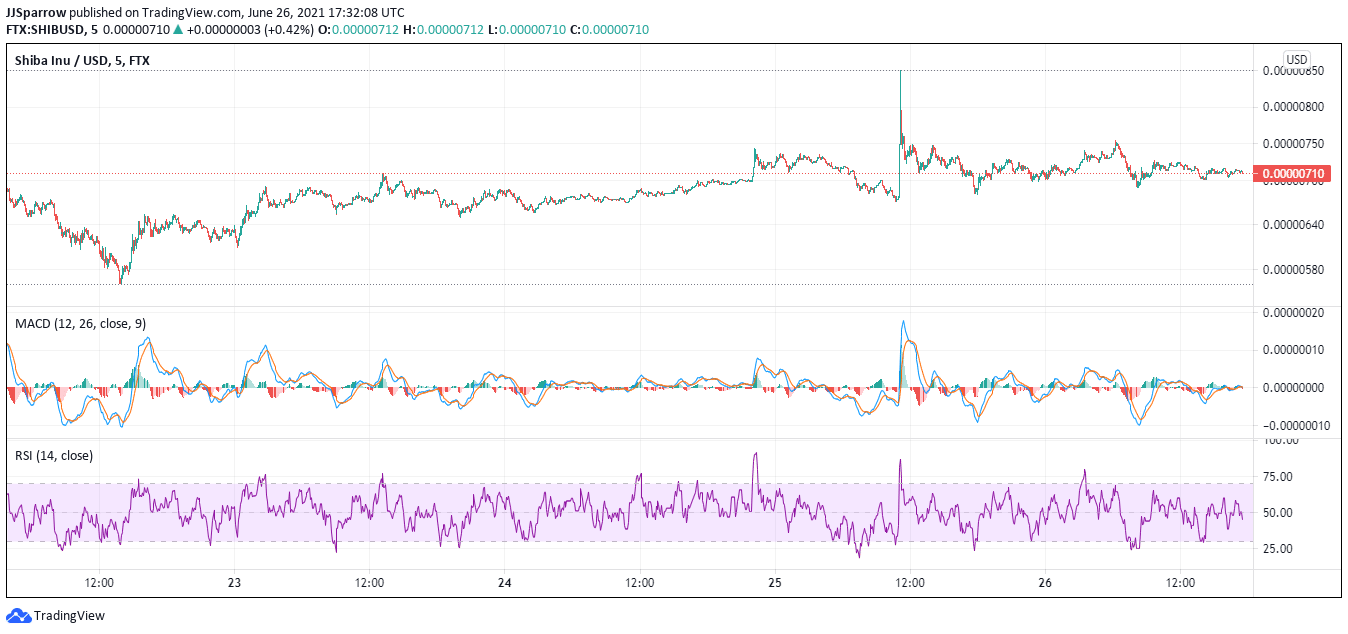 We cannot elaborate on Shiba Inu without briefly mentioning the first meme token Dogecoin. Starting out as a jab at the growing number of alternative currencies (altcoins for short) that heralded Bitcoin rise, Dogecoin was created by Billy Markus and Jackson Palmer.
It has since shed off its parody nickname seeing widespread adoption by businesses and supported by popular figures like Elon Musk and hip hop star Snoop Dogg. Dogecoin uses a proof-of-work (PoW) consensus algorithm and is a fork of the popular Bitcoin fork Litecoin.
Shiba Inu aims to take the shine off Dogecoin and become the meme token of the modern world. Named originally "Ryoshi," Shiba is a dog-themed cryptocurrency built on the Ethereum blockchain. It has support from the likes of Musk and Ethereum co-founder Vitalik Buterin.
It became an investors' favorite after it allotted 50% of the total mined tokens to Buterin. Even though the Russian-Canadian developer subsequently sold off his tokenized gift, Shiba had become a mainstream attraction by then.
The development team also locked the remaining 50% on the popular decentralized exchange (DEX) platform Uniswap in a bid to reduce the number of its digital token in circulation.
Shiba Inu uses its native utility token SHIB for transaction fees, and governance participation. It is also planning to launch a DEX platform called ShibaSwap to enable easy exchange of cryptocurrencies.
67% of all retail investor accounts lose money when trading CFDs with this provider.
What is SHIB Price?
If you are looking for a crypto project that has massive future returns, then you should buy SHIB. At press time, the meme token is trading at $0.00000718 increasing 5.797% on the 24 hour trading chart. Shiba Inu has posted better returns and is one crypto project you should watch out for as the market recovers.
Prior to the May crypto market crash orchestrated by Tesla boss Elon Musk and reports of Chinese authorities banning crypto mining, Shiba Inu traded at an all-time high (ATH) of $0.00003477 surging 21,000 percent.
However, it could not retain the positive price action and plummeted with the broader crypto market. Bitcoin has been a major contributor to the digital token's slump given that it is the most traded cryptocurrency in the world.
The crypto bellwether has seen negative price action in the last couple of weeks but seems to have found support on the $30K mark. Shiba Inu is heavily dependent on BTC rise and you will need to monitor Bitcoin performance if you intend to buy SHIB.
SHIB Technical And Fundamental Analysis
On the trading chart, SHIB has strong fundamentals. This is as crypto investors begin to consider meme tokens as a means of generating greater returns given that they need little leverage to rise.
The digital asset's relative strength index (RSI) is bullish trading above the oversold margin at 36.85 on the daily chart. Reinforcing this uptrend is the market cipher B strategy which shows a "Buy" opportunity with its greenish trend line.
However, the wolfpack ID strategy denotes a bearish trend with the red line trailing the market at 0.
Shiba Inu might not be the leading meme token but this is set to change. Just like Dogecoin, the Ethereum-based meme token is looking to stamp its name in the minds of NASCAR fans.
According to recent activities on microblogging platform Twitter, the Shiba community is looking to have the Shiba Inu logo on the NASCAR XFinity Series car sponsored by crypto trading platform Voyager.
If this succeeds, this would likely propel the Dogecoin competitor into a global stage.
Buy Crypto at eToro, the World's #1 trading platform!