Should You Buy Dogecoin? Dogecoin Price Up 5%
Another week in the crypto space is here, and assets appear to be shaking off last week's bearish momentum. One of the top assets to watch this week is Dogecoin.
With the Dogecoin price jumping 5 percent in the past day, the meme-themed cryptocurrency is one of the best performers heading into the week.
However, given the volatility involved, many are cautious about whether they should buy Dogecoin or not. In this analysis, we will look into some of Dogecoin's technical and fundamental metrics to see whether the asset is worth your investment.
DOGE Jumps 5 Percent Today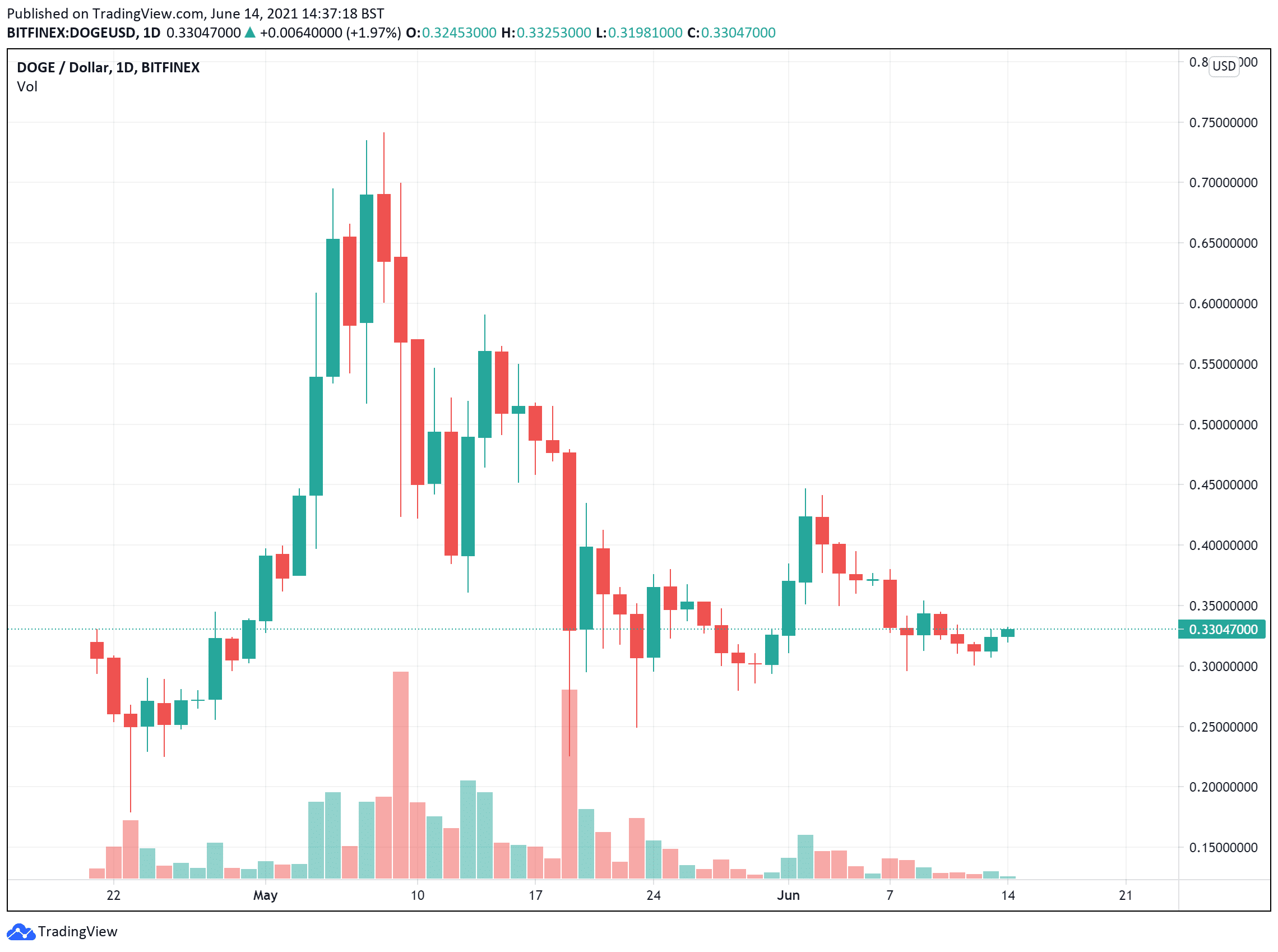 The past days have been an impressive one for many large-cap cryptos. The entire market has gained 13 percent of its capitalization back. Bitcoin is once again above the $40,000 mark – the first time hitting that milestone since it bottomed out from May's crash.
As for DOGE, climbing back atop the $0.33 mark is only the beginning. The meme-themed cryptocurrency will hope to hold this line and not fall back below $0.32.
As many know, DOGE was one of the worst-hit assets when the market crash happened- the Dogecoin price was already in freefall following Elon Musk's uninspiring Saturday Night Live (SNL) cameo. When the market crash happened, it slipped all the way and bottomed out at $0.226 – a 69 percent drop from its all-time high of $0.74.
Most of Dogecoin's value comes from chatter on social media platforms and general sentiment about its price. The current rise in cryptocurrency prices has led many to believe that this is time for consolidation, and large-cap assets are usually thrones to lead huge price gains such as these.
Musk stoked some drama last month after he asked whether Tesla should accept Dogecoin. Such a move will lead to a significant price jump and cause many to buy Dogecoin. However, it seemed to all be Musk trying to cause controversy- the billionaire has said his company will most likely accept Bitcoin for payments again.
In terms of technical metrics, DOGE also seems strong. The asset has a relative strength index (RSI) of 45.4, showing that it is nowhere near being overbought.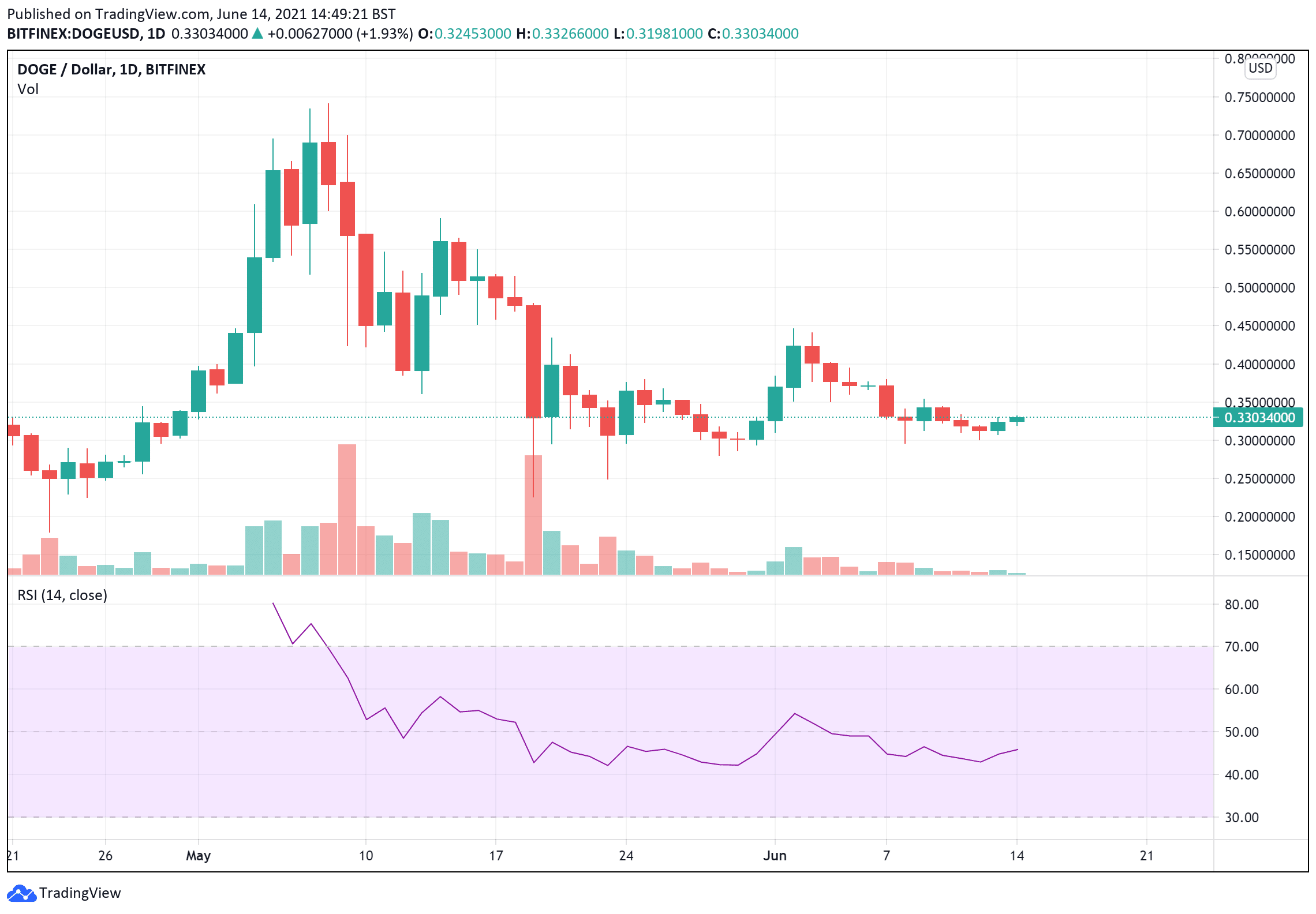 The Dogecoin price is also gearing up to hit its 20-day exponential moving average (EMA) of $0.347. Crossing that should set DOGE up for an uptrend that will sustain up at $0.40.
Dogecoin Fundamentals
As for fundamentals, there's little action going on. The asset has been pretty quiet of late, with many of its supporters looking for the next good news to spur them to buy more Dogecoin.
The last major pump came after top exchange Coinbase announced that it would open the door for DOGE deposits on June 1. In a matter of days, the DOGE/USD trading pair became the fourth-largest on Coinbase Pro – behind only Bitcoin, Ether, and MATIC.
All the Coinbase announcement did was fuel DOGE's rise a bit. The Dogecoin price jumped to $0.44 on the news, but the bulls were unable to maintain that uptrend. It eventually fell, leading to the current consolidation above $0.30.
So Should You Buy Dogecoin?
Dogecoin's technical analysis shows that the asset has a lot of upsides. With the market currently on a recovery trend, it will undoubtedly be one of the assets to see the biggest wins. So, there are a lot of reasons to buy Dogecoin.
However, you also want to keep an eye out for the asset's volatility. The Dogecoin price might have gained over 6,000 percent since the year began, but everyone knows that it is susceptible to big falls as well.
Looking to buy Dogecoin (DOGE) now? Invest at eToro!
75% of all retail investor accounts lose money when trading CFDs with this provider.