Serum Price up by 0.49% – Time to Buy SRM?
Please note that we are not authorised to provide any investment advice. The content on this page is for information purposes only.
Amid Market Downturn, Serum Trades up – Time to Buy SRM?
Serum: Pioneer DEX on Solana
eToro Listing Boosts Serum
Mixed performances have been the order of the week for the crypto space. However, Serum's SRM token has posted modest gains in the past 24 hours. With investors looking to hedge their bets, many of them might be looking to buy SRM now.
Given the industry's current status, thorough research is essential before making any purchasing decisions. Hence, we'll examine Serum's ecosystem and the variables that contributed to its current surge in the sections below.
Serum: Pioneer DEX on Solana
SRM is the native token for Serum – a decentralised exchange (DEX) platform built on the Solana blockchain. The exchange offers speedy and seamless asset exchanges to traders looking to make a profit.
Central to Serum's operation is a decentralised order book that offers flexibility with asset pricing and order sizes. Traders on Serum have complete control over their activities.
Another major advantage of Serum is cross-chain support. With Serum, traders can exchange tokens on other blockchains, giving Serum a boost over other DEXs that focus on just the blockchains they're built on.
SRM, the exchange's utility token, allows its holders to obtain up to a 50% discount on trading fees. Investors can also buy SRM and stake it to enjoy voting power and participate in the governance of Serum.
eToro Listing Boosts Serum
Serum gained traction once SRM was listed on eToro, one of the world's most popular trading platforms.
eToro has expanded its support for crypto, with regular new coin offerings. Earlier this week, eToro added SRM to its platform, allowing investors looking to invest in cryptocurrency to buy SRM and trade it for profit.
Although SRM staking isn't available on eToro yet, its exposure to a broader pool of investors should boost SRM's exposure and provide more liquidity for the asset. Over time, we believe that this should bolster the token's appeal and encourage more investors to buy SRM.
SRM Technical Analysis
At press time, SRM trades at $0.90. This is a jump of 0.49% in the past 24 hours, although SRM is down by 26.8% in the past month.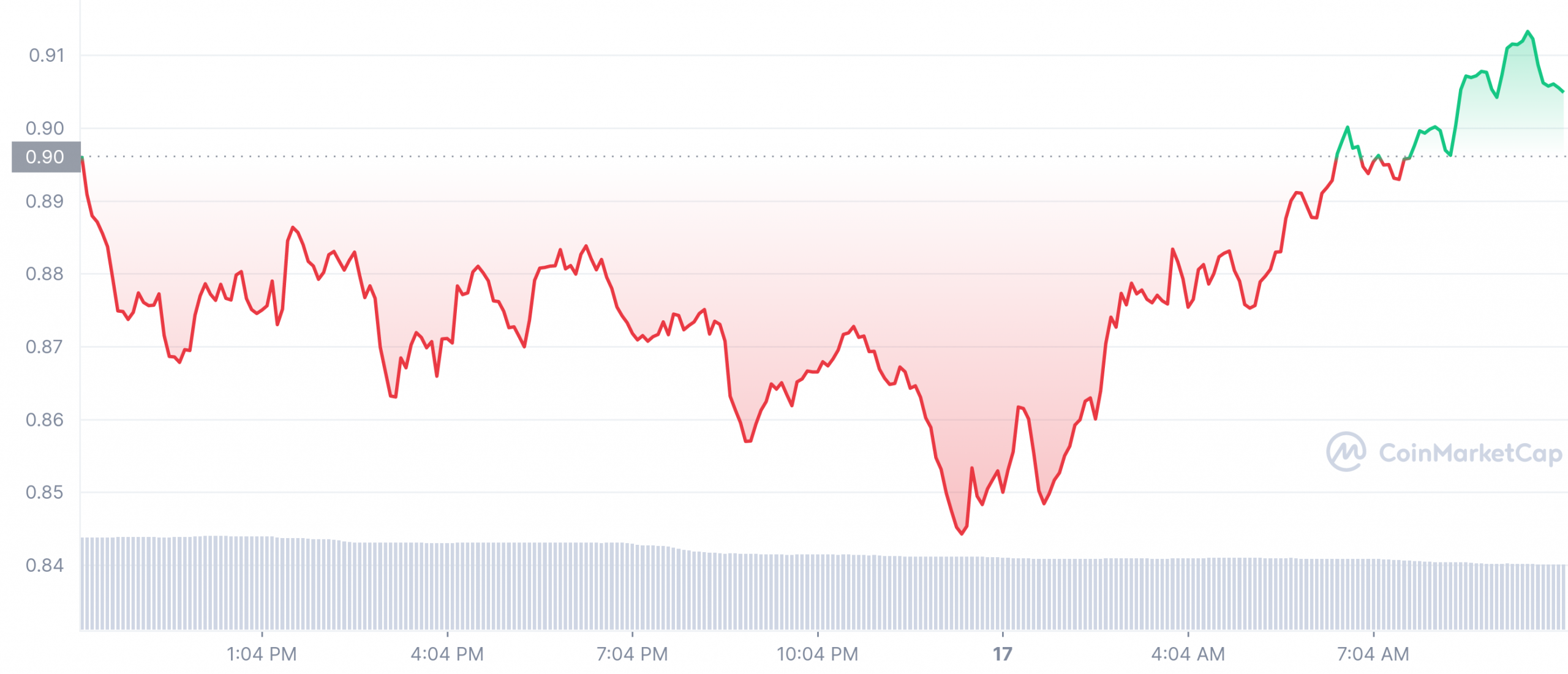 Despite the recent gains, SRM still tails all of its major moving average (MA) indicators, ranging from the 10-day MA of $0.942 to the 200-day MA of $2.42.
With a negative moving average convergence divergence (MACD), SRM shows a sell signal. However, the asset's relative strength index (RSI) of 39.55 demonstrates that it is trading in the lower regions of the underbought level. This should encourage investors looking to buy cryptocurrency to buy SRM as the digital asset seems to hold a lot of potential for gains in the future.
Buy SRM at eToro from just $50 Now!