Quant Price Up By 13% – Time To Buy QNT Coin?
Quant network (QNT) is a unique blockchain, but very few understand how it operates or why they should buy QNT. This guide takes a dive into the network, its native token, and its recent price action.
Headed by blockchain expert Gilbert Verdian, the Quant Network seeks to enable interoperability across the blockchain industry.
The blockchain platform does not want to become the next Polkadot or Ethereum. Instead, it is going through an unconventional path like Polygon which will see it operate on top of other blockchains. As the crypto market has recently caught some tailwind, QNT has rallied in the last 24 hours.
Quant Network: OS For Blockchains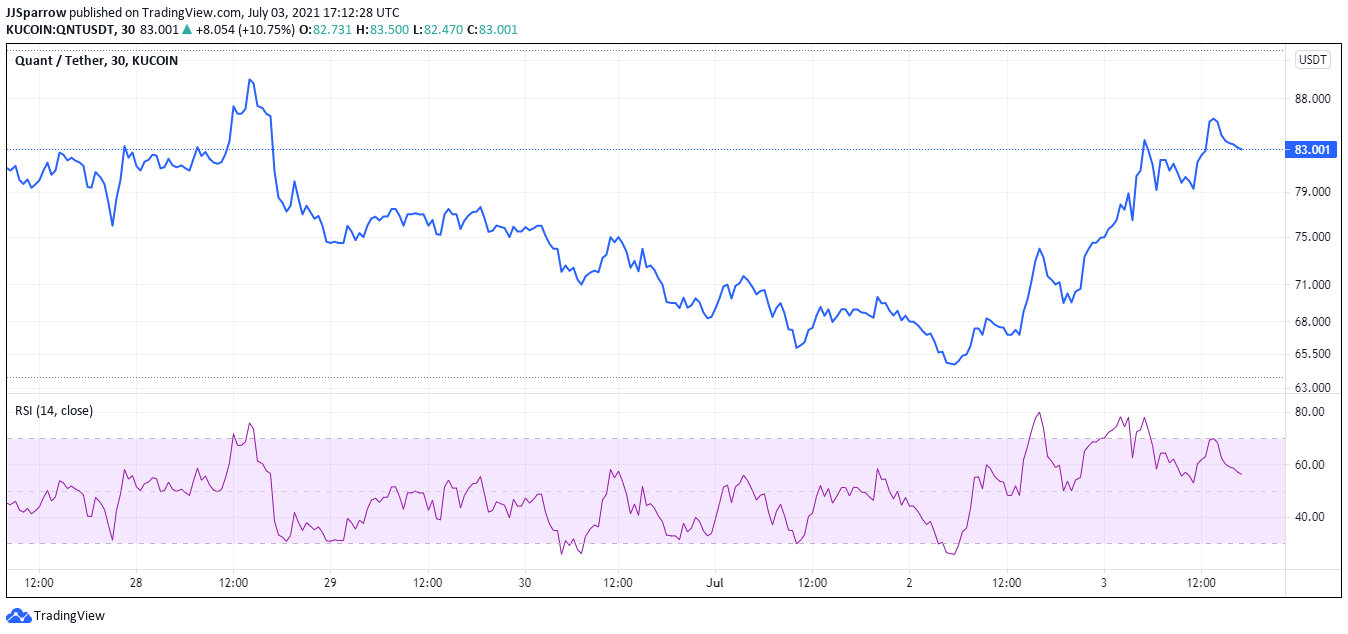 Quant network is not trying to tackle the blockchain trilemma. Instead, it is focusing on the interoperability challenge that has seen most blockchain platforms operate as silos.
Using its Overledger OS blockchain operating system, Quant aims to enable universal interoperability between blockchains. However, Quant is not open-sourced as any intending user needs a license to access the platform.
It has also been called the first OS built for blockchain technology. Overledger enables developers to build decentralized multi-chain applications (MApps). Meanwhile, Quant network is focused on enterprise blockchain services. However, it is working on integrating multiple cryptocurrency blockchains into its Overledger Network.
The blockchain platform currently supports Bitcoin, Ethereum, XRP, Binance Chain, EOS, Stellar, IOTA, and Constellation. It also supports JP Morgan's Quorum blockchain, R3 Corda blockchain, and the Hyperledger Fabric blockchain.
67% of all retail investor accounts lose money when trading CFDs with this provider.
QNT: Beginning July With A Bang
In the global crypto ranking chart, QNT is outside the top 50 holding the rear at 69th position. It has over $1 billion and has a market dominance of 0.07%.
At press time, QNT is trading at $83.65, up 13.75% on the daily trading chart. This significant rally has served as a signal for investors to buy QNT given that the broader crypto market is catching a tailwind after a trying June.
However, QNT has not always posted massive returns for investors. Just like other altcoins, QNT has been volatile. However, the impact on QNT has been somewhat minimal. Its all-year high came up to $94.83 on June 25 before market correction saw it slump to $68.15 at the beginning of July. But QNT is set for the big show and has not dwelled in the low estate for long.
It has rebounded and surged to $75.269 gaining $7 in just 24 hours on July 2 showing a 1.5% increase. A continued rally of QNT should be of interest to any crypto investor. Given that the crypto platform is set for prime-time, this might be a great time to buy QNT.
QNT Technical And Fundamental Analysis
This recent rally has seen QNT gain momentum rapidly. The digital asset is trading well above the 20-day moving average (MA) support at $72.98 and does not look like it will be coming down anytime soon.
Turning to its relative strength index (RSI), this bullish run is confirmed once again with the oscillator showing a 60.87 line. Its RSI has been quite high recently and traded in the overbought region at 75.56 in mid-June.
This shows that more investors want to buy QNT and a 60.87 RSI confirms this fact. Analysts have also pointed to the long-term growth of QNT. Digitalcoin predicts a price of $127.35 by the end of the year. Further prediction by the market analyst puts QNT at $383 by 2028.
Wallet investor is even more bullish and puts its six-month forecast at $154.35 while a five-year forecast is put at a whopping $441.36. QNT is also getting more attention by the day. In a recent listing round, the top US crypto exchange Coinbase added support for the QNT token on Coinbase Pro. This was on the back of comments by CEO Brian Armstrong who tweeted that the Bitcoin exchange is taking a more aggressive approach in its support for emerging digital assets.
Buy Crypto at eToro, the World's #1 trading platform!