Polkadot Price Up 15% – Time to Buy Polkadot Coin?
Please note that we are not authorised to provide any investment advice. The content on this page is for information purposes only.
This week started with a great deal of promise across the board, with cryptocurrencies doing quite well. The Polkadot price has been one of the best performers, following in the footsteps of other large-cap assets and posting promising gains.
Still, some investors might be skeptical about whether to buy Polkadot or not. Bull runs can be snipped at any point, and no one wants to be left holding the bag. The analysis below examines some of the nuances surrounding the Polkadot price and how best to approach the asset if you're looking to make a purchase.
Polkadot Crypto Recent Price Movement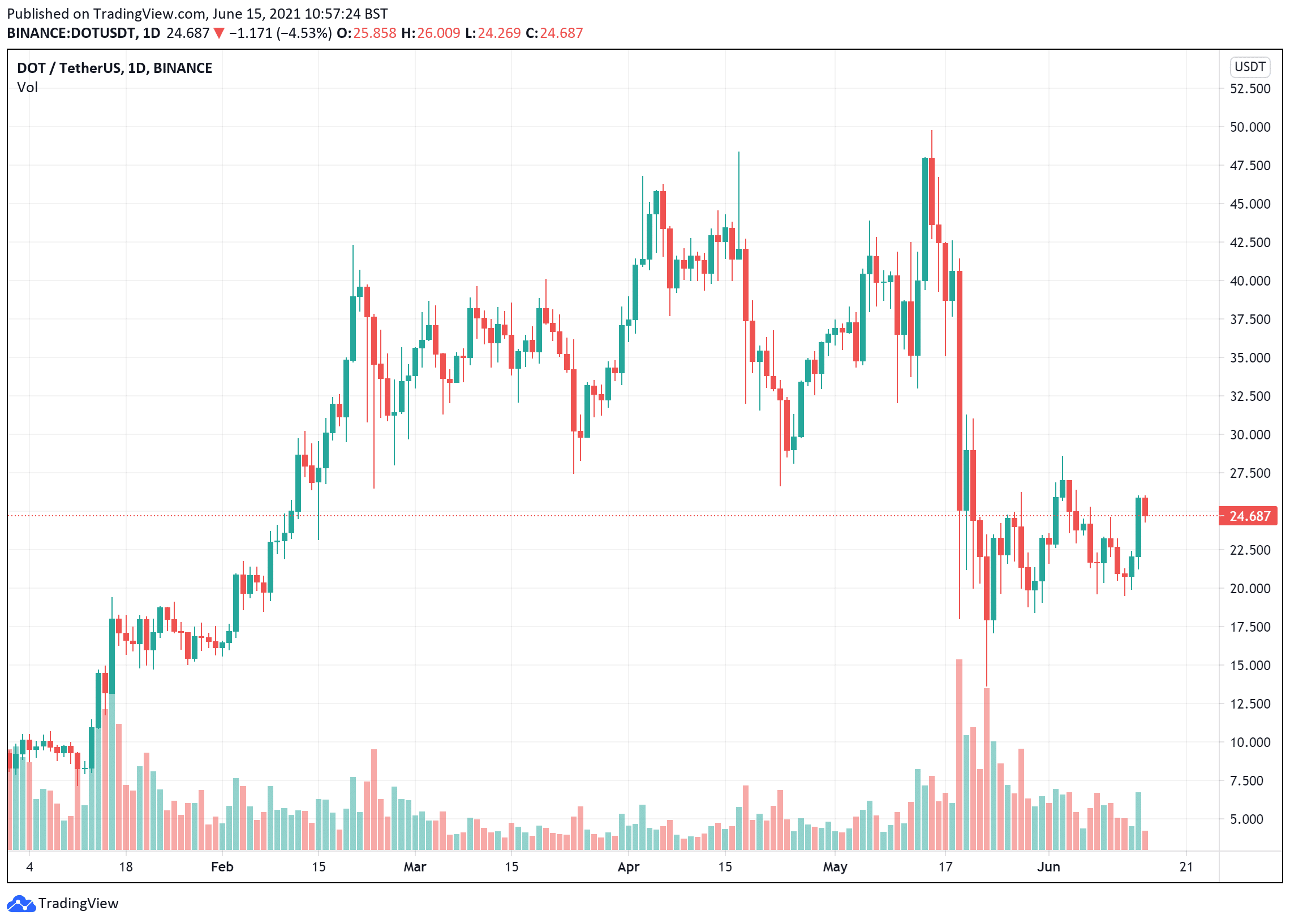 Like many assets, Polkadot has been working to climb back after suffering from May's rout. The market downtown tanked the Polkadot price by 72 percent, moving from $49.91 on May 16 to $13.66 on May 23.
The past month has been a struggle for recovery. However, bullish sentiments haven't been enough to sustain the Polkadot price. It has been unable to break through $30 since, although its current price peg of $24,7 represents an 80 percent jump from its May bottom.
Looking to buy Polkadot (DOT) now? Invest at eToro!
75% of all retail investor accounts lose money when trading CFDs with this provider.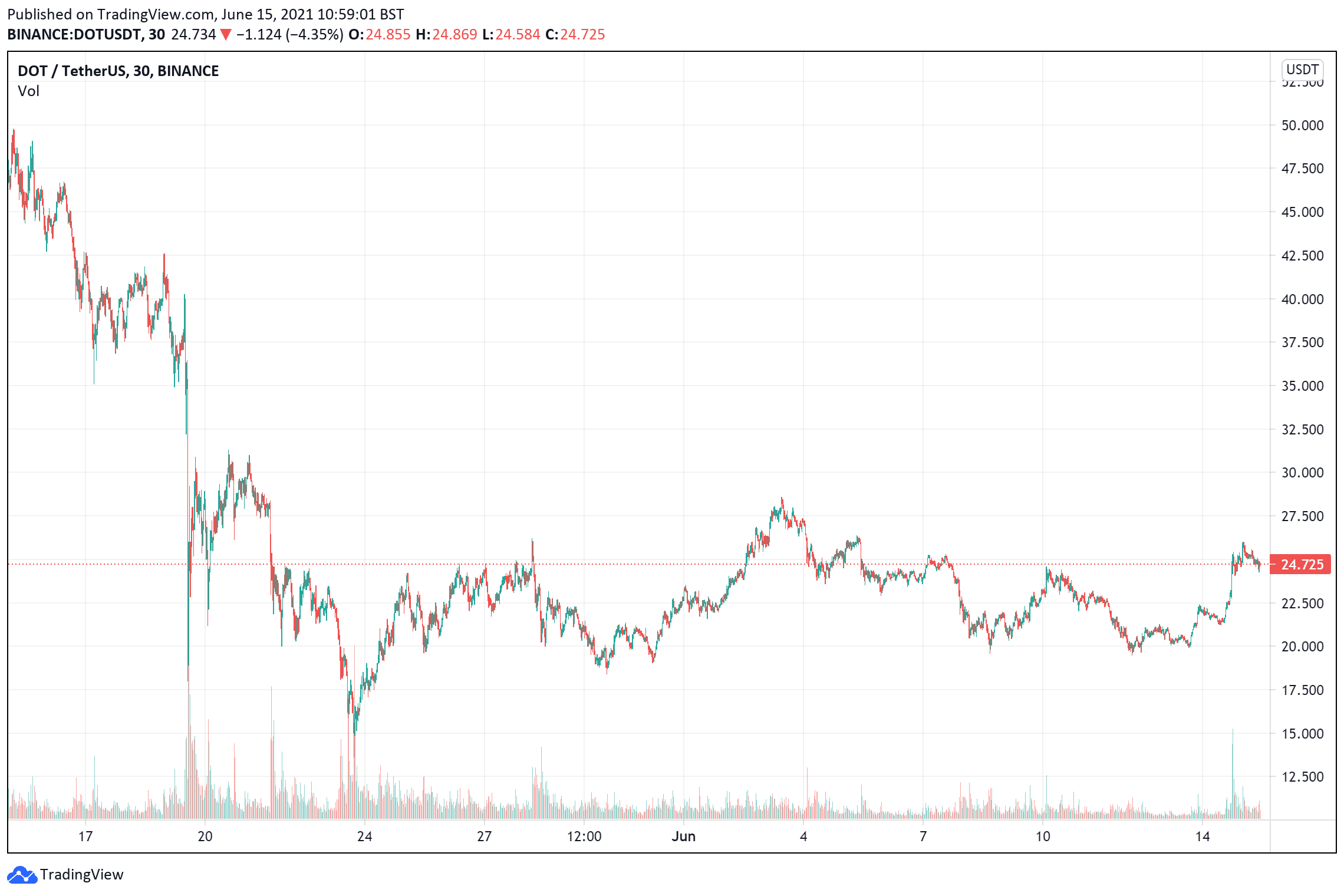 Of course, the rise above $20 only came as a result of the gradually returning bullish sentiment. Many large-cap assets have been on the move, and some investors have been moving to buy Polkadot as well. The asset's price is a 15.7 percent jump over the past 24 hours, making Polkadot the best-performing cryptocurrency on CoinMarketCap's top 10 list.
Polkadot Crypto Technicals
Bears had tried to sink the Polkadot price as recently as Friday. While they succeeded, it was only for a brief period. Its relative strength index (RSI) has been at healthy levels since then, and Polkadot appeared to have been one of the assets that investors flocked to when the bullish sentiment came.
Although the Polkadot RSI crossed the 80 mark briefly on June 13 and 14, it is back down to healthy levels of 52.6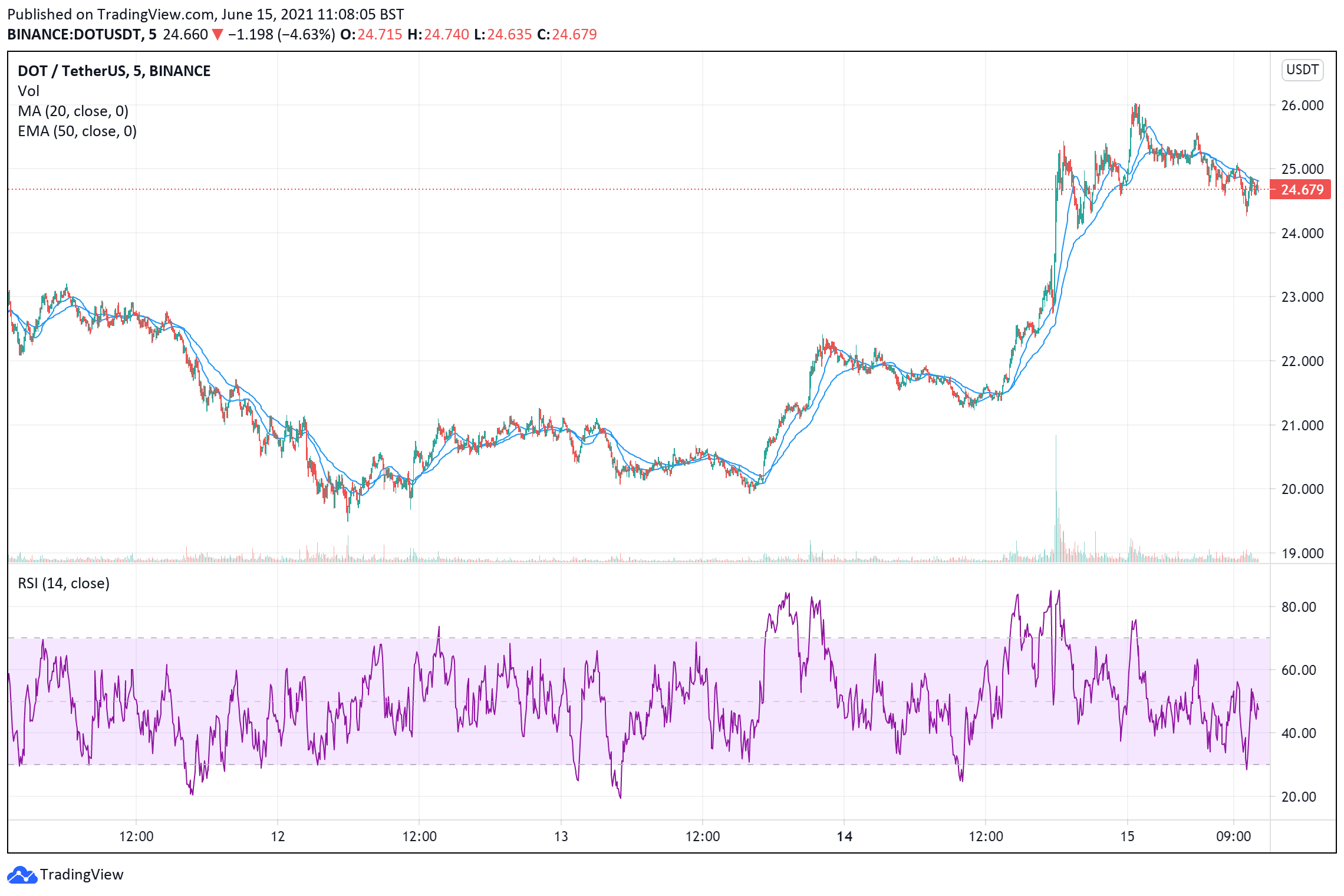 Polkadot is also just above its 20-day moving average of $24.6. Its 50-day exponential moving average (EMA) of $25 is still above, and that price will have to act as a resistance for now. With how much the Polkadot price has risen in the past 24 hours, the smart money will bet on positive market sentiment pushing it past the $25 line before the day runs out.
A breakout across the $25 line could set Polkadot finally across the $30 mark. But, sustained bearish pressure could push it down to $19.6.
Polkadot's Fundamentals
As a blockchain protocol, Polkadot gets a great deal of news quite well. However, the Polkadot price remains tied to Bitcoin, like many other large-cap cryptos.
Still, the news has been coming in. Last week, Stake Technologies – the parent company of Plasm Network and Shiden Network – announced that it had raised $10 million in commitments to help blockchain projects built on Polkadot and its subsidiary, Kusama. As the company explained, the funds will be deployed to help it complete a successful parachain lease offering (PLO) on Polkadot and Kusama.
Top U.S.-based exchange Kraken also launched a Parachain Auction Platform last week, enabling clients to pledge support for Kusama projects fighting for parachain slots on the blockchain. Rewards for contributors can include early participation bonuses, referral bonuses, and even token airdrops.
With Kusama's ecosystem gearing up for a launch, there is a lot of adoption for both blockchains coming up. Increased use of Polkadot and Kusama's tokens will definitely boost their price, and if the current bull run sustains, these assets could very well eclipse their yearly highs soon enough.
Looking to buy Polkadot (DOT) now? Invest at eToro!
75% of all retail investor accounts lose money when trading CFDs with this provider.