Polygon Price Down By 17% – Time To Buy MATIC?
The cryptocurrency market has nosedived in the last 24 hours, and most crypto assets have been trading below their perceived value. Nonetheless, a few crypto protocols hold promise, and one of such is the Polygon Network.
Currently struggling with the broader crypto market downtrend, its MATIC token is trading at a mid-year low and going for a bargain. If you are looking for an altcoin that you can buy for below $2, you should buy MATIC.
This is because of its long-term value to the Ethereum ecosystem, which we will explore in this article.
Polygon: Most Successful Ethereum Multi-chain Solution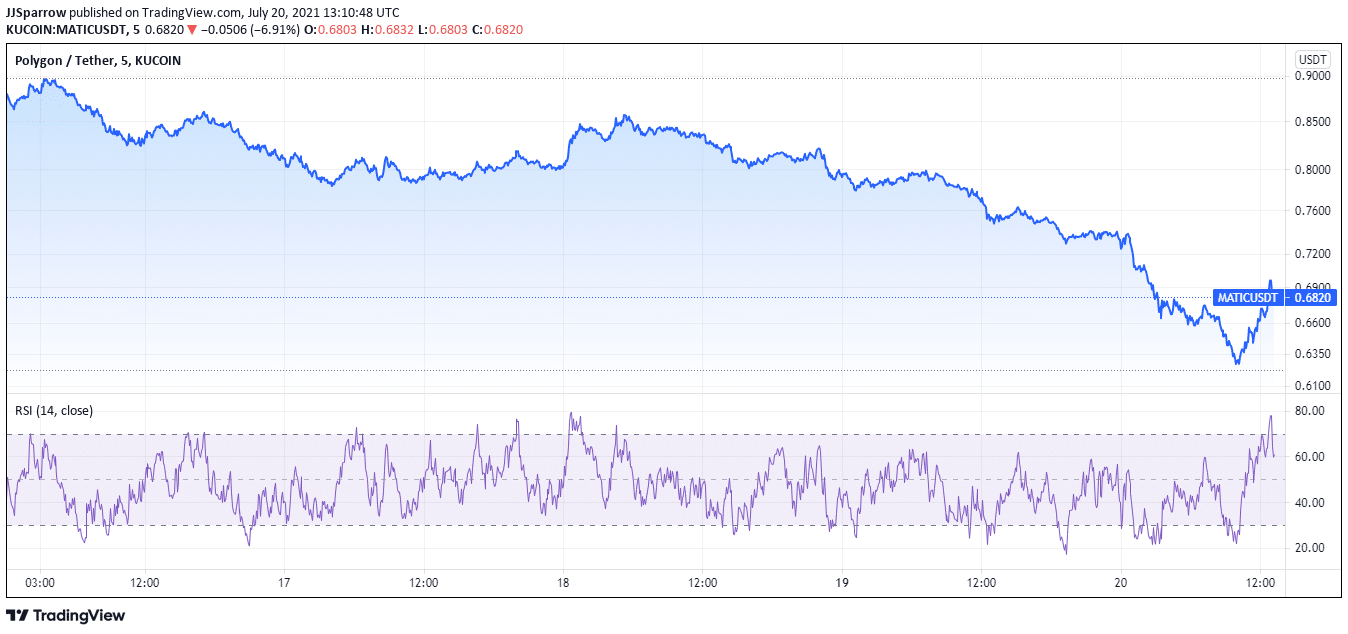 Polygon was founded in 2017 as Matic Network by the trio of Jaynti Kanani, Sandeep Nailwal, and Anurag Arjun. Right from its inception, the Polygon team has been working to improve the Ethereum network.
They were major contributors to the popular decentralized applications (dapps) platform's Plasma MVP, the WalletConnect protocol, and the famous Dagger event notification engine on the Ethereum network.
Evolving with the market's needs, Matic rebranded to Polygon this year and has since become the de facto leader in the side chain rank. It serves as a layer-two solution to the Ethereum network and seeks to address most blockchain platforms' scalability issues. It facilitates instantaneous transactions and boasts over 65,000 transactions per second (TPS).
Polygon uses a modular, flexible framework called Polygon SDK, which supports the building and development of several blockchains.
Even though it is not the only multi-chain scaling solution on the Ethereum network, Polygon is the most popular, and it is used in building optimistic rollups, ZK rollup chains, and independent side chains.
In system design, Polygon uses the twin combination of a proof-of-stake (PoS) consensus algorithm and its Plasma Framework, allowing it to execute scalable and autonomous smart contracts easily.
Polygon uses the MATIC token in payment services and for the settlement of transactions between two negotiating parties. The ERC-20 token has had a record year so far.
67% of all retail investor accounts lose money when trading CFDs with this provider
MATIC: Market Downturn Impacts Performance
The crypto market has seen the best and worst of the financial markets all in one year. Arising from a regulatory clampdown on crypto mining by Chinese authorities and Tesla boss Elon Musk calling out Bitcoin for its energy-guzzling mining process, the crypto market has been on a downhill since mid-May.
The bears have overrun the market, slashing the overall crypto market valuation by more than half.
However pessimistic the results may seem, market confidence is slowly returning. Major cryptocurrencies like Bitcoin are seeing renewed interest from investors.
MATIC token has not risen above the tide and trades at $0.65427, down 17.19% in the last 24 hours. Its market valuation has also suffered, dipping 17.70% since yesterday. However, its 24-hour trading volume holds promise, with Coinmarketcap showing an 86.90% increase.
Meanwhile, MATIC has seen better days. Trading at $0.171 on Jan.1, MATIC surged to an all-time high (ATH) of $2.45 on May 18 before the crypto market crash. It has since struggled to rally to its record price but has met resistance at the $2.02 level. This reflects the general crypto market trajectory, and this might be a great time to buy MATIC for a bargain.
MATIC Technical And Fundamental Analysis
The bears are in full force on the trading chart, with MATIC trading below the 20-day moving average (MA) support price of $0.9703. Its relative strength index (RSI) currently stands at the oversold level of 22.82.
However, this presents a unique opportunity to buy MATIC and rise with the market.
Meanwhile, market analysts are not deterred by the bearish outlook of the MATIC token and predict a strong recovery.
According to Wallet Investor, MATIC will rally to $3.281 by the end of the yea. The five-year forecast is even bolder, with the token expected to trade at 12.922.
This forecast is not far-fetched given the strategic strides the Polygon team is making. In a recent release, Polygon announced its general-purpose, scalable data availability-focused blockchain called Avail. According to the team, the project will enable side chains or standalone chains to execute in arbitrary environments and bootstrap validator security.
OpenOcean has also announced the addition of Polygon to its blockchain network to bridge the gap between decentralized finance (DeFi) and centralized finance (CeFi).
In addition, the Polygon team released its non-fungible token (NFT)-focused Polygon Studios which will bridge the gap between Web 2 and Web 3 gaming.
Buy Crypto at CedarFX, the World's #1 trading platform!