Ethereum Price Up By 8.33% – Time To Buy ETH?
Please note that we are not authorised to provide any investment advice. The content on this page is for information purposes only.
Ethereum has shot up in value in recent months and this has seen more investors scramble to buy ETH.
The growth of the second-largest cryptocurrency has been attributed to the soaring popularity of decentralized finance (DeFi) and non-fungible tokens (NFTs).
At press time, Ethereum is trading at $2,013 and is up by 8.33% in the last 24 hours according to CoinMarketCap. This article explores Ethereum and whether or not it's a good time for investors to buy ETH.
Ethereum: Birthplace of dApps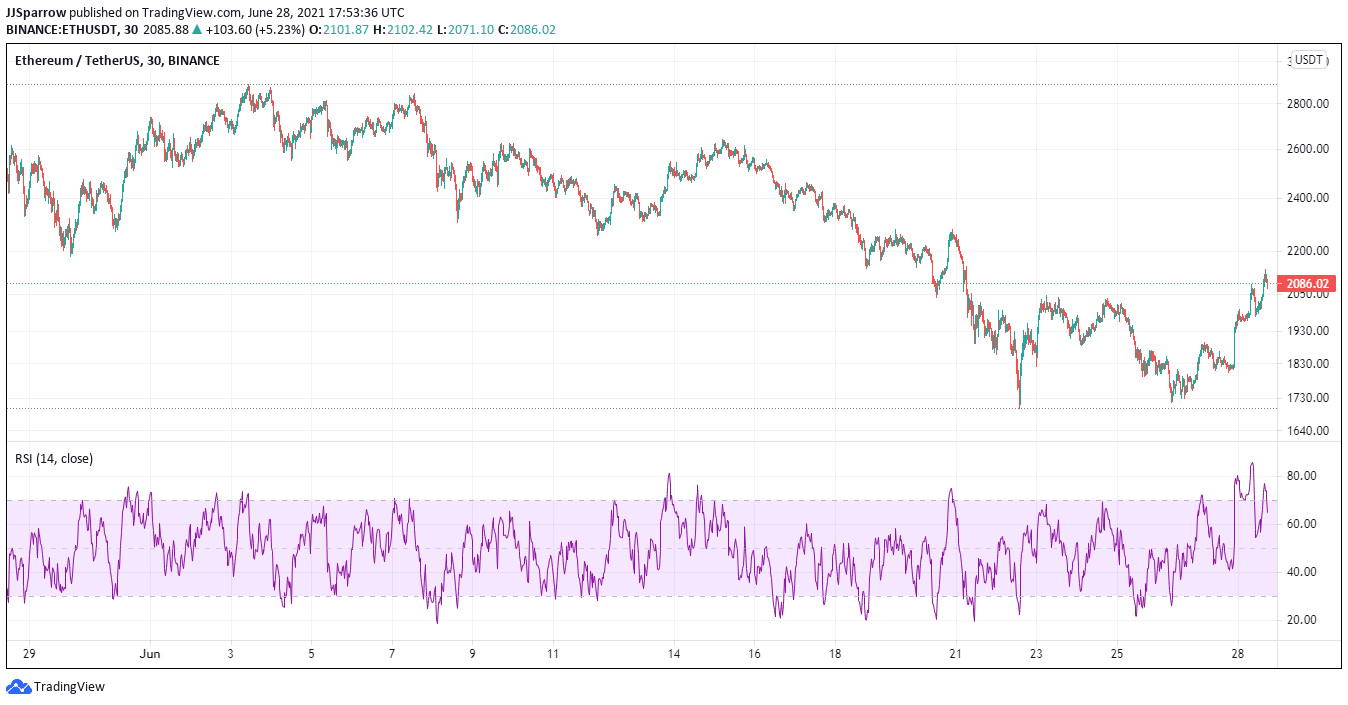 Ethereum was created by programmer Vitalik Buterin in 2015 as a blockchain network alongside its native token called Ether (ETH).
Ethereum allows developers to build decentralized applications (dApps) using smart contracts. Smart contracts are highly secure programs that run on the blockchain automatically enforcing them to perform functions via codes.
The recent upgrades in the Ethereum network is also responsible for the surge in Ethereum's recent prices.
According to the developers, the update would start with the "London" hard fork scheduled to be rolled out in July. These upgrades would make Ethereum more environmentally friendly by reducing its energy usage according to Ethereum's developers.
67% of all retail investor accounts lose money when trading CFDs with this provider.
Ether's Price Movements: Are the Bulls Back?
The Ethereum price has been hooked under a downtrend that has been in place after it hit its $4,362 all-time high on May 12th.
The asset declined to $3,587 on May 16th and dropped further on the 19th to $2,460. Ethereum continued to maintain its $2,000 range until the 22nd of June when it plunged to $1,874.
The Ethereum price has somewhat recovered since then as it has gone up and is currently at $2,086. Investors looking for a massive project that would bring massive returns need to buy ETH before the price climbs higher.
Investors should however watch out for Bitcoin's price when investing in Ethereum. The slump of Bitcoin has been known to affect other cryptocurrencies in the markets due to its influence in the world.
Some commentators believe the last market dump was caused by Tesla's Elon Musk and his company's announcement. China's crackdown on the sector is also considered a contributing factor.
However, since then Ethereum has posted strong returns which is another reason to buy ETH.
Ether Technical And Fundamental Analysis
Ethereum's technicals show a relative strength index (RSI) of 45.01, indicating it is above the oversold margin and in a healthy buying region.
This uptrend is reinforced in the Market Cipher B strategy which shows a "Buy" opportunity with its greenish trend line. This indicator also shows the green circle moving upwards suggesting an uptrend.
However, the wolfpack strategy indicator shows a bearish trend as it is red and below the line. Nevertheless, this should not discourage investors, Ethereum is no stranger to market volatility. Therefore, now is the chance to buy ETH and add it to your portfolio.
Following El Salvador's adoption of Bitcoin, cryptocurrencies are now getting more recognition from countries. The Ethereum blockchain was employed for an internal pilot project to analyze the digital Shekel by the Bank of Israel.
In terms of investment, Ethereum is also making inroads into the ETF markets. Earlier this month, investment firm VanEck proposed the first Ethereum exchange-traded fund (ETF) proposal in the US.
VanEck, which already has a Bitcoin ETF proposal filed in the US, though it wise to also file for an Ethereum ETF. The firm's goal for this ETF is to expose retail and institutional traders to ETH without directly investing.
Buy Ether Coin at eToro, the World's #1 trading platform!