Nikola Stock Price Forecast July 2021 – Time to Buy NKLA?
Please note that we are not authorised to provide any investment advice. The content on this page is for information purposes only.
Nikola stock plunged yesterday after its founder Trevor Milton was indicted on charges of fraud. The stock is now down 61% from its 52-week highs. What's the forecast for the NKLA stock and should you buy it after the crash?
A federal grand jury has charged Milton with three counts of criminal fraud. "This is a very straightforward case, Milton told lies to generate popular demand for Nikola stock, Beginning at least in or about March 2020, when Nikola announced that its stock would become publicly listed, Milton became increasingly preoccupied with keeping Nikola's stock price high," said Attorney Audrey Strauss at a press conference.
Nikola recent developments
Milton has been accused of lying about "nearly all aspects of the business." The company went public last year through a SPAC reverse merger. 2020 was a red-hot year for electric vehicle companies going public through a reverse merger. Apart from Nikola, Canoo, Fisker, and Lordstown Motors also listed through a SPAC reverse merger last year. UK-based Arrival also opted for a SPAC reverse merger. The most recent one to join the league is Lucid Motors which has merged with Churchill Capital IV (CCIV).
Nikola's market cap surged above $30 billion at one point last year and it was valued above Ford. Unlike Nikola which is a pre-revenue company, Ford has profitable business operations and is now offering multiple electric cars.
67% of all retail investor accounts lose money when trading CFDs with this provider
Hindenburg Research
Nikola's troubles began last year after Hindenburg Research accused the company of fraud. "We believe Nikola is an intricate fraud built on dozens of lies over the course of its Founder and Executive Chairman Trevor Milton's career," it had said in its report. It added, "We have gathered extensive evidence—including recorded phone calls, text messages, private emails and behind-the-scenes photographs—detailing dozens of false statements by Nikola Founder Trevor Milton. We have never seen this level of deception at a public company, especially of this size."
After the allegations, Milton exited the company while General Motors scaled back its partnership with the company. Hindenburg had also accused Lordstown Motors of fraud and recently the company's CEO and CFO quit the company. Lordstown admitted that at least some of its orders were inflated even as it ridiculed many other findings of Hindenburg.
Nikola's woes
The indictment report says that "Milton's scheme targeted individual, non-professional investors — so-called retail investors — by making false and misleading statements directly to the investing public through social media, and television, print and podcast interview." Meanwhile, Milton has pleaded that he's not guilty and has been freed on a $100 million bond.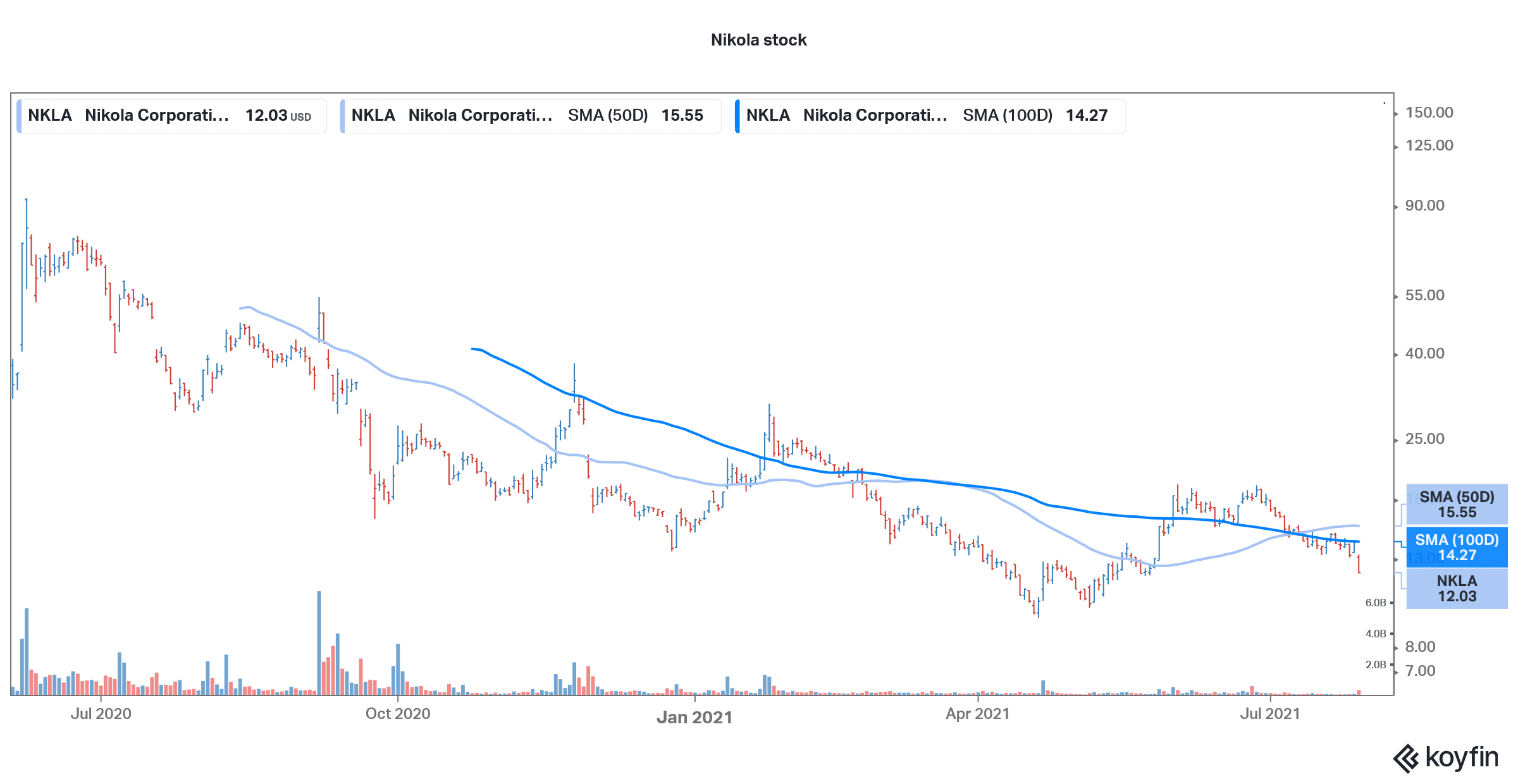 Milton to contest the charges
According to Milton's legal team, "Trevor Milton is innocent; this is a new low in the government's efforts to criminalize lawful business conduct. Every executive in America should be horrified."
The report added, "Mr. Milton has been wrongfully accused following a faulty and incomplete investigation in which the government ignored critical evidence and failed to interview important witnesses. From the beginning, this has been an investigation in search of a crime. Justice was not served by the government's action today, but it will be when Mr. Milton is exonerated."
What does Milton's indictment mean for Nikola stock?
In its release, Nikola said that the findings are not against the company but against Milton. It committed to previously announced timelines and expects to begin the deliveries of its first vehicle this year. That said, Milton has been accused of inflating Nikola's abilities and the stock is reacting to the news.
Nikola stock forecast
Wall Street analysts have a mixed rating on Nikola stock. Of the 10 analysts polled by CNN Business, only three rate the stock as a buy while six rate it as a hold. One analyst has a sell or equivalent rating on the stock.
Its median target price of $19 implies an upside of 58% over current prices. Its lowest target price is $11 which is a discount of over 8.4% while the highest target price of $30 is a premium of almost 150% over current prices.
That said, the ratings were issued before Milton's indictment and none of the analysts has since revised the ratings. The most recent analyst action was in May when BTIG Research initiated coverage on the stock with a buy rating and $19 target price.
Should you buy NKLA stock?
The sentiments are currently very bearish towards Nikola stock and it was trading lower in US premarket price action today also. The stock might fall more before it reaches its bottom. That said, if the stock crashes more from these levels, it could be worthwhile taking a position in the stock.
Nikola would now have to deliver on the execution part which is not easy as we've seen with other electric vehicle startups. Lordstown is also struggling with its production timeline. Even Tesla had faced production woes when it was ramping up Model 3 production.
That's said, if Nikola can deliver and execute well, the stock could be a multi-bagger. For now, it would be prudent to let the dust settle. While it may mean losing out on some potential upside, it would also mean a much lower risk.
67% of all retail investor accounts lose money when trading CFDs with this provider