Nike Stock Crashes as Slowdown Woes Offset Q1 Earnings Beat
Please note that we are not authorised to provide any investment advice. The content on this page is for information purposes only.
Nike (NYSE: NKE) stock is trading sharply lower in US premarket price action today and looks set to fall to a new 52-week low. The company released its fiscal first quarter 2023 earnings yesterday after the markets closed.
While the earnings were better than expected, markets were spooked by the rise in inventory and the slowdown in the Greater China region. Nike also sounded circumspect about its outlook amid a stronger dollar and slowing global economic growth.
Nike reported revenues of $12.7 billion in the quarter ended August which were 4% higher YoY. After adjusting for currency impact, the revenues increased 10% and were higher than the $12.27 billion that analysts were expecting.
Nike reported better-than-expected earnings
Looking at the breakdown of different geographies, Nike's sales in North America rose 13% to $5.5 billion. However, its sales in Greater China fell 16% to $1.7 billion. The company had warned about a slowdown in the region during the previous earnings call only. China's economic growth has come down and the intermittent lockdowns are also putting downwards pressure on the world's second-largest economy.
Commenting on the China business, Nike said, "we are taking a cautious near-term approach in Greater China, given the ongoing risks of COVID-related disruption."
US dollar has appreciated against almost all the major currencies this year which has taken a toll on US companies like Nike which get a significant chunk of their revenues from overseas markets.
Nike's revenues in Europe increased 1% in the quarter and there was a 16% negative hit from the US dollar. The euro as well as the pound have slumped against the US dollar this year.
Nike Direct sales rise
Nike has been moving away from lower-margin wholesale sales and is focusing on direct sales. In the fiscal first quarter of 2023, Nike Direct sales increased 8% and reached $5.1 billion. While on a currency-neutral basis sales increased by 14%. The company's digital sales increased 16% in the quarter.
Commenting on the earnings, Nike's CFO Matthew Friend said, "NIKE's first quarter results set the foundation for another year of strong growth." He added, "Our focus continues to be the consumer, as we take action to navigate near-term dynamics while expanding long-term structural benefits through our Consumer Direct Acceleration strategy."
Nike's gross margins decline
Nike's gross profit margin fell 220 basis points to 44.3% in the quarter. The company blamed higher freight costs, lower margins in its Direct business, and currency headwinds for the fall in margins. It added, "The overall decrease in margins was primarily driven by North America, which took measures to liquidate excess inventory through NIKE Direct markdowns and wholesale marketplace actions."
Nike's inventory increased 44% to $9.7 billion. The company is taking steps to clear inventory. It said, "we are taking decisive action to clear excess inventory, focusing on specific pockets of seasonally late products, predominantly in apparel."
NKE added, "While we expect this to have a transitory impact on gross margins this fiscal year, we believe this cost will be far outweighed by the benefit of clearing marketplace capacity to align seasonally relevant product, storytelling and retail experiences for the consumer."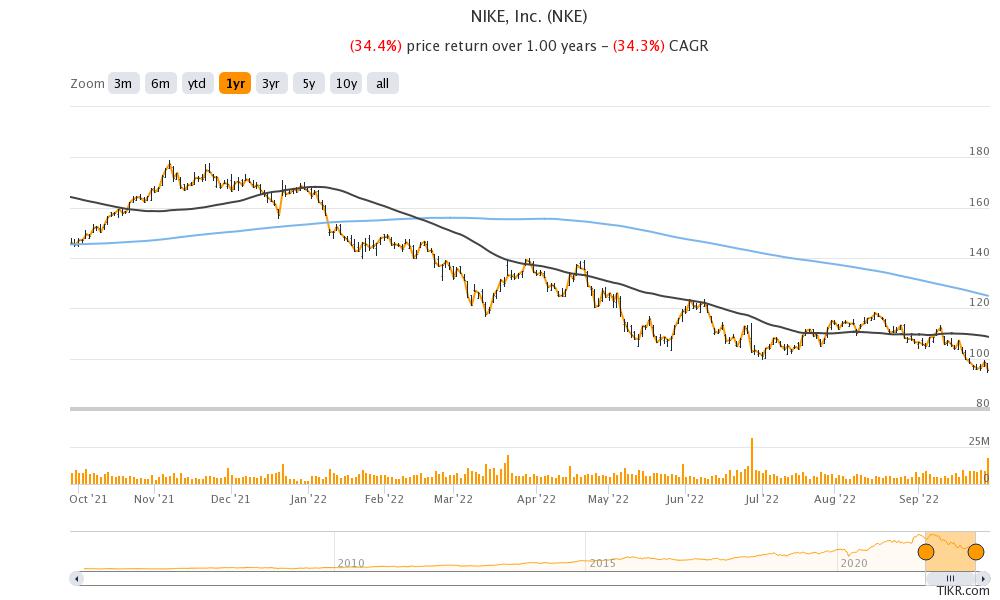 Consumer slowdown is weighing on demand
There has been a slowdown in consumer demand. During the earnings call, Friend said, "consumers are facing greater economic uncertainty, and promotional activity across the marketplace is accelerating, especially in apparel. As a result, we faced a new degree of complexity."
Reportedly, even Apple has shunned the planned production increase for its iPhone 14. While the sales of higher-priced iPhone 14 Pro models have been strong, shipments of lower prices models have been tepid.
A flurry of companies have warned of an economic slowdown. The most severe warning was from FedEx which not only withdrew its annual guidance but also warned of a global recession. Amid the economic uncertainty even Apple has stopped providing quantitative earnings guidance.
Nike provided weak guidance
Commenting on the outlook for the fiscal year 2023, NKE said, "we will tighten up our second half buys and liquidate excess inventory more aggressively beginning in the second quarter, focusing the flow of new product to our strategic partners and NIKE Direct."
The company expects currency headwinds to shave off $4 billion from its revenues and $900 million from its EBIT. In the fiscal second quarter, it expects revenues to rise in the low single digits despite a 900 basis point negative impact from the stronger dollar.
Meanwhile, the company sees more inventory markdowns ahead. It said, "We expect second quarter gross margins to decline approximately 350 to 400 basis points versus the prior year, the largest impact across the fiscal year as we discount out-of-season product more aggressively in a largely promotional marketplace. This will require higher markdowns in our own channels and through wholesale partners."
Other companies in the retail business are also saddled with massive inventories. Amazon has announced a second Prime Day in October which among others would help it and third-party sellers on the platforms to clear the inventory.
Nike has a strong balance sheet
Nike has a strong balance sheet. It had cash and cash equivalents of $11.9 billion at the end of August which was $1.8 billion lower than the corresponding quarter last year. It did generate positive free cash flows over the last year despite the inventory build-up. The company repurchased $1 billion worth of its shares in the quarter and paid $480 million as dividends.
Meanwhile, Morningstar analyst David Swartz believes that Nike might need to do more inventory markdowns even as the company said the inventory would gradually come down sequentially in the next three quarters.
Swartz said, "We're going to see substantial markdowns this year through the holiday season. But going into the calendar year 2023, I believe inventories will be much lower after the holiday sell through and then the post holiday sales."
For now, retail companies might pin their hopes on a strong holiday season. However, the mood might dampen further in case economic turmoil worsens amid high inflation and Fed's rate hikes.