Apple Stock Price Forecast April 2022 – Time to Buy AAPL Stock?
Please note that we are not authorised to provide any investment advice. The content on this page is for information purposes only.
Amid the recovery in broader markets, Apple has recouped its losses and is only marginally in the red for the year. The stock was the second best-performing FAANG stock of 2021 after being the best performing FAANG in 2019 and 2020.
What's the forecast for AAPL stock and is it a good buy in April 2022?
Apple stock recent developments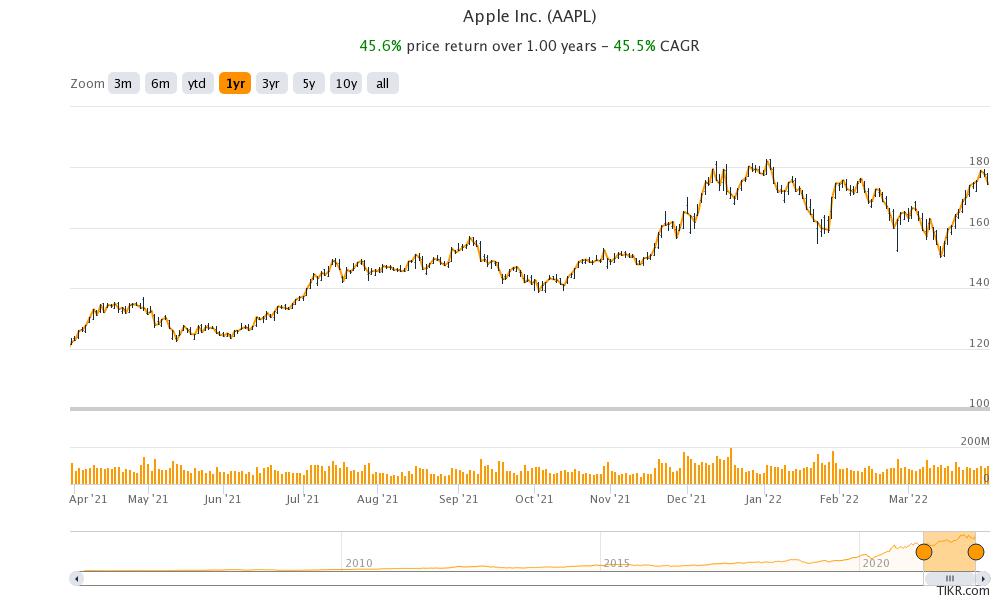 Today, JPMorgan removed Apple stock from its focus list. "We expect the moderation in consumer spending to temperate expectations for upside from the recent iPhone SE launch (although offset by product cycle momentum for iPhone 13) as well as limiting opportunities for upside in Services as gaming engagement in China moderates materially in relation to growth both from the pull back in consumer spending as well as tough compares," said JPMorgan analyst Samik Chatterjee.
However, the brokerage kept its overweight rating and $210 target price. It said, "In summary, lead times have moderated in almost all geographies, with the exception of China, where store pick-up continues to be unavailable and delivery lead times have expanded modestly – although, at this time it is tough to discern lead time extensions on account of demand versus logistics or COVID lock-down related delays."
68% of all retail investor accounts lose money when trading CFDs with this provider.
US employment market has been quite strong
Notably, amid the steep rise in inflation, many analysts have been concerned about consumer spending. As consumers spend more on non-discretionary goods, and mortgage costs go up with higher interest rates, consumer spending, which is the backbone of the US economy, might come down.
Meanwhile, one succor has been the strong job market.  The US economy added another 431,000 jobs in March and the unemployment rate fell further to 3.6%.
Bank of America does not see any major headwinds to iPhone demand
Bank of America said that while it expects Apple to lower the iPhone SE production by 20% in the next quarter due to the Russia-Ukraine war, it does not see any major long-term headwinds to demand. Loop is also bullish on AAPL and believes that the company can increase its TAM (total addressable market) with its new iPhone offerings.
Apple held its first product event of the year in March and announced several new products. The key feature was the long-awaited budget iPhone SE. The model is the successor to the 2020 model. However, it features 5G connectivity along with the A15 processor. The model is now available in stores and has a price of $429, which is higher than the $399 for the previous model.
The company also announced an upgrade for its iPad Air, the first since 2020. The model would now feature the M1 processor which is used in the pricier iPad models. The model would also 12-megapixel front camera and would cost $599.
AAPL stock forecast
Wall Street analysts are bullish on Apple stock after its strong fiscal first-quarter earnings. Of the 42 analysts covering the stock, 33 have rated it as a buy while eight have a hold rating. One analyst has a sell rating on the stock. AAPL has a median target price of $193.50 which is a 12% premium over current prices. Its street high target price of $215 is a premium of 23.5% while the street low target price of $160 is an 8% discount over current prices.
Apple stock long term forecast
In the earnings call, Apple said that its installed device base surpassed has 1.8 billion in the quarter. Also, it had 785 million paid subscriptions in the quarter, which is another record. These subscribers are expected to drive APPL's growth in the long term. Apple also has a cash pile of $80 billion which it is expected to use for buybacks.
Apple's long-term forecast would depend on how its electric vehicle plans play out. The mobility industry has a much bigger TAM (total addressable market) than what AAPL is currently targeting. If the company can come up with an attractive value proposition like the iPhone, it can target Tesla's dominance of the EV industry. But then, taking on the persona of Musk and the strong value proposition from Tesla won't be an easy task.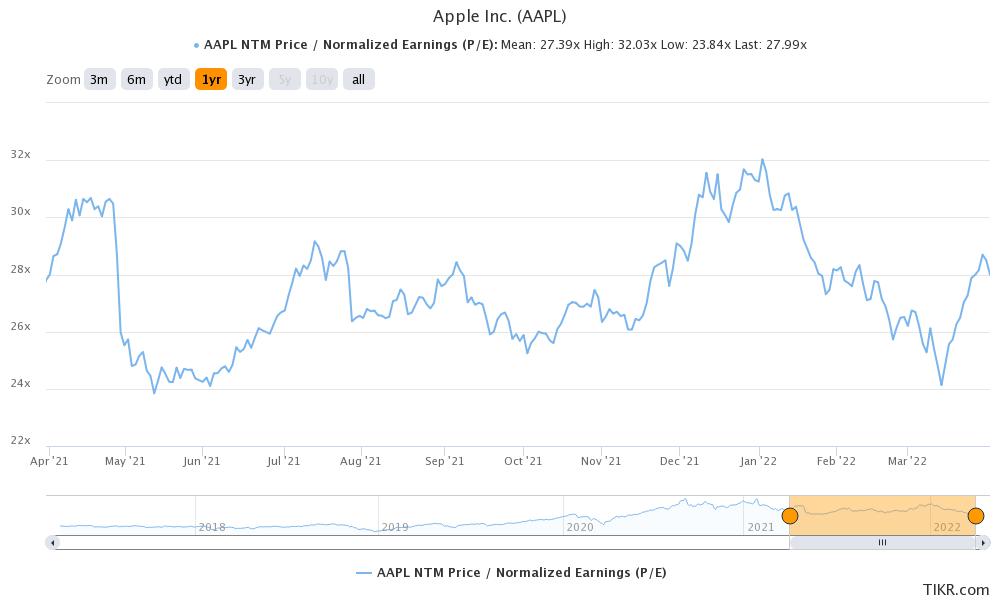 APPL is betting on financial services for long term growth
Also, the company sees financial services as a key long-term driver. Apple has been gradually expanding its financial services offering and is also expected to get into buy-now-pay-later. The company is now reportedly looking at developing its payment processing systems and other key systems internally for future financial product offerings. This would help the company improve its margins and end reliance on third parties. CoreCard Corp. and Green Dot Corp fell steeply after the news. Goldman Sachs, which is the partner in Apple's credit card, also fell. The project has been codenamed "Breakout" internally.
Notably, AAPL is also said to be looking at entering the BNPL (buy-now-pay-later) market. The BNPL market saw a lot of action in 2021. BNPL company Affirm went public last year and later announced a deal with Amazon. Block also acquired Australian BNPL company Afterpay.
Should you buy Apple stock?
Apple's valuation multiples have also come down amid the crash and it now trades at an NTM (next-12 months) PE multiple of 28x. The stock might remain volatile for some time given the geopolitical environment. However, it should eventually recover as investors seek solace in quality tech companies.
AAPL is the largest holding for Berkshire Hathaway and the legendary Warren Buffett even regrets selling the little number of shares. Apple is a play on innovation and multiple growth themes. The stock looks a good buy at these prices and should continue to be a long-term wealth creator.
Buy AAPL Stock at eToro from just $50 Now!