Microsoft Stock Price up 6% in June – Good time to Buy MSFT Stock?
The price of Microsoft stock has gone up 6.2% so far this month as the price action has effectively filled the bearish price gap left behind after the company revealed its financial results covering the third fiscal quarter of its 2021 fiscal year.
Is Microsoft stock staging a comeback? Is this a chance to buy the stock now that it is trading at all-time highs?
The following article takes a closer look at the stock's current technical setup while also analyzing the firm's fundamentals to see if there could be more upside ahead for this popular tech stock.
Buy Microsoft Stocks at eToro, the World's #1 trading platform!
Microsoft stock – technical analysis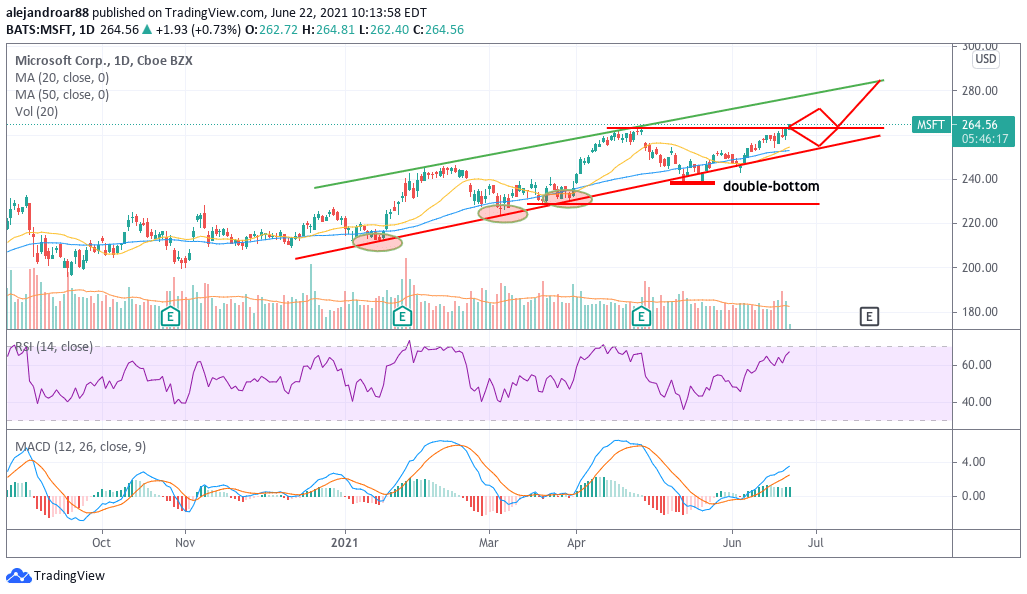 So far today, Microsoft is jumping above its all-time highs of $263.19 per share, which results in a break of this resistance area. The next couple of days will probably confirm if this will be the beginning of a new bullish cycle for MSFT or if this break will turn out to be a bull trap.
If the price continues to climb above this threshold, chances are that it could aim for a third tag of the upper trend line shown in the chart at around $282.5 per share. On the other hand, there is also the chance that the price retraces from this point to tag the lower trend line shown above for the last time before the stock climbs back to these all-time highs.
All in all, the outlook for MSFT stock seems bullish based on a combination of strong fundamentals, markedly higher momentum readings, and a golden cross in the stock's short-term moving averages.
That said, for long-term investors, a pullback at this point should provide a more decent entry price for a long position on a growing and profitable company.
Microsoft stock – fundamental analysis
Microsoft's sales growth has been accelerating in the past three years, with the firm managing to push its top-line results by an average of 14% per year on the back of higher sales from its intelligent cloud unit.
Last year, that particular segment of the market experienced a significant push amid the pandemic, as more corporations were forced to rely on cloud-based solutions to operate while workers remained confined within their homes.
As a result, the Intelligent Cloud segment grew 24% compared to 2019, which resulted in a 300 basis points improvement in the unit's growth rate compared to the previous year.
Meanwhile, during the first quarter of 2021, sales of the company founded by Bill Gates came in 19% higher compared to a year ago. However, the stock went down sharply amid the weakness seen by the tech sector as a whole since most investors rotated toward virus-battered corners of the market seeking for higher yields.
On the profitability front, Microsoft's gross profit margins have been improving lately, possibly since the Intelligent Cloud unit has been contributing more to the revenue mix as its share has moved from 29.2% in 2018 to 33.8% of the firm's total sales by the end of last year.
Moreover, bottom-line profitability of the tech company has been improving as well, with MSFT's EBITDA margin jumping from 29.8% back in 2016 to 37% last year while net margins landed at 31% last year, this being the second consecutive year in which Microsoft reaches a net margin above 30% since 2011.
According to the company's latest quarterly report, Microsoft's long-term debt stands at around $72.1 billion while the firm had $125 billion in cash and equivalents by the end of the same period, which results in zero net debt.
For this year, analysts are expecting to see earnings per share landing at $7.7 for Microsoft, which results in a 34.8% jump compared to a year ago on sales of $166.5 billion. These results imply that Microsoft's net margin would have to jump to 35%, which seems unlikely based on the company's historical performance.
In my view, earnings per share might land between $6.5 to $7 this year, which results in a forward price-to-earnings ratio of 40 for the tech firm. Based on MSFT's compounded annual growth rate (CAGR) of 21.2% in its bottom-line profitability, the price-to-earnings-to-growth ratio of the firm currently stands at almost 2, which points to MSFT as a potentially overvalued stock.
Based on that metric, the stock seems expensive at the moment. Therefore, it would be a good idea to wait until the price comes down a bit before jumping on board.
Buy Microsoft Stocks at eToro, the World's #1 trading platform!