Best Tech Stocks To Buy In June 2021
Big tech is on a roll. While many industries were acutely vulnerable and affected as a result of the coronavirus pandemic last year, big tech soldiered on. The biggest tech companies posted growing revenues and profits, and those who were buying tech stocks from the beginning of 2020 laughed all the way to the bank in December.
With the global economy now on the rebound, all eyes are back on tech companies. Most tech firms are constantly innovating and releasing new products, ensuring that their customers have new things to look forward to and shell out hundreds of dollars for. Others have been able to consolidate their position and become even more essential to daily life.
Anyone looking to invest their money should consider buying tech stocks. There's little downside to this burgeoning industry, and plenty of gains to be made. Below, we have some of the prime examples available to anyone looking to invest in tech stocks:
1. Microsoft (NASDAQ: MSFT)
Making a bullish case for big tech companies is easy. However, hardly does it get easier than with Microsoft. Already one of the biggest companies on the planet, Microsoft has continued to make inroads through a focus on diversification.
Beyond its lucrative Windows operating system, Microsoft designs products (its Surface line is quite impressive), gaming platforms, productivity tools, and its Azure cloud service. Microsoft has also made some impressive acquisitions over the years– most notably LinkedIn in 2016 and GitHub in 2018.
With an incredible mix of cash-cow subsidiaries, Microsoft is sitting pretty. The company has grown earnings at over 30 percent per year compounded over the past half-decade, and there are no signs of slowing down yet.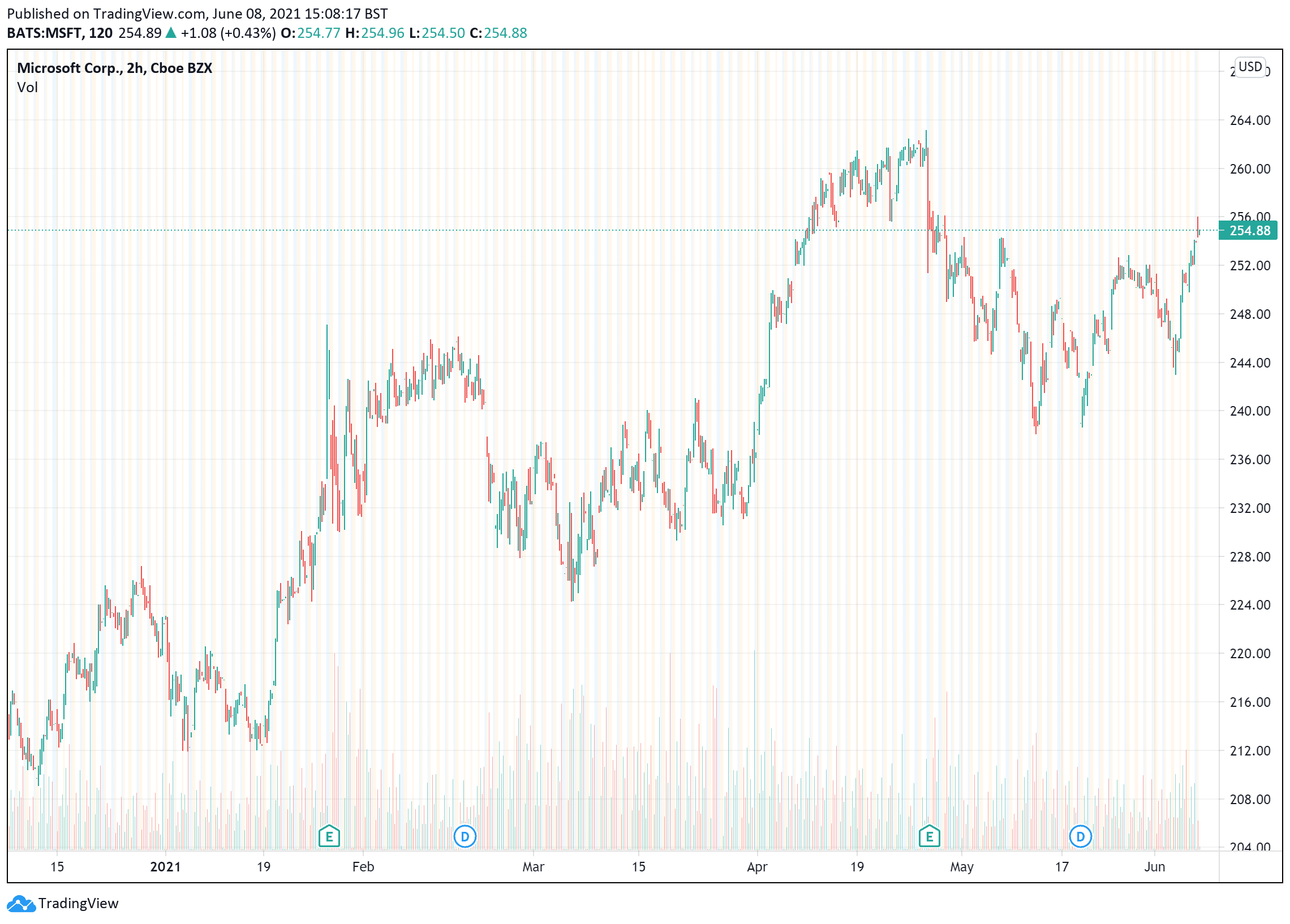 For Q1 2021, Microsoft managed to beat Wall Street estimates. On the back of strong cloud computing sales, the company earned $1.95 a share on $41.71 billion in sales. Analysts had expected sales of $41.03 billion and earnings per share of $1.78.
Microsoft stock is currently trading at $252.83 per share. The stock is down 0.39 percent in the past day, but that shouldn't put a damper on the month-long consolidation that it's having. The company had broken out of the seven-week flat base, hitting a buy point of $246.23 on April 5. In the next few weeks, Microsoft soared to $263.19.
However, the stock got caught in a bearish trend and bottomed out at $237.91 on May 12. A continued consolidation could see it reclaim the high $260s soon enough.
2. Salesforce (NYSE: CRM)
Salesforce is another attractive option for people looking into buying tech stocks. One of the original cloud services, the company has morphed into an enterprise-focused customer relationship management (CRM) behemoth.
Part of the reason for Salesforce's growth is that company executives across the world are looking into how best to capitalize on customer trends. From understanding the behaviors of current customers to predicting future trends, Salesforce does it all. When the software can work well, you get more than a fair bang for your buck.
There is still more growth ahead for CRM, and Salesforce will be a major part of that. The firm racked up an impressive $21 billion in revenues for 2020, and it is expected to grow sales by 22 percent this year. Salesforce was also named to the Dow Jones Industrial Average in 2020, giving it even more credibility.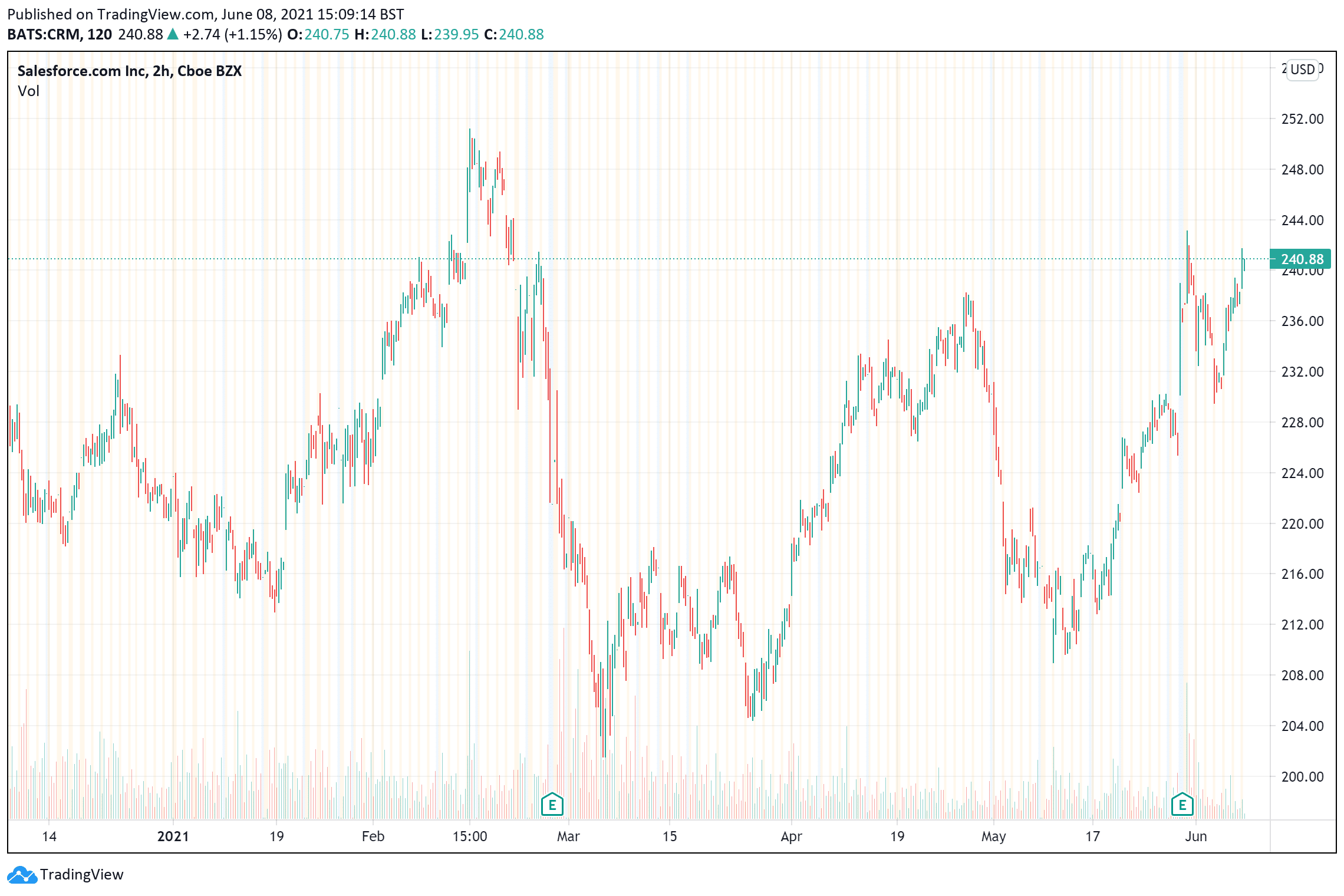 Interest in Salesforce has also piqued since last December when the company announced the acquisition of workplace collaboration tool Slack amid heated competition with Microsoft. The deal, which is valued at $28 billion, is expected to close in late July, and Slack announced on June 3 that it had witnessed improved customer growth in Q1 2021.
Today, Salesforce's stock is trading at $237.15 – down 0.46 percent in the past 24 hours. Like many tech stocks, the com[any had a rough time in May, moving from a high of $237.94 to a low of $208.87. Salesforce eventually completed its consolidation on May 28 as it hit another high of $243.31. However, it has since found its resistance at $240 and is likely to break through that point soon enough – the Slack acquisition should help with that.
3. PayPal Holdings (NASDAQ: PYPL)
PayPal is the industry standard for digital payments. While many companies stuttered in 2020, this one soared even higher. The coronavirus pandemic accelerated the demand for digital payments, and PayPal benefited immensely due to that.
With the increased demand for cashless transactions, PayPal has seen its customer base and revenues balloon. In the first quarter of 2021 alone, PayPal generated $6.03 billion in revenues while total payment volumes hit a mouth-watering $285 billion. Both these metrics significantly beat analysts' expectations, per a CNBC report.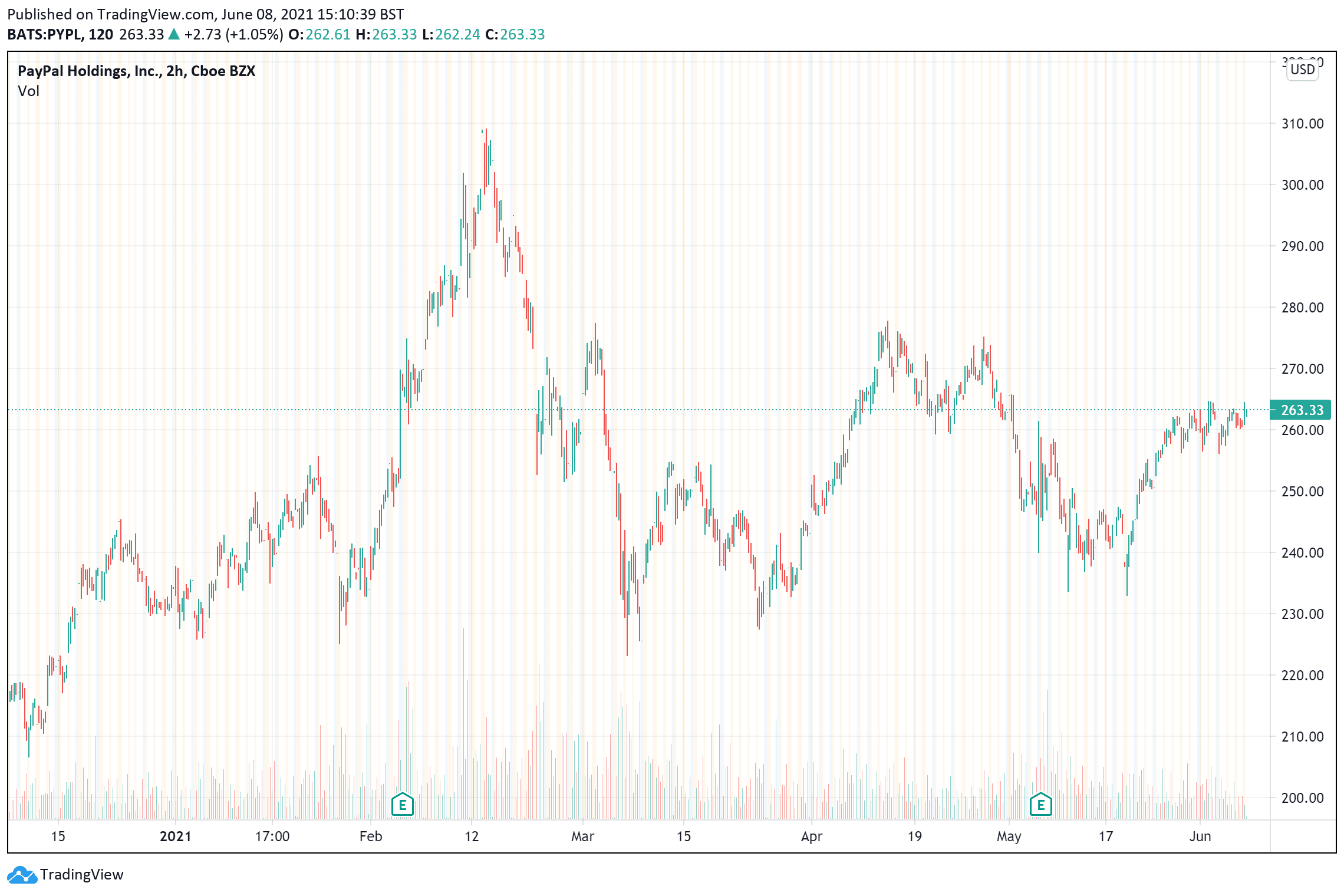 Revenues for the quarter also grew 31 percent. Now, all eyes are on whether PayPal will be able to beat its performance for the remaining quarters. The smart money will bet on the Silicon Valley giant to do so.
PayPal is also making significant headway with cryptocurrencies. The firm announced support for Bitcoin last September, and it hasn't looked back. Customers can buy, invest, and trade cryptocurrencies via the platform, and they can also use digital assets as payments for merchants that accept PayPal.
As for the company's stock, it currently trades at $263.38 – up 1.07 percent in the past 24 hours. After hitting a three-month low of $232.34 on May 19, Paypal has been soaring. While it is yet to meet its three-month high of $277.70 (set on April 14), the stock is in a strong position to rebound.
Where To Buy Tech Stocks
Now you're ready to buy, we'll point you to our top rated platform to buy stocks, eToro. Offering a whopping 0% commission* on stocks, ETFs and competitive trading fees.
To open an account all you'll need is your name, email, mobile number and ID. Once this has been submitted, you're ready to deposit and start buying tech stocks.
Looking to buy tech stocks now? Invest at eToro!
75% of all retail investor accounts lose money when trading CFDs with this provider.