MGM Resorts Stock Up 13% in October – Time to Buy MGM Stock?
The price of MGM Resorts stock has surged nearly 13% since October started while the stock is accumulating a 54.6% gain year to date as the company has been progressively recovering from the hit it took during the pandemic.
Most of these monthly gains were realized yesterday following Credit Suisse's decision to upgrade MGM Resorts stock from Neutral to Outperform while the Swiss bank more than doubled its price target for the hospitality and gaming company from $33 to $68 per share.
Analyst Benjamin Chaiken, who currently cover the Las Vegas-based hospitality and gaming company for the Swiss bank, emphasized four important transactions that may have a positive impact on the financial performance of the firm including the sale of a 42% stake in MGM Growth Properties for $4.4 billion and the sale-leaseback arrangement of its Springfield property for a total of $400 million.
Both events are considered positive as part of the company's effort to deleverage and deconsolidate its balance sheet. Moving forward Chaiken estimated that the firm's EBITDAR should land at around $2.2 billion for 2021 and $3.4 billion by the end of 2022 while its adjusted earning per share should finish both years at minus $0.35 and $1.79 per share respectively.
Can this upgrade support a further escalation in the price of MGM Resorts stock? In the following article, I'll be assessing both the price action and fundamentals of MGM stock to possibly answer that question.
67% of all retail investor accounts lose money when trading CFDs with this provider.
MGM Resorts Stock – Technical Analysis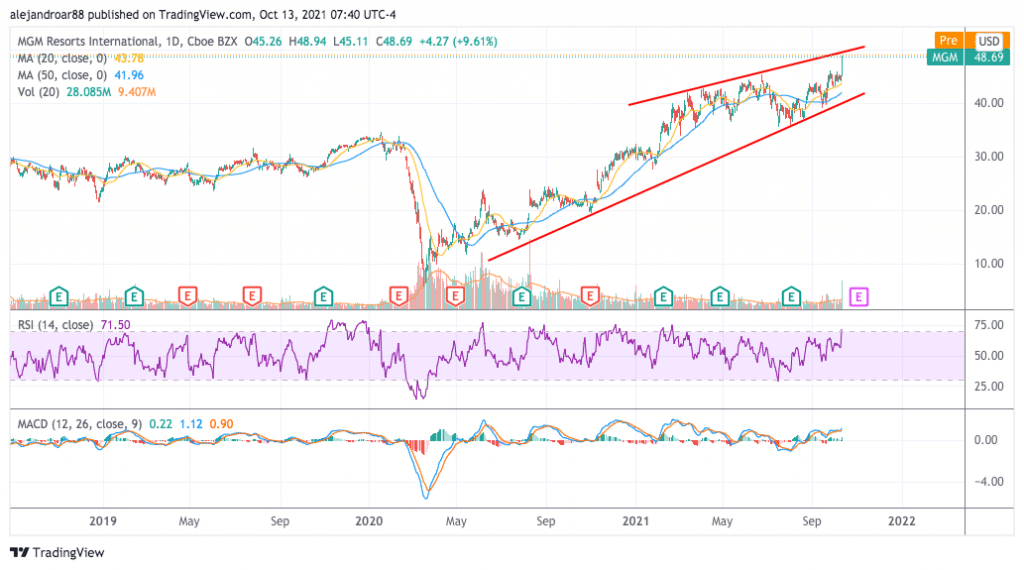 The price of MGM Resorts stock has been on an uptrend since the March 2020 pandemic crash as the company secured the financing it needed to withstand the crisis and is expected to emerge from it with little damage done to its financial structure.
Meanwhile, since November 2020 – back when Pfizer (PFE) released the results of its COVID vaccine – shares of MGM have not moved below their 200-day moving average, meaning that, for market participants, the company's long-term prospects are positive.
Yesterday's uptick prompted by this Credit Suisse upgrade and price target hike was accompanied by elevated trading volumes that exceeded the 10-day average by nearly three times.
Moreover, the price has now jumped 11% above its 20-day moving average while momentum oscillators are significantly positive as well with the Relative Strength Index (RSI) just entering overbought levels while the MACD is posting its highest reading since April this year.
All in all, considering the positive fundamentals of the stock and the fact that it remains on an uptrend, the outlook for MGM stock is bullish.
That said, as the price gets near the upper trend line shown in the chart, the risk of a rejection is increasing and, considering that momentum readings are a bit overheated, it is possible that the price could experience a correction down to its 20-day or 50-day simple moving average in the following weeks to then resume the uptrend.
MGM Resorts Stock – Fundamental Analysis
According to data from the American Gaming Association (AGA), July was the first month of the year during which all physical casinos within the 25 commercial gaming states reported that they operated at full capacity.
Moreover, the association also reported that even though the number of visitors has not moved back to pre-pandemic levels, spending per visitor has surged and that has offset the decline in visitations.
Finally, the same statistics from July from AGA pointed to brick-and-mortar casino revenues returning to pre-pandemic levels already. This includes MGM casino operations.
For MGM, casino revenues accounted for half of the group's top-line results back in 2019 – before the pandemic started.
If we take for granted profit Credit Suisse's forecast of $1.79 per share for 2022, at its current price of $48.7 per share MGM would be trading at 27 times that number. Whether that number is justified or not is a bit difficult to tell as MGM's earnings growth in the past few years has been erratic.
However, the management's decision to deconsolidate and deleverage its balance sheet could have a positive effect on its financial performance to the extent that bottom-line results become more predictable.
Moreover, the company's income statement does not fully reflect the positive contributions of certain other operations for the company including its successful joint venture with Entain (ENT) – BetMGM – and another one for CityCenter Holdings.
There could be a lot of "hidden" value in these joint ventures and that calls for an in-depth analysis of MGM's intrinsic value by using a method known as sum-of-the-parts before opening a long position on the stock.
Buy MGM Stock at eToro with 0% Commission Now!