Pfizer Share Forecast September 2021 – Time to Buy PFE Stock?
Shares of the American pharmaceutical corporation Pfizer (NYSE: PFE) are in the red today, after closing at $44.47 on September 16th (19:59 UTC-4). According to analysts, the recent downturn is due to increasing uncertainties about the Biden administration's strategy to cut healthcare spending. Pfizer, Merck, and Johnson & Johnson, among others, have all seen their share prices drop as a consequence of this. Meanwhile, Pfizer, the industry leader in coronavirus vaccinations, is seeking clearance for a booster dosage. Let's figure out what's going on and what it implies for Pfizer stockholders.
Pfizer – Technical Analysis
As per the financial statement from Pfizer, the market cap of the multinational pharmaceutical company is at $249.329 billion with total assets worth $169.92 billion. The total revenue for 2020 was $41.91 billion compared to $41.17 billion a year ago.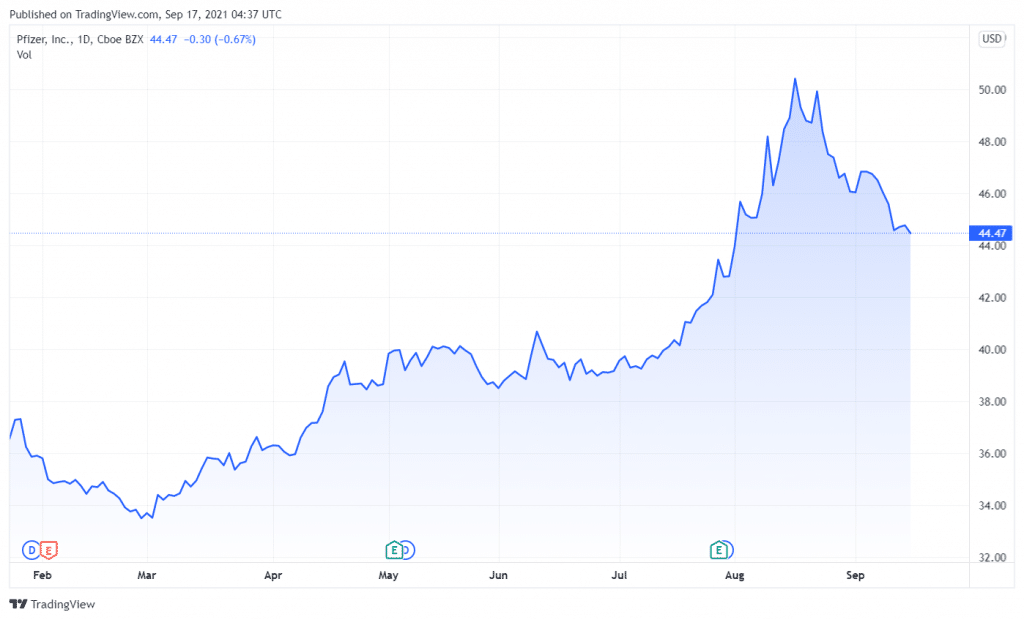 Moving averages for PFE such as Exponential Moving Average (10)(45.47), Simple Moving Average (10)(45.71), Exponential Moving Average (20)(45.93), Simple Moving Average (20)(46.66) are pointing towards selling. Oscillators such as Relative Strength Index (14)     (39.58), Stochastic %K (14, 3, 3)(13.19), Commodity Channel Index (20)(−129.78), Average Directional Index (14)(31.07) are, on the other hand, neutral.
67% of all retail investor accounts lose money when trading CFDs with this provider.
Recent Developments
People now identify Pfizer with Comirnaty, the COVID-19 vaccine it co-developed with BioNTech. Management currently expects $33.5 billion in sales from that medication only this year, which is a considerable opportunity for investors.
On September 17, the FDA's advisory meeting is scheduled to hold to review Pfizer's application on the approval for the booster dose. The company has evaluated and provided statistics on an additional dosage of their previously approved vaccinations. It's difficult to predict what the FDA advisory group will conclude, let alone the FDA itself. However, there is one thing to bear in mind – The FDA's job is to assess prospective products' safety and efficacy. Those factors will be used to make the agency's approval decisions and the results from Pfizer in terms of safety and effectiveness appear to be robust. Thus there are reasons to be hopeful; however, it's possible that the FDA may ask Pfizer for further information.
Should You Buy Pfizer Shares?
Whether the FDA grants the petition right away or asks for further documentation, the judgement shouldn't be a concern for the investors. To begin with, it's possible that Pfizer will release a booster, be it in a few weeks or a few months. Ultimately, data implies that immunity is decreasing and research suggests that a third dosage can help increase it.
Whether a booster is released now or later, it will have little influence on Pfizer's vaccination revenues. The corporation has already received large orders from nations such as the United States and regions such as the European Union. As a result, they now have enough dosages to supply the initial two doses as well as a booster. They did, however, put orders for two dosages per individual. So, if the boosters hit the marketplace, supply may be depleted faster than anticipated. As a result, future deals will need to be larger, which will in turn increase the overall revenue.
Pfizer will still need to show that it can execute on its claim of promised sales growth that leads to profits in the end. For the time being, the company's COVID-19 vaccine's performance somewhat complicates any prospective forecasting. Still, depending on both the corporation's previous performance and its current dip, long-term shareholders are probably better off purchasing the recent downturn in PFE shares. Pfizer's booster programme has a strong chance of succeeding in the near future and PFE shares could perhaps, over time, represent the company's sales and earnings.
Buy PFE Stock at eToro for just $50 Now!