Meta Platforms Stock Continues to Crash amid Tech Sell-Off
Please note that we are not authorised to provide any investment advice. The content on this page is for information purposes only.
Meta Platforms (NYSE: META) stock fell to a new 52-week low yesterday. The stock is now down almost 60% for the year and has been falling from one low to the other.
At its peak in September 2021, META had a market cap in excess of $1 trillion. Now, its market cap is a mere $366 billion. The fall in META stock has also taken a toll on Mark Zuckerberg's net worth.
While US stock markets have fallen below their 2022 lows, among FAANGs only Alphabet and Meta Platforms have fallen to fresh 52-week lows. Netflix, which is still the worst performing FAANG stock of the year, is also holding above its 52-week lows.
What's wrong with Meta Platforms stock?
The macro-environment has been challenging this year amid rising interest rates. The sell-off in tech stocks has taken a toll on Meta Platforms stock also. Also, there has been a slowdown in global digital ad spending which has hurt the earnings of social media companies like Facebook and Snap. Like many fellow tech peers, Meta Platforms now finds itself overstaffed as it overhired over the last two years.
The iPhone privacy rules have also hit Meta Platforms and it estimates that the changes would lead to a $10 billion revenue loss in 2022. In the second quarter of 2022, META reported revenues of $28.82 billion which were slightly below what it had posted in the corresponding quarter last year. It was the first time since Facebook went public that it posted a YoY decline in revenues.
Growth slowdown
Meta Platforms forecast revenues between $26-$28.5 billion in the third quarter which would mean the second consecutive quarter of revenue decline. META blamed the "continuation of the weak advertising demand environment we experienced throughout the second quarter, which we believe is being driven by broader macroeconomic uncertainty" for the tepid guidance.
Facebook is losing its popularity
What's more troublesome for Facebook is that it is losing popularity among teens who are instead turning to TikTok. Even YouTube's revenues have been hit by TikTok's popularity and it is now focusing on "Shorts" to better compete with TikTok. Instagram was also looking to launch a new version for teens last year but it was throttled by US lawmakers.
Also, there is a global outcry against social media companies over data privacy concerns and companies like Meta Platforms are feeling the heat.
Meta Platforms continues to burn billions of dollars towards metaverse
Last year, Facebook changed its name to Meta Platforms to signal its bet on the metaverse. The company burnt over $10 billion cash in the metaverse business last year and continues to burn billions of dollars in the business this year also. The metaverse is yet to contribute meaningfully to Meta Platforms earnings and is currently a drag on its earnings.
Also, not all are convinced about the outlook of the metaverse and whether Meta Platforms would be a leader in that business.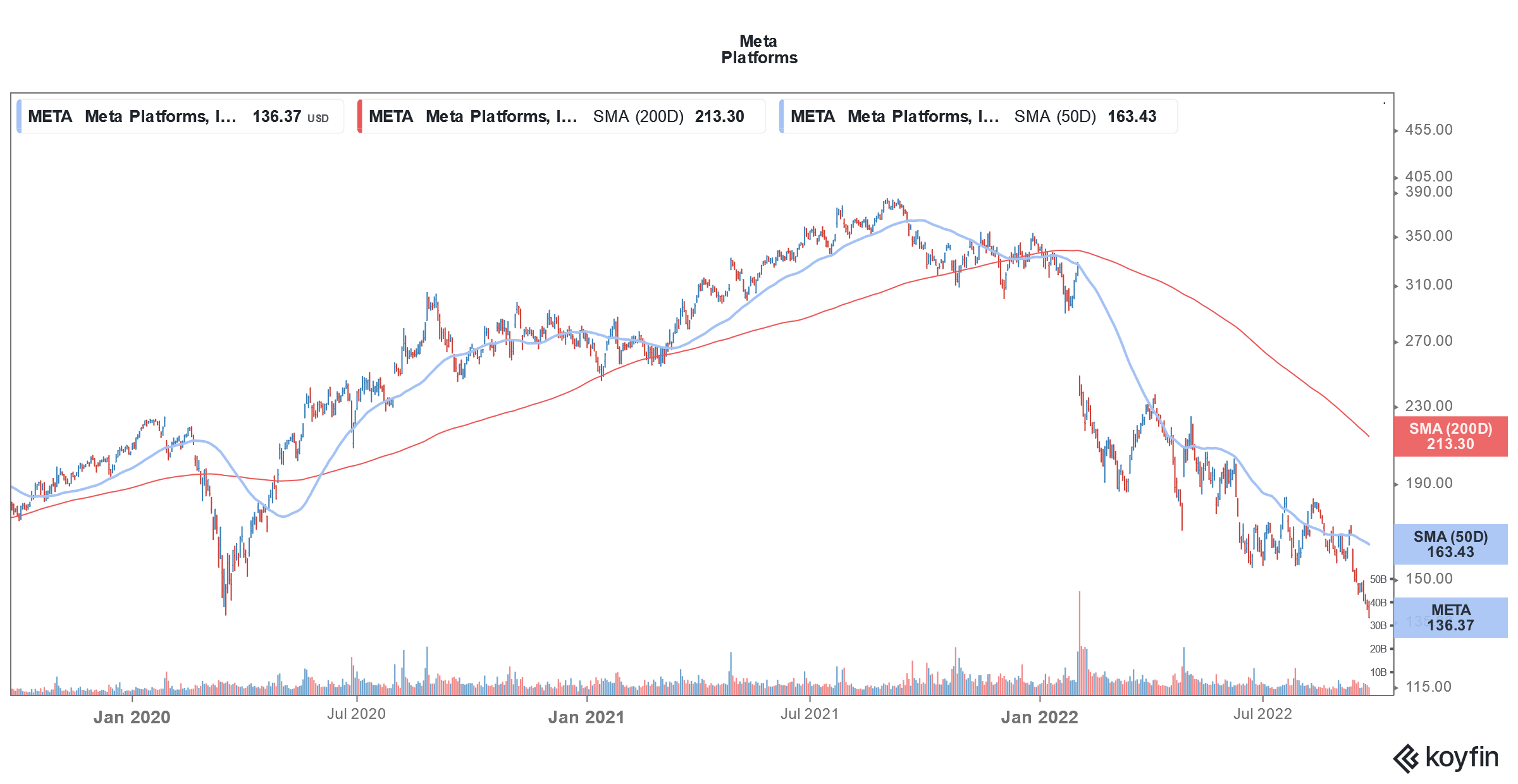 What's Meta Platforms doing to lift its earnings?
Meta Platforms is taking steps to boost its earnings as well as profits. It is especially bullish about India where it gets the highest number of users. The company recently announced a partnership with Indian conglomerate Reliance to let users shop for groceries on WhatsApp.
Meta Platforms is also reportedly looking at aggressive cost cuts. During the Q2 2022 earnings call, Zuckerburg said, "if I had to bet, I'd say that this might be one of the worst downturns that we've seen in recent history."
He added, "This is a period that demands more intensity, and I expect us to get more done with fewer resources. We're currently going through the process of increasing the goals for many of our efforts." The company is also looking to rationalize its workforce. Other Big Tech US companies are also either going slow on hiring or resorting to outright layoffs amid slowing growth.
Wall Street analysts on Meta Platforms stock
Wall Street analysts meanwhile look bullish on Meta Platforms stock. While Morgan Stanley lowered its target price from $280 to $225, it maintained its overweight rating. Analyst Brian Nowak said, "Our base case assumes Meta continues to take a measured approach to the pace at which they ramp Reels ad load…as building/scaling effective ad units that deliver results on new engagement formats (and ad unit pricing in the auction market) can take time."
He added, "While Meta faces execution uncertainty, we think it is more than reflected in the price at current levels as our new $225 PT implies paying ~10X our '23 EBITDA…a ~17% discount to Meta's long-term average."
Metaverse
Famed value investor Mohnish Pabrai also said that he believes META stock is undervalued and could double even without any contribution from the metaverse business. Bank of America is also bullish on the stock and added it to its best US idea list while removing Alphabet.
Needham however advised investors to stay on the sidelines before Meta Platforms settles its metaverse business. The brokerage is also bearish on Netflix in the FAANG space and does not believe that the company can win the streaming war even with the ad-supported tier.