Maker Is Down 5.39% – Time to Buy MKR?
Please note that we are not authorised to provide any investment advice. The content on this page is for information purposes only.
MakerDAO Deploys on Layer-2 Network StarkNet: Time to Buy MKR?
Tesla Enlists MakerDAO-Powered Lender for $7.8M Real Estate Deal
MakerDAO Community Plans to Replace MKR Governance Token
Maker has seen a downtrend of 5.39% in the previous day, which coincides with the larger crypto market's downtrend. Could this be an ideal opportunity for investors to buy MKR at its dip before the market recovers?
Maker (MKR) is the governance token of the MakerDAO and Maker Protocol. Both platforms are built on the Ethereum blockchain and allow users to issue and regulate the DAI stablecoin.
MakerDAO Deploys on Layer-2 Network StarkNet: Time to Buy MKR?
MakerDAO has announced a launch schedule for StarkNet, a decentralised zero-knowledge (ZK) Ethereum rollup.
Pioneering DeFi platform @MakerDAO is charting its multi-chain future, starting with a bridge to @StarkWareLtd's Ethereum layer 2.
@IanAllison123 reports
https://t.co/os7gNaz2V4

— CoinDesk (@CoinDesk) April 20, 2022
The integration, which is expected to be fully operational in the third quarter of this year as per the protocol's roadmap, will improve the multichain capabilities of their dollar-pegged stablecoin DAI.
According to Louis Merkle, a core unit facilitator at StarkNet engineering, projects must transition to Layer-2 to continue servicing customers. MakerDAO is teaming with StarkNet to make the transition happen.
With this plan, Maker's Protocol will solidify its place as the industry's top decentralised lending protocol and its DAI's position as the most decentralised and safe stablecoin.
MakerDAO Community Plans to Replace MKR Governance Token
MakerDAO's decentralised stablecoin platform is considering a significant tokenomics move to see its governance token, Maker (MKR), replaced.
⚒️ @MonetSupply presented an idea of an alternative token economic mechanism that could supplement the current MKR buyback value accrual system.

stkMKR? Read the entire thread:https://t.co/1hEORZTblu

— Maker (@MakerDAO) March 14, 2022
On the MakerDAO forum, community leader monet-supply proposed an alternative token economic method. If the proposal passes a complete governance vote, the protocol's present governance token, MKR, could be replaced with a new token named stkMKR.
The current tokenomics concept, which runs on a "buyback and burn" mechanism, has some flaws and inefficiencies, which the staking proposal overcomes. Monet-supply stated that the existing mechanism has various shortcomings, including a lack of specific incentives because buyback and burn returns all capital to MKR holders.
The offered solution is the creation of a new stkMKR coin to replace MKR as MakerDAO's core governance token. It would be a staking or bonding token for people who buy Maker for governance.
Tesla Enlists MakerDAO-Powered Lender for $7.8M Real Estate Deal
Tesla has signed a real estate finance arrangement for $7.8 million with 6s Capital. 6s Capital was founded in 2020 to facilitate loans via the MakerDAO protocol.
First real state deal of @6sCapital with @Tesla, ivolving a Dai loan through a Maker Vault to fund the project.https://t.co/puBEowcKKr pic.twitter.com/1r9dY0AJvO

— Maker (@MakerDAO) April 1, 2022
Tesla will utilise the $7.8 million loan to build a new repair and collision centre. When Tesla's second project is finished later this year, the credit line offered to the electric vehicle maker is likely to climb to $14.2 million.
The announcement coincides with MakerDAO's aim to embrace more real-world assets (RWAs). A Maker governance proposal from March recommended adopting RWAs by combining them with undercollateralised lending processes. The move was made to diversify and strengthen the company's reserves and collateral, but it drew some criticism from the public.
Last year, Maker partnered with asset finance protocol Centrifuge, allowing asset originators on the platform to borrow DAI against non-crypto collateral such as real estate, mortgages, and invoicing.
MKR Technical Analysis
At press time, Maker trades at $1,182. The digital asset has dropped by 5.39% in the last 24 hours and has seen a seven-day downtrend of 18.11%. This downtrend offers a great opportunity for investors who want to buy cryptocurrency to earn significant profits.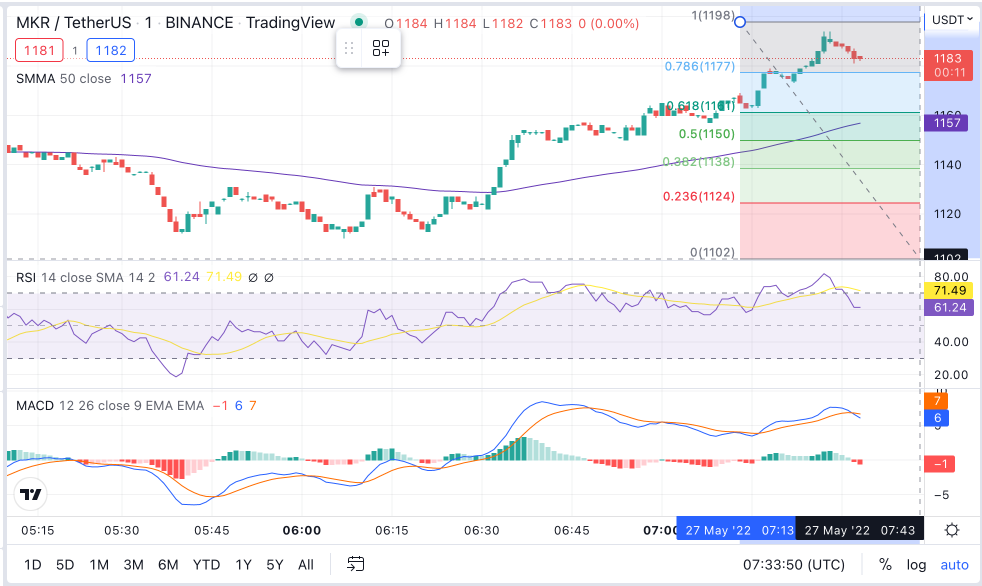 MKR is bullish at the time of writing. The digital asset trades below the 100% Fibonacci retracement level of $1,198. This indicates that MKR could see resistance at this level in the short term. However, a bullish rebound might see MKR break above the current resistance indicator of $1,198 before the month's end.
The digital token's Relative Strength Index (RSI) is 61.24. This value indicates that Maker is trading in the underbought zone. Hence, this could be a good time for investors to buy MKR and rise with the market.
Presently, MKR is trading above the 50-hour Simple Moving Average (SMA) indicator of $1,1157. This value further indicates that the cryptocurrency is bullish.
Although the moving average convergence and divergence (MACD) value of the crypto asset exhibits a sell signal, it is weak.
Buy MKR at eToro from just $50 Now!