Logitech Stock Down 8% Today – Time to Buy LOGI Stock?
The price of Logitech stock is diving 8% in pre-market stock trading action this morning following the release of the firm's Q2 2021 earnings report despite its numbers landing near analysts' forecasts for the period.
For the three months ended on 30 September, Logitech reported record revenues of $1.3 billion resulting in a 4% jump compared to the same period a year ago and 2% on a constant-currency basis. Analysts had forecasted sales of $1.24 billion for the period.
However, the company's gross margins experienced a 380 basis points reduction compared to Q2 2020, landing at 41.5%, as supply-chain related disruptions have increased the cost of raw materials for the Swiss firm.
Meanwhile, marketing and sales expenditures experienced a significant 62.3% increase during the period. As a result, GAAP operating income dropped 44% compared to a year ago at $179.4 million resulting in a GAAP operating margin of 13.7% – a 1,187 basis points year-on-year decline.
Finally, net income nearly halved and GAAP earnings per share experienced a 48% drop compared to Q2 2020 at $0.81 per share while non-GAAP EPS stood at $1.05 per share or 3 cents lower than the Street's consensus estimate.
For the entire 2022 fiscal year, the company maintained its guidance of flat top-line growth or 5% negative or positive variation compared to the previous year.
Can this post-earnings drop be an opportunity to buy Logitech stock at a bargain? In this article, I'll take a closer look at the price action and fundamentals of the company to outline plausible scenarios for the future.
67% of all retail investor accounts lose money when trading CFDs with this provider.
Logitech Stock – Technical Analysis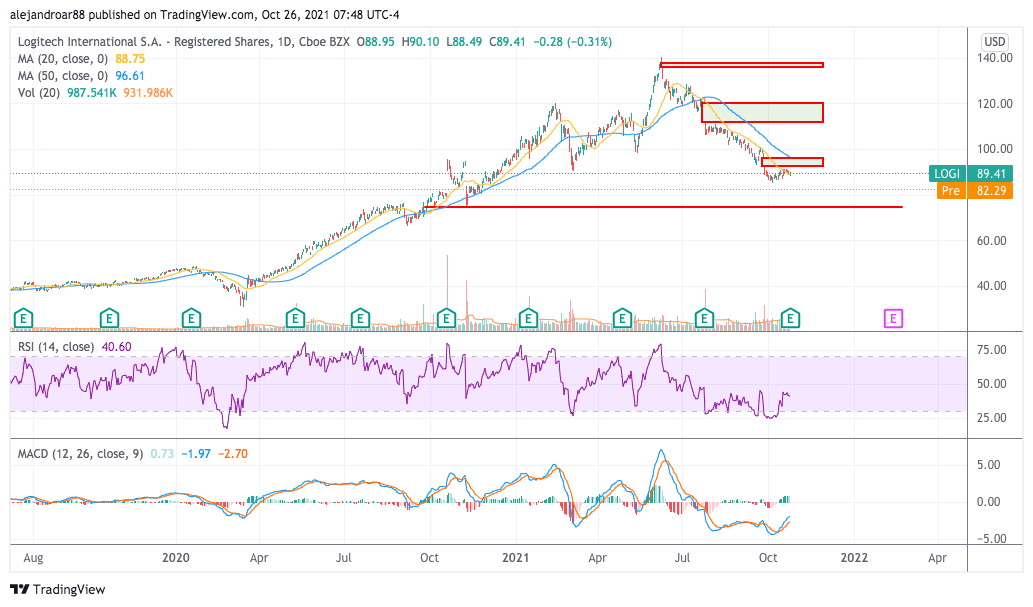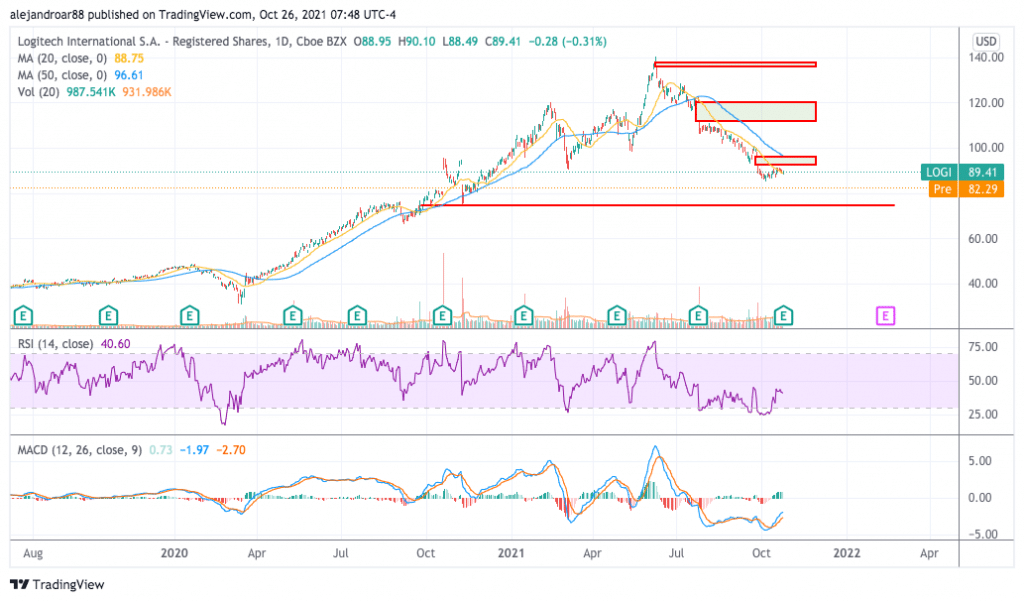 The price of Logitech stock has been embarked on a downtrend since the company's 2022 fiscal year started as the management guided for weak sales growth for this year amid tough comps.
As a result, shares of the Swiss manufacturer of peripherals have shed 7% of their value thus far in 2021 and they remain 36% below their 52-week high of $140 per share.
Three important bearish price gaps have been left behind since July (the month on which the 2022 fiscal year started) and today's pre-market price action may result in a fourth one.
Even though these gaps should be filled later in the future, they will continue to weigh on the stock's short-term outlook.
Based on yesterday's closing price, LOGI stock is trading nearly 18% below its 200-day moving average while it is also trading below its short-term moving averages since July. Meanwhile, the Relative Strength Index (RSI) has remained below 50 since July as well. This reflects the extent of the weakness that the price action has been experiencing since then.
However, the MACD has been steadily climbing upon crossing above the signal line and this move is being accompanied by increasingly higher positive histogram readings.
All things considered, the outlook for LOGI stock remains bearish until the downtrend finds a floor. At the moment, the next area of horizontal support in sight is standing at $74 per share resulting in a total downside risk of 17% based on yesterday's closing price.
Logitech Stock – Fundamental Analysis
Logitech's sales had been growing at a slower pace before the pandemic, with top-line results surging 15.6% back in 2016 to then advance 8.6% and 6.7% in the following two years respectively.
However, the health crisis accelerated the firm's growth as gamers and workers demanded top-notch computer gear while they remained confined within their homes.
For Logitech, the fact that sales are staying flat this year is not necessarily bad. In fact, it means that the company has reached a higher plateau and demand for its products is not moving back to pre-pandemic levels.
However, the sudden decline in the firm's operating margins is quite worrying and the same can be said for its free cash flow generation capacity. In this regard, the firm said that it is making strategic investments to drive future growth by increasing its marketing and engineering expenditures.
The firm's cash conversion cycle increased significantly from 19 days back in Q2 2021 to 69 days in Q2 2022 as a result of "shipping delays and longer lead times for certain components". Additionally, inventory turnover rates nearly halved during Q2.
As a result, the company is reporting negative free cash flows of $225 million for the first semester of the 2022 fiscal year.
For the entire 2022 fiscal year, the company is expecting to report free cash flows of around $335 million resulting in a significant deterioration compared to the $1.38 billion it reported a year ago.
The cause for this poor performance may be considered temporary as it is related to the global supply chain crisis. Once this issue is resolved, the company's free cash flow generation capacity should rebound and that would have a positive impact on the company's valuation.
With this in mind, Logitech could be a top value pick for buy-and-hold investors who are willing to wait until supply-chain constraints are fully resolved considering that the firm is trading at only 11 times its 2021 free cash flows.
Buy LOGI Stock at eToro with 0% Commission Now!