Kusama Coin Price Up 14% – Time To Buy KSM Coin?
Please note that we are not authorised to provide any investment advice. The content on this page is for information purposes only.
Kusama (KSM) is a growing crypto project. And its influence has continued to rise. Could it be time to buy KSM?
Although an experimental blockchain, Kusama has been able to blaze a trail for itself.
This is because the so-called Canary Network serves as a testbed for major developments before launching on the Polkadot blockchain. The project's native token KSM has rallied in the last 24 hours and more uptrend is expected in the future. In this article, we will consider if this is the right time to buy KSM.
What is KSM Current Price?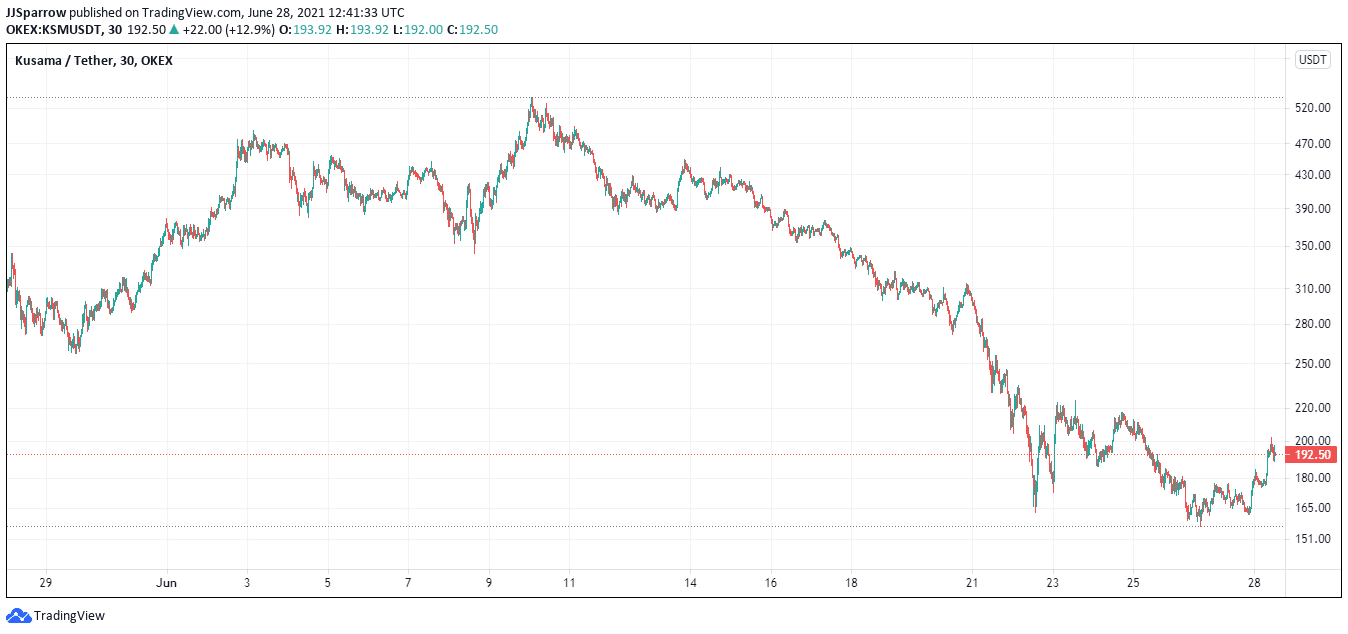 If you want to buy KSM, this could be the most favorable period to do so. This is because Kusama's price is at one of its lowest points so far this year. At press time, the KSM token currently trades at $191.84 increasing 13.98% on the daily trading chart. This is an uptrend from the lowly $172 from two days earlier.
But KSM price has not always gone for a bargain. Just like most cryptocurrencies, 2021 was a watershed year for the digital token. This saw it surge to an all-time high of $594.44 on May 14th before the crypto market crash that followed thereafter.
Even though it saw its value slashed by more than half, KSM has been posting significant returns rallying to $473.07 on June 10th. However, it could not retain this price action and slump. Bitcoin has been a major contributor to the token's struggles and if you intend to buy KSM, you may need to monitor BTC performance.
67% of all retail investor accounts lose money when trading CFDs with this provider.
Kusama – The Reconnaissance Network
Kusama has been called a lot of names. Some of them are the "canary network," "reconnaissance," "testbed," and the "wild cousin" of the Polkadot network.
Surprisingly, all sobriquets are correct. Kusama is a canary network that points out problems, dangers, and vulnerabilities in the code developers are writing.
In the aspect of its being Polkadot's "wild cousin," the Kusama development team has warned interested developers to "expect chaos" and that there are "no promises" when using the Kusama network. These warnings stem from the fact that Kusama is an unaudited version of the Polkadot blockchain platform which means it is really unsafe.
Kusama may be unsafe but it enables developers to push beyond the edge of possibilities as it gives them the freedom to test the limits of their upgrades and see what needs fixing and what needs to be taken out before hitting the market.
Even though Kusama is a testbed, it's not a testnet as it has its own operational blockchain protocol. Sporting an improved version of the energy-efficient proof-of-stake (PoS) consensus algorithm, Kusama uses a nominated PoS (NPoS) which only allows a limited number of validator nodes to verify transactions.
It runs independent governance separate from Polkadot, operating like a decentralized autonomous organization (DAO), and has its own native utility token KSM. Its proprietary coin plays a number of key roles like most utility tokens. KSM is used to settle transaction fees on the Kusama platform and utilized for voting and governance.
The Kusama network is highly favored by development teams who are looking to build cutting-edge features rapidly and innovate alongside.
KSM Technical And Fundamental Analysis
On the trading chart, KSM's fundamentals are strong. The asset's relative strength index (RSI) is currently at 30.12, meaning it is above the oversold margin.
Market Cipher B strategy points to a "Buy" verdict which could be the onset of a bull run. However, the wolfpack ID strategy is rising out of a bear market at 25.92 trendlines.
Kusama blockchain is growing and recently launched a parachain auction on its platform. This has drawn the interests of crypto investors. So far, over $200 million have been raised via crowdloans by blockchain protocols interested in launching on the platform.
Buy KSM Coin at eToro, the World's #1 trading platform!