KNC up 30.44% – Time to Buy KNC?
Please note that we are not authorised to provide any investment advice. The content on this page is for information purposes only.
Investors to Buy KNC as the Asset Maintains Upward Trend
KyberSwap Partners with BitTorrent Chain to Increase Multi-Chain DeFi
BENQI Liquidity Extended by KyberSwap
Kyber Network is currently showing positive trends in a broader market downturn that has seen major digital assets like Bitcoin shed a significant chunk of their value. The decentralized exchange (DEX) platform is currently rallying and encouraging interested investors to buy KNC – its native token.
However, a project's rally should not be a determinant on whether to invest in it or not. Given this, we will be reviewing the digital asset's fundamentals and technical performance to determine if now is a great time to buy KNC.
KyberSwap Partners with BitTorrent Chain to Increase Multi-Chain DeFi
KyberSwap has announced its partnership with BitTorrent Chain (BTTC) to boost the adoption of DeFi. The integration will provide liquidity mining of over $1.5M and trading incentives. This new development will spur the expansion of KyberSwap, thereby prompting more investors to buy KNC.
KyberSwap is one of the first DEXs integrated into BTTC. It is also the protocol's 11th chain integration with BitTorrent Chain. The partnership will increase multi-chain DeFi and also offer several benefits of best trading and earning rates.
KyberSwap delivers all of the DEX needs required in an interoperability chain. The network also provides a detailed set of Liquidity Pools, excluding the need for any other DEXs or aggregators.
Liquidity providers (LPs) on KyberSwap are given the opportunity to maximise returns. The protocol provides the best trading rates alongside eye-catching incentives and yields.
To gain access to BTTC features, users are required to download/add extension wallets and connect the account address to BTTC.
KyberSwap Extends BENQI Liquidity
Last month, KyberSwap announced that Liquidity mining with BENQI will continue on the platform. This announcement followed the increasing popularity of BENQI pools. Investors can buy KNC to participate in the pool offerings.
Earlier on, KyberSwap partnered with BENQI to provide the best rates as well as optimised returns to both traders and liquidity providers. As a result, liquidity providers can maximise capital through KyberSwap's dynamic fee which reacts to market conditions and optimizes returns. Also, KyberSwap's Amplified Liquidity Pools have high capital efficiency.
The pool requires fewer tokens to achieve better liquidity and rates. Another unique feature of KyberPool is better reliability. KyberPool is also audited by ChainSecurity and insured for up to $20M.
KyberSwap Welcomes Its New Pro Live Chart
KyberSwap has introduced its new KyberSwap UX upgrade: Pro Live Chart. This new Live Chart is integrated with TradingView.
The chart features several collections of drawing tools for technical analysis. Traders will also be given access to the charting data of thousands of tokens and several chart types and indicators.
Technical Analysis
Presently, KNC trades at $2.28. In the last 24 hours, the crypto asset has been up 30.44%. KNC's technical analysis indicates a bullish trend for those who choose to buy KNC.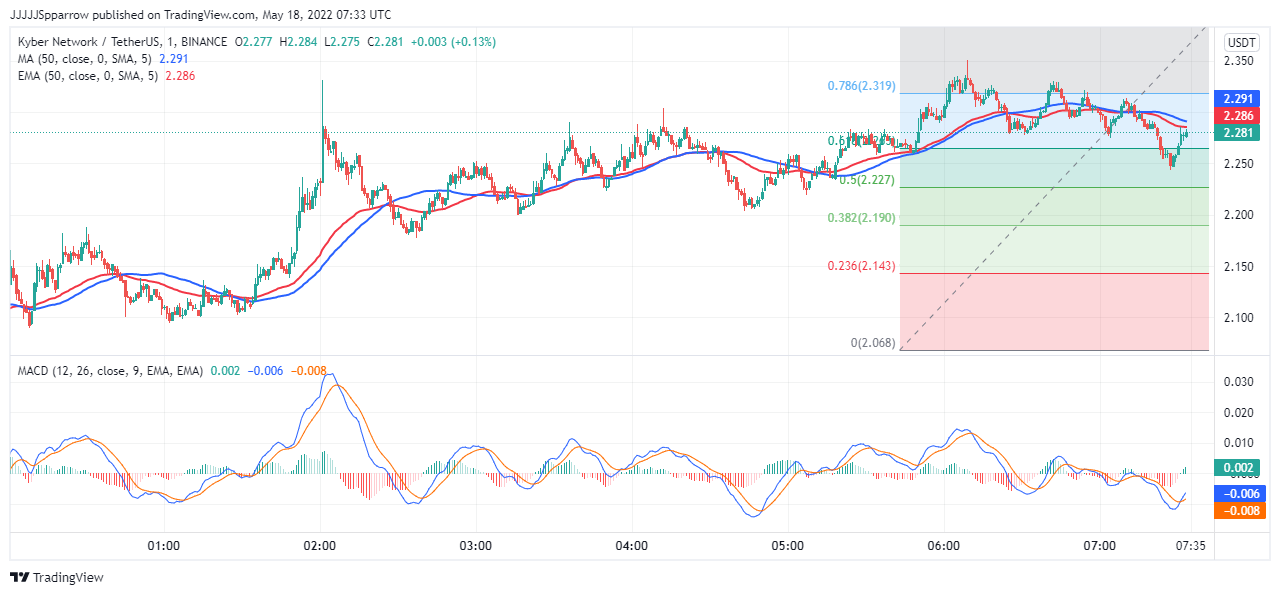 Furthermore, KNC trades within the 61.8% Fibonacci retracement threshold of $2.26. The digital asset's moving average convergence and divergence (MACD) is also positive, demonstrating a buy signal.
KNC displays a 50-day moving average value of $2.29 and a 50-day exponential moving average of $2.28. Currently, KNC trades below its long term indicators. This could indicate that the digital asset is yet to recover from the bears that have trailed it over the past days.
However, KNC's relative strength index of 41.10 indicates that the token is trading in the underbought region. Investors can buy KNC at its current price of $2.28 and grow with the market.
Buy KNC at eToro from just $50 Now!