JPMorgan Chase Stock Price Forecast October 2021 – Time to Buy JPM Stock?
Please note that we are not authorised to provide any investment advice. The content on this page is for information purposes only.
Banking stocks have outperformed in 2021 and JPMorgan Chase (JPM), America's largest bank, has gained 32% in the year. The stock is currently trading just under its 52-week highs. What's the forecast for JPM stock and should you buy the stock?
This week, we have a flurry of bank earnings. Apart from JPM, Bank of America, Citigroup, Goldman Sachs, and Morgan Stanley have also scheduled their earnings for this week.
JPMorgan Chase third-quarter earnings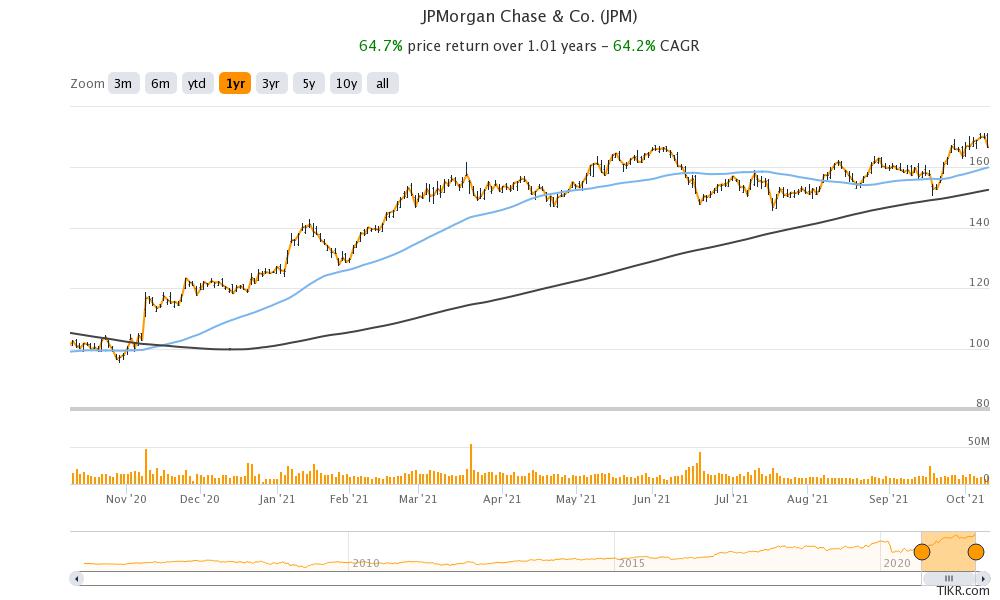 Analysts polled by TIKR expect JPMorgan Chase to report revenues of $29.6 billion in the third quarter, a year-over-year rise of 1.6%. The company's adjusted EPS is meanwhile expected to fall 2.8% to $3. The bank had reported better than expected revenues and profits in the second quarter as a booming US economy led to higher earnings. The company also released some money from reserves.
Last year, US banks had to set aside billions amid fears of higher delinquencies. The Federal Reserve had also barred US banks from increasing the dividends as the US central bank wanted banks to rather shore up their balance sheets amid the uncertain economic environment. However, the Fed, like its counterpart in the UK, has lifted the restrictions on banks' dividends. Several banks, including JPMorgan Chase, have increased the shareholder payouts this year amid strong earnings.
67% of all retail investor accounts lose money when trading CFDs with this provider
JPM stock forecast
Of the 12 analysts polled by TipRanks, eight rate JPMorgan stock as a buy while three have a hold rating. One analyst has rated the stock as a sell. Its median target price of $172.82 is similar to the current prices. There hasn't been any recent analyst action in JPM stock. In August, Credit Suisse had set the stock's target price at $177. In June, Morgan Stanley had raised its target price from $150 to $166.
Earlier this year, Wells Fargo analyst Mike Mayo raised JPM's target price to $195. "JPM has the best structural positioning in its history, in our view, at a time when cyclical winds seem at its back," said Mayo in his note.
JPMorgan Chase stock long term forecast
Here it is worth noting that the increase in interest rates would help US banks improve their net profit margins. Banks borrow at the short end of the curve and lend at the long end. While an increase in long-term interest rates negatively impacts the prices of bonds that banks hold on their balance sheets, it also leads to higher interest rate margins.
"We forecast benefits from costs, credit, capital markets, and returns that increase by est. one-third over 3 years that justifies a higher stock valuation. To us, what seems underappreciated is the model's scalability, as reflected in our forecast that the pre-tax margin on new revenues over the next 3 years should be 50% higher than it was in 2020," said Mayo in its note.
Bank stocks like JPMorgan are among the best cyclicals stocks to play the economic recovery and the expected increase in US interest rates. Also, JPM is among the most well-run banks in the country and even Berkshire Hathaway chairman Warren Buffett has admired its CEO, Jamie Dimon.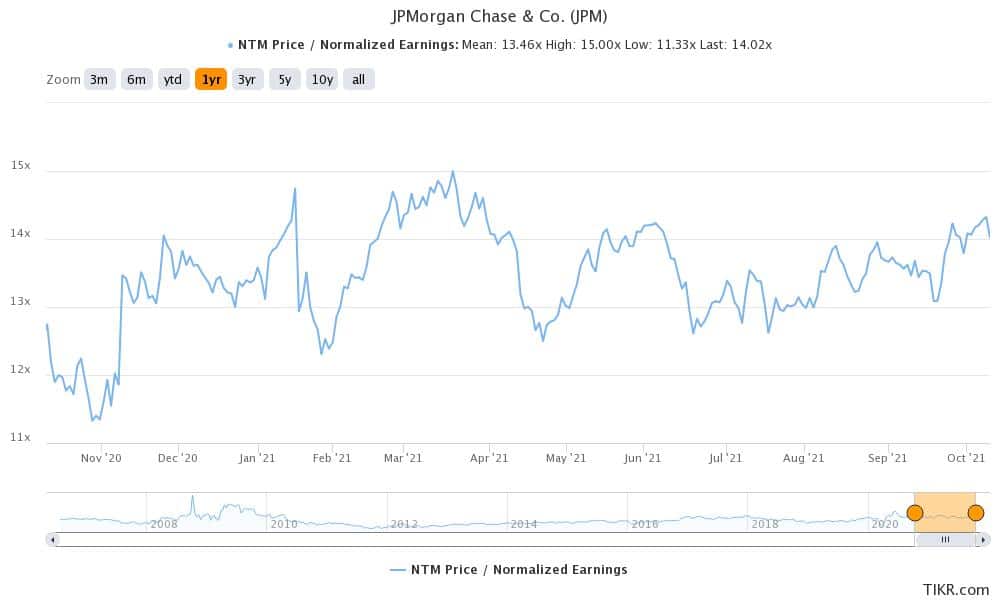 Buffett has exited JPM stock
Meanwhile, while Buffett sounded bullish on U.S. banks before the pandemic. He has fully exited the stakes in JPMorgan Chase and Goldman Sachs and sold most of the stake in Wells Fargo. Berkshire was the biggest shareholder in Wells Fargo but Buffett has been gradually selling the shares and now only holds a small stake. Meanwhile, Buffett made an exception for Bank of America stock and taken the stake above 10%. Usually, Buffett has kept stakes in banks below 10% to escape regulatory scrutiny.
JPMorgan Chase valuation
JPMorgan Chase trades at an NTM (next-12 months) PE multiple of 14.02x. The stock trades at a price-to-book value multiple of almost 2x. Usually, banks are said to be overvalued if the price-to-book ratio exceeds 1. However, several factors including asset quality, and proportion of non-asset-based income impact the valuation.
Looking at the charts, JPM trades above the 50-day, 100-day, and 200-day SMA (simple moving average) which indicates technical bullishness. The 14-dar RSI (relative strength index) of 57 is a neutral indicator while the 12,26 MACD (moving average convergence divergence) also gives a buy signal.
Overall, JPMorgan Chase is among the well-run banks. While the current valuations might appear a bit stretched, any dip in the stock would be a good buying opportunity.
Buy JPM Stock at eToro from just $50 Now!