Home Depot Stock Down 4% – Time to Buy HD Stock?
Please note that we are not authorised to provide any investment advice. The content on this page is for information purposes only.
The price of Home Depot stock fell more than 4% yesterday after the company released its financial results covering the second quarter of 2021 as HD's business has started to show signs of a fading pandemic tailwind.
Even though the company beat both revenues and earnings estimates for the period, Home Depot reported a deceleration in comparable sales growth along with shrinking gross margins and lower customer transaction volumes compared to a year ago.
Sales landed at $41.12 billion or $380 million higher than analysts' estimates for the quarter while earnings per share landed at $4.53 or 12.7% higher than the firm's bottom-line result from Q2 2020 while they also came in 9 cents above the Street's estimate for the period.
Could this temporary slide in Home Depot's share price be providing a more attractive entry point for long-term investors, or could this post-earnings weakness be just the tip of the iceberg of a potentially upcoming correction for the stock?
In the following article, I'll take a closer look at the stock's price action along with analyzing the company's fundamentals to possibly answer that question.
67% of all retail investor accounts lose money when trading CFDs with this provider.
Home Depot Stock – Technical Analysis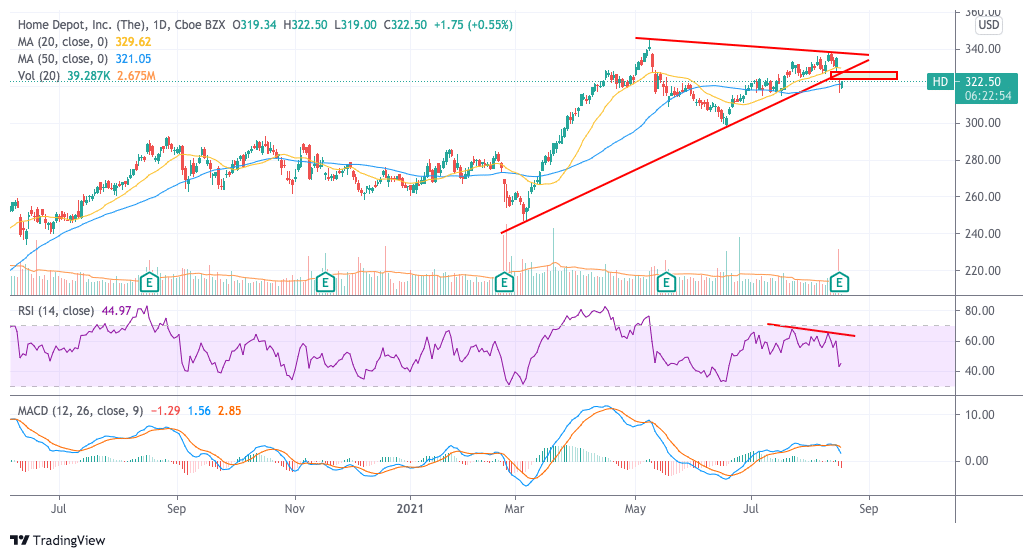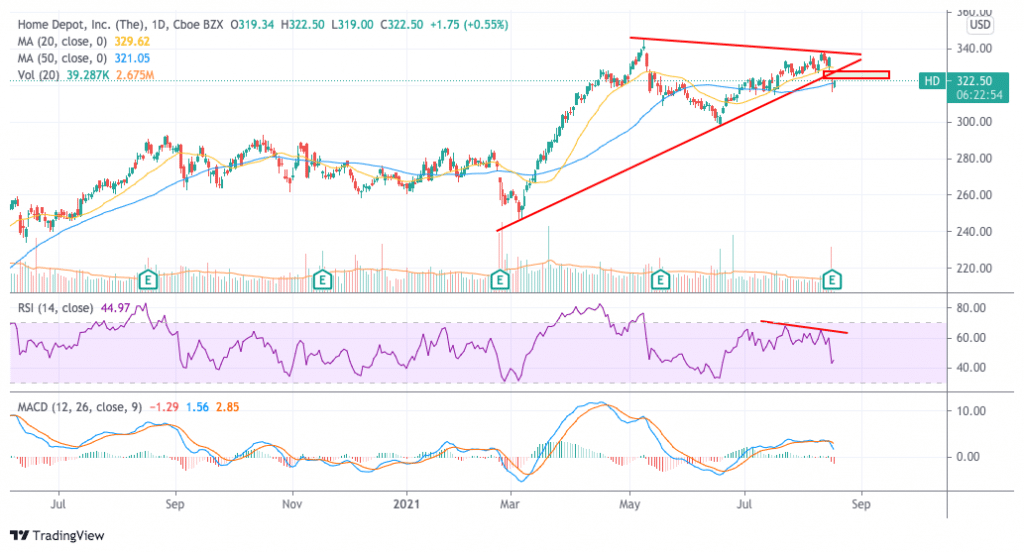 Yesterday's downtick in HD stock has broken the symmetrical triangle pattern that had been forming in the past months and this break could result in a sizable correction for HD's stock price moving forward.
In this regard, it is important to note that the Relative Strength Index was already displaying a bearish divergence as the price of the stock moved higher on lower momentum readings while the MACD has just moved below the signal line – an event that is usually interpreted as a sell signal.
Yesterday's trading volumes were quite high with more than 4 times the average number of shares being traded after the earnings report was released.
Moving forward, the outlook for Home Depot seems bearish based on weak technical readings and the negative momentum prompted by this deceleration in the business's pandemic-related trends. Support areas to watch include the $315 and $300 levels for a total potential downside risk of 6.5%.
Home Depot Stock – Fundamental Analysis
Home Depot sales had been advancing at a slow pace before the pandemic stroked but they experienced a significant jump last year on the back of higher demand in the do-it-yourself (DIY) segment as people entertained themselves by renovating their homes during lockdowns.
Meanwhile, gross margins for the company in the past quarters had averaged around 34%, which means that this quarter's 33.2% reading may indicate that the firm's sales mix is leaning toward lower-margin products.
In this regard, even though the company beat earnings estimates for this quarter, chances are that bottom-line results could deteriorate if gross margins continue to shrink. Moving forward, analysts are expecting to see Home Depot's earnings growing at a rate of around 5% per year.
Interestingly, the firm's earnings growth rate had been declining before the pandemic stroked which means that investors should keep an eye on how bottom-line results perform in the following years as a fading pandemic tailwind could result in a significant decline in profitability when compared to a higher comparative baseline.
Even though the stock is trading at only 23 times its forecasted earnings for the next twelve months, this slower forecasted earnings growth could result in a multiple contraction for Home Depot in the following months – a situation that would further support the bearish outlook outlined in the section above.
On the solvency front, Home Depot's large long-term debt is not necessarily positive as the company has $40 billion in long-term commitments on assets of $72.6 billion including $7.1 billion in goodwill and $6.65 billion in cash. This elevated debt may also play against the company's valuation.
That said, a significant decline in Home Depot's share price could result in the company becoming an interesting dividend stock while the firm's elevated free cash flow generation should lead to the continuation of the firm's huge stock buybacks. Those actions should limit the downside potential for the stock in the future.
Buy Stocks at Cedar FX, the World's #1 trading platform!