5 Best Dividend Stocks to Buy in August 2021
Please note that we are not authorised to provide any investment advice. The content on this page is for information purposes only.
With savings rates standing near zero while bonds are offering unattractive yields, dividend stocks are an appealing alternative to investors seeking to get a solid stream of fixed income.
However, picking the best dividend stocks in the market involves researching the company's fundamentals to make sure that the business is generating enough cash to sustain that dividend in the future.
Moreover, the best dividend picks should offer a certain degree of stability in terms of its share price to avoid losses on the principal. To help you in short-listing your candidates, the following list is comprised of 5 names that should you consider when building a dividend-focused portfolio.
1. Verizon Communications (VZ)
Dividend yield: 4.5%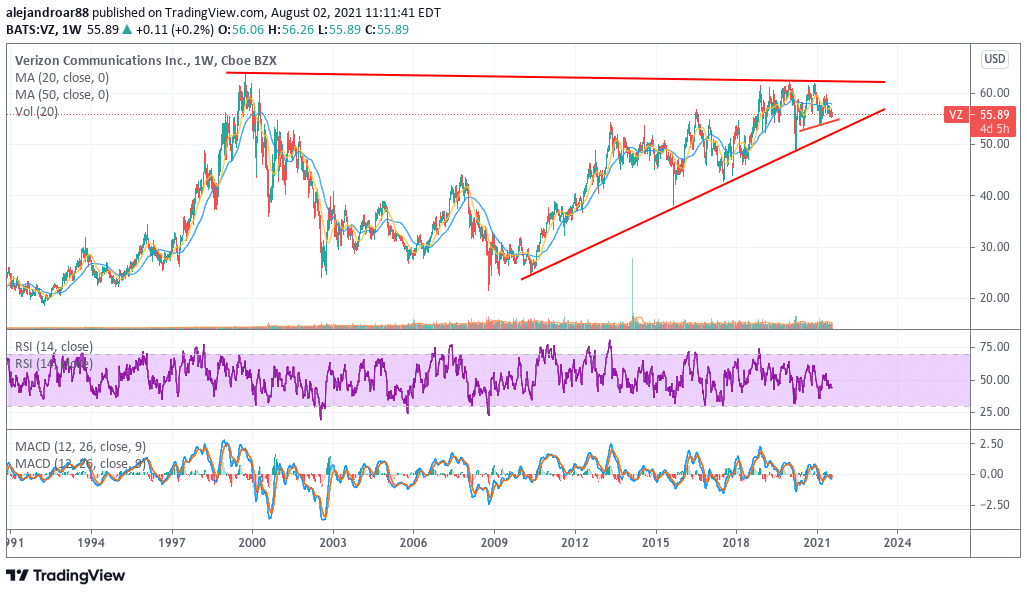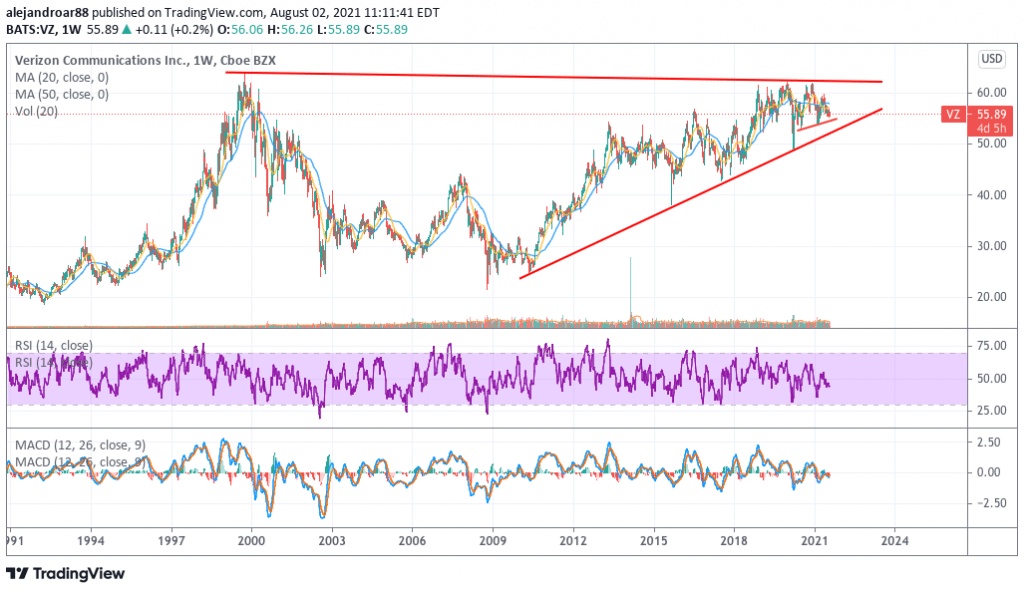 Verizon reported a strong second quarter of 2021 only a couple of weeks ago that included an upward revision to the firm's adjusted EPS guidance from a range between $5 and $5.15 to $5.25 to $5.35.
The company's annual dividend is currently sitting at $2.51 per share which results in a fairly conservative payout ratio of around 50%.
Meanwhile, the outlook for the firm's free cash flow remains positive and should continue to provide a decent coverage ratio of 1.2x – 1.4x to the current dividend. During the first half of 2021, free cash flows landed at $11.7 billion.
Currently being valued at 10.5 times its forecasted earnings per share for the next twelve months, the downside risk for the stock seems limited and this, alongside a combination of decent dividend coverage and low payout ratio, makes Verizon a top dividend pick.
67% of all retail investor accounts lose money when trading CFDs with this provider.
2. BHP Group (BHP)
Dividend yield: 4%
The energy and mining sector have been particularly favored by a surge in pent-up demand and this has contributed to pushing the sales of the company higher in the past twelve months.
Last year, the Board approved an interim $1.01 dividend that resulted in an 85% payout ratio based on the firm's adjusted earnings per share back then. In total, the company distributed $5.1 billion in dividends on $5.2 billion of free cash flow by the end of the last semester of 2020.
Even though commodity prices remain fairly volatile as a result of the COVID-19 pandemic, the firm's historical cash flow generation capacity demonstrates that BHP could maintain this elevated dividend this year as the company has generated over $7 billion in free cash flows in multiple years during times when commodity prices have not been as favorable as they are now.
Moreover, now that pandemic-related restrictions are starting to be lifted, production volumes may progressively go back to pre-pandemic levels – a situation that should further help the firm in maintaining its dividend as is.
67% of all retail investor accounts lose money when trading CFDs with this provider.
3. The Western Union Company (WU)
Dividend yield: 4%
Western Union shares have been declining lately from a post-pandemic high of $27 per share to $23 per share today. This has resulted in a higher dividend yield of 4% offered by the company that seems fairly stable based on its earnings and cash flow generation capacity.
According to Western Union's latest earnings release, the company expects to see its earnings per share landing between $2 and $2.1 on an adjusted basis. Based on the company's current annualized dividend of $0.94 for this year, that results in a payout ratio of 47% if one uses the low end of that estimate.
Meanwhile, WU's historical dividend coverage based on its free cash flow generation capacity has been quite high, sitting above 2.5 most of the time and everything points to the company possibly reporting similar numbers this year.
Even though the business has suffered lately as a result of increased competition from fintech companies that are threatening to replace its legacy money transfer service, WU has continued to deliver positive results and they should be enough to support the share price in the near future.
67% of all retail investor accounts lose money when trading CFDs with this provider.
4. Pfizer (PFE)
Dividend yield: 3.6%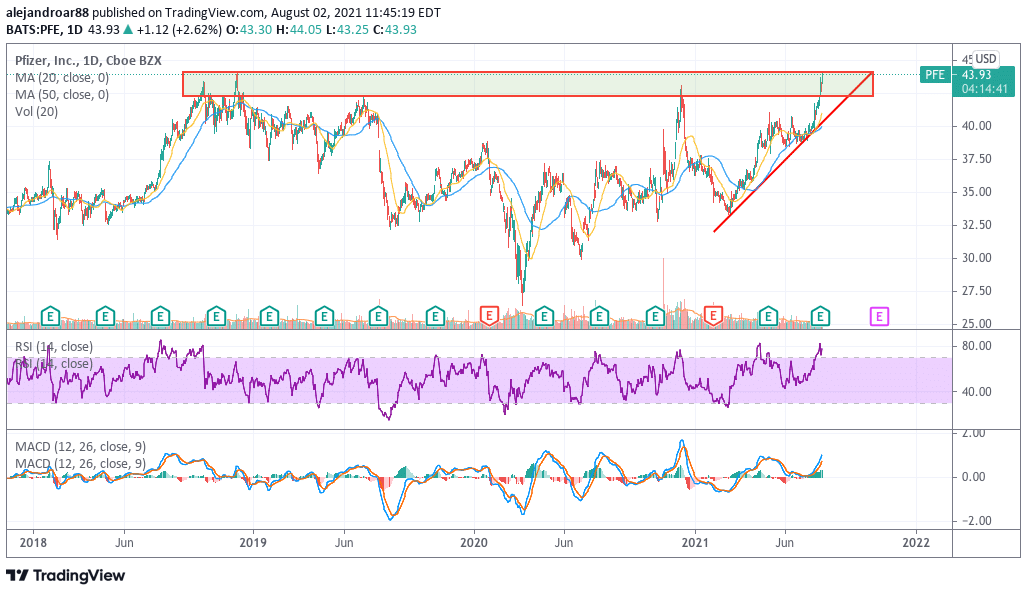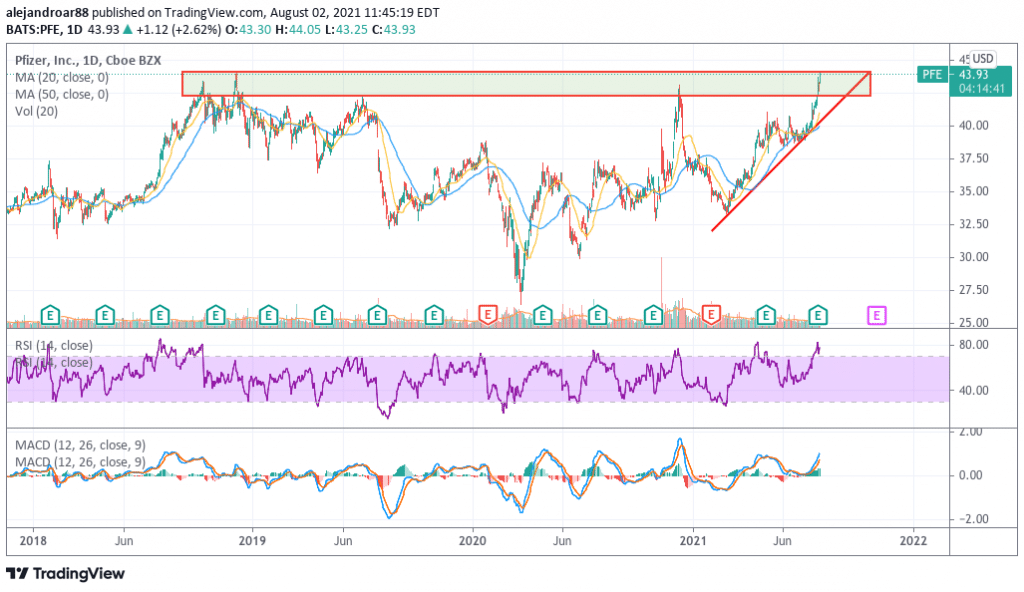 The COVID-19 vaccine has contributed positively to further strengthen Pfizer's financial outlook as the company generated as much as $7.8 billion in sales from this sole product during the second quarter of this year while it expects to see total sales for coronavirus vaccines landing at approximately $33.5 billion by the end of 2021 – a number that will account for nearly half of the firm's revenues for the year.
Overall, sales of the pharmaceutical giant are expected to take a big leap this year, moving from $42 billion in 2020 to as much as $79 billion this year and they are forecasted to remain well above the $50 billion threshold for the foreseeable future as the COVID-19 virus may continue to be with us moving forward similarly as influenza.
As a result, Pfizer's dividend distributions could be increased in the following quarters. However, even if the Board decides to adopt a conservative approach, the current annualized dividend of $1.56 continues to be fairly attractive.
If the Board decides to maintain distributions as is, Pfizer's payout ratio would descend to 44.4%, down from its previous 91% figure. Moving forward, the payout ratio would remain below the 60% threshold and that increases the likelihood of a dividend hike.
67% of all retail investor accounts lose money when trading CFDs with this provider.
5. Kimberly-Clark Corporation (KMB)
Dividend yield: 3.4%
Kimberly-Clark has been considered for years a high-quality blue-chip stock and a top dividend pick due to the company's resilient business model and strong track record of dividend hikes.
Historically, the firm has managed to produce free cash flows above the $2 billion mark while dividend distributions have been progressively moving from $1.4 to $1.5 billion, resulting in a decent coverage ratio of 1.3x to 1.5x.
At the moment, annualized distributions stand at $4.56 per share, which would result in a 75% payout ratio based on the company's forecasted GAAP earnings for the year.
Since 2012, the company has progressively ramped up its distributions at an 8.6% CAGR while the defensive nature of its business, which should continue to deliver positive results even under scenarios of overall economic hardship, makes it a long-term dividend pick for investors seeking to receive a steady stream of income.
Buy Stocks at Cedar FX, the World's #1 trading platform!