FTX Token Price Up 9.11% – Time to Buy FTT Coin?
With FTX showing huge growth potential, investors might want to buy FTT
FTX has confirmed plans to add traditional stocks to its offering as it launches a new venture capital arm
FTT is looking quite attractive on the technical front as well
The opportunity to buy FTT appears to have come around, and investors are eyeing the asset as they look to clock in gains before the end of the week.
It also seems like a good time for many investors to buy FTT. The market is looking green today, offering investors some respite after a few days of mixed performances across the board. But, before you buy this asset, it's worth knowing what powers its rise.
As its name suggests, FTT is the native token for FTX – one of the world's leading crypto exchanges. The popular spot and derivatives token is now the third-largest crypto exchange globally by daily trading volumes, trailing just Binance and Coinbase.
Exchange tokens are not a novelty in the crypto market. Binance has its Binance Coin (BNB), and several other exchanges have also developed tokens to offer additional value to their investors.
With FTT, you have a utility token that powers several features on FTX. The asset can be used to reduce fees for activities like trading and transactions on the exchange, and traders on FTX can use the coin to serve as collateral for their futures positions. FTT can also be staked on FTX, with investors getting the opportunity to win more tokens.
FTX's Imminent Expansion Into Traditional Stocks
As you'd expect from an exchange token, much of FTT's value comes from developments on FTX. as one of the world's fastest-growing crypto exchanges, FTX is doing enough for investors to want to buy FTT. The exchange has hit 2022 hot, and there are many growth prospects.
One area that is getting investors excited is FTXs' imminent offering of traditional stocks. Last week, Brett Harrison, the President of FTX's United States arm, confirmed that the company is working hard to bring traditional stocks to its platform.
In a tweet, Harrison explained that FTX is working on features such as stock screening, historical candles, basic fundamentals, and portfolio performance tracking features. The company hopes to get something out soon, much to investors' delight.
FTX has already become one of the most recognisable names in U.S. finance. By offering access to stocks, the company can ensure that its customers never have to leave its platform when they want to invest. They will be able to switch between traditional stocks and crypto seamlessly.
FTX's stocks offering could also see the company eat into the market share of platforms like Robinhood and TD Ameritrade. In terms of growth opportunities, this is huge.
Becoming the Crypto Industry's New VC Behemoth
While FTX is working hard to improve its offering to users, the company is also growing in other regards. Last week, the exchange unveiled a new venture capital arm called FTX Ventures.
Led by Amy Wu, FTX Ventures holds a $2 billion war chest as it looks to advance the global adoption of Web3 and blockchain technology. This immediately puts FTX in the company of big crypto financial backers like Andreessen Horowitz and Coinbase Ventures.
FTX can ensure that the growth train keeps moving by investing in other companies. This should excite the company's investors and even encourage people to buy FTT.
FTT Technical Analysis: FTT Looking Strong Heading Into the Weekend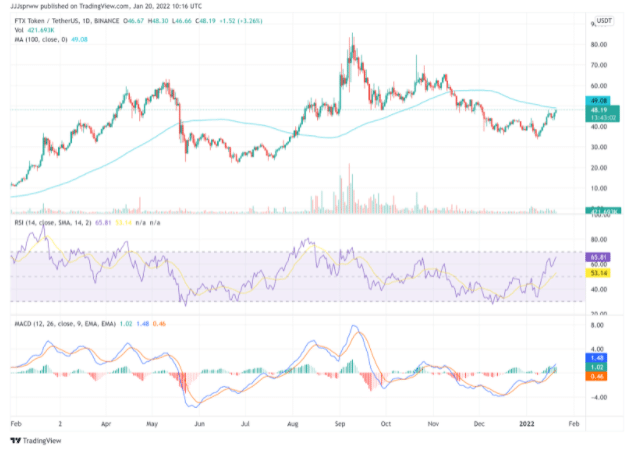 Currently, FTT trades at $48.19 – a jump of 9.11% in the past 24 hours. The asset has outperformed the broader market, which is up by 1.27% in the same period.
Looking at the 1-year chart, you will find that FTT has been ranging for almost two months now. The asset has been within the $34 to $50 range since the beginning of December 2020, and the $50 resistance still holds.
Investors will want to wait to see whether FTT breaks out of that range with this current run. If it does, that could be enough encouragement to buy FTT as it looks for a new resistance.
Looking at indicators, FTT is trading very close to its 100-day simple moving average (SMA) of $49.10. The 23.6% Fibonacci retracement tool puts FTT at a support of $41.60, which is quite comfortable.
With a positive moving average convergence divergence (MACD), this looks like a good time to buy FTT. However, the asset's relative strength index (RSI) is at 65.81, which is approaching the overbought region.
Buy Crypto at eToro from just $50 Now!