Deere Stock Price Up 37% in 2021– Time to Buy DE Stock?
Deere (DE) stock gained 5.3% yesterday which took its year-to-date gains to 36.7%. The stock is outperforming the S&P 500 by a wide margin this year. What's the forecast for DE stock and is it a good buy even now?
Deere released its fiscal fourth-quarter 2021 earnings yesterday that got bulls charged up. Along with the earnings beat, its guidance for the fiscal year 2022 also sounded impressive.
Deere released fiscal fourth-quarter 2021 earnings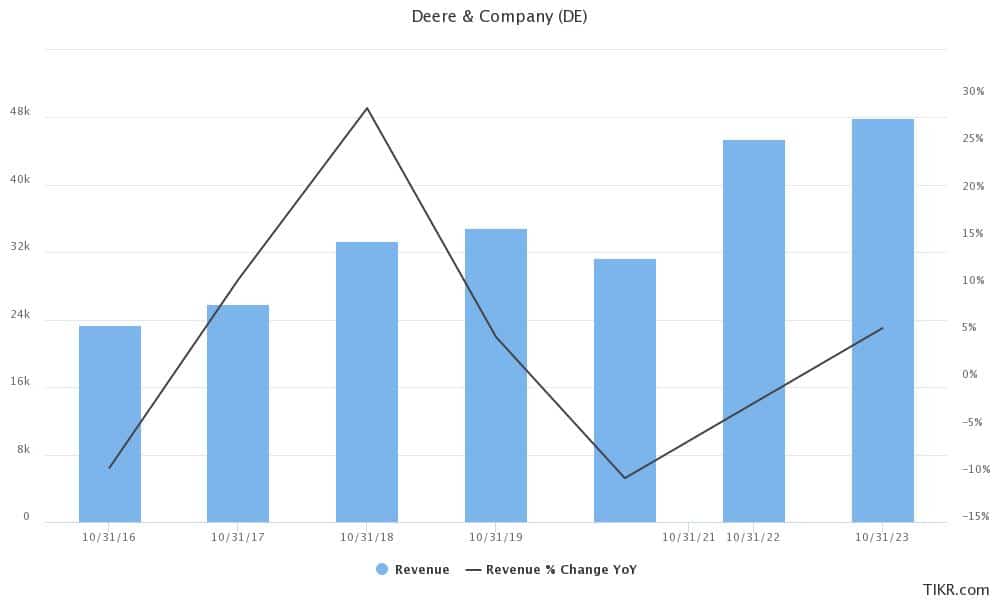 Deere reported revenues of $11.3 billion in the fiscal fourth quarter which was 16% higher as compared to the corresponding period last year. In the full fiscal year, the farm equipment company reported revenues of just above $44 billion, which was 24% higher than the fiscal year 2020.
Deere's net income surged 69% year-over-year (or YoY) to $1.28 billion in the fiscal fourth quarter. The steep rise is coming from a lower base though as its earnings in the fiscal fourth quarter of 2020 were negatively impacted due to impairment and employee separation-related expenses.
68% of all retail investor accounts lose money when trading CFDs with this provider.
DE provided a strong outlook
Meanwhile, more than the earnings beat, it was the strong guidance and positive commentary on the fiscal year 2022 outlook that got marketed enthused. The company sees an almost 15% increase in demand for large agricultural equipment in the US in the fiscal year 2022. In Europe and South America, it expects growth of around 5% while it is forecasting a flat market for Asia.
Overall, the company expects net sales to rise between 20-25% in its Production and Precision Agriculture segment which includes a higher price realization of 9%. In the small agriculture and turf segment, it is forecasting sales growth between 15-20%, which includes 7% higher price realizations. In the construction and forestry segment, the company expects a 10-15% sales growth with 8% higher prices.
Overall, the company expects its net income to be between $6.5-$7 billion in the year. This would mean another record year for the company after posting a record profit of $5.96 billion in the fiscal year 2021. "Looking ahead, we expect demand for farm and construction equipment to continue benefiting from positive fundamentals, including favorable crop prices, economic growth, and increased investment in infrastructure," said John C. May, Deere's CEO.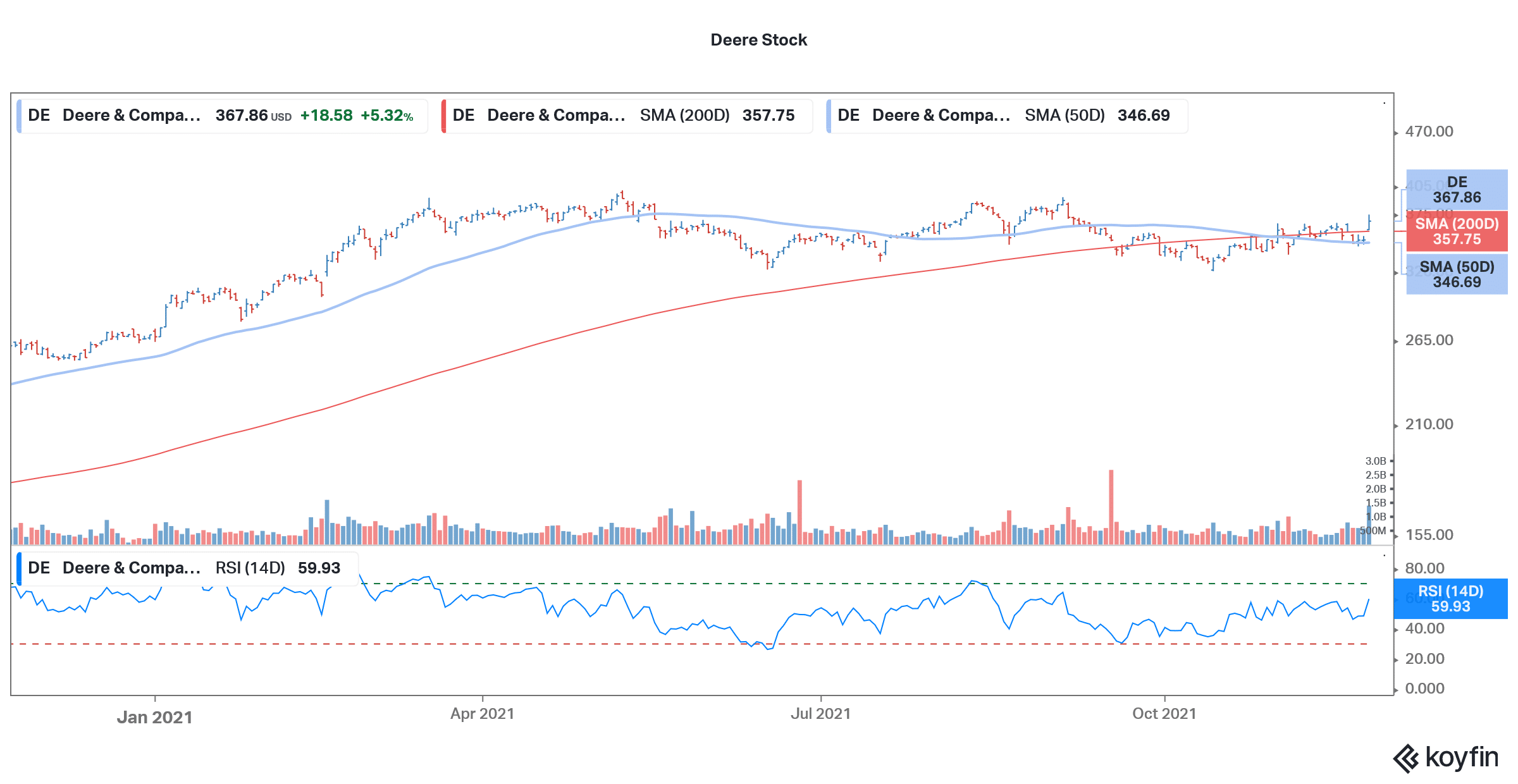 Farm prices have been high
Notably, farm prices have risen over the last year. While it is adding to the food inflation, it is also fuelling an investment cycle in farm equipment, which is positive for companies like Deere. Meanwhile, Deere is also battling with the global supply chain issues even as it said that it is working with partners to mitigate the impact.
Deere also reached a settlement with US employees which ended a four-week strike. The company has a legacy of strikes that take a toll on its production. Especially in the current scenario, the strike only compounded the supply chain issues that DE is facing. Meanwhile, despite these headwinds and a generation input cost inflation, the company managed to post better than expected profits in the quarter.
Analysts are bullish on DE stock
Wall Street analysts sound optimistic about Deere's earnings and Edward Jones and Third Bridge issued bullish notes after the release. Earlier this month, Bank of America reiterated its buy rating on Deere even as it said that it does not rule out more labor-related issues for Deere.
It said that Deere's "stock is up 7.2% since the strike began vs the S&P500 +5.6%, due partly to the federal infrastructure bill, a 7% rally in Dec-22 corn futures, and expectation of a fairly quick resolution. We would not be surprised to see additional worker strikes at other industrial companies over the next 12-18 months as production workers have leverage in the current environment that is riddled with labor shortages and supply chain challenges amid record earnings."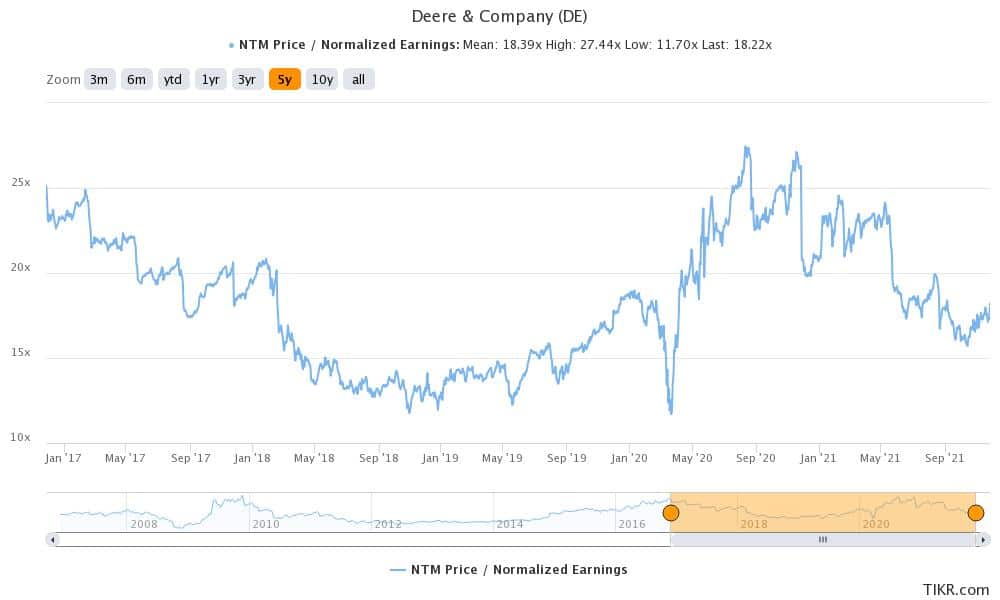 Deere stock forecast
Wall Street analysts are reasonably bullish on Deere stock. Of the 23 analysts covering the stock, 14 rate it as a buy while seven have a hold rating. The remaining two analysts have a sell rating. Its median target price of $410.50 is a premium of 11.6% over current prices.
DE stock long-term forecast
The medium-term outlook for DE stock looks positive amid the current farm supercycle. The long-term outlook looks strong too as farmers in emerging markets also turn to modern equipment.
Should you buy Deere stock?
Deere trades at an NTM (next-12 months) PE multiple of 18.2x which is in line with the average multiple over the last five years. The multiples look reasonable and the company might surprise on the upside with the earnings in the near term.
DE stock is looking bullish on the charts too and trades above the 50-day and 200-day SMA (simple moving average). The 14-day RSI is 59.9 which is a neutral indicator. The 12,26 MACD (moving average convergence divergence) also gives a buy signal.
That said, the demand outlook for the industries that DE is serving looks reasonably strong. While it is not a multibagger kind of stock, it still looks like a good buy especially if you want to play the higher farm product prices through an equipment manufacturer.
Buy DE Stock at eToro from just $50 Now!