Cruise Line Stocks Drop 10% Amid Concerns About New COVID Variant
Please note that we are not authorised to provide any investment advice. The content on this page is for information purposes only.
Cruise line stocks are sliding more than 10% this morning in pre-market stock trading action following news of a new, more resistant, and possibly highly transmissible COVID-19 variant found in South Africa and other countries in that region.
Even though only a few details about the threat level of the B.1.1.529 variant of the virus have been shared with the public, the World Health Organization (WHO) is expected to convene this Friday at midday to discuss the data that has been collected so far to make recommendations to countries.
"We don't know very much about this yet. What we do know is that this variant has a large number of mutations. And the concern is when you have so many mutations it can have an impact on how the virus behaves", stated Maria van Kerkhove, WHO's technical lead on COVID-19.
Multiple countries have moved to impose travel bans and other restrictions on passengers coming from countries in Southern Africa.
Investors are fearing that these measures can once again lead to no-sail orders imposed on cruise operators such as Carnival Corp (CCL), Royal Caribbean (RCL), and Norwegian Cruise Line (NCLH) and that is the reason why cruise line stocks are dropping this morning.
67% of all retail investor accounts lose money when trading CFDs with this provider.
Cruise Line Stocks – Technical Analysis
Carnival Corporation (CCL)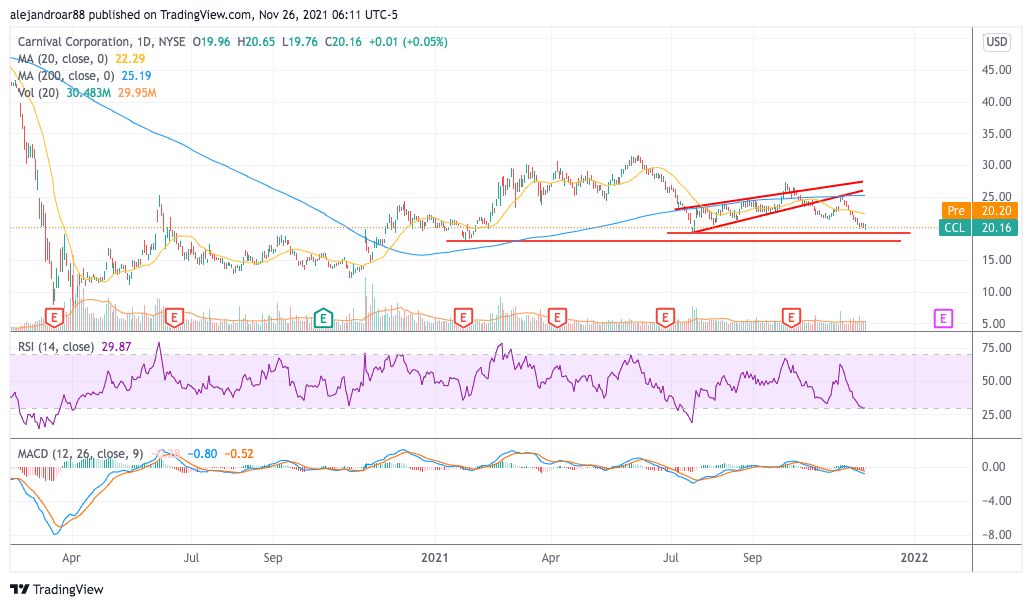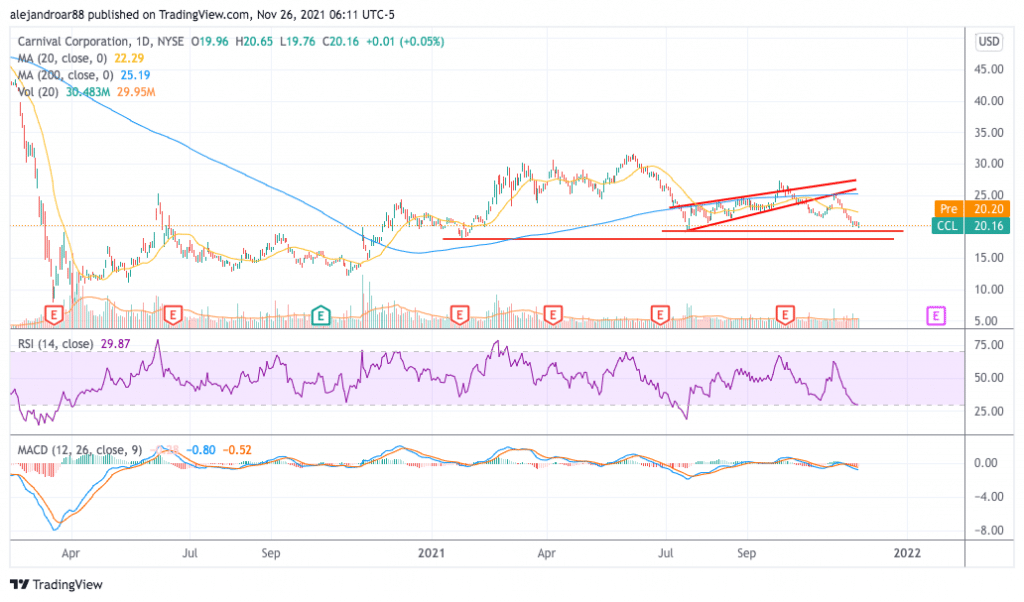 Carnival stock is down 9% so far in November and it is among the most battered cruise line stocks while today's pre-market downtick would push the stock to its lowest level since January this year as further delays in the resumption of the firm's operations could threaten to weaken its balance sheet.
The stock is already trading below its short-term moving averages while the downtrend has pushed momentum indicators to oversold territory with the Relative Strength Index (RSI) currently standing at 30. If the price breaks below the $18 level, things could get ugly for Carnival stock.
Royal Caribbean (RCL)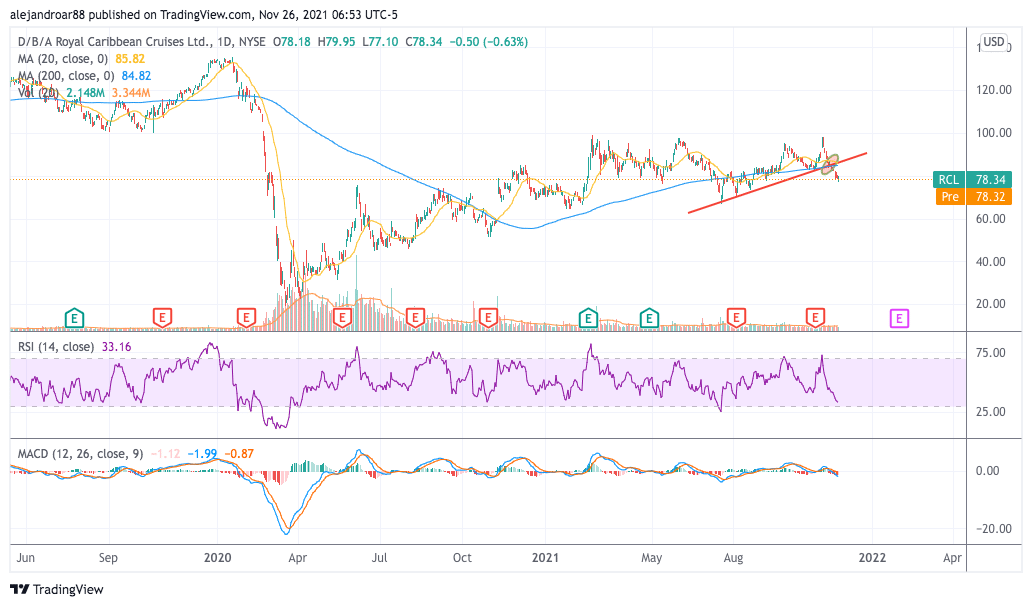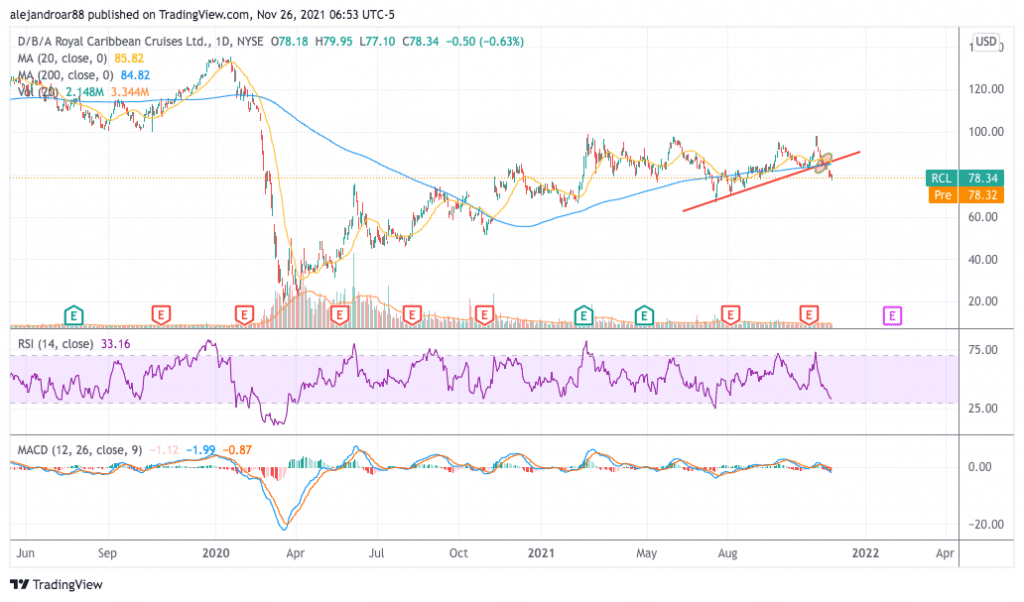 Royal Caribbean shares have shed 7% of their value so far in November following rumors about this dangerous virus variant and amid the resignation of its Chief Executive Officer, Richard Fain, who served as the head of the business for 33 years.
Weakness in the price action has also led Royal Caribbean stock to reach very depressed levels for its momentum indicators as the Relative Strength Index (RSI) is standing at 33 while the MACD has crossed below the signal line on the back of steadily increasing negative histogram readings.
The stock's trend line support has been broken and that increases the likelihood of a swift correction for Royal Caribbean stock if today's negative reaction about the South African variant ends up being more than justified.
The "good news" for RCL is that there are multiple horizontal support areas down the road that can cushion today's decline. So far today, the price is diving to the $70 level. This decline could accelerate toward the $65 level without causing a panic sell but this would still suppose an important downside risk for investors of approximately 17% based on yesterday's closing price.
Norwegian Cruise Line (NCLH)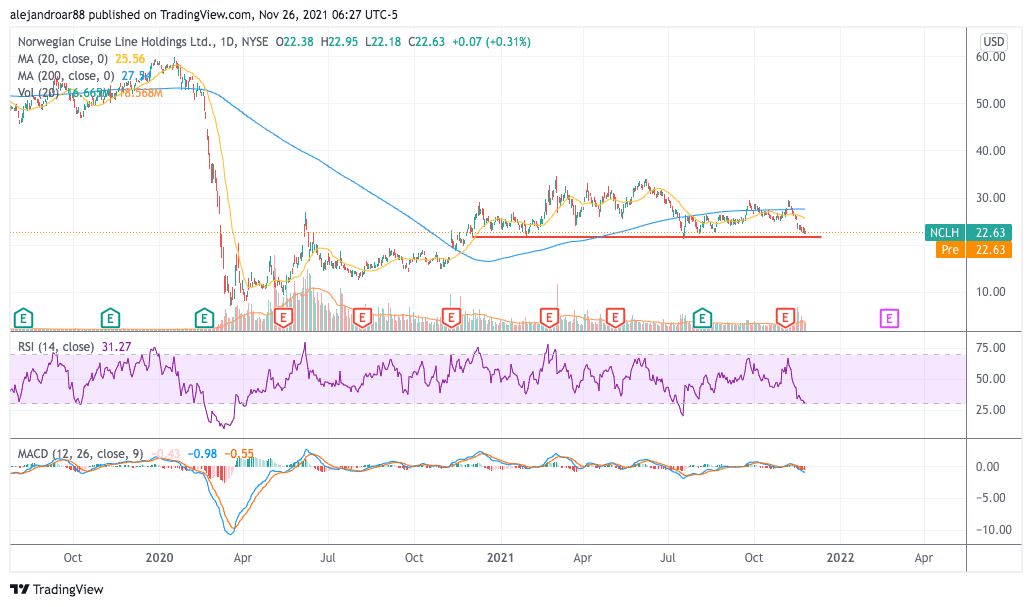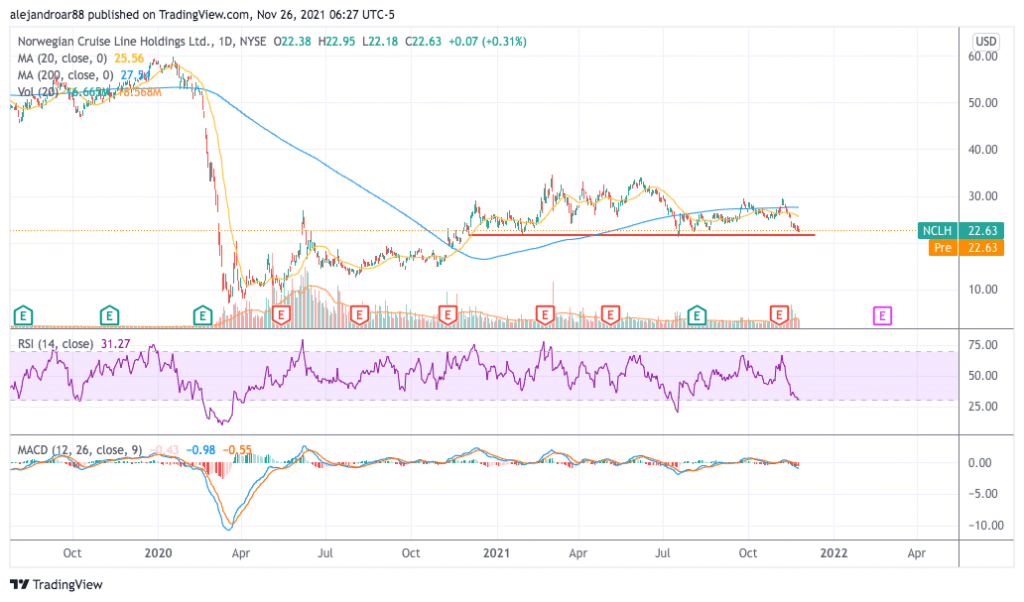 The price of Norwegian is approaching a key support area found at the $22 level following this month's 12% drop.
This decline came in a month where the company said to have completed a "strategic balance sheet optimization" that involved raising $1.15 billion in capital through the issuance of Exchange Notes, the repurchase of $715.9 million of its 6% exchangeable senior notes due in 2024 for a total of $1.4 billion, the issuance of 46.86 million ordinary shares to be exchanged for the above-mentioned 2024 notes, and other similar transactions.
The company estimates that diluted shares outstanding will decline by 5.2 million as a result of these transactions while the firm will save around $86 million in annual interest expenses. Meanwhile, the operations should have increased Norwegian's cash reserves by around $259 million.
The pre-market action today is pushing the price below the $22 threshold already and that is bad news for Norwegian as the downside risk is quite large considering that the next area of support would be found at around $14 per share resulting in a potential 38% loss based on yesterday's closing price if the price keeps heading down.
Cruise Line Stocks – Fundamental Analysis
The following is a summary of the most relevant financial information released by these three cruise line operators as part of their Q3 2021 earnings report.
Carnival Corp (CCL)
Q3 2021 Revenues: $546 million
% below 2019 levels: 91.6%
Estimated Cash Burn: $1.5 to $2 billion per quarter
Cash Reserves (Q3 2021): $7.79 billion
Royal Caribbean (RCL)
Q3 2021 Revenues: $457 million
% below 2019 levels: 85.7%
Estimated Cash Burn: $900 million to $1.2 billion per quarter
Cash Reserves (Q3 2021): $3.3 billion
Norwegian Cruise Line Holdings (NCLH)
Q3 2021 Revenues: $153 million
% below 2019 levels: 92%
Estimated Cash Burn: $350 million per quarter
Cash Reserves (Q3 2021): $1.93 billion
Of the three operators, Norwegian seems to be the one that has the most money to withstand the impact of a prolonged downturn in its business. Its cash burn coverage ratio based on its Q3 2021 cash reserves stands at around 5.5x compared to 2.75x for Royal Caribbean and around 4x for Carnival Corp.
That said, Norwegian displays the slowest recovery in terms of its revenues compared to pre-pandemic levels.
Overall, the odds that these firms will have to raise more capital to withstand a prolonged suspension of their operations are not necessarily high at the moment except for Royal Caribbean. This makes RCL stock particularly sensitive to virus-related developments.
Aside from that, analysts will probably review their estimates for these companies as more data from the virus variant starts to come in. In this regard, another expected wave in multiple developed countries or lower vaccine efficacy could lead to lower-for-longer revenues and increased balance sheet weakness for cruise operators.
Buy Cruise Line Stocks at eToro with 0% Commission Now!