Cosmos up 7.39% – Time to Buy ATOM?
Please note that we are not authorised to provide any investment advice. The content on this page is for information purposes only.
Investors to buy ATOM as the asset outperforms the global crypto market
Theta Upgrade announced
Cosmos launches Interchain Developer Academy
Cosmos is a blockchain that enables previously incompatible networks to interact. The blockchain seeks to solve the crucial problems of major cryptocurrencies, such as high costs, slow transactions, and scalability.
Cosmos also seeks to make blockchain technology less complicated for developers. This improvement will be by providing a modular framework that makes it easy to understand decentralised apps. The blockchain's software allows developers to build using existing code chunks. Users who buy ATOM can participate in votes on upgrades to the network.
Cosmos Theta Upgrade: Time to Buy ATOM?
Cosmos Hub has begun its major step to a fully decentralised multi-chain ecosystem with its new upgrade. This is a great development for investors who choose to buy ATOM. With the rapid development of its ecosystem, Cosmos seeks to expand the features of its network. The blockchain was earlier upgraded to Theta on Testnet in March.
This recent Theta Upgrade will allow the network to function as a host chain. The upgrade will also welcome a completely new ecosystem of interoperability.
Interchain Accounts will allow other blockchains to establish and manage accounts on the Cosmos Hub. They'll also be able to perform native Cosmos Hub transactions. This advancement will pave the way for Interchain Accounts.
Also, the second half of the Cosmos Hub Theta, known as Rho Upgrade, comes in Groups. The system works together with Interchain Accounts to enable DAOs (Decentralized Autonomous Upgrades) to natively interact with other interchains.
The eruption of Decentralized Finance (DeFi) has created a rising need for interoperability. Hence, Cosmos seeks to provide a system that makes DeFi more interesting and rewarding for its users.
Cosmos Launches Interchain Developer Academy
Cosmos has announced its online training program to empower developers on the core aspects of the blockchain. Users who complete the Academy training will be well furnished with an understanding of blockchains and cryptography. Developers will also be trained on the Cosmos SDK, the Tendermint consensus algorithm, and the Inter Blockchain Protocol. This new development may spur more investors and developers to buy ATOM.
The Interchain Developer Academy offers a part-time program that provides 60 hours of detailed content. This information is being delivered by blockchain professionals from B9lab, Cosmos' education partner.
The interchain foundation also disclosed plans to empower 5000 developers for a three-year period. In addition, the Foundation funds graduate programs in the area of DeFi, non-fungible tokens (NFTs), autonomous organizations, marketplaces, regenerative finance, and many others.
Technical Analysis
At press time, ATOM is trading at $11.75, up 7.39% in the past 24 hours. ATOM's technical indicators indicate a bullish trend for investors who intend to buy ATOM.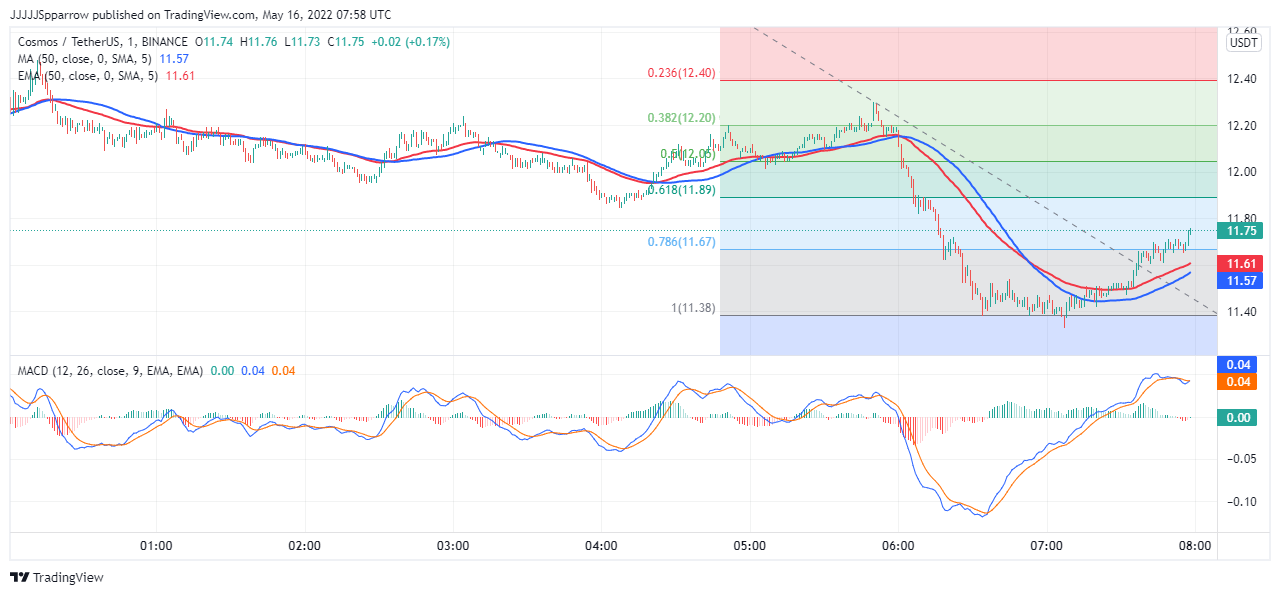 Cosmos has so far outperformed the global crypto market, which is down by 0.40%. The crypto asset displays a 50-day moving average (MA) value of $11.57 and a 50-day exponential moving average (EMA) of $11.61. ATOM is currently trading above its long term indicators.
Currently, the crypto asset trades within the 78.6% Fibonacci retracement threshold of $11.67. Additionally, the moving average convergence and divergence (MACD) indicator is positive, revealing a buy signal.
ATOM's relative strength index of 39.39 demonstrates that the token is trading in the underbought region. This suggests that it's not too late for investors to buy ATOM and grow with the market.
Buy ATOM at eToro from just $50 Now!