Cathie Wood Continues to Remain bullish on Tesla while Slashing Other Stocks
Please note that we are not authorised to provide any investment advice. The content on this page is for information purposes only.
Cathie Wood, whose ARK funds outperformed the markets by a wide margin in 2020, have come under pressure over the last year. While the flagship ARK Innovation ETF has recovered from its 2022 lows, it is still underperforming badly in 2022.
Wood, who is known to stick with her stocks, has faced a lot of criticism for her recent underperformance. Wood has been buying the dip in her favorite names even as they continue to plunge. Robinhood is among the stocks in which buying the dip did not work well for Wood and her ARK funds. ARK is now among the top 10 investors of Robinhood, which looks quite high given the total AUM.
Cathie Wood outlines a new strategy
Meanwhile, speaking with CNBC, Wood said that since February 2021, she has cut the total portfolio from 58 to 34 stocks and now focuses on "high conviction names." Wood is known to back the companies where she has a high conviction and ends up buying them in multiple funds.
Wood said, "When people invest in Ark, they know they're getting truly disruptive, transformative innovation." She added, "That's what we offer and we don't pretend to offer anything else. So, when you say risk management, what we do is concentrate our portfolio toward our highest conviction names. That means we are, with the weight of evidence, in some measure from our point of view exercising risk control."
To her credit, Wood picked up disruptive companies like Tesla and Block quite early. While Tesla stock has come down from its 2021 highs, the stock has delivered stellar returns since 2019. Since Tesla has invariably been the top holding for the ARK Innovation ETF, the stock's price action helped prop the fund as well.
Wood is still bullish on Tesla
Cathie Wood listed Tesla, Zoom, and Roku as her "highest conviction names." Previously, she had put a 2025 base case target price of $3,000 on Tesla. Wood is among the most notable Tesla bulls. Other Tesla bulls include Adam Jonas of Morgan Stanley and Gene Munster of Loup Ventures. Munster had previously said that Tesla's market cap would hit $2 trillion by 2023. He had correctly predicted Apple's market cap hitting $1 trillion, $2 trillion, and $3 trillion.
Recession
Wood believes that the US is already in a recession. She said, "We were wrong on one thing and that was inflation being as sustained as it has been." She added, "Supply chain … Can't believe it's taking more than two years and Russia's invasion of Ukraine of course we couldn't have seen that. Inflation has been a bigger problem but it has set us up for deflation."
Mohamed El-Erian meanwhile believes that the US economy is in stagflation. The technical definition of a recession is two consecutive quarters of GDP contraction. The US economy contracted in the first quarter but is expected to show positive growth in the current quarter.
Rate hikes
Notably, the Federal Reserve's rate hikes are also taking a toll on the US economy. However, the Fed is been worried about the multi-decade high inflation and raising rates, even at the cost of slowing the US economy. While Fed chair Jerome Powell has said that the Fed does not intend to deliberately induce a recession, at a Congressional testimony he said that the Fed's rate hikes could lead to a recession.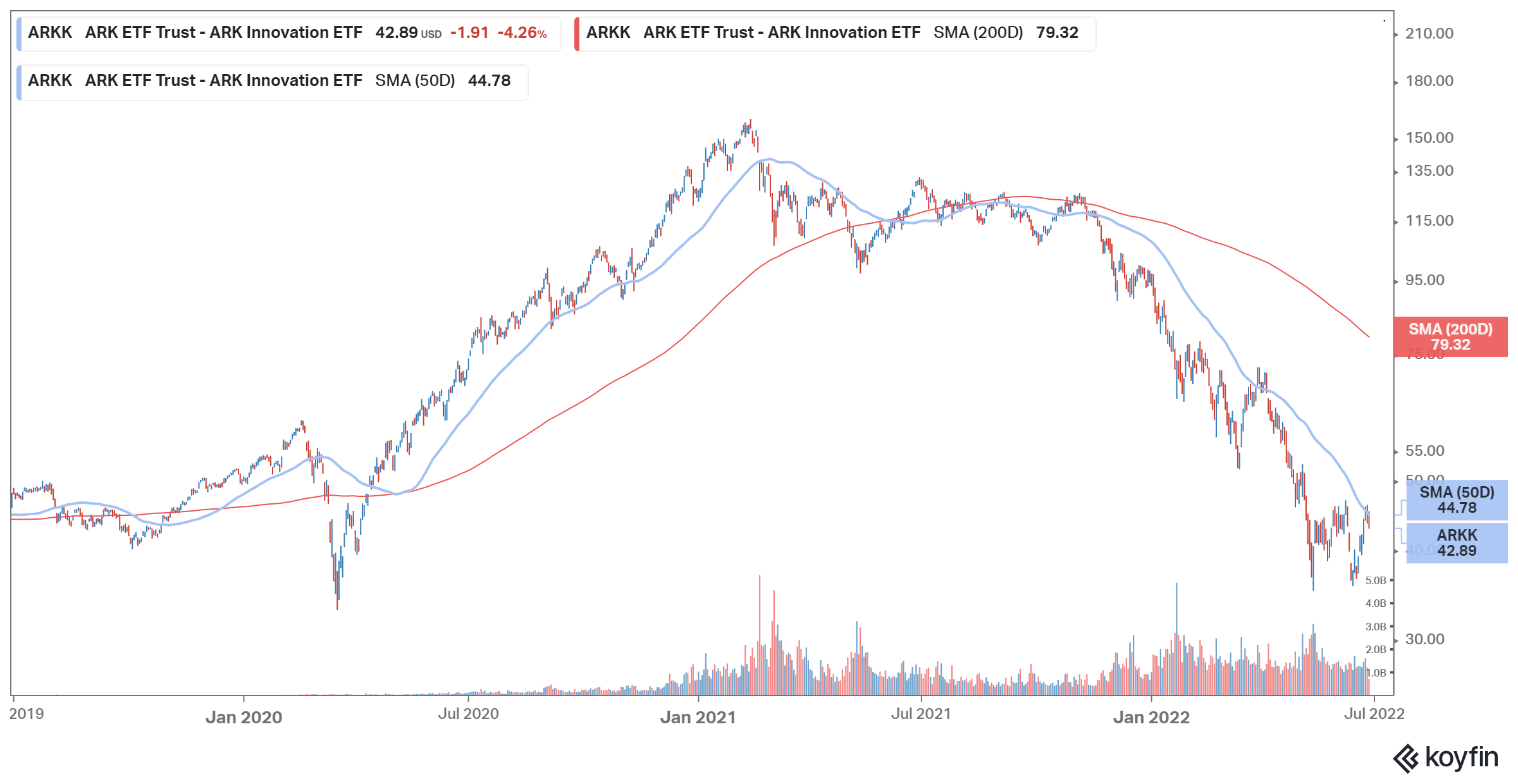 Wood's funds saw inflows in June
Meanwhile, just like Wood has been buying the dip in her favorite names, investors also poured $180 million in ARK Funds in June according to FactSet data. Commenting on the inflows, Wood said, "I think the inflows are happening because our clients have been diversifying away from broad-based bench marks like the Nasdaq 100." She added, "We are dedicated completely to disruptive innovation. Innovation solves problems."
All said, most of Wood's favorite names are trading at a fraction of their 2021 highs. In many stay-at-home stocks that ARK funds are still holding, the high growth story is mostly over, at least in the near foreseeable future. However, Tesla can be a long-term winner if it can continue its lead in the electric vehicle industry.
Tesla deliveries
In the short term though, even Tesla is facing issues. Wall Street analysts expect Tesla to deliver 289,000 electric cars in the second quarter of 2022. To put that in perspective, the company delivered 310,048 cars in the first quarter. Barclays meanwhile expects Tesla to deliver only about 251,000 cars in the second quarter which is significantly below the consensus estimate.
If analysts' estimates are true, it would be the first time in the last many quarters when Tesla would report a fall in deliveries. We'll get more updates in early July when Tesla releases a second-quarter delivery report. In an internal note, Musk has already described the second quarter as "very tough."