Analysts Slash Tesla's Delivery Projections on China Troubles
Please note that we are not authorised to provide any investment advice. The content on this page is for information purposes only.
Tesla stock has risen significantly over the last two years as the company scaled up its deliveries and delivered a record number of cars every quarter. It delivered its millionth car in 2020 and delivered almost half a million cars in the year.
It nearly doubled its deliveries in 2021 and delivered over 936,000 vehicles. The company expects its shipments to rise at a CAGR of 50% in the near foreseeable future and has forecast 1.5 million car deliveries for 2022. While analysts are bullish on the company's long-term outlook, they have been slashing its second-quarter delivery guidance amid the lockdowns in China.
Tesla delivery projections
Wall Street analysts expect Tesla to deliver 289,000 electric cars in the second quarter of 2022. To put that in perspective, the company delivered 310,048 cars in the first quarter. It said that it managed to increase its production in the first quarter "despite ongoing supply chain challenges and factory shutdowns." 95% of Tesla's shipments in the quarter were of Model3/Y. The company has achieved scale with these two models and Model S/X now account for only about 5% of its shipments.
For the last many quarters, markets have gotten used to record deliveries from the Elon Musk-run company. However, the current quarter could be difficult and even Musk admitted the same in an internal email.
Barclays believes deliveries will fall much more
Barclays meanwhile expects Tesla to deliver only about 251,000 cars in the second quarter which is significantly below the consensus estimate. Analyst Brian Johnson said in a note that "we now expect sales and production to contract Q/Q (vs consensus expecting growth) with Shanghai's ramp to pre-lockdown levels taking longer than expected and, to a lesser extent, Texas and Berlin experiencing slower-than-expected ramps. We reduce our 2Q EPS to $2.08 from $2.72 and $2.19 consensus, as our 2Q delivery estimate falls to 251k from 315k prior and 303k consensus."
The brokerage is also concerned about the ramp-up at the Berlin plant. It is the company's second plant outside the US and the first in Europe. Tesla has been facing tough competition from Volkswagen in the European market, which has set itself the task of becoming the global EV (electric vehicle) market leader by 2025.
Barclays on Tesla's Berlin plant
Johnson added, "Tesla's Berlin factory appears to be facing several issues including quality, supply chain, and lack of 2nd shift employees…It appears Tesla has only achieved a daily production rate of ~86 units/day as of mid-May, with the company planning for ~350 units/day from the second half of July with localized production of drive units expected to begin this month." The brokerage also lowered the second-quarter forecast from the Texas factory to a mere 5,000 units, down from the previous forecast of 17,000 units.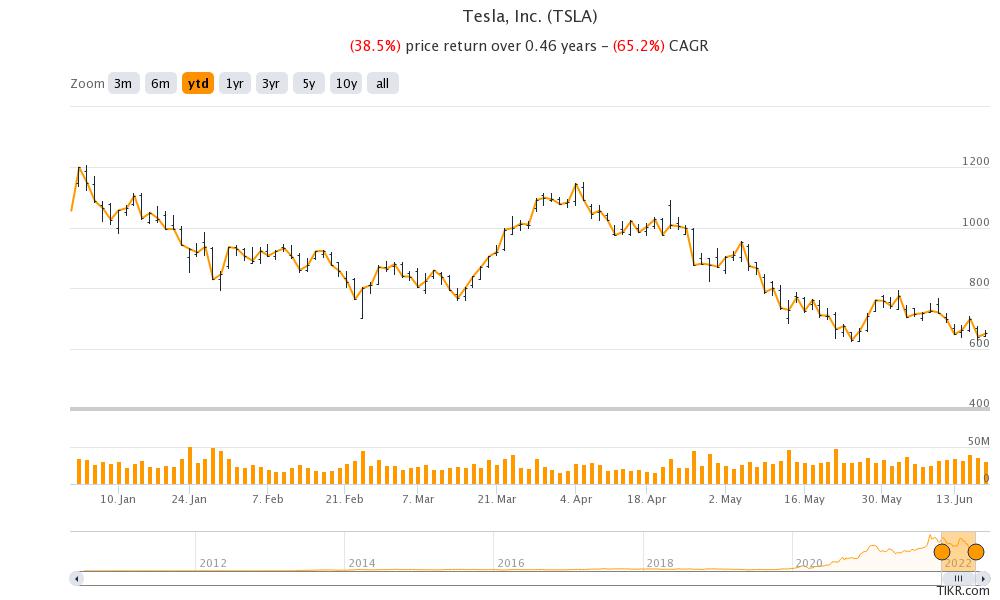 Here it is worth noting that Barclays is among the Tesla bears and has an underweight rating and a $370 target price on the EV company. Meanwhile, Tesla bulls are not too perturbed by the recent production issues in China and Morgan Stanley, which has been among the most vocal Tesla bulls, reiterated it as overweight. The brokerage believes that Tesla would be able to scale up deliveries towards the end of the quarter. Notably, Tesla generally scales up deliveries towards the end of the quarter and in the past has also offered incentives like free supercharging to scale up deliveries in the quarter-end rush.
What do analysts expect from Tesla in the second quarter?
In the first quarter of 2022, Tesla posted records on several metrics. Its revenues increased 81% to $18.76 billion, a new record. Also, it posted record operating profits, as well as GAAP profits. The company has posted profits in every quarter since Q3 2019, including the first and second quarters of 2020 when its production plants were shut due to COVID-19 restrictions.
Meanwhile, while analysts expect Tesla's deliveries to fall in the quarter, the company has announced a price hike across all the models in the US. The price hike came at a time when input costs for automakers are projected to fall on falling metal and commodity prices.
Revenues expected to fall
Tesla's revenues are projected to fall on a quarterly basis to $17.8 billion in the second quarter. Its adjusted EPS is also expected to fall to $2.10 from $3.22 in the quarter. We'll next hear from the company early next month when it releases its second-quarter deliveries. Unlike Chinese EV companies like NIO and Xpeng Motors which release delivery reports monthly, Tesla releases them quarterly.
US markets are closed today on account of the Juneteenth holiday. Tesla shares are down almost 39% in the year which is wider than the S&P 500's YTD losses.