Tesla Stock Price Forecast April 2022 – Time to Buy TSLA Stock?
Please note that we are not authorised to provide any investment advice. The content on this page is for information purposes only.
While fellow EV (electric vehicle) stocks have been languishing, Tesla (TSLA) has recouped most of its 2022 losses and is now down only about 5% for the year. The company's market cap is now back above $1 trillion.
No other automaker has reached that feat and TSLA's market cap is above the combined market cap of all leading automakers put together. What's the forecast for Tesla stock in 2022 and should you buy the stock in April?
Tesla stock recent developments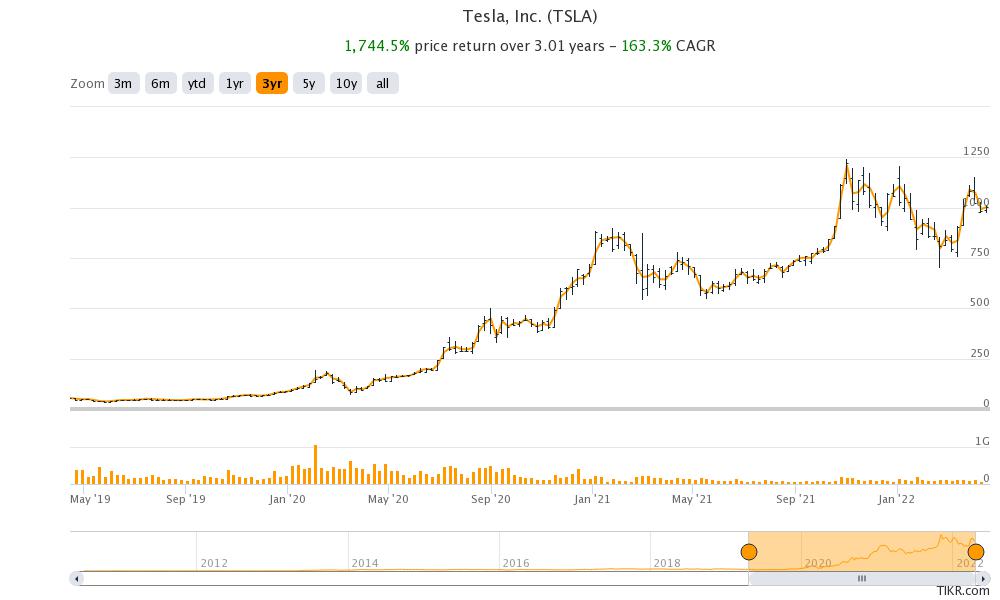 Tesla stock has been in the news lately for its CEO Elon Musk's hostile offer to buy Twitter. After disclosing a 9.1% stake in the company, Musk now wants to buy the social media company and take it private. Musk has offered $54.20 per share for Twitter, which reminds of his infamous tweet about taking Tesla private at $420 per share. As things turned out, Musk hasn't secured the funding as he had claimed. Eventually, both Tesla and Musk agreed to pay $20 million in fines each, and Musk stepped down as the company's chairman as part of the settlement with the SEC.
68% of all retail investor accounts lose money when trading CFDs with this provider.
Shanghai Gigafactory
Apart from the Twitter saga, Tesla has been in the news for its vehicle recalls. The company has recalled almost 2 million vehicles in 2022 but the majority have been for software updates. Also, Tesla's Shanghai Gigafactory was shut in late March due to the spread of COVID-19 in China. Reports suggest that the factory might reopen soon but workers would have to stay at the plant all the time.
TSLA has scaled up production at the Shanghai plant which was its first factory outside the US. The company uses the plant not only to satiate the demand from Chinese consumers but also uses it as an export hub. The country's Berlin plant has also begun production. TSLA has been setting up factories in record time and its production ramp-up has impressed even critics.
Tesla to report earnings
Tesla would report its first-quarter earnings tomorrow. Analysts expect the company's revenues to rise 71.7% to $17.8 billion. The company's revenues are expected to rise 59% and 60% respectively in the next two quarters as well. TSLA's deliveries have been rising at a fast pace which is fuelling the rise in revenues.
The company delivered 310,048 cars in the first quarter. It said that it managed to increase its production "despite ongoing supply chain challenges and factory shutdowns." 95% of Tesla's shipments in the quarter were of Model3/Y. The company has achieved scale with these two models and Model S/X now accounts for only about 5% of its shipments.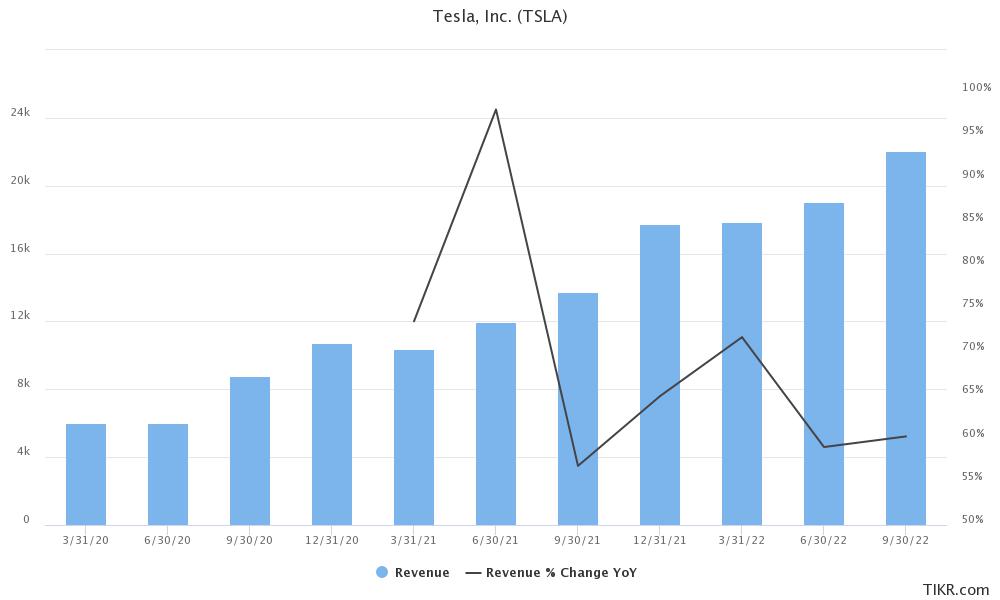 TSLA's profits are expected to soar
The company's adjusted EPS is expected to rise 144% to $2.27 in the quarter. Notably, while TSLA, like fellow automakers, is battling input cost inflation, the company has been gradually raising car prices and passing on the higher costs to buyers. Most carmakers have been increasing car prices and Rivian even got itself into a controversy by raising car prices for buyers who had already made the bookings. Meanwhile, while most car companies have increased pricing, NIO has refrained from doing so for the time being.
Tesla fourth-quarter earnings
Tesla had reported better than expected earnings in the fourth quarter of 2021 and delivered GAAP profits of $2.3 billion. The company also generated free cash flows of $5 billion in 2021. Prior to Q3 2019, Tesla was profitable in only a handful of quarters. That quarter it posted a surprise profit and said that it expected to be sustainably profitable now. Given the company's poor track record in profitability, not many believed that the company would be able to deliver sustainable profits. However, it has since then been profitable in all the quarters, including in the first and second quarters of 2020 when the entire global automotive industry was hit due to the lockdowns.
Tesla stock fell after its Q4 2021 earnings as it said that it would delay the launch of its new vehicles including the Cybertruck to 2023 due to supply chain issues. During the first-quarter earnings call, the company might provide details on the chip supply situation. It might also provide color on the production at the Shanghai plant as well as the Berlin plant.
TSLA stock forecast
Tesla is arguably the most polarizing company and it is also reflected in its ratings. Of the 41 analysts polled by CNN Business, 22 rate TSLA stock as a buy while nine rate it as a sell. The remaining ten analysts have a hold rating. Its median target price is $1,100, which is a 9.5% premium.
Yesterday, Piper Sandler maintained its overweight rating on TSLA stock while lowering the target price from $1,350 to $1,260. The brokerage cited downtime at its Shanghai plant for lowering the target price.
Earlier this month, Oppenheimer also reiterated the outperform rating on the stock and said it was bullish heading into the earnings. It said, "first, we are looking for indicators of progress on its manufacturing capacity expansion. Second, we expect geographic and feature mix along with the ability to pass higher supply chain costs on to consumers to drive margins. Third, we believe upside in shares from here is rooted in progress related to its autonomy program along with continued leadership in EV."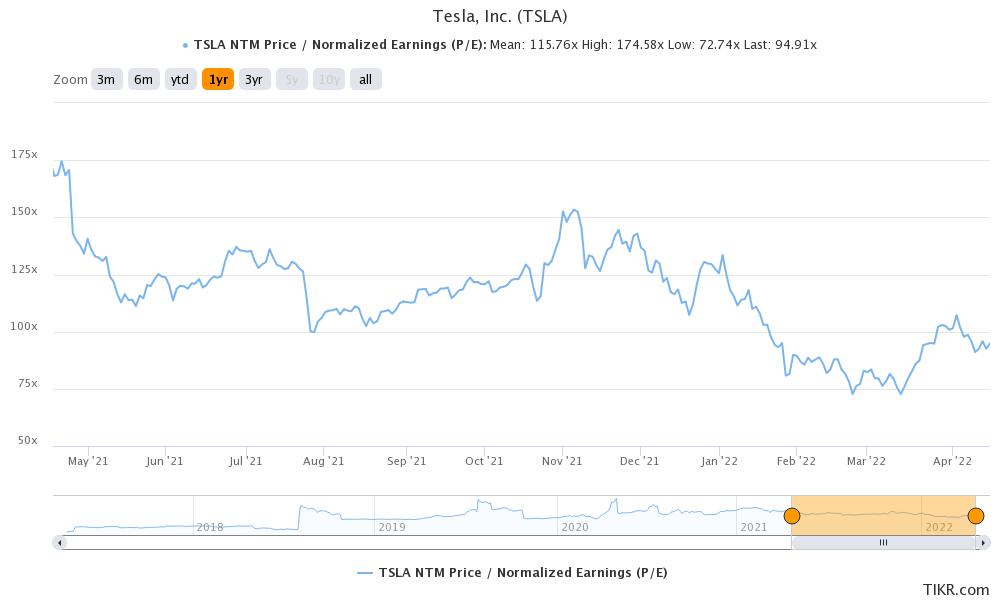 Tesla stock long term forecast
The long-term forecast for Tesla stock looks positive as it has an undeniable lead in the EV industry. Here it is worth noting that the FSD and other software capabilities of Tesla are key to its long-term success. Currently, the company charges $12,000 for the FSD option but Musk expects prices to eventually rise to $100,000 over the long term. Musk has previously said that its revenues from FSD and yet-to-be-launched robotaxis could be similar to the automotive revenues.
As for the automotive business, Tesla expects the deliveries to rise at a CAGR of 50% over the near foreseeable future. He even predicted that the energy business could eventually become as large as the automotive business. The segment currently accounts for a fraction of Tesla's total revenues.
Should you buy Tesla stock?
Tesla is among the best ways to play the green energy pivot. The stock's NTM (next-12 months) PE multiple of 92x might seem high as compared to other automakers. However, markets give a premium to TSLA stock for its high growth and almost flawless execution. The stock looks a good buy as global EV sales continue to soar.
Buy TSLA Stock at eToro from just $50 Now!