Buckle Up for $1M Giveaway on May 31st – Time to Buy Lucky Block?
Please note that we are not authorised to provide any investment advice. The content on this page is for information purposes only.
Lucky Block crypto jackpot prize draws ticket sales will begin on Monday, May 30th, 2022, at 10:00 a.m. BST.
LBLOCK token is facing a hard time violating the significant resistance level of $0.0028.
The $2 million prize pool and the separate $1 million NFT jackpot award have been set for May 31st.
'Lucky Block crypto' has been trending on google trends, and the LBLOCK price has risen roughly 70% in the last week, from $0.0013 to $0.0022. The Lucky Block crypto jackpot prize draw ticket sales will begin on Monday, May 30th, 2022, at 10:00 a.m. BST (09:00 UTC). The winner of the main draw jackpot will be announced and paid out on Tuesday, May 31, at 20:00 BST (19:00 UTC). In addition, the NFT game winner will be announced and compensated on Tuesday.
The main draw will include a $1 million prize, as well as a $1 million prize for Lucky Block NFT owners. The daily main prize draws will begin on June 6th. The current Lucky Block price is $0.002130 USD, with a 24-hour trading volume of $468,745. Lucky Block has dropped retraced 7.64 percent in the last 24 hours, but this is just a minor bearish correction, and I don't think it's cause for concern. The current market rank is #3313, with a live market cap of not available.
LBLOCK coins have an unknown circulating supply, with a maximum supply of 100,000,000,000 coins. 
Lucky Block Cryptocurrency Prize Draws
The $2 million prize pool and the separate $1 million NFT jackpot award have been set for May 31st. To participate in one or both, participants need to purchase an NFT ticket – or buy LBLOCK tokens to receive a free ticket to the larger draw.
The NFT draw has a higher entry hurdle because Lucky Block NFTs (shown above) are priced at 3.75 wBNB (Wrapped BNB), about 0.16 ETH or $1,170; however, because there are fewer NFT token holders (under 3,000) than LBLOCK token holders, the chance of winning a $1 million prize is higher (over 50,000 wallet addresses).
The Platinum Rollers Club NFT collection is available for purchase at NFT Launchpad. Having one also entitles you to daily NFT prize draws for the rest of your life. As a result, the coin's value is skyrocketing. Customers are lining up to participate in its much-anticipated daily jackpot prize draw, which will go live before the end of May.
LBLOCK Gains Popularity Due to Free Crypto Entrance Tickets
The total prize pool of $2 million in LBLOCK tokens has sparked a flurry of interest across the crypto industry and regular customers. It's mainly because the primary prize draw includes a free entry ticket option. When a blockchain snapshot is taken in the 24 hours preceding the draw, anyone with more than $500 worth of LBLOCK tokens will receive one free ticket. Customers can also enter the drawing for free by sending a postcard.
Terence Ribaudo, Lucky Block's product manager, stated
In response to the launch, Lucky Block's head of product, Terence Ribaudo, stated, "We're focused on creating cutting-edge Web3 experiences and combining the best gaming and entertainment worlds to attract and reward new users into the area; through multi-channel marketing."
"We will establish a new ecosystem that will benefit the entire Web3 community and us," Ribaudo continued, "by utilizing the best of blockchain technologies and creating experiences that people without crypto expertise can enjoy."
These positive comments may also boost investor sentiment, ultimately benefiting the LBLOCK price.
New Projects in Development
The crypto gaming company recently announced that it has begun to expand its game library. First, the gallery will hold a series of high-value raffles for items such as fine watches and automobiles. There will then be a slew of games in which you can earn money by playing. The Lucky Block token has only been available for purchase since the end of January. Given the current state of crypto, LBLOCK's price strength is even more impressive.
Bitcoin and the US Dollar
The return of Bitcoin to $30,000 has benefited many cryptocurrencies, including Lucky Block. Meanwhile, the weakening US dollar has been cited as one of the primary reasons for the coins' increased value.
The dollar was on track for its worst weekly drop in nearly four months as traders downgraded Federal Reserve rate hike expectations amid signs that the US central bank may pause or even stop tightening in the second half of the year.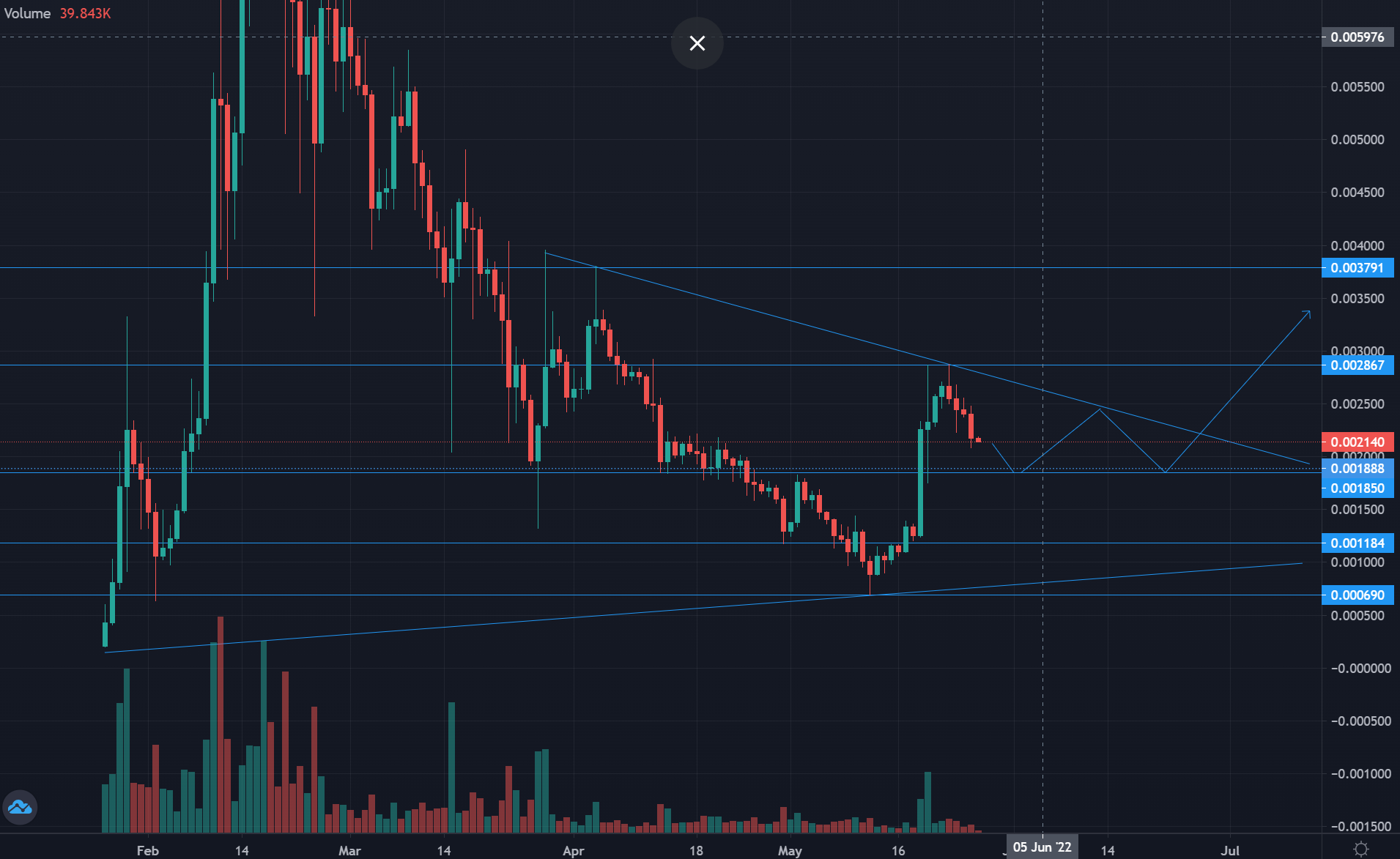 Lucky Block Technical Outlook -$0.0028 Resistance in Play
The price of the LBLOCK token is facing a hard time violating the significant resistance level of $0.0028. Closing of candles under this level is putting short-term selling pressure on LBLOCK. However, the current bearish movement can also be a mere bearish correction. 
For the movement, the Lucky Block token is trading at $0.0021, and it's likely to find immediate support near $0.0018. Recalling the previous prediction, it's the same level where LBLOCK has rebounded the last week. 
LBLOCK is currently extending strong resistance at the $0.0028 level. A break above this level could spark another uptrend. The next level of resistance for LBLOCK is located between $0.0035 and $0.0039. The immediate resistance for the LBLOCK/USD coin remains at $0.0028.
A bearish breakout below $0.0018 is possible if selling pressure increases significantly. As a result, the price of LBLOCK is expected to fall to $0.0016 or $0.0012. Consider buying above $0.0028 and selling below $0.0028. Best wishes!