BP Plc. Stock Price Forecast October 2021 – Time to Buy BP Stock?
Energy prices have strengthened this year and are currently near multi-year highs. The rise in crude oil prices has also lifted the stock prices of energy producers and BP Plc. (BP) is up almost 40% in the year.
BP stock is trading near its 52-week highs, like most of the other energy companies. What's the forecast for BP stock and is it a good buy in October 2021?
BP stock technical analysis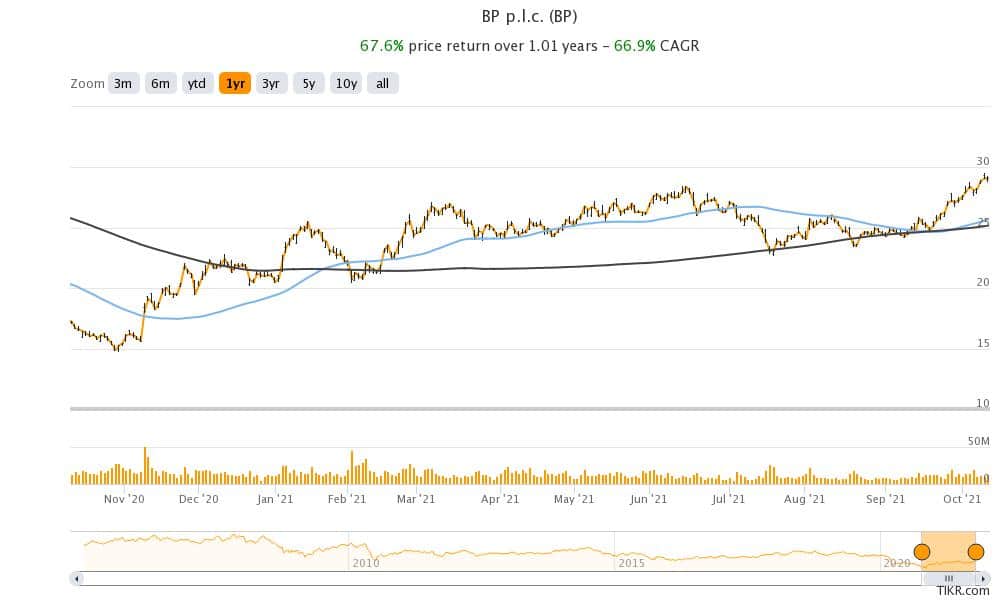 BP stock is looking bullish on the charts. The stock is trading above all key moving averages including the 50-day, 100-day, and 200-day SMA (simple moving average). The 12,26 MACD (moving average convergence divergence) also gives a buy signal. The stock has been in an uptrend and has been hitting higher highs over the last month. However, after the steep rise, BP stock now looks overbought with a 14-day RSI of 75.9. RSI values above 70 indicate overbought positions while values below 30 signal oversold positions.
67% of all retail investor accounts lose money when trading CFDs with this provider
Crude oil prices have been rising
Crude oil prices have surged to the highest level since 2014. The rise in crude oil prices has been worrisome for governments and consumers who are anyways battling high inflation. Meanwhile, last month, Goldman Sachs raised its 2021 crude oil forecast and expects brent prices to rise to $90 per barrel.
"While we have long held a bullish oil view, the current global supply-demand deficit is larger than we expected, with the recovery in global demand from the Delta impact even faster than our above-consensus forecast and with global supply remaining short of our below consensus forecasts," said Goldman Sachs analysts in their note.
OPEC has been disciplined with supply
Notably, the continued momentum in the global economy has been fuelling an increase in crude oil demand. However, unlike in the past, the OPEC+ block has been quite disciplined with the supply. Weather-related disruptions in the US have also played a spoiler with crude oil supply. Since the earnings of energy companies like BP are sensitive to energy prices, their stocks have been rising amid the spike in energy prices.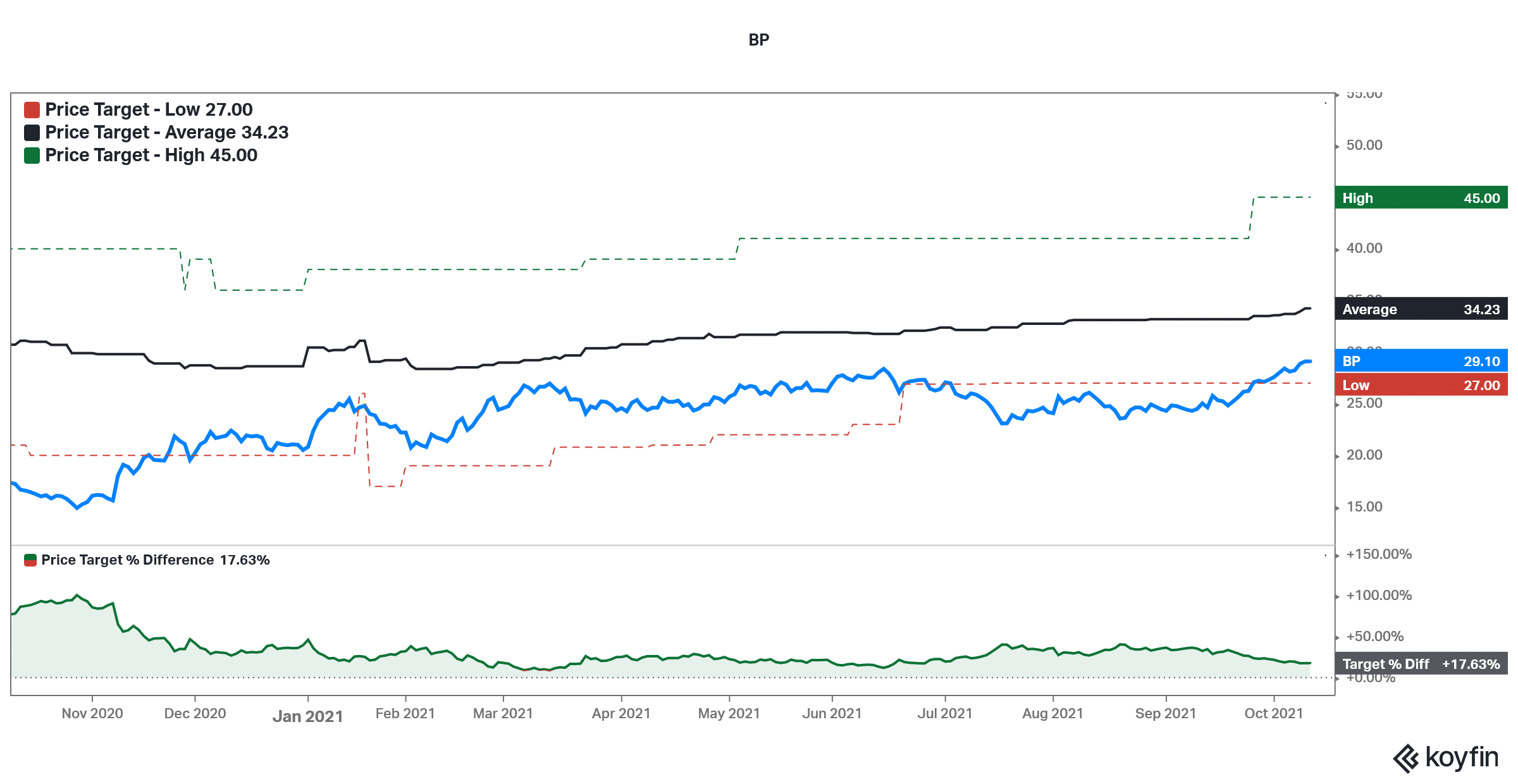 BP stock price forecast
The near-term forecast for BP stock looks bullish looking at the momentum in energy prices. While the stock has outperformed the broader markets this year, the price action does not fully appreciate the current strength in energy prices.
Of the 30 analysts polled by CNN Business, 16 rate BP stock as a buy or some equivalent while 11 analysts have a hold rating. The remaining three analysts rate the stock as a sell. BP has a median target price of $31.69 which is a premium of 8.9% over current prices. Its street high target price of $44.31 is a 52% premium over current prices while the street low target price of $25.40 is a discount of 12.7%.
There hasn't been any major analyst action recently. However, Morgan Stanley reiterated its equal weight rating this month while JPMorgan Chase and Barclays reiterated their overweight ratings.
Earlier this year, Barclays had termed BP a top investment idea. "We think BP is the most misunderstood investment case of the large cap oils. … Our analysis shows the cashflow generation of the business as having the ability to support a 10% cash return to shareholders in the form of dividends and buybacks in a $60/bl environment – the highest in the sector," said Barclays analysts in their note.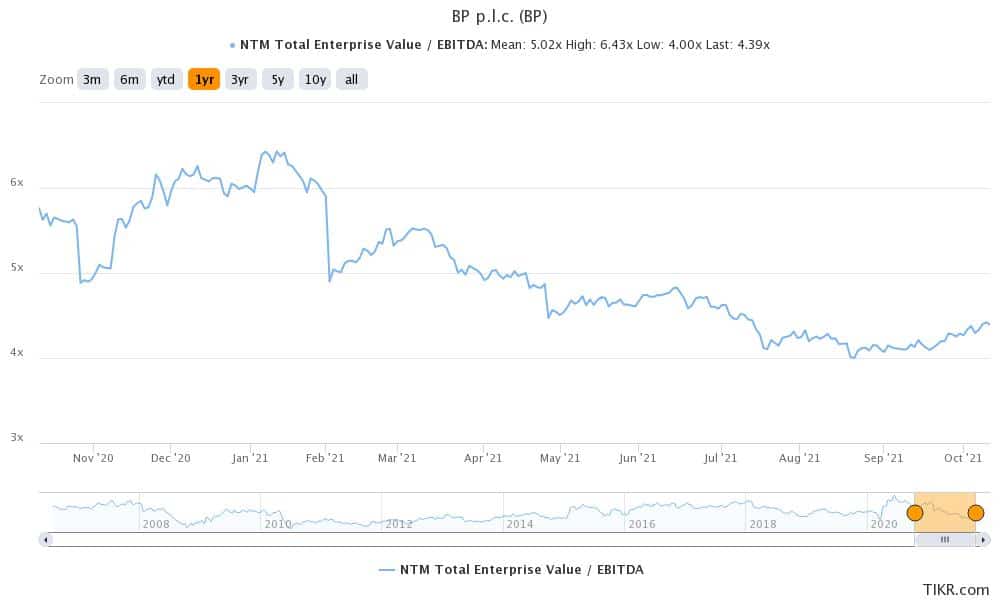 BP raised dividend
During its second-quarter earnings release, BP announced that it would increase the dividend by 4% to 5.46 cents per share. Meanwhile, the dividend is still below historical levels and in 2020 the company was paying 10.50 cents as a quarterly dividend before it was forced to slash it into half amid the plunge in crude oil prices. Meanwhile, even at the current dividend, the annual yield is a healthy 4.5%. Looking at the current crude oil price environment, the energy giant could further increase the dividend in the third quarter or go for a special dividend or buybacks.
BP stock long term forecast
For the long term, BP is focusing on renewables to fuel its growth. The company has been exiting some of the fossil fuel business and has been investing aggressively in renewable energy. While these projects might not lead to immediate returns, they would add long-term shareholder value as the world transitions towards a low carbon future.
BP CEO Bernard Looney has been trying to transform the company from a fossil fuel giant to a renewable energy leader. He has announced plans to sell $25 billion worth of fossil fuel assets by 2025. BP has already sold $15 billion worth of assets under Looney. The company also intends to cut its crude oil production by 40%. While almost all the energy giants are taking of lowering their carbon footprint, BP became the first company to commit to a quantitative production cut.
Meanwhile, BP does not expect renewable businesses to become profitable by 2025. However, they would add to its long-term earnings. Also, the pivot towards clean energy would help support an expansion of BP's valuation multiples.
Valuation
Currently, BP stock trades at an NTM (next-12 months) EV-to-EBITDA multiple of 4.4x. The multiples look reasonable even as for cyclical companies' valuation multiples bottom at the peak.
Time to buy BP stock?
Overall, given BP's pivot towards renewable energy, prospects of a further increase in dividends, and reasonable valuations, BP looks among the best energy stocks to buy in 2021. The stock could deliver strong returns in the long term as markets appreciate its renewable energy investments.
Buy BP Stock at eToro from just $50 Now!