Both Bulls and Bears Love Tesla Stock After the Crash
Please note that we are not authorised to provide any investment advice. The content on this page is for information purposes only.
Tesla stock (NYSE: TSLA) rose 7.8% yesterday after positive calls from Citi which was bearish on the stock, as well as Morgan Stanley which is among the perma TSLA bulls.
Tesla stock was in a freefall ever since its CEO Elon Musk acquired Twitter. The stock was anyways looking weak prior to the event but the chaos around Twitter further added fuel to the fire. Tesla stock has shed over $600 billion of its market cap over the last year.
To be sure, there have been bigger drawdowns in other tech stocks. For instance, Meta Platforms' market cap is a little under $300 billion now. Last year, its market cap surpassed $1 trillion. Amazon's market cap has also crashed and it has the dubious distinction of losing $1 trillion in its market cap.
Citi upgrades Tesla stock to a neutral
Meanwhile, after the steep crash in Tesla stock, Citi, which had a sell rating on the stock, upgraded it to a neutral. "We believe the year-to-date pullback has balanced out the near-term risk/reward," said Citi analyst Itay Michaeli in his note.
Michaeli added, "To become bullish from here, we'd like to gain added confidence on the average sale price/auto gross margin bridge (including tracking near-term datapoints in China and Europe) and FSD (full self-driving) progress."
Notably, Musk sees FSD and other software services as key driver for Tesla. The company was charging $10,000 for the FSD previously. At the beginning of 2022, it raised the prices to $12,000. It subsequently increased the price to $15,000 or $199 for monthly subscriptions.
Musk has previously said that the service would eventually cost $100,000. That said, the system is still not fully autonomous as the name suggests. Regulators have been critical of Tesla for using the term "full self-driving" which they argue is misleading.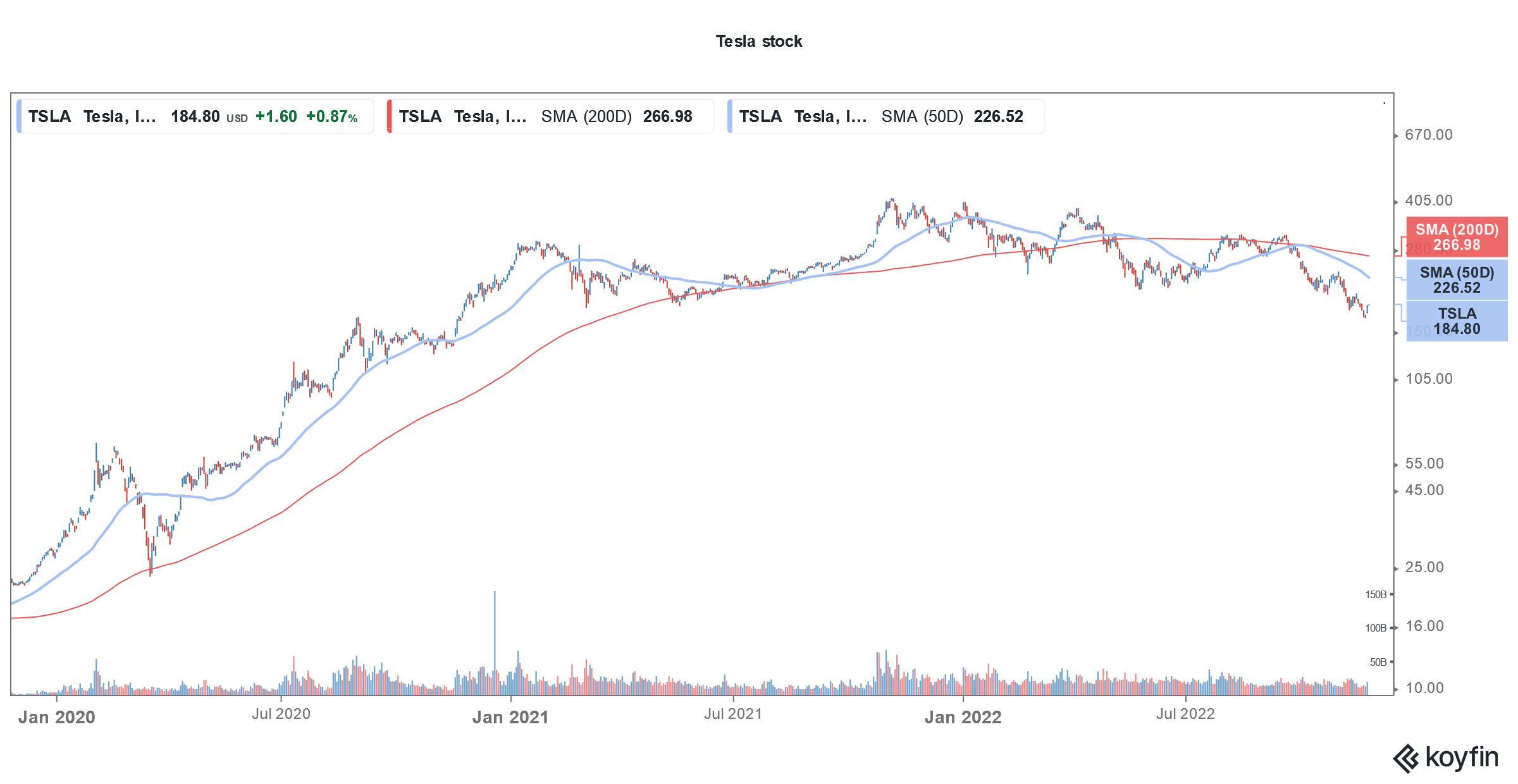 TSLA has lowered car prices in China
Notably, there are concerns over the pricing in the EV industry, especially in China. Tesla has lowered car prices in China and is providing several other incentives including on insurance in order to increase sales. Reports suggest that lead times for Tesla cars in China have almost vanished.
So far, Tesla has maintained that it is a supply-constrained company and can sell only as many cars as it can produce. However, its deliveries have trailed estimates for the last two quarters.
In Q3 2022, Tesla reported revenues of $21.45 billion which was below the $21.96 billion that analysts were expecting. In the third quarter of 2022, Tesla delivered 343,830 cars, a new record. The deliveries were however below what Wall Street was expecting. In the previous quarter also, its deliveries were below expectations but it was due to the lockdowns in China.
Musk Says Demand is Not a Concern for Tesla
Notably, while many are getting concerned about the demand for Tesla cars, Musk sees strong demand for Tesla. During the Q3 earnings call, he said, "I can't emphasize enough, we have excellent demand for Q4, and we expect to sell every car that we make for as far in the future as we can see. So, the factories are running at full speed, and we're delivering a recovery make and keeping operating margins strong."
He emphasized, "we're very pedal to the metal come rain or shine. So, we are not reducing our production in any meaningful way, recession or not recession."
Citi raised the target price for Tesla
Citi raised its target price on Tesla to $176. It said, "Though our latest model update leads us to reduce [near term] EPS estimates, we still find ourselves slightly above consensus for Q4-2024E EPS. (3) To be sure, macro/competitive concerns are likely to remain an overhang with capacity rising, but as we've previously written, in a hard landing scenario Tesla's long-term competitive position likely also improves and potentially further enhanced by [the Inflation Reduction Act]."
The inflation Reduction Act of 2022 is a positive for TSLA
President Joe Biden signed the Inflation Reduction Act which would hasten EV adoption in the country. Tesla cars stopped qualifying for the federal EV tax credit as they crossed the minimum threshold of sales. Now, even Tesla cars would be eligible for the subsidy from 2023.
Apart from Tesla, General Motors and Toyota Cars also did not qualify for the EV subsidies after crossing the threshold. So, the expansion of the EV tax credit to all Tesla cars is certainly a positive for the company especially as the company launches more models. It said that Semi deliveries would start from this year only while Cybertruck's deliveries would begin from 2023.
Morgan Stanley on TSLA stock
Morgan Stanley also finds TSLA stock attractive after the sell-off even as it sees risks after Musk's Twitter acquisition. In a note, it said, "There must be some form of sentiment 'circuit breaker' around the Twitter situation to calm investor concerns around Tesla." It added the TSLA stock is approaching its bear case target price of $150.
Stockholders want Tesla to buy back shares
Some of the Tesla stockholders are petitioning the company to buy back its shares. During the Q3 2022 earnings call, Musk also talked about the possibility of a $5-$10 billion share buyback in 2023. Tesla has never done a stock buyback and does not pay a dividend also. The company held over $21 billion as cash and marketable securities at the end of September.
During the earnings call, Musk also said that TSLA stock has room to run way higher than these levels. He said, "I see a potential path for Tesla to be worth more than Apple and Saudi Aramco combined. That doesn't mean it will happen or that it will be easy, in fact it will be very difficult, require a lot of work, very creative new products, expansion and always good luck. But for the first time I'm seeing, I see a way for Tesla to be, let's say roughly twice the value of Saudi Aramco."
Meanwhile, Musk has now said that Tesla is looking to set up its next factory in Asia, and South Korea is among the contenders. The company already has a Gigafactory in Shanghai which is its most productive plant. Tesla is also ramping up production at its Berlin and Austin Gigafactories.