AMC Entertainment Stock Down Over 50% – Time to Buy AMC?
AMC Entertainment stock is down over 50% from its 52-week highs even as it is up over 1,600% year-to-date. AMC is among the meme stocks that were targeted by Reddit group WallStreetBets.
The stock has jumped sharply in 2021 to the dismay of many hedge funds and Wall Street analysts. Hedge funds have lost billions betting against the cinema chain company. With AMC stock down over half from the 52-week highs, should you buy the stock now?
AMC stock technical analysis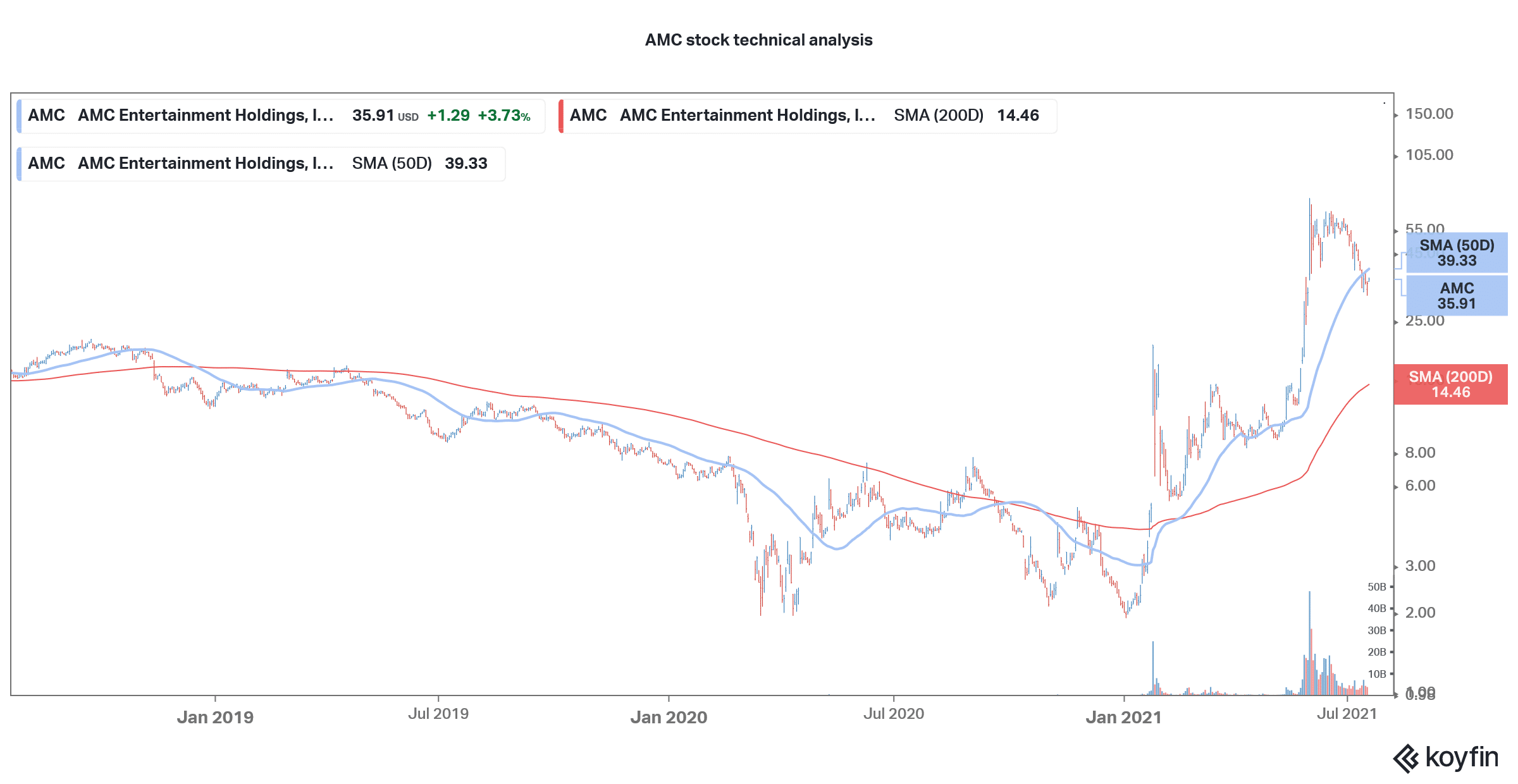 AMC stock is not looking very bullish on the charts. It is trading below the 10-day, 30-day, and 100-day SMA. However, thanks to the splendid rally in 2021 it is still above the 100-day and 200-day SMA. The 12,26 MACD (moving average convergence divergence) also gives a sell indicator. However, the stock is getting near the oversold territory with a 14-day RSI of 37. RSI values above 70 signal overbought levels while values below 30 signal oversold positions.
67% of all retail investor accounts lose money when trading CFDs with this provider.
Recent developments
Earlier this month, Disney's "Black Widow" reported strong weekend collections. The movie grossed collections of $80 million in the opening weekend in the US and almost a similar amount globally. Over the weekend, AMC saw a crowd of 3.2 million globally which was a post-pandemic record. On the face of it, the news looked positive for AMC stock but it instead tumbled. Disney reported $50 million in online streaming sales for the title which highlighted the long-term headwinds that the cinema industry is facing from the streaming industry.
AMC was also looking at authorization from shareholders to sell another 25 million shares. However, retail traders thwarted the attempts. Retail shareholders now own the majority stake in the company as many institutional investors have cashed out.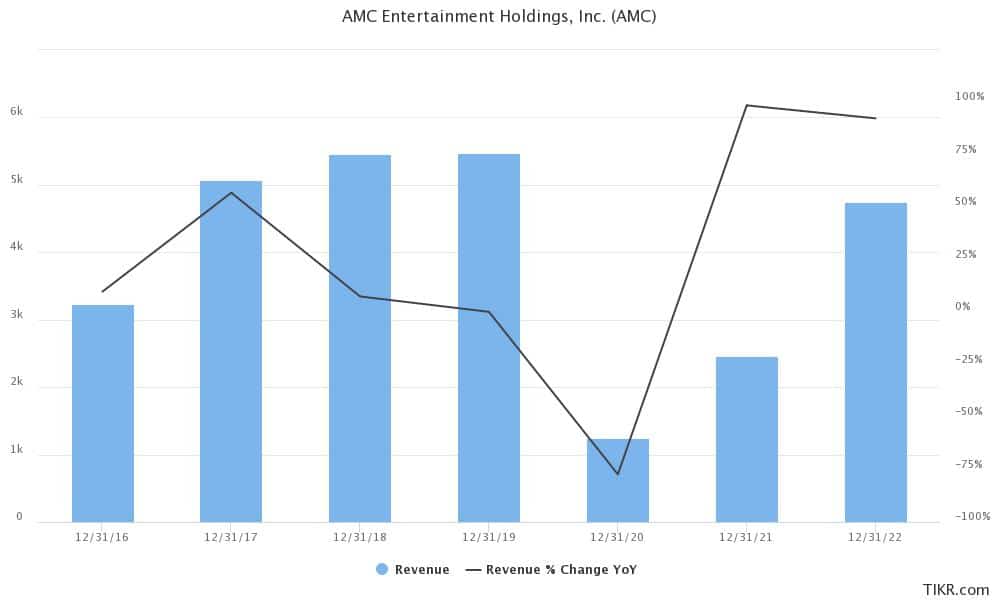 AMC stock forecast
Wall Street analysts are very bearish on AMC stock and none of the analysts polled by CNN Business rate them as a buy. Its median target price of $3.70 implies a downside of 83% over current prices. Its lowest target price is $1 which is a discount of over 97% while the highest target price of $16 is a discount of 53% over current prices.
Earlier this month Loop reiterated its sell rating on the stock. "Old theaters don't die, they just get repurposed into new theaters. There are simply too many screens for the movie-going public. We thought one silver lining of the pandemic is that it might finally rationalize the number of screens in the US." Notably, several small cinema chains in the US have had to shut down as they couldn't survive the lockdowns. AMC has previously said that it is winning market share at the expense of smaller peers.
Analysts are bearish
Last month, MKM had also reiterated its sell rating on AMC. "In our view, with a stabilized balance sheet, AMC would be best served by using its newly raised capital to reduce its sizable $5.5bn debt load rather than pursue acquisition." AMC has over $11 billion as liabilities which include outstanding debt, deferred rent, and lease obligations. The company is still burning cash and is expected to do so in the near term.
To make things worse, the rising coronavirus cases in the US coupled with the slowing pace of vaccinations doesn't bode well for reopening plays like cinema companies. Fundamentally, there are several risks for AMC including a resurgence of the coronavirus. In the medium to long term, the company needs to address its debt situation and also fend off competition from streaming companies.
That said, AMC looks like a good day trading stock. It was trading higher in early price action today as retail investors again seem to be warming up to the meme stock.
67% of all retail investor accounts lose money when trading CFDs with this provider.