Amazon Stock Price Down 9% in 2022 – Time to Buy AMZN Stock?
Amazon was the worst-performing FAANG stock in 2021. The stock underperformed the markets by a wide margin last year and 2022 is looking no better.
AMZN stock is now down over 9% in 2022 and is drifting towards its 52-week lows. What's the 2022 forecast for the stock and should buy the dip?
Amazon stock recent developments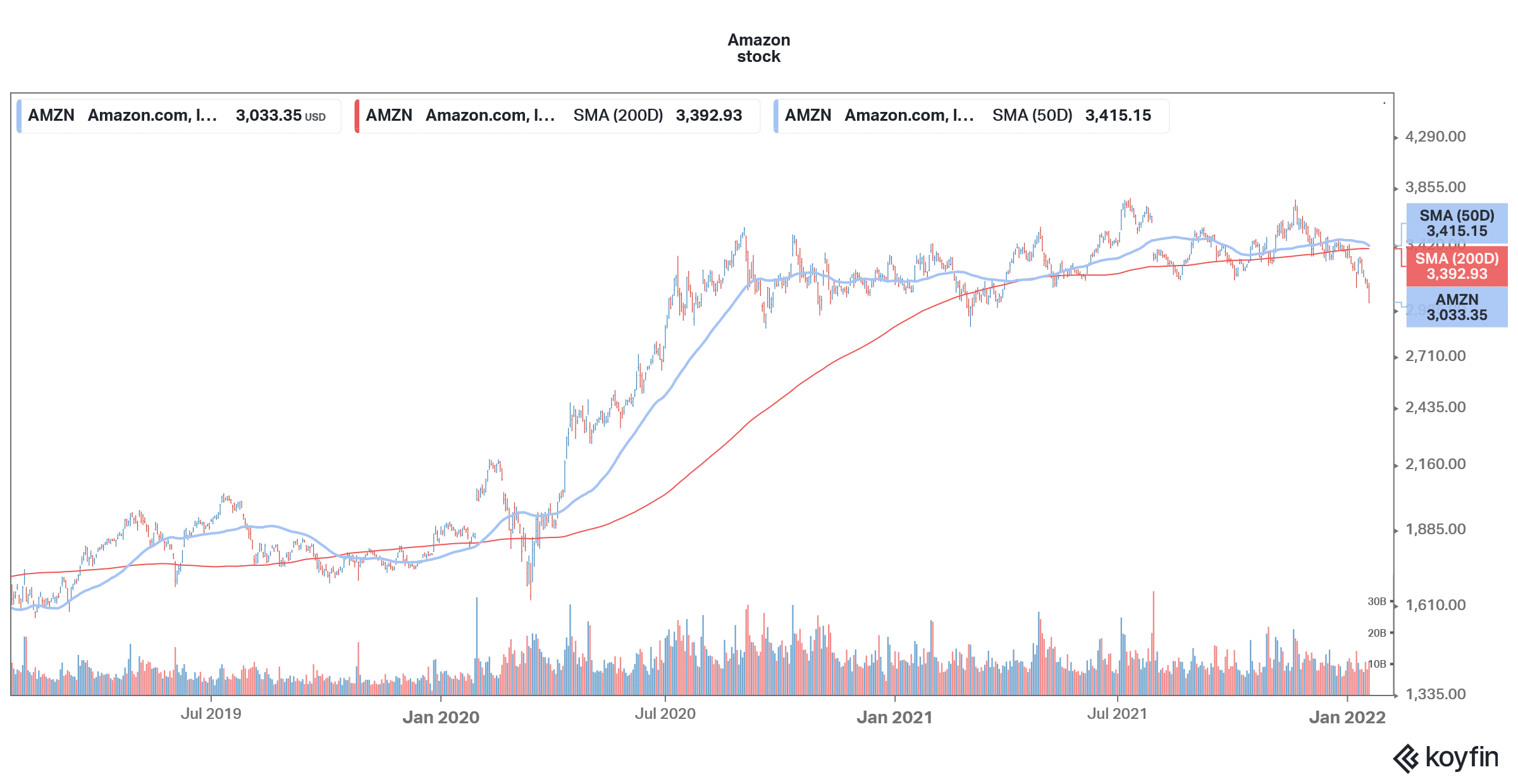 Netflix released its fourth-quarter earnings yesterday. It was the first FAANG name to release its earnings. However, the earnings were a big disappointment and despite massive investment into new content, the company's subscriber growth numbers were below estimates. Several analysts downgraded the stock and it is trading sharply lower in premarkets today.
There are a couple of reasons why Netflix's earnings miss matters for Amazon investors. Firstly, it has dampened the sentiments towards FAANG names. Secondly, the tepid subscriber growth numbers don't bode well for other streaming companies as well. Amazon has its own Prime streaming service under which it also gives an additional advantage of free deliveries.
68% of all retail investor accounts lose money when trading CFDs with this provider.
Anti-trust trouble
US tech giants have been facing heat over their alleged monopolies. The Senate Judiciary Committee has approved an anti-trust bill. As expected, tech giants like Apple and Google have opposed the bill. An Amazon spokesperson termed it an "ambiguously worded bill with significant unintended consequences" for small businesses.
Amazon would release fourth-quarter earnings
Amazon would soon release its fourth-quarter earnings. Analysts polled by TIKR expect the company to post revenues of $137.6 billion, a YoY rise of 9.7%. Here it is worth noting that AMZN has missed revenue estimates for two consecutive quarters. Also, its fourth-quarter guidance was also below par.
Analysts expect Amazon's adjusted EPS to fall 73% to $3.71 in the quarter. During the previous earnings call, the company had warned that higher expenses would take a toll on its profitability in the fourth quarter. AMZN's CEO Andy Jassy said, "In the fourth quarter, we expect to incur several billion dollars of additional costs in our Consumer business as we manage through labor supply shortages, increased wage costs, global supply chain issues, and increased freight and shipping costs." At the bottom end of the guidance, Amazon expects the higher costs to totally wipe off its operating profits for the quarter.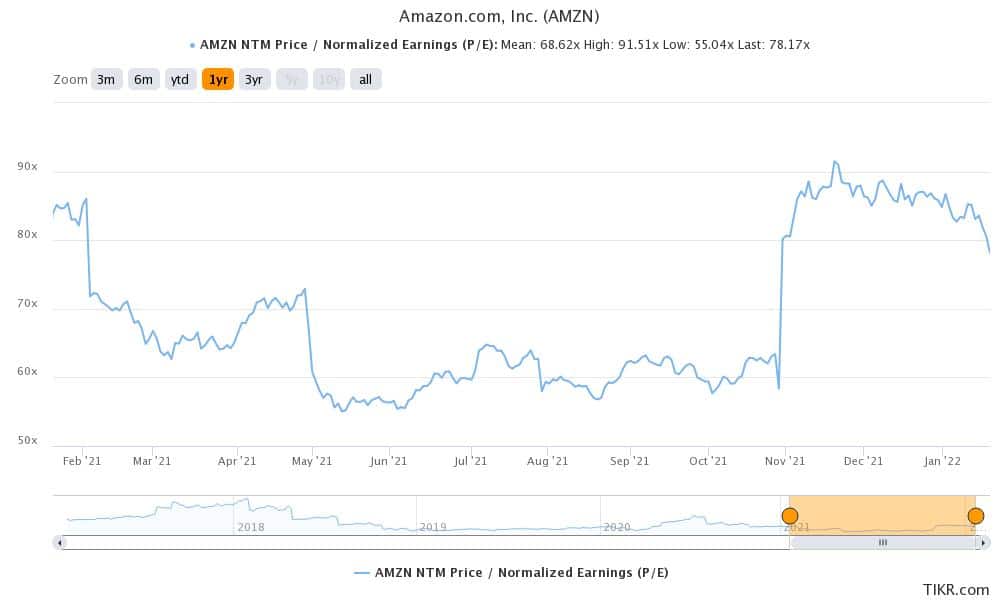 AMZN stock forecast
Despite the underperformance, Wall Street analysts remain bullish on Amazon stock. Many brokerages including Cowen, Bank of America, and Goldman Sachs have listed Amazon as a top pick for 2022.
Of the 52 analysts covering AMZN stock, 50 rate the stock as a buy while two rate it as a hold. None of the analysts have a sell or equivalent rating on the stock.
Its median target price of $4,100 implies an upside of 37% over current prices. Its lowest target price is $3,473 is a premium of 16% while the highest target price of $5,000 is a premium of 67% over current prices.
Bank of America reiterated Amazon as a buy earlier this month. It said, "We have a positive outlook for 3-5 year eCommerce growth given sub-20% penetration, and, with market share gains in 2021, we see Amazon as well positioned for sector growth reacceleration in 2H′22 and into 2023."
Amazon has a strong competitive position
Amazon is the leader in the US e-commerce market. Also, it is the largest cloud infrastructure company accounting for almost a third of the total market. The pace of digitization has increased due to the COVID-19 pandemic. A lot of consumers who were not comfortable with online shopping have also pivoted to buying goods online. While some of the consumer buying will revert back to brick-and-mortar stores, many consumers might stick to the e-commerce platforms given the ease, better prices, and availability of more buying choices.
Amazon stock long term forecast
Amazon is not only an e-commerce platform but a complete ecosystem. The company has services like Prime which add to customer stickiness on the platform. Also, it is a play on the massive amount of user data that it has which it can use to show relevant products. There is also the network effect as the availability of wider choices on the platform acts as a competitive advantage and builds high barriers of entry. The company has built a strong moat with its ecosystem which is impeccable.
Along with the domestic markets, Amazon also allows users to buy products internationally. The company's customer service is also a USP even as there would be the odd event of a buyer not being happy with the services. The complete ecosystem that AMZN has built is hard to replicate easily. For many people across the globe, Amazon and e-commerce are synonymous, just like internet browsing and Googling are used interchangeably.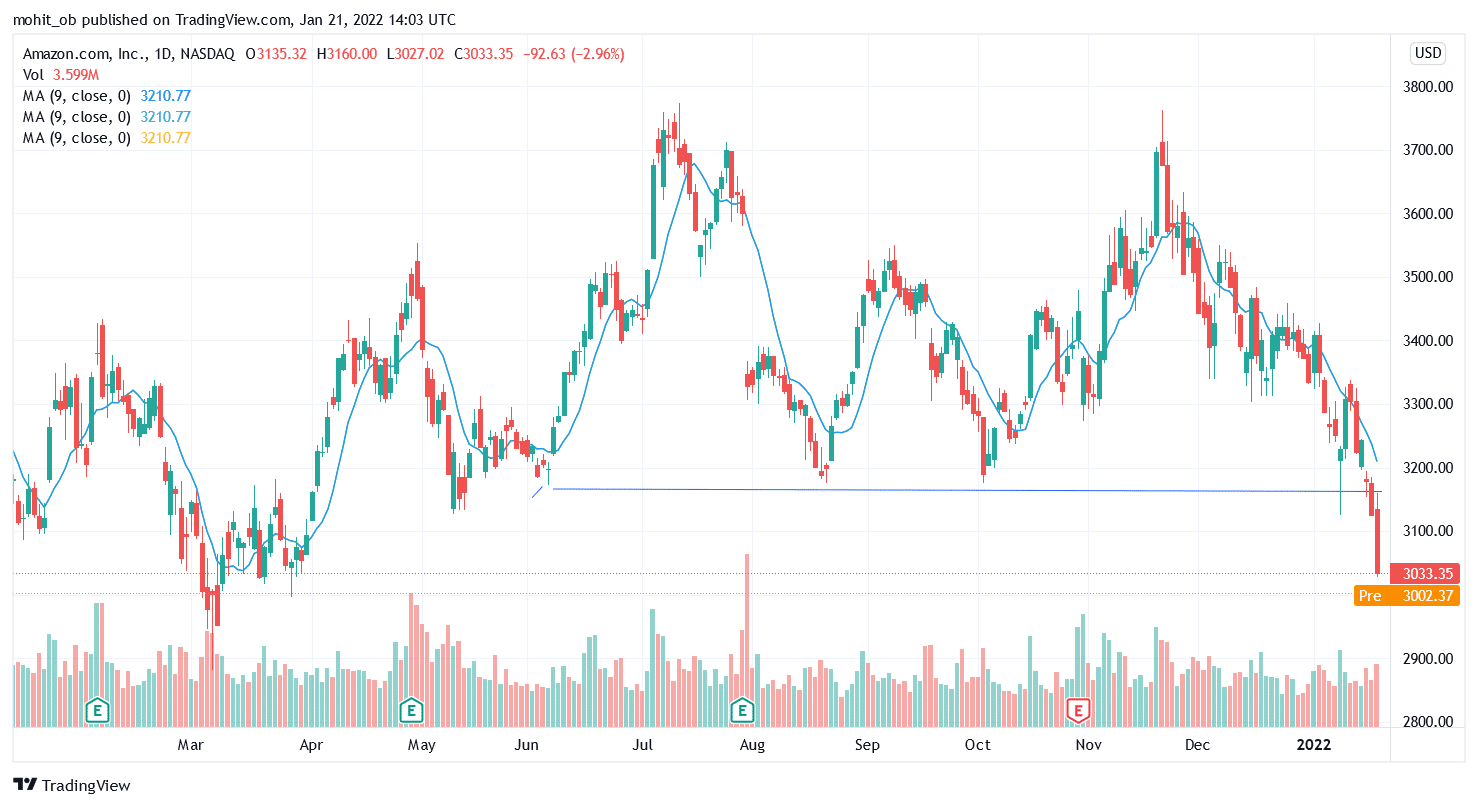 Should you buy AMZN stock?
AMZN's valuations look attractive after the recent underperformance. There has been a sell-off in growth names which has hit all the companies, including the fundamentally strong quality names like Amazon. However, AMZN is a long-term growth story as both e-commerce and cloud are structural growth themes.
While Amazon stock might continue to remain volatile amid the mayhem in US tech stocks, at these prices, it looks at attractive buy, especially for long-term investors.
Amazon stock technical analysis
While AMZN stock looks a good buy based on fundamentals, it is looking very weak on the charts and has fallen below key long-term resistance. The stock trades below all key moving averages like the 50-day, 100-day, and 200-day SMA (simple moving averages). Its 50-day SMA also risks falling below the 200-day SMA, which would mean a death cross formation.
However, if you want to buy the stock for the long term, it would make sense to start accumulating AMZN at these prices and add more shares if the price falls further.
Buy AMZN Stock at eToro from just $50 Now!