Buy Amazon Shares UK – How To Buy Shares In Amazon
If you want to buy Amazon shares but don't know where or how you've come to the right place! This article will help you buy shares in amazon and analyze the company to see whether the shares are a good fit.
💡Amazon.com Inc, the world's largest online retailer, is an American company that is the world's number one online retailer in terms of turnover. Also, one of the first online platforms to sell mass-market products.
Without further ado, let's discover a 4-step way to purchase Amazon shares.
How To Buy Amazon Shares UK – #1 eToro.com

How to Buy Amazon Shares UK – A Quick Guide For 2021
Below you will find a quickfire guide on how to buy Amazon shares in the UK in less than five minutes!
Step 1: Open an Account with eToro – eToro is the best broker to buy Amazon shares in the UK – as you won't pay any commission. As such, visit the eToro website and open an account.
Step 2: Upload Your ID – As per KYC regulations in the UK – eToro will ask you to upload a copy of your passport or driver's license.
Step 3: Deposit Funds – Deposit some money into your newly created eToro account. You can choose from a bank transfer, e-wallet, or debit/credit card.
Step 4: Buy Amazon Shares UK – Search for 'Amazon' and click the 'Trade' button. Enter your total investment amount (minimum $50) and confirm the order by clicking the 'Open Trade' button.
And that's it – you've just bought Amazon shares in the UK at 0% commission!
Cryptoassets are highly volatile unregulated investment products. No EU investor protection. 67% of retail investor accounts lose money when trading CFDs with this provider.
Step 1: Find a Reliable UK Stock Broker Offering Amazon Shares
eToro – Best UK Broker With No 0% commission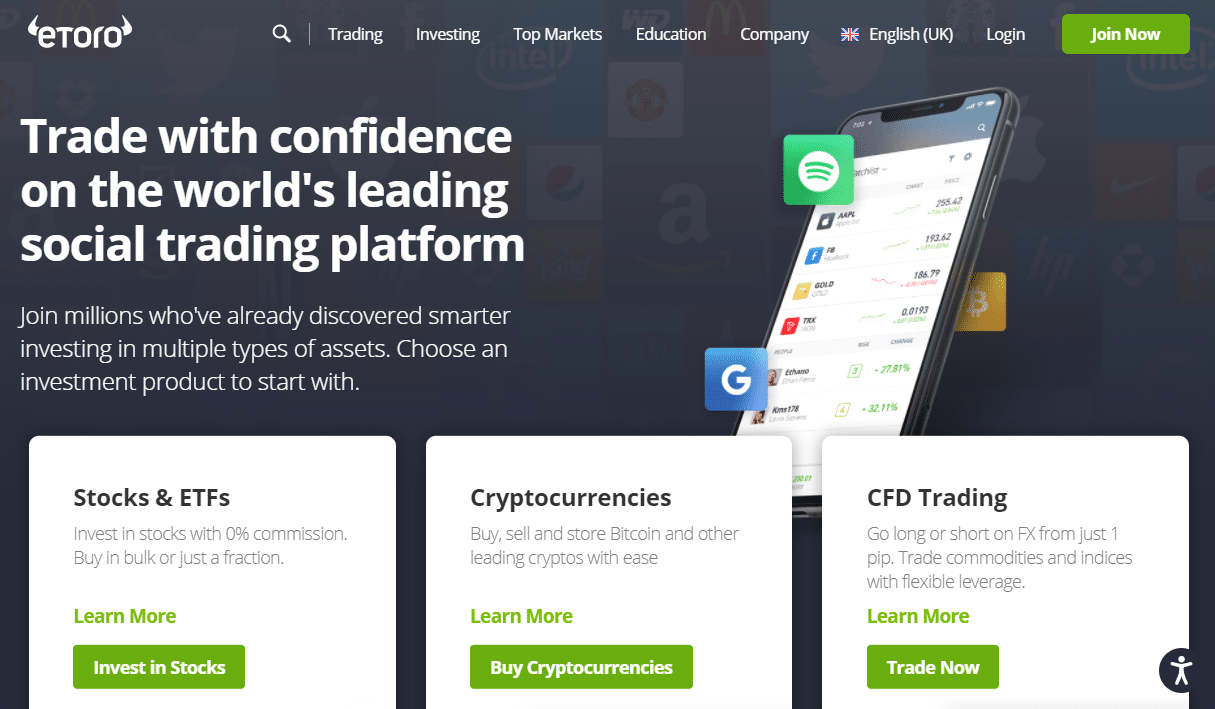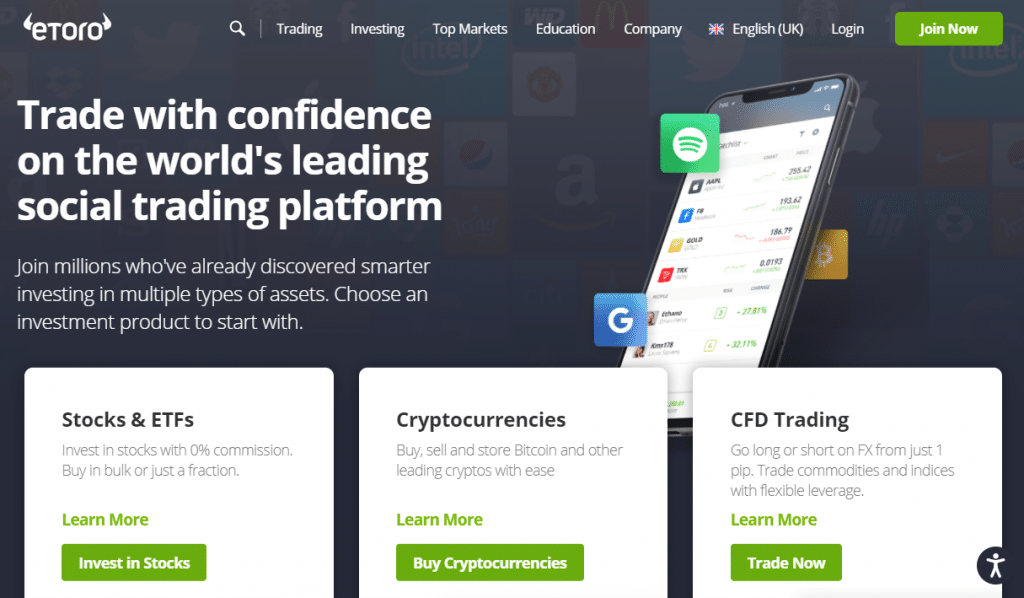 eToro is an established leader of social trading & investing for beginners. Trade and invest in leading stocks and exchange-traded funds (ETFs). CFDs allow you to trade currency pairings, indices, and commodities. It's never been easier to invest in the financial markets.
Many brokers charge additional fees for trading international stocks & shares like Amazon. The so-called FX feelies on top of the broker's share dealing charge. eToro charges you no additional fees for trading internationally. You are free to invest in more than 2400 shares spread across 17 exchanges around the globe.
The benefits of buying stocks on eToro don't stop there. There are also no limits on commission-free trades, and you can purchase fractional shares.
| | |
| --- | --- |
| Pros | Cons |
|  High-value broker for beginners & intermediate traders. |  Educational materials might be improved |
|  Your funds are protected by industry-leading security protocols & tier one banks. |  Not suitable for seasons traders, beginners |
|  Wide range of funding options: bank transfers, credit cards, PayPal, Skrill, Neteller, Webmoney, and more. | |
|  Ever-expanding variety of assets available to trade. | |
|  Brand new CopyTrading technology | |
|  Access to more than 2,000 different financial assets, including stocks. | |
|  More than 10 million traders and investors from over 140 countries make up the world's largest trading & investment community. | |
67% of all retail investor accounts lose money when trading CFDs with this provider.
Capital.com – Established CFD trading broker in the UK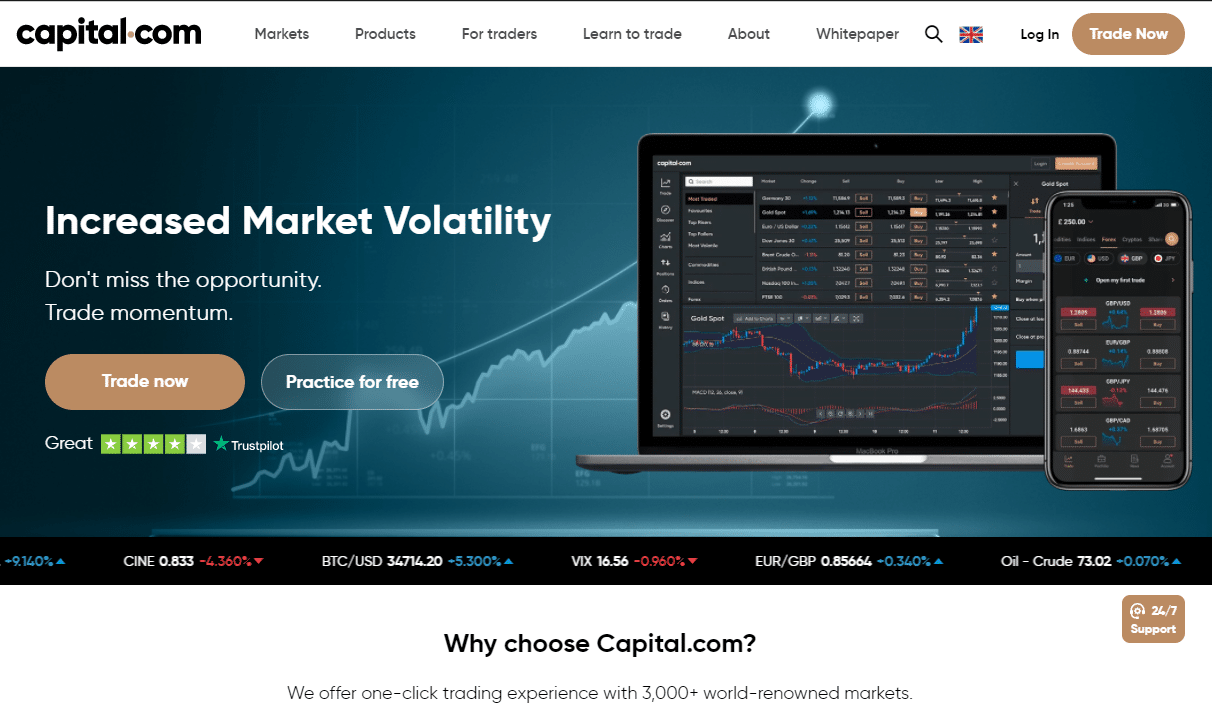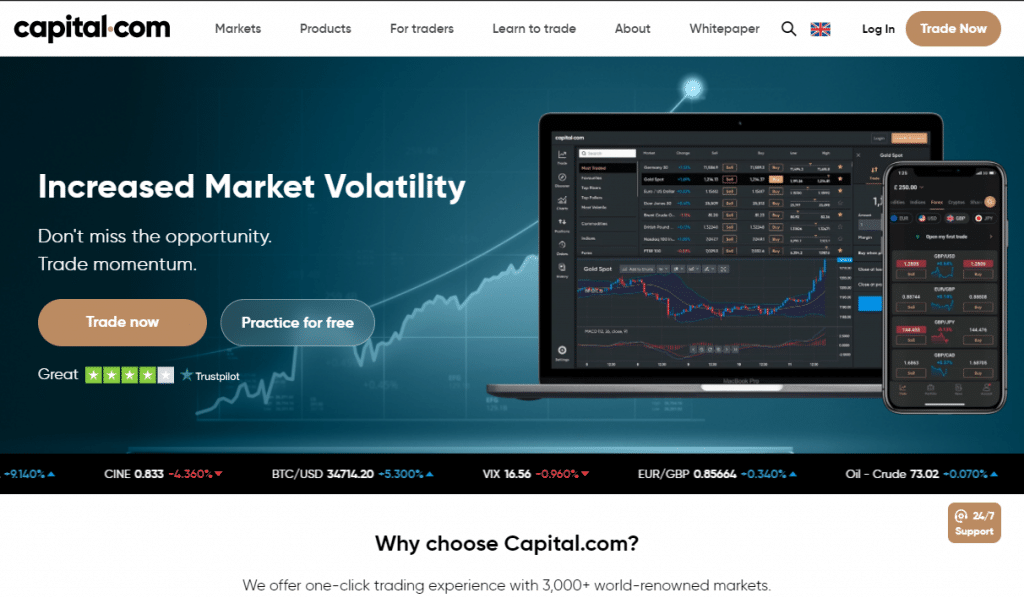 With over 788,000 people registered and more than $13 billion traded in volume, Capital.com offers a whole range of financial tools. The platform is a gold mine for intermediate and veteran traders. 
From signing up to the very first trade — the whole journey takes as little as 10 minutes. Use Apple Pay, credit card, bank & wire transfers available to fund your account and start CFD trading in no time.
Venture on specific market sectors with shares CFD trading with leverage of up to 1 to 5. You only need £150 to control the £750 position. You can organize the entirety of our shares instrument table by the most traded, most volatile, top risers, and top fallers. Capital.com interactive table displays prices in real-time and shows the past two days' percentage change.
| | |
| --- | --- |
| Pros | Cons |
|  More than 2800 positive reviews on Trustpilot. |  Support might be better |
|  Audited by Deloitte & Trusted Partner of Investing.com |  The minimum deposit is £250 |
|  Invest in a wide range of stocks 24 hours a day, seven days a week. | |
|  Purchase and sell stocks to profit from price fluctuations. | |
|  Set up price notifications to get alerted when prices change significantly. | |
|  Manage stops and limits to schedule close at a specific price. | |
Step 2: Do some research on How to Buy Amazon Shares in UK

If you haven't yet made an AMZN investment and are considering, "Can I buy Amazon shares now?" We recommend you analyze the various factors that can affect their price. 
If you're a beginner, research can help you to understand how to buy amazon shares in UK.
If you're already an investor, this can help you decide whether to sell or buy shares in Amazon
Have a look at some critical factors determining whether Amazon's shares will go up or down.
The State of the E-Commerce Marketplace
The e-commerce market is one of the fastest-growing sectors in the world. According to Statista, global e-commerce sales will reach $6.54 trillion by 2022. A growing percentage of our online activity comes from online shopping, and Amazon, as the world's largest brand, is a crucial company driving this trend.
The coronavirus pandemic has been a significant reason for the recent e-commerce boom. In the third quarter of 2020, Amazon announced that its revenue was $96.1 billion. In Q4 2020, the company delivered its largest revenue of all time, generating $125.56 billion in sales. This is because global restrictions have forced an unprecedented number of people to buy everything from groceries to Christmas gifts online. Since Amazon sells almost everything, it has been able to make money from this market boom. The company started the year at just over $1,898 and closed at a projected $3,201.
Analysts believe that reliance on online shopping is unlikely to diminish after the coronavirus pandemic is over. Instead, they think that the convenience of companies like Amazon will cause people to continue ordering their products online. This will almost certainly increase Amazon's revenue and, therefore, its share price.
By tracking e-commerce trends, you can find the best time to buy shares in amazon or sell them off. (For example, Amazon's stock price almost always goes up toward the end of the year when Christmas shoppers flock to its site.)
Demand for Amazon Extras
Amazon is so much more than pure merchandise. Its one-day subscription delivery service, Amazon Prime, first launched in the United States in 2005. Two years later, in 2007, it was launched in the United Kingdom, Germany, and Japan. In both of those years, Amazon's share price rose significantly. Between late 2005 and 2009, it rose from $47,1500 to $134,5200 as demand for the service grew. Amazon Web Services affect the market the same way in 2021.
Investing in New Niches
Amazon is predicted to add marijuana to its Whole Foods stores and begin using contactless delivery. The increase in a habit that may result from these decisions is likely to boost its stock price-especially since both moves will be well covered in the world's media.
You can find a detailed analysis of Amazon further in the article. 
Step 3: Open and fund a brokerage account
To start investing in Amazon and open an account, you need a minimum deposit of just £150. But, first, let's have a look at the account opening procedure.
Open a Brokerage Account at eToro and add funds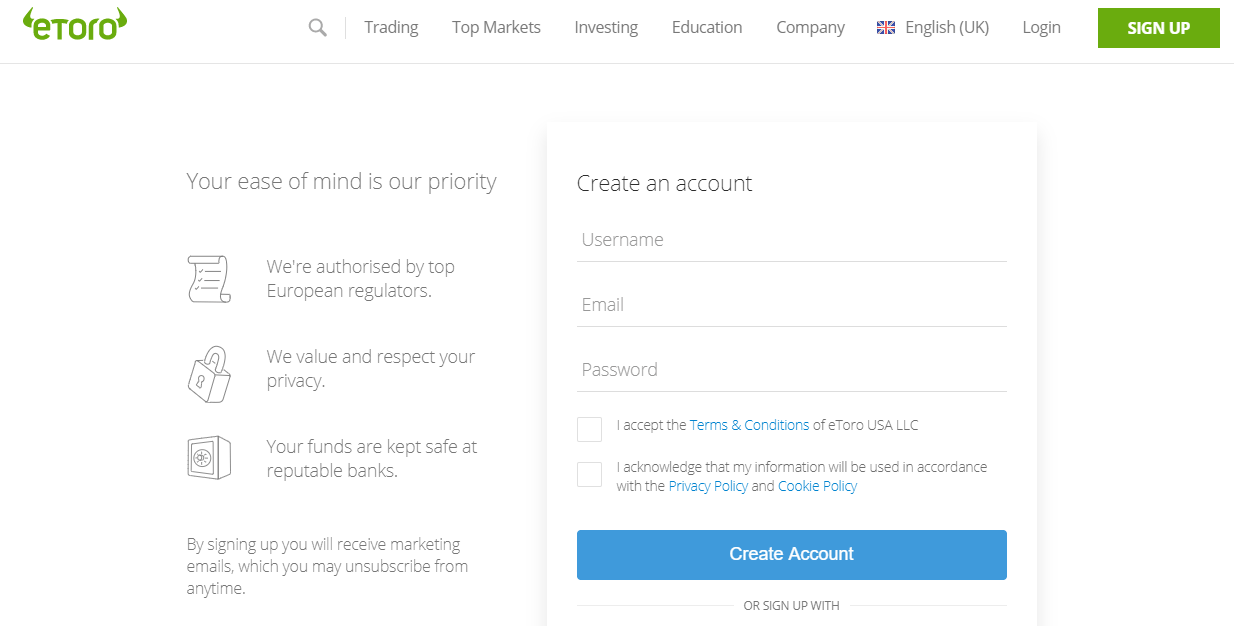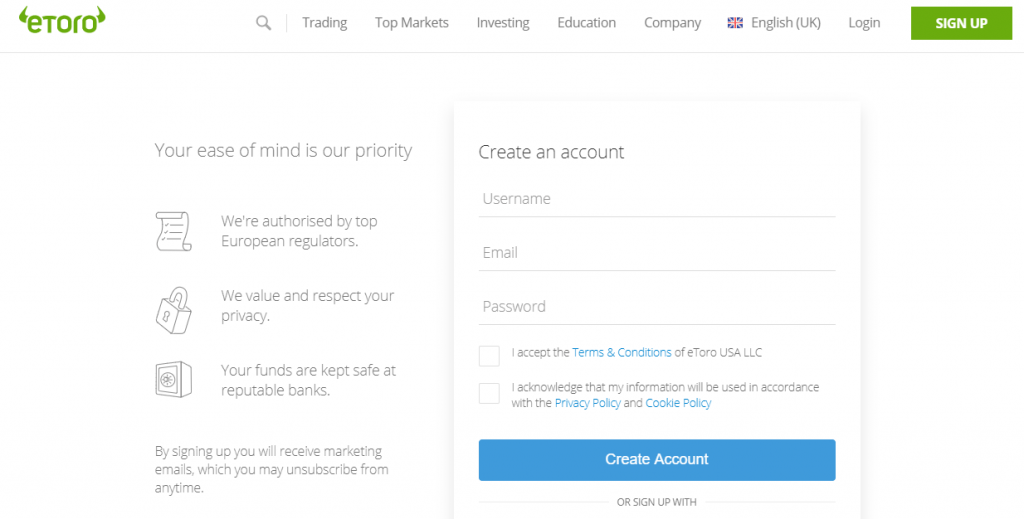 Fill the registration form to continue. You may need some documents to verify your account if you're planning to invest more than $2,250 in Amazon. Verification requires your ID and proof of address. Any official document works as proving: recent utility bill, bank statement, driving license, etc.
Note: You can skip uploading these documents. 
Funding a trading account is a fast and straightforward procedure. You can use various methods to deposit funds into your account. Just choose the most convenient for you method of payment and follow the steps below:
Login to your account.

Click on "Deposit to account."

Enter the amount and currency. (min $50)

Select your preferred method of deposit.
💡eToro supports payment methods such as Bank transfers, Credit/Debit cards, PayPal, Neteller, Skrill, Sofort, and more.
Step 4: Buy Amazon Shares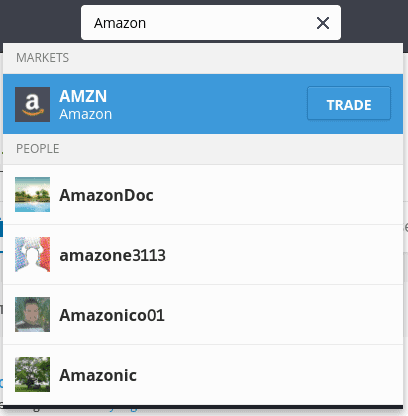 Once you fund your account, it's time to use the search box to buy amazon shares. Type Amazon or AMZN into the search bar and click on the 'TRADE" button.
The order form will open. Now it's time to enter any stake higher than $50 US dollars.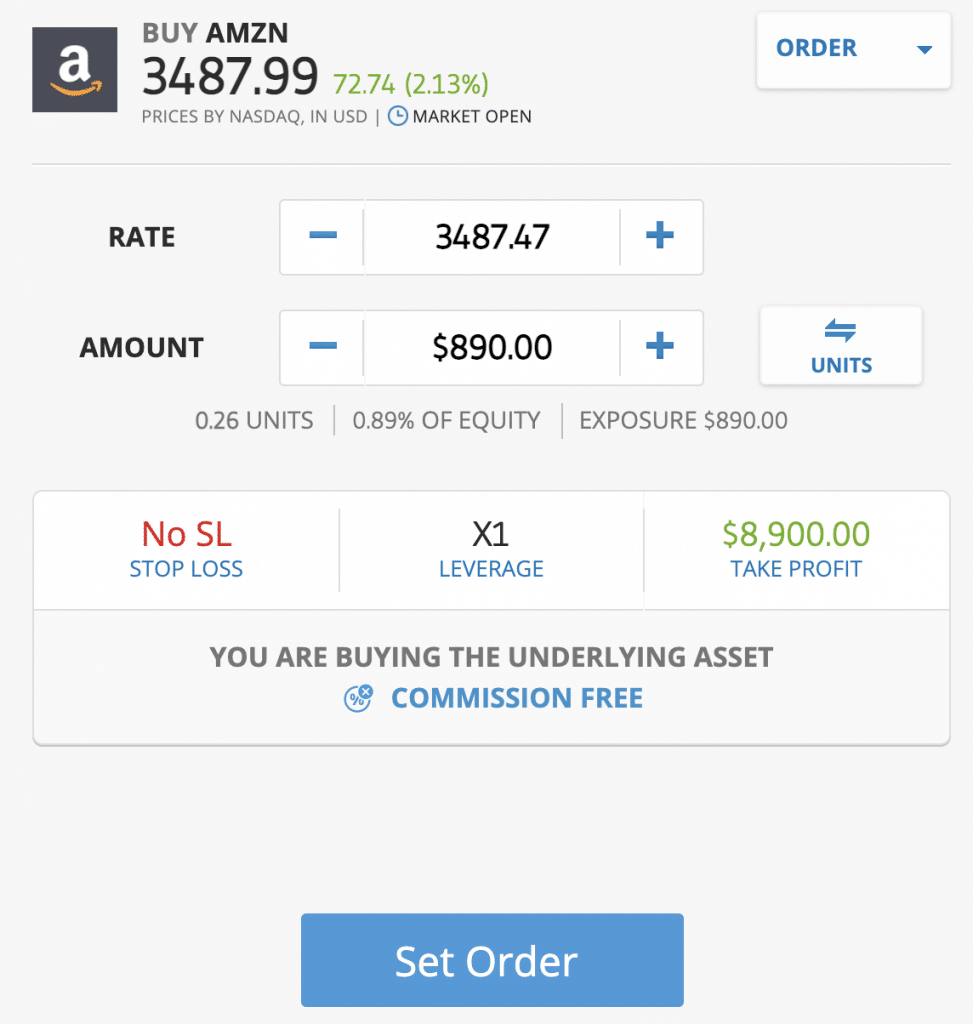 If you trade during standard market hours, you'll see the 'Open Trade' button. Otherwise, you can click on the 'Set Order' button to place your order: once the market opens and conditions are met, your order will be executed.
What's next? 
Now, let's analyze the company from scratch. If you want to understand whether Amazon shares can yield you money or not, keep reading.
How has Amazon's share price changed over time?
| | | | | | | |
| --- | --- | --- | --- | --- | --- | --- |
| Year | Average Stock Price | Year Open | Year High | Year Low | Year Close | Annual % Change |
| 2020 | $2,662.60 | $1,898.01 | $3,531.45 | $1,676.61 | $3,201.65 | 73.26% |
| 2019 | $1,789.19 | $1,539.13 | $2,020.99 | $1,500.28 | $1,847.84 | 23.03% |
| 2018 | $1,641.73 | $1,189.01 | $2,039.51 | $1,189.01 | $1,501.97 | 28.43% |
| 2017 | $968.17 | $753.67 | $1,195.83 | $753.67 | $1,169.47 | 55.96% |
| 2016 | $699.52 | $636.99 | $844.36 | $482.07 | $749.87 | 10.95% |
| 2015 | $478.14 | $308.52 | $693.97 | $286.95 | $675.89 | 117.78% |
| 2014 | $332.55 | $397.97 | $407.05 | $287.06 | $310.35 | -22.18% |
| 2013 | $298.03 | $257.31 | $404.39 | $248.23 | $398.79 | 58.96% |
| 2012 | $220.30 | $179.03 | $261.68 | $175.93 | $250.87 | 44.93% |
| 2011 | $196.67 | $184.22 | $246.71 | $160.97 | $173.10 | -3.83% |
| 2010 | $139.14 | $133.90 | $184.76 | $108.61 | $180.00 | 33.81% |
As you can see, over the last ten years, Amazon experienced growth 80% of the time — the great potential here. What do experts say, though?
Buy Amazon Shares – Stock Price Forecast for 2021
According to stock-price forecasts by analysts at CNN Money, we could see Amazon's price rise to more than $4,000 by the end of 2021. Furthermore, they predicted a potential high of $4,500, representing a staggering +40.5% growth rate.
At the very least, they don't expect the stock price to fall below $3,048. While this is lower than its current price of $3,489.65, it's not a concern for investors. This is especially true because 2020 was a breakout year for retail. With revenue growth from the worldwide coronavirus pandemic causing the stock price to drop to ATH, it wouldn't be surprising if Amazon's price is slightly lower in 2021.
Nevertheless, CNN Money expects Amazon to show an impressive average share price of $3,800. We can see that in the chart below: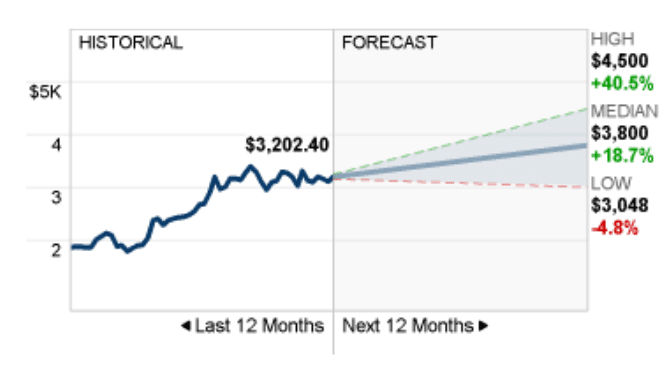 The highest analyst target for Amazon's stock price forecast is $4,500, and the lowest is $3,048. Based on this forecast, CNN Money reports that 42 surveyed investment analysts recommend buy shares in amazon Inc. (that's out of a possible 49 analysts). Their rating had remained unchanged since November 2020, when Amazon experienced another rise in the run-up to Christmas.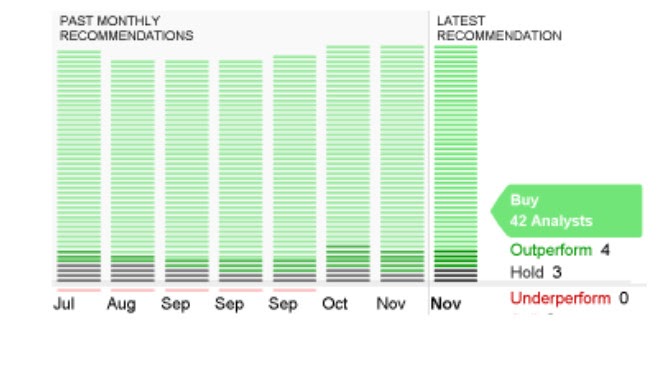 Our final short-term forecast for Amazon's stock price in 2021 comes from Gov Capital. That platform gave a prognosis similar to CNN Money. According to its analysis, Gov Capital believes AMZN's stock price could reach an average of $4,235.99 within one year. If that prediction is correct, people who invested $100 at the beginning of the year can expect their investment to be worth $132,131 by December 2021 (Gov Capital uses its deep learning algorithm for its predictions, which takes into account factors such as market cycles, similar stocks, and volume changes).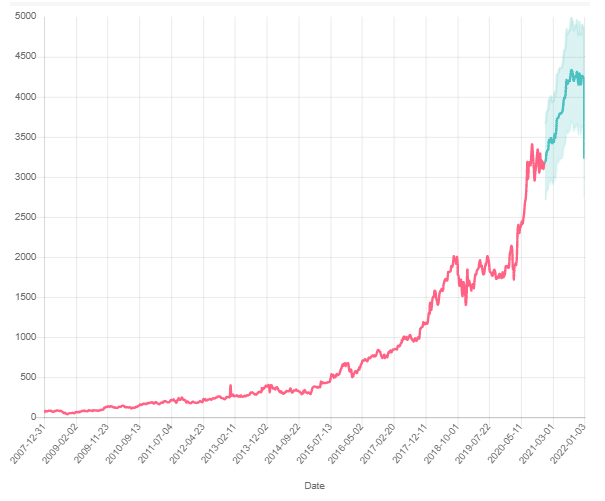 Gov Capital's average prices are pretty optimistic, but for investors wondering, "should I add AMZN to my portfolio," the maximum projections are even more exciting. Algorithms gave a maximum price of more than $4,966 — almost $5,000. If this proves accurate, we could see a growth rate of nearly $2,000 in just one year. That would be a startling growth rate of over 66%.
Long Term Amazon Price Predictions: 2022-2025
What do stock experts predict about Amazon's stock price in 2022 and beyond? Now that we've taken a look at Amazon's short-term stock price forecasts let's look ahead to 2022-2025. 
If you're a current investor wondering whether to buy shares in amazon, sell or hold, it's essential to research the long-term outlook for your stock before making a decision. This will potentially help you avoid losing out on any future price changes that occur.
For our first long-term AMZN price forecast, we turned to LongForecast.com. This platform lists the following price forecasts for 2022: from a low threshold of $3,550 in July to a high potential value of $4,765 in November 2022.
Date
Min Price
Max Price
Close
Total %
Jan
$3,715
$4,189
$3,952
22.77%
Feb
$3,901
$4,399
$4,150
28.92%
Mar
$3,969
$4,475
$4,222
31.16%
Apr
$4,064
$4,582
$4,323
34.30%
May
$4,267
$4,811
$4,539
41.01%
Jun
$4,480
$5,052
$4,766
48.06%
Jul
$4,704
$5,304
$5,004
55.45%
Aug
$4,939
$5,569
$5,254
63.22%
Sep
$5,186
$5,848
$5,517
71.39%
Oct
$5,252
$5,922
$5,587
73.56%
Nov
$5,350
$6,032
$5,691
76.79%
Dec
$5,617
$6,335
$5,976
85.65%
While even its maximum prices for 2022 are not as high as some of the values we have seen from Gov Capital and CNN Money, this is still good news for both existing and potential investors. Its minimum prices have consistently exceeded the current value of AMZN stock, so it suggests that we are unlikely to see a significant collapse. (Given the power of the Amazon empire, that would certainly be surprising).
How do other long-term AMZN price forecasts stack up? According to investment bank Needham & Company, Amazon's stock price will certainly climb above $5,000 in the long run, maybe over the next three to five years. Amazon's report estimated a 'high buy' rating. The effect of the coronavirus epidemic, as well as rising demand for Amazon Web Services (AWS) and streaming services like Prime and Twitch, are all reasons that might contribute to this rise, according to the company.
Needham's long-term positive outlook matches the expectations of WalletInvestor. Looking at estimates for 2022-2025, it's obvious that it feels $5,000 is a realistic objective. AMZN is expected to trade at $5,048.120 by June 2024, according to WalletInvestor, and will remain over $5,000 until 2025.
| | | | | | |
| --- | --- | --- | --- | --- | --- |
| January 2025 | $5,237.77 | $5,297.56 | $5,237.77 | $5,298.65 | 1.13% UP |
| February 2025 | $5,302.24 | $5,338.27 | $5,302.24 | $5,340.62 | 0.67% UP |
| March 2025 | $5,338.77 | $5,374.32 | $5,338.77 | $5,374.32 | 0.66% UP |
| April 2025 | $5,379.16 | $5,480.73 | $5,379.16 | $5,480.73 | 1.85% UP |
| May 2025 | $5,482.43 | $5,513.50 | $5,481.68 | $5,513.65 | 0.56% UP |
| June 2025 | $5,520.86 | $5,587.82 | $5,520.86 | $5,587.82 | 1.2% UP |
| July 2025 | $5,594.10 | $5,657.50 | $5,594.10 | $5,658.38 | 1.12% UP |
| August 2025 | $5,654.73 | $5,705.72 | $5,654.73 | $5,706.90 | 0.89 % UP |
| September 2025 | $5,708.45 | $5,716.62 | $5,706.58 | $5,716.62 | 0.14% UP |
| October 2025 | $5,719.13 | $5,740.14 | $5,718.89 | $5,743.45 | 0.37% UP |
| November 2025 | $5,739.83 | $5,776.33 | $5,739.83 | $5,777.88 | 0.63% UP |
| December 2025 | $5,777.78 | $5,774.41 | $5,773.67 | $5,781.51 | -0.06% DOWN |
This table shows Amazon's opening, closing, minimum and maximum prices in 2025. WalletInvestor predicts that its stock price will potentially reach $5,781.510 by the end of the year. Given Amazon's growth rate from 2021 to 2025, that figure suggests they could reach $6,000 by 2026. If true, this means that Amazon's share price will double in just six years.
💡Amazon's share price may double in just six years.
Buying Shares In Amazon – Analysis and evaluation of Amazon shares potential 
What does Amazon look like from the perspective of its competitors and investors? More recently, John Malone, the chairman and majority shareholder of Liberty Media, a company that owns media and telecom assets, nicknamed Amazon the "Death Star," implying that any segment and any company in it in which Amazon shows interest becomes a potential victim and a candidate for squeezing out of the market, with the prospect of being absorbed in best or facing bankruptcy at worst.
In turn, the Bespoke investment group since 2012 calculates the "Death by Amazon" index, which includes 62 public retail companies whose business more or less uses the traditional form of sales (through physical stores). The index consists of both the segment's most prominent and mid-cap companies. A comparison of the dynamics of the Bespoke index and the S&P 500 as an average indicator of the stock market shows a clear trend: if in 2012 to early 2015, the shares of retailers grew ahead of the trend, since the second half of 2015, the situation has changed dramatically, and we do not see much hope of a trend reversal for retailers on the chart. Moreover, in 2020, the situation has sharply worsened: the S&P 500 has added more than 16.26% since the beginning of the year, while the composite index of retail companies has almost halved: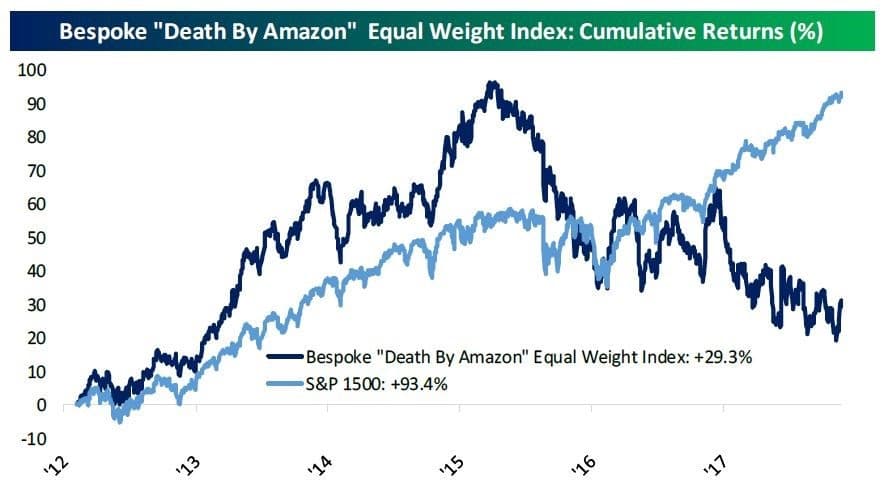 Finally, what do market participants most often ask questions right now regarding retail-segment stocks? Could the company be hurt by Amazon (to be Amazoned)? Can it not be harmed by Amazon? Can it fight Amazon? Is there anyone who can stop and beat Amazon? All the issues in the retail marketplace boil down to one mega-problem, the name of which is Amazon. And it gets a little creepy that just one company can play such an essential role in the largest economy in the world and the largest stock market.
If you look at the broader consumer sector, the threat from Amazon is taken into account even by the world's largest companies that are leaders in their segments. Just a few examples. Why media and telecom giants Walt Disney (NYSE: DIS), Comcast Corp. (NASDAQ: CMCSA), and Verizon (NYSE: VZ) were interested in the assets of Twenty-First Century Fox (NASDAQ: FOXA)? 
One theory that has merit is that they want to consolidate to avoid a potential threat from Amazon, though the latter has not made explicit claims in the media market. So why are tech giants Alphabet (NASDAQ: GOOGL), Microsoft (NASDAQ: MSFT), and IBM (NYSE: IBM) investing billions of dollars in their cloud businesses, but Amazon Web Service (AWS) remains at least twice as large as each of them? Because virtually no existing AWS customer is willing to switch to a competitor, even under the lure of serious discounts, and very often wins the battle for new customers.
💡 Amazon is a major Merger & Acquisitions player. Hence, the company's shares are likely to grow due to an aggressive business model.
But back to the company's core business: retail. What is Amazon's strength? Why has the company been systematically carving up more and more market niches for a decade and does not seem to be going to stop? Briefly, there is no unambiguous and straightforward answer. 
Crazy financial resource, which perhaps no other company in the industry has. 

Ambiguous business practices and unique vision of company founder Jeff Bezos. 

The lack, until recently, of physical stores gobbling up additional resources in the form of rent, salaries, physical aging, unsold inventory, etc. 

Willingness to operate at a loss for long enough periods that competitors can't. 

The lack of dividends and stock repurchase programs, which any "old-school" public company would not accept under corporate ethics.
But the main reason for Amazon's strength, in our view, is the love and loyalty consumers have for the company and its services, particularly Amazon Prime. As a result, they are willing to pay for a service. Still, in return, they receive an exclusive service, the main elements of which are convenience, speed, and a virtually unlimited range of everything a modern person wants to buy this or that product needs. As a result, the popularity of Amazon Prime is proliferating. Almost half of U.S. households already receive the benefits of an exclusive subscription, and the company's revenue growth from this service is only accelerating.
But even without Prime subscribers, Amazon's online marketplace is attracting more buyers and sellers. The rapid growth of the online shopping audience is encouraging more and more sellers and manufacturers to advertise and display their products and services through Amazon. Therefore, the company's revenues are growing from the growth of turnover and the sale of advertising and other business services. Moreover, Amazon actively promotes its products. As a result, the company's retail segment has been growing at an average annual rate of more than 20% for the past five years. And contrary to the law of large numbers, the growth rate, after falling in 2014 and 2015, has accelerated again sharply over the past two years.
The growth of Amazon's retail business looks particularly impressive when compared to the overall trend of retail sales in the U.S. Over the past five years, they have averaged 2-3% annual growth, with a good chance of accelerating to 4-4.5% at the end of 2021.
Projected retail e-commerce GMV share of Amazon in the United States from 2016 to 2021: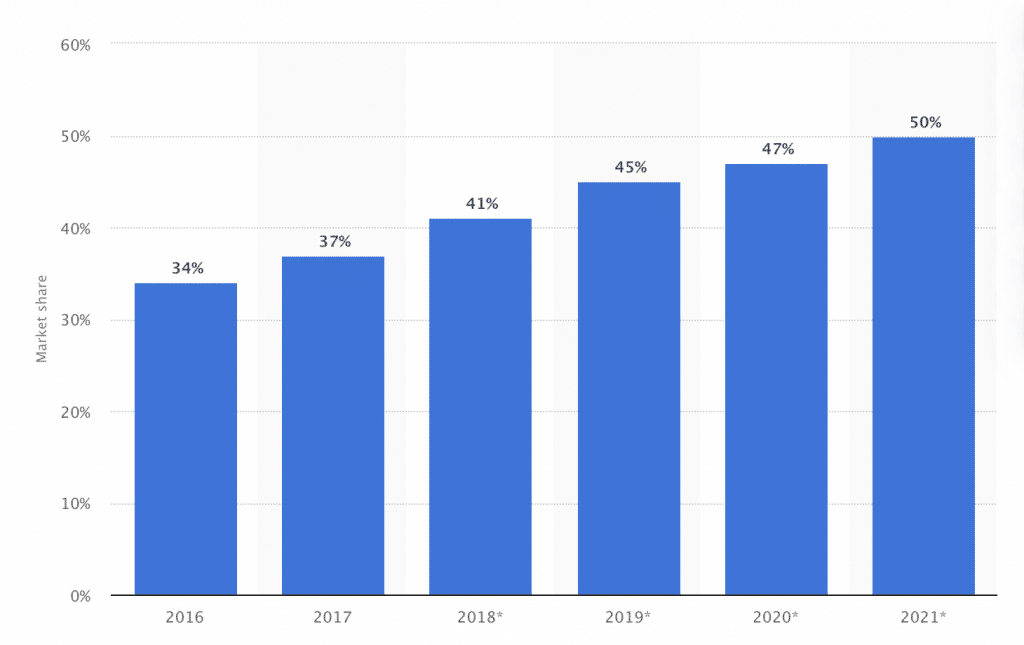 Amazon & US e-commerce market
Let's take a look at the structure of the U.S. e-commerce market and assess Amazon's prospects. 
Amazon dominates almost 40% of the entire market. This figure, on the one hand, speaks of the company's competitive advantages and its stability. Still, on the other hand, it's an indicator that market redistribution is highly unlikely because Amazon has almost no actual competitors. The second-largest company is Walmart, which is nearly eight times behind Amazon.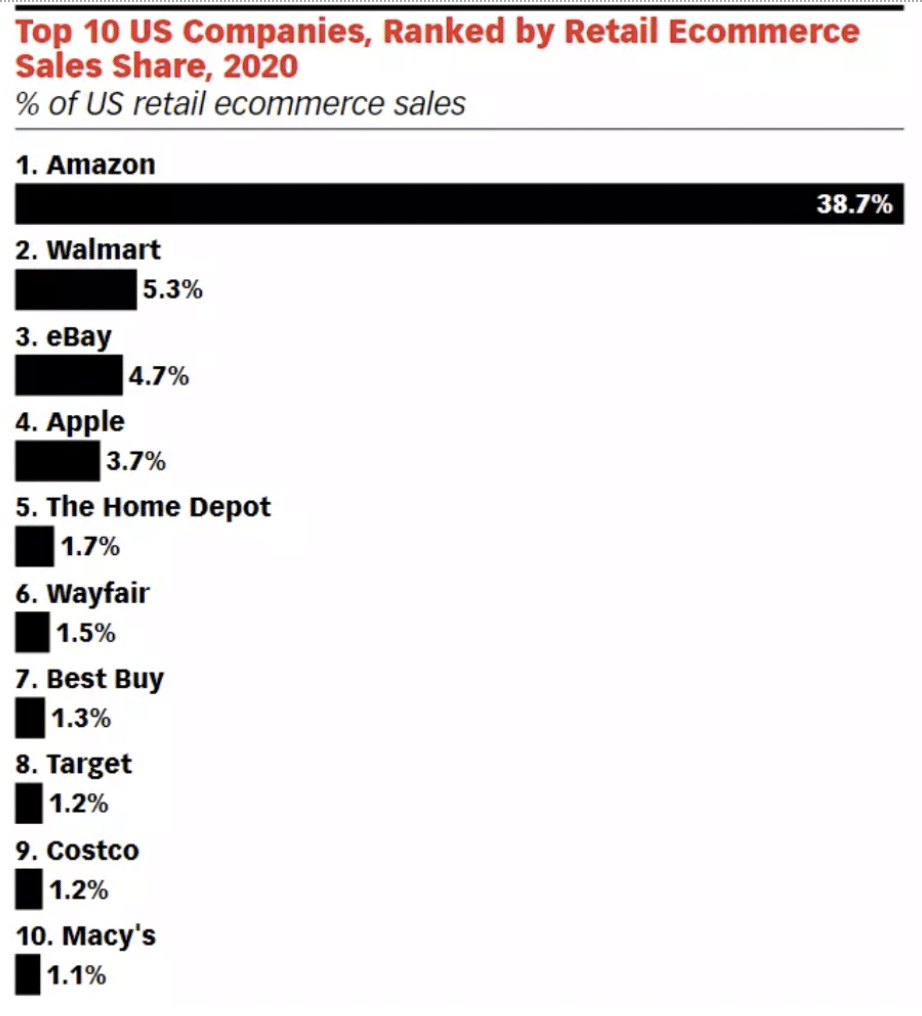 How big are the retail giant's growth prospects? Right now, growth is implausible for the reasons outlined below:
America has a relatively low population density, much lower than the same European countries. This might be an obstacle to the automation and robotization of retail (including delivery). Nevertheless, many futurologists continue to argue that modern technology [e.g., drones] will revolutionize the retail market.
💡The population density in the U.S. is seven times lower than the EU average.
The U.S. has one of the highest levels of motorization of the population, i.e., it's more convenient for the average citizen to "get in and drive" to the nearest grocery store than to order something online.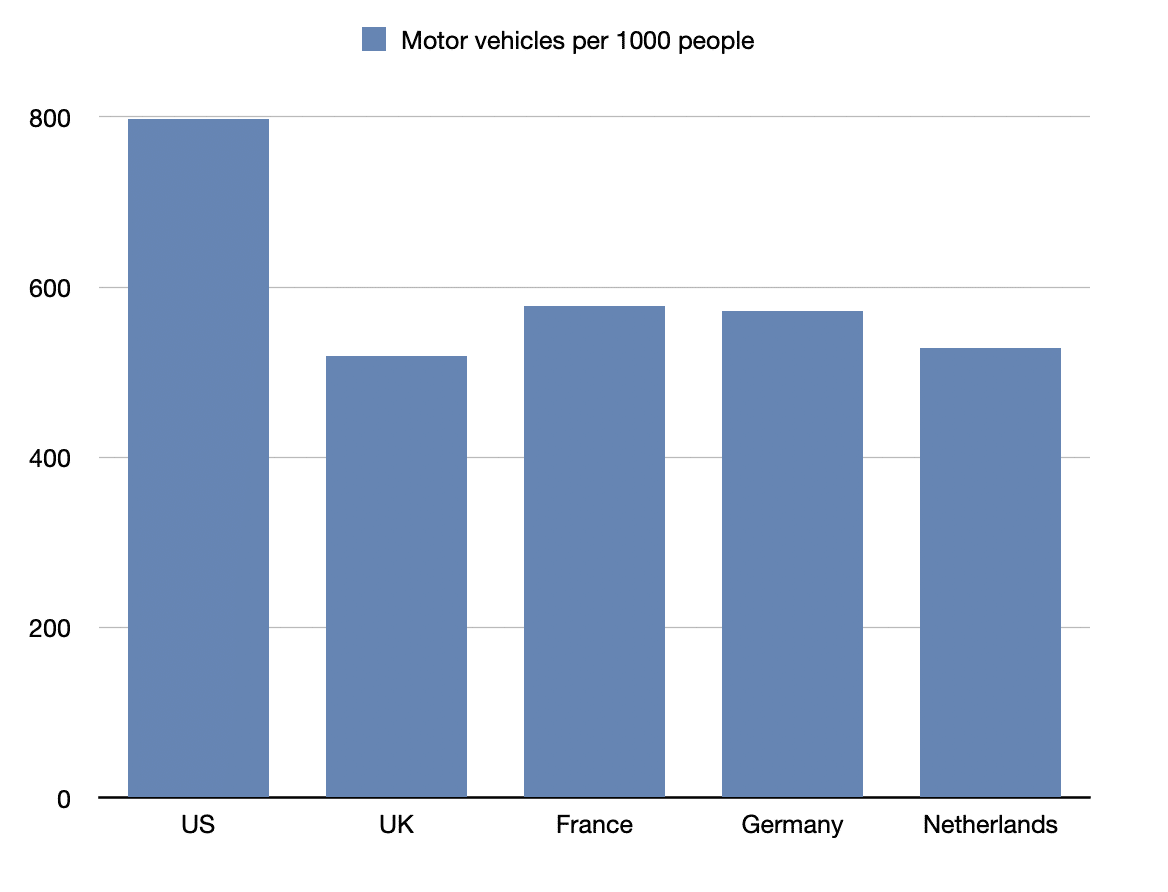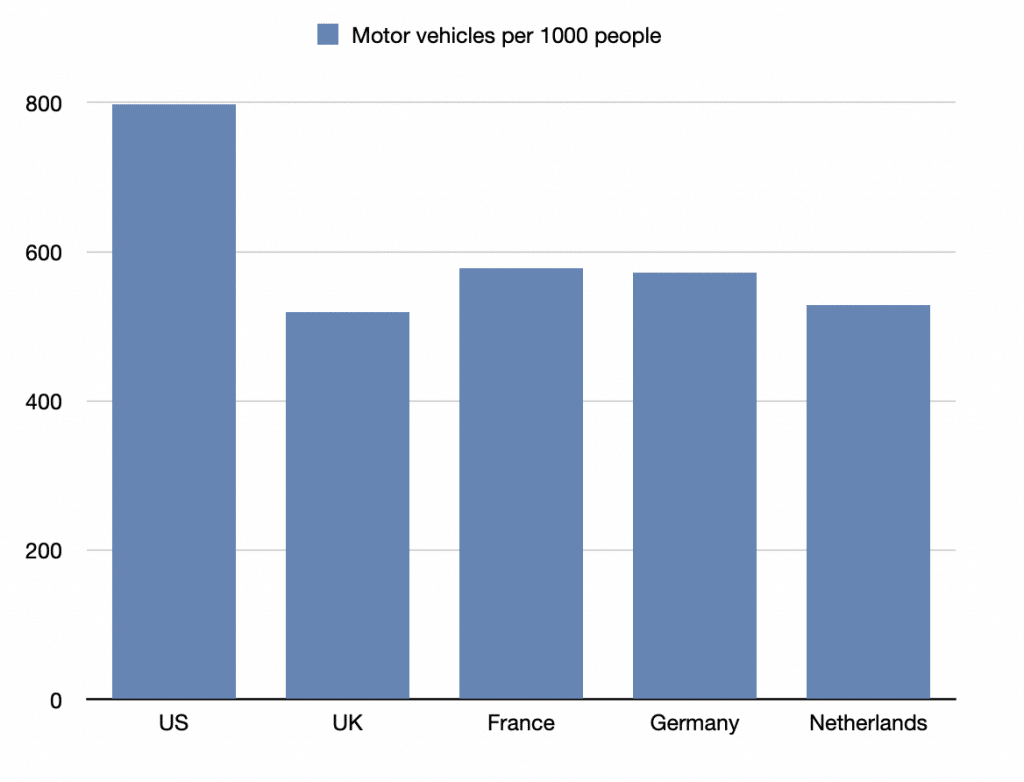 It's challenging to reorient consumers to the purchase of food products online. This is because the sale of food (especially perishable) is a more complex activity, requiring special storage and delivery conditions. Today, e-commerce players are trying to implement the Click & Collect model (self-delivery), but it's also not new, so we should not expect explosive growth.
Amazon Shares & Dividends in 2021
While Wall Street remains bullish on Amazon stock, with average expectations of 14% growth over the next year, investors who haven't yet bought the stocks & shares may be wondering if it's too late to bet on Amazon's story. So let's take a closer look.
To answer whether the company is objectively valued, just open the quarterly report for 2021 and analyze the EPS (earnings per share). It's $15.79, which means the following:
Amazon earns $15.79 per share today, which has a market value of $3,127.89, which means that if Amazon paid all of its net income in dividends, it would take 198 years to recoup such a share at current prices!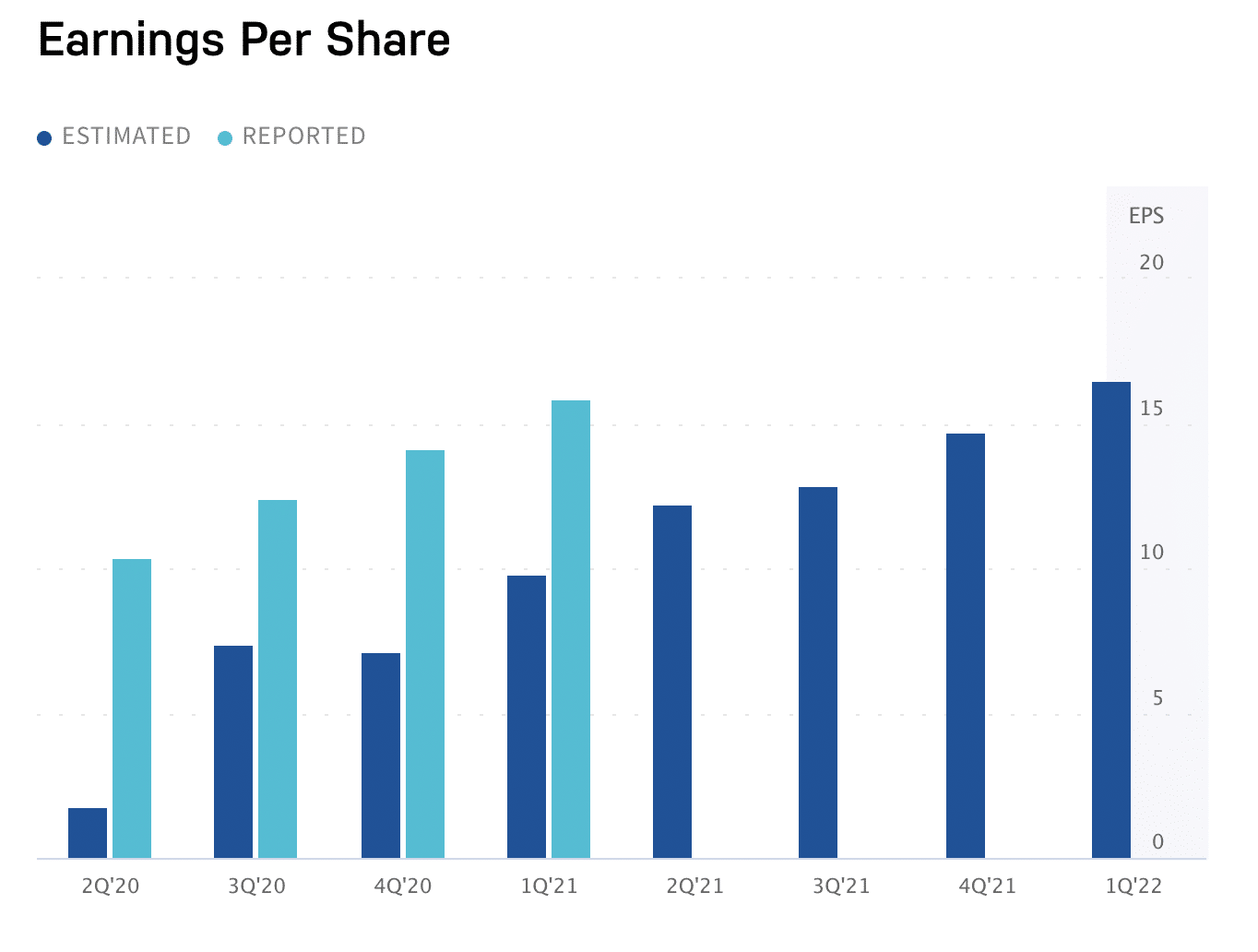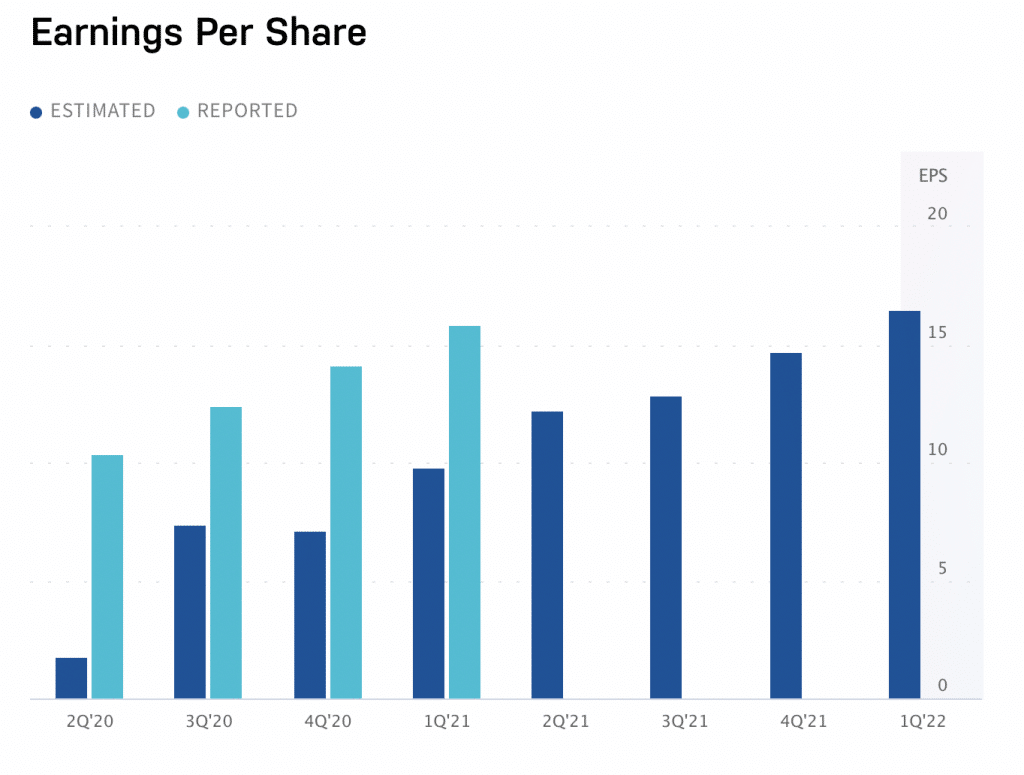 So if you were planning to earn dividends from Amazon, it might not be the most profitable idea. However, the numbers say that you can still make money on the retail giant's stocks & shares.
💡Amazon does not pay dividends to its shareholders.
Should you buy Amazon shares UK in 2021?
To decide whether the company is worth your investment or consider other stocks, you should have a look at Amazon's recent financial report.
Q1 2021 revenue and profit breakdown by segment looks like this: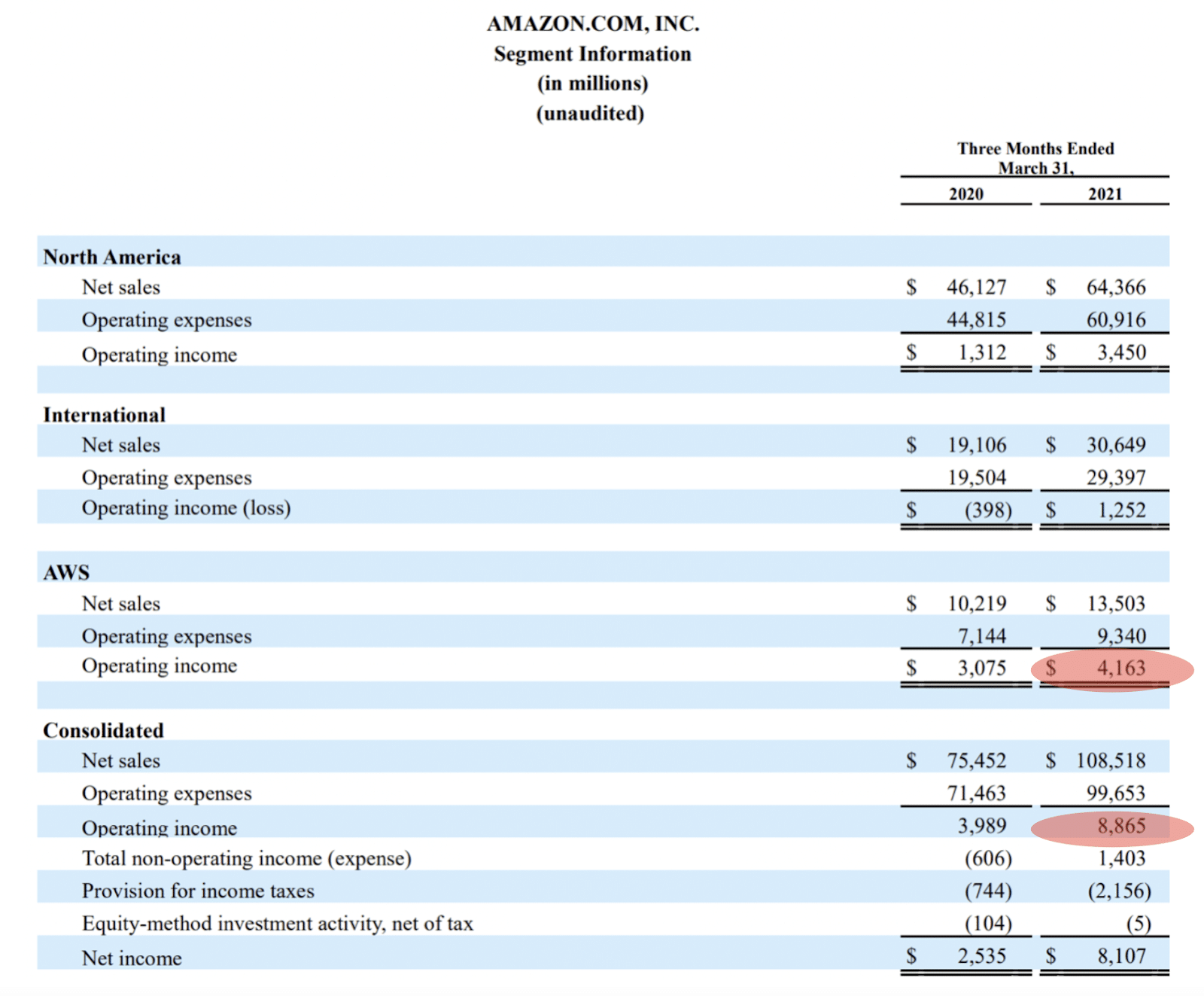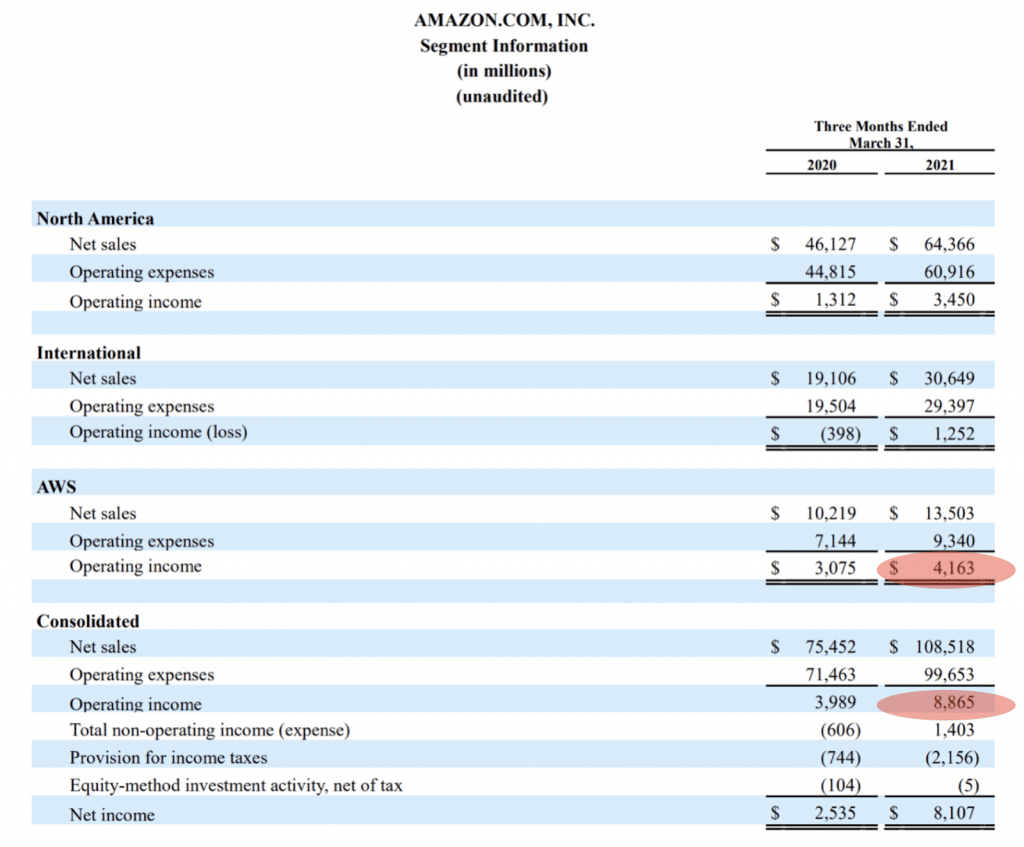 Many investors are betting heavily on web services provided by Amazon. They say the company has a great future in cloud technology and prospects for growth are almost limitless, which will affect the stock in a very positive way. 
Separately, it should be noted the segment, the share in the total revenue growth for the fourth year. We are talking about Amazon Web Services (AWS). AWS provides computing, storage, databases, and other services to startups, enterprises, government agencies, and academic institutions. AWS products include Amazon Athena, Amazon CloudSearch, Amazon EMR, Amazon Elasticsearch Service, Amazon Kinesis, Amazon Managed Streaming for Apache Kafka, Amazon Redshift, Amazon QuickSight, AWS Data Pipeline, AWS Glue, and AWS Lake Formation. In addition, AWS solutions are used by machine learning service providers, the Internet of Things, serverless computing, and a range of enterprise applications. In Q1 2021, AWS made $4,163 million of operating income, which is about 47% of Amazon's total operating income — does it sound promising to you?
💡Operating income brought by Amazon Web Services grew by 35,38% in one year (2020-2021).
Despite the fact that online sales account for the majority of Amazon's revenue, it's important to note that the company is expanding in a variety of ways. The company, for example, manufactures and sells electronic devices such as Kindle e-books, Fire tablets, televisions, the Echo smart speaker, and other devices, Kindle Direct Publishing  — an online service that allows independent writers and publishers to place their books on the Kindle store is also accessible. The company also offers Amazon Prime, a membership program that includes free shipping on a variety of products, as well as access to streaming movies and TV shows.
Amazon also owns the world's largest online audiobook retailer, Audible; the largest e-commerce platform in the Middle East, Souq; the world's most prominent movie site, IMDb; a streaming platform, Twitch; the Whole Foods supermarket chain; and more. Amazon has more than 40 subsidiaries.
Amazon Shares: Potential Profit
The palm of e-dealing.
Regardless of the weather outside the window, people will buy something. Amazon, the absolute leader in e-commerce, is a trusted brand of quality. According to the company, about 197 million people worldwide visit Amazon.com every month. Moreover, because of economies of scale, Amazon can sell goods and services more cheaply than competitors, forcing them to sacrifice their margins.
Betting on high-margin digital services.
You can see with the naked eye the company's slow but sure transition from the traditional online store segment to a more diversified business. For example, five years ago, the share of AWS segment revenue was 9%, today this figure has grown to 12%. At the same time, the role of Amazon's traditional online store, though still high, has fallen from 61% to 51%. Finally, it's worth noting the leadership of the company's new segments. Audible, Goodreads, Kindle, Twitch, Amazon Prime, AWS, and other services lead their industries, making Amazon a high-profile M & M&A player.
Big Data.
Today's most incredible resource, except for time, which Amazon also saves, is data. There is no doubt that Amazon, as one of the largest companies in the world and the most influential player in the e-commerce industry, knows quite a bit about consumer habits. This position is highly advantageous because, with access to so much information, Amazon can create entirely new services built on artificial intelligence and big data, giving new impetus to the company's business. One example is Zoox, a subsidiary of Amazon that makes crewless cars. As you know, the more data an algorithm has, the more accurate and better it works.
Now let's look at the main risks associated with investing in Amazon stock.
If you study the report for the first quarter of 2021, you will notice that the international direction is unprofitable. In addition, the European markets are small and highly competitive: there is certainly nowhere to grow. This is what Amazon's share of other marketplaces looks like: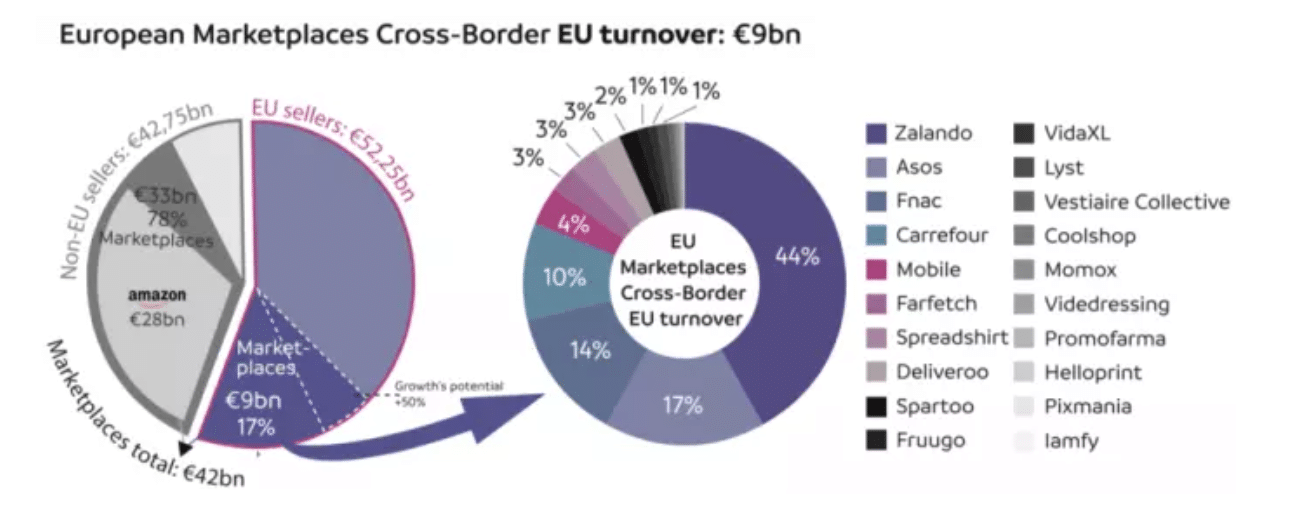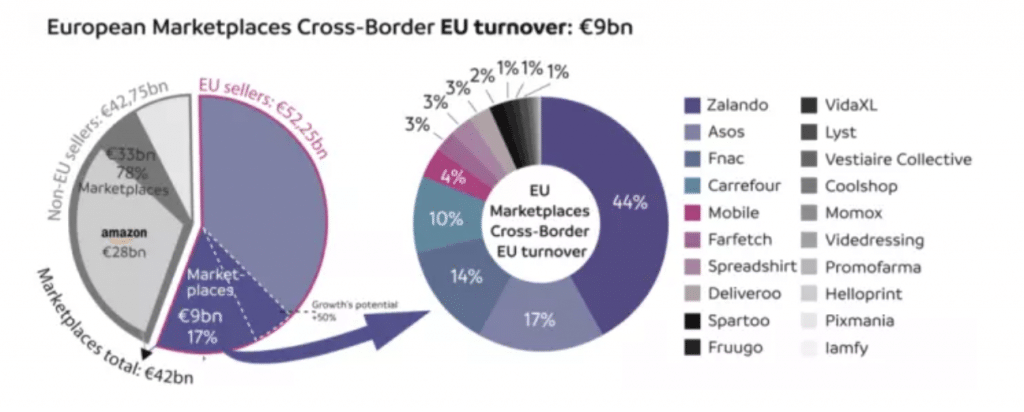 Despite its leadership in EUROPE, Amazon does not even generate operating profits. So the European direction will not affect the company's growth, let alone its capitalization. However, in addition to the European market, the company has other risks.
Amazon Shares: Potential Risks 
Extremely high dependence on changes in the Labor Code.
Amazon employs about 1,271,000 people. It's one of the largest employers in the world. Therefore, the slightest amendment to increase the minimum wage or any new laws to protect workers' rights will significantly impact Amazon's business.
Pressure from the Green Party.
Amazon's supply chains are undergoing significant changes and require a lot of money to keep up with the "green" trend of the future. What's more, producing so many products pollutes the environment. If the company fails to adjust to this trend, it risks losing credibility points among today's young investors, who are known to take sustainability seriously.
Potential data leakage. 
Enormous power, big responsibility. We are talking about a possible cyberattack that could significantly damage the company's image. Amazon is one of the few companies that own a considerable amount of data. This makes it an attractive target for hackers & fraudsters.
Overall
Therefore, it can be summed up that Amazon is a great business that will only grow and develop. It's a big business, employing over 800 thousand Americans. With all that said, the company is high-tech: stores without cash registers and warehouses where only robots work  —  that is today's reality. Every investor dreams of being part of such a business, but there is only a question of the entry price. Fortunately or unfortunately, the stock market is a place to make money, not to admire inspiring projects.
Disclaimer: This review cannot be considered or used as personal investment advice. The author does not engage in investment advisory activities and is not an investment adviser.
Amazon shares in numbers
With a total capitalization of $1.3T, Amazon is the fourth-largest company in the world.

WalletInvestor believes Amazon will surpass its previous record high (ATH) of $3,531.45 to $3,629,370 by the end of 2021.

According to stock price forecasts by analysts at CNN Money, we could see Amazon's price rise to more than $4,000 by the end of 2021.

Forty-two investment analysts surveyed recommend buying Amazon.com Inc. stock.

Gov Capital believes AMZN's stock price could reach an average of $4,235.99 within one year.

LongForecast believes Amazon's price will range from a minimum potential value of $3,550 in July 2022 to a maximum possible value of $4,765 in November 2022.

Needham & Company believes that Amazon's stock price could rise to $5,000 in the long run.

WalletInvestor predicts Amazon's stock price will potentially reach $5,781,510 by the end of 2025.
eToro: Buy Amazon Shares UK Without Paying a Commission
After you've purchased your Amazon stock, you might want to diversify your portfolio with other assets. If this is the case, eToro provides a wide range of products, including ETFs, commodities, FX, and cryptocurrencies such as Bitcoin. In addition, these assets can be acquired or exchanged without paying a commission.
💡Opposed to many brokers, eToro doesn't charge extra fees for international stocks & shares. 
If you prefer a more passive investment strategy, eToro features a Copy Trading function. All you have to do is choose a trader you like, pick how much you want to spend (minimum $200), and all of their trades will be duplicated exactly. There are also CopyPortfolios, which are eToro-managed diversified investment plans.
You may quickly deposit cash using a UK debit card, credit card, or e-wallet if you're ready to purchase Amazon shares from eToro right now. It's also worth noting that eToro is tightly regulated, including the FCA's necessary license. Your eToro money is protected by the Financial Services Compensation Scheme (FSCS).
FAQs
How to buy Amazon shares in UK?
Can I buy amazon shares for $200?
What are good alternatives to amazon shares?
Can you make money buying one share of stock?
Where can I buy shares in Amazon?
Does Amazon pay dividends?