After S&P Moody's Also Upgrades Tesla to Investment Grade
Please note that we are not authorised to provide any investment advice. The content on this page is for information purposes only.
While credit rating agencies have been in an overdrive reassessing the credit ratings of banks for possible downgrades, Moody's has upgraded Tesla (NYSE: TSLA) to investment grade.
The move comes nearly five months after rival credit rating agency S&P also upgraded Tesla to investment grade. Moody's raised Tesla's credit rating by one notch to Baa3 and expressed optimism over its expanding product portfolio.
Tesla has reconfirmed the 2023 production timeline for its Cybertruck but said that mass production won't begin until 2024. It is also working on a new lower-cost vehicle platform. Details about the upcoming model are scant though, and while the company teased the model at the investor day earlier this month it sidestepped questions related to the vehicle.
Moody's upgrades Tesla to investment grade
Coming back to Moody's upgrade, Rene Lipsch, senior credit officer at Moody's said "Tesla will maintain its position as one of the leading manufacturers of battery electric vehicles, as the company further solidifies its global footprint."
It might come as a surprise to many that despite being sustainably profitable for over three years, Tesla was still in the junk category. At the end of 2022, it had $22.2 billion in cash and cash equivalents which far exceeded the debt on its balance sheet. Also, despite the ongoing capex, it has been generating strong free cash flows.
In 2022, its free cash flows were $7.5 billion. While the metric was below the record $8.9 billion free cash flows in 2021, it is still quite healthy considering the higher capex towards Berlin and Austin Gigafactories.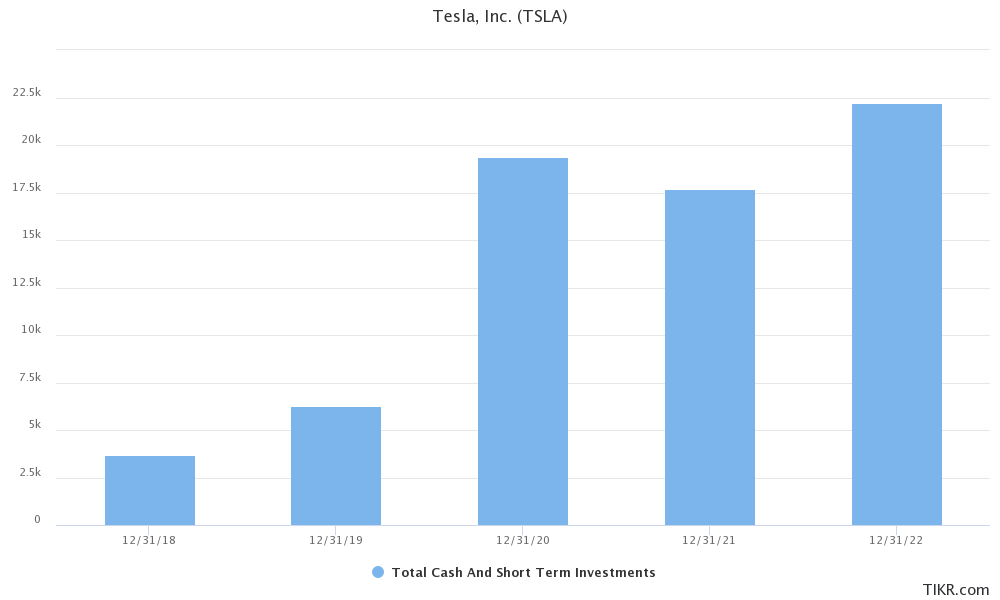 Credit rating agencies also love TSLA now
Many would argue that credit rating agencies have been quite behind the curve when it comes to Tesla. In 2021, the Elon Musk-run company became the first junk-rated company to achieve a market cap in excess of $1 trillion.
Only six US companies have hit a $1 trillion market cap. Also, despite the crash, Tesla is still the eighth most valuable company. Its market cap is over twice that of Toyota Motors, the world's biggest automaker.
Notably, Tesla has industry-leading margins and while it sells only a fraction of what Toyota does, it makes a much fatter profit per car.
Tesla wants to become the biggest car maker globally
Tesla has set itself a target of producing 20 million cars annually by 2030. To put that in perspective, Toyota, the world's largest automaker, sold just over 10 million cars in 2022. Tesla expects to produce around 1.8 million cars in 2023 and said that it has the capacity to produce as many as 2 million cars.
To achieve the goal of 20 million deliveries, which amounts to a CAGR of over 41% between 2023 and 2030, Tesla might need to build many more Gigafactories. In the past, Musk said that the company would need over a dozen Gigafactories to reach that goal.
Currently, it has four plants of which two, Berlin and Austin, are in the process of ramping up production.
Musk on TSLA valuation
During Tesla's Q4 2022 earnings call, Musk said that he is "convinced" that Tesla would one day become the most valuable company globally. During the Q3 2022 earnings call, Musk predicted that Tesla's market cap would one day surpass the combined market caps of Apple and Saudi Aramco.
Musk flaunted manufacturing prowess as its real competitive strength. He added that the company is developing other products also. He however said, "We're not going to announce them, obviously, but they're very exciting. And I think it will blow people's minds when they — when we reveal them."
Tesla expects to produce 1.8 million cars in 2023
Tesla produced around 1.4 million cars in 2022 and expects to produce 1.8 million cars this year. It said that the Shanghai Gigafactory has the capacity to produce more than 750,000 Model 3/Y cars annually. The Freemont plant has an annual capacity to produce 550,000 Model 3/Y and another 100,000 Model S/X. Its Texas and Berlin Gigafactories, which are ramping up production fast can produce over 250,000 Model Y cars every year.
Tesla is the largest seller of BEVs (battery electric cars) globally and is the market leader in the US EV market by a fairly large margin. However, China's BYD is the largest seller of NEVs (new energy vehicles), which also includes hybrid cars.
BYD has vehicles across multiple price points which helps in increasing its target market, especially in a price-sensitive market like China.
Volkswagen unveiled a low-priced EV
Last week, Volkswagen unveiled the ID. 2all with a starting price of around $26,600 and a range of 279 miles. The company has stepped up its game and recently announced a nearly $200 billion investment, two-thirds of which would go towards tech and electric vehicles.
Competition has heated up in the EV industry, especially in China where we have seen signs of a price war.
During Tesla's Q4 2022 earnings call, Musk praised Chinese EV companies and said that he has a "lot of respect" for them. He added, "They work the hardest and they work the smartest. That's — so a lot of respect for the China car companies that we're competing against. And so, if I would have guessed, there are probably some company out of China as the most likely to be second to Tesla."
Meanwhile, the EV price war might dampen the margins for automakers. Things don't look too bright for some of the startup EV companies that are anyways positing a massive loss on every vehicle that they sell.