Affirm Stock Down 38% in January – Time to Buy AFRM Stock?
The price of Affirm stock has gone down nearly 38% so far this month as weakness in the tech sector amid a sustained increase in US Treasury yields and the launch of an investigation from the Consumer Financial Protection Bureau (CFPB) have weighed on the valuation of the buy-now-pay-later company.
On 16 December, the agency issued a statement where it said that it ordered five different companies offering this kind of service to hand over data about the risks and benefits of their loans.
Regulators are concerned about "accumulating debt" and cited a spike in loan volumes during the last Black Friday and Cyber Monday events. The CFPB said that it will soon publish its findings and insights into this practice.
"Buy now, pay later is the new version of the old layaway plan, but with modern, faster twists where the consumer gets the product immediately but gets the debt immediately too", the agency stated.
Meanwhile, in regards to the fast pace at which consumers can accumulate debt via this scheme, the CFPB said: "Whereas the old-style layaway installment loans were typically used for the occasional big purchase, people can quickly become regular users of BNPL for everyday discretionary buying, especially if they download the easy-to-use apps or install the web browser plugins".
Investors reacted negatively to the news as the price of Affirm stock declined more than 10% after the announcement. Meanwhile, that decline has spilled over to January but may have accelerated as a result of a surge in US Treasury yields.
What can be expected from Affirm stock in this current scenario? In this article, I'll be assessing the price action and fundamentals of this fintech stock to outline plausible scenarios for the future.
67% of all retail investor accounts lose money when trading CFDs with this provider.
Affirm Stock – Technical Analysis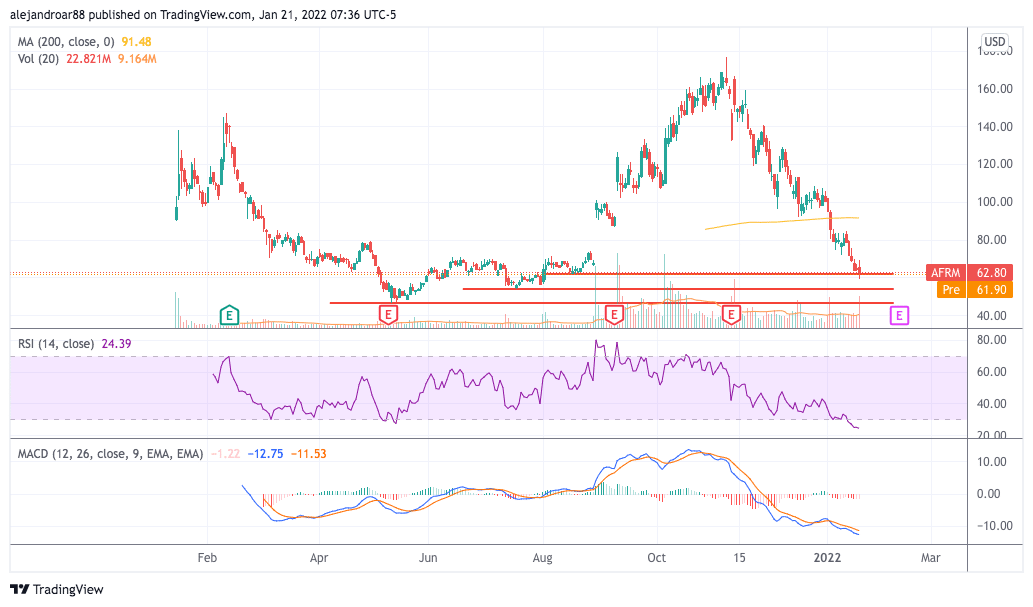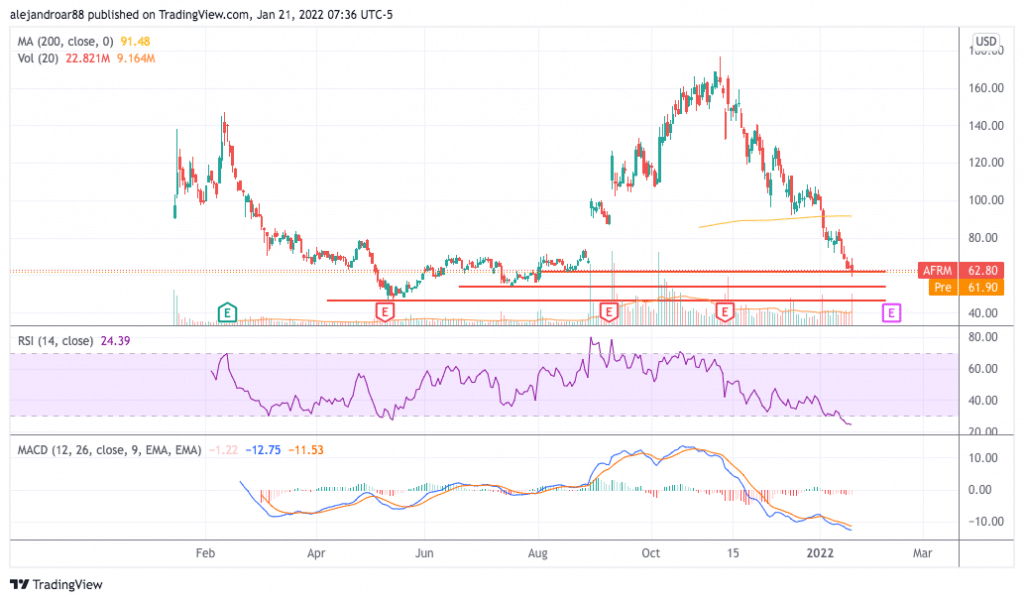 Even though the CFPB's investigation triggered a single-day sharp decline in Affirm stock, the latest downtrend started in November following some hawkish remarks from the Federal Reserve.
The market is now apparently expecting that monetary policy will start to tighten in the form of an accelerated tapering of the central bank's asset purchase program and multiple interest rate hikes in 2022.
As a result, risky equities are seeing their trading multiples shrink. Moreover, higher inflation readings in the United States have contributed to a spike in US Treasury yields and that is also a reason why valuations of companies with relatively weak fundamentals have been declining sharply.
As of today, the price of Affirm stock has tagged a relevant support area at the $62 level. Moving forward, two other levels could still serve as a landing zone for this wave of negative momentum.
The last line of defense for the stock before a collapse to all-time lows would be its current 52-week low of $46.5 per share. If a break below this level occurs, the downside risk would dramatically increase in the mid-term.
Momentum indicators are quite bearish at the moment with the Relative Strength Index (RSI) stepping into oversold territory already while the MACD is neck-deep into negative territory as well.
Overall, the outlook remains bearish unless the stock bounces off any of the three areas of support highlighted in the chart and moves above the 200-day simple moving average at least.
Affirm Stock – Fundamental Analysis
Even though Affirm's revenues have been growing fast in the past few years, its negative operating margin has climbed as well and that is a concerning factor that can weigh significantly on the firm's valuation in the current macro environment.
In the past twelve months, the company produced $576.4 million in revenues but reported $500.3 million in negative operating losses and net losses of $733.6 million.
During that period, the firm produced positive free cash flows of $140 million primarily amid a reduction of its accounts payable and the addition of stock-based compensation – a non-cash item.
Even though it is good news that the company has been cash-flow positive so far this year, Affirm's long-term debt stood at $2.1 billion on total assets of $5.4 billion including $1.4 billion in cash and equivalents.
In 2022, only $137 million in debt principal have to be repaid which means that the firm's solvency risks are low.
That said, at its current market capitalization of $17.9 billion, the company is trading at 14 times the consensus revenue estimate for 2022 and that is still a stretched multiple for a firm whose business model still needs to prove that it can deliver positive results to shareholders.
Competition in the BNPL market is also heating up with large corporations such as PayPal (PYPL) already entering the space. Barriers of entry in this industry are next to none.
With this in mind, the current valuation creates room for further negative volatility down the road and this favors a bearish outlook from a fundamental perspective for AFRM stock as well.
Buy AFRM Stock at eToro with 0% Commission Now!