5 Best Tech Stocks to Buy in December 2021
Please note that we are not authorised to provide any investment advice. The content on this page is for information purposes only.
US tech stocks, especially the growth names, have come under pressure after the emergence of the omicron variant of the COVID-19 virus. Meanwhile, over the last decade, US tech stocks have been among the best performing asset class, not only in the US but also globally.
What're the five best tech stocks that you can buy in December and expect good returns in 2022?
Twitter (NYSE: TWTR)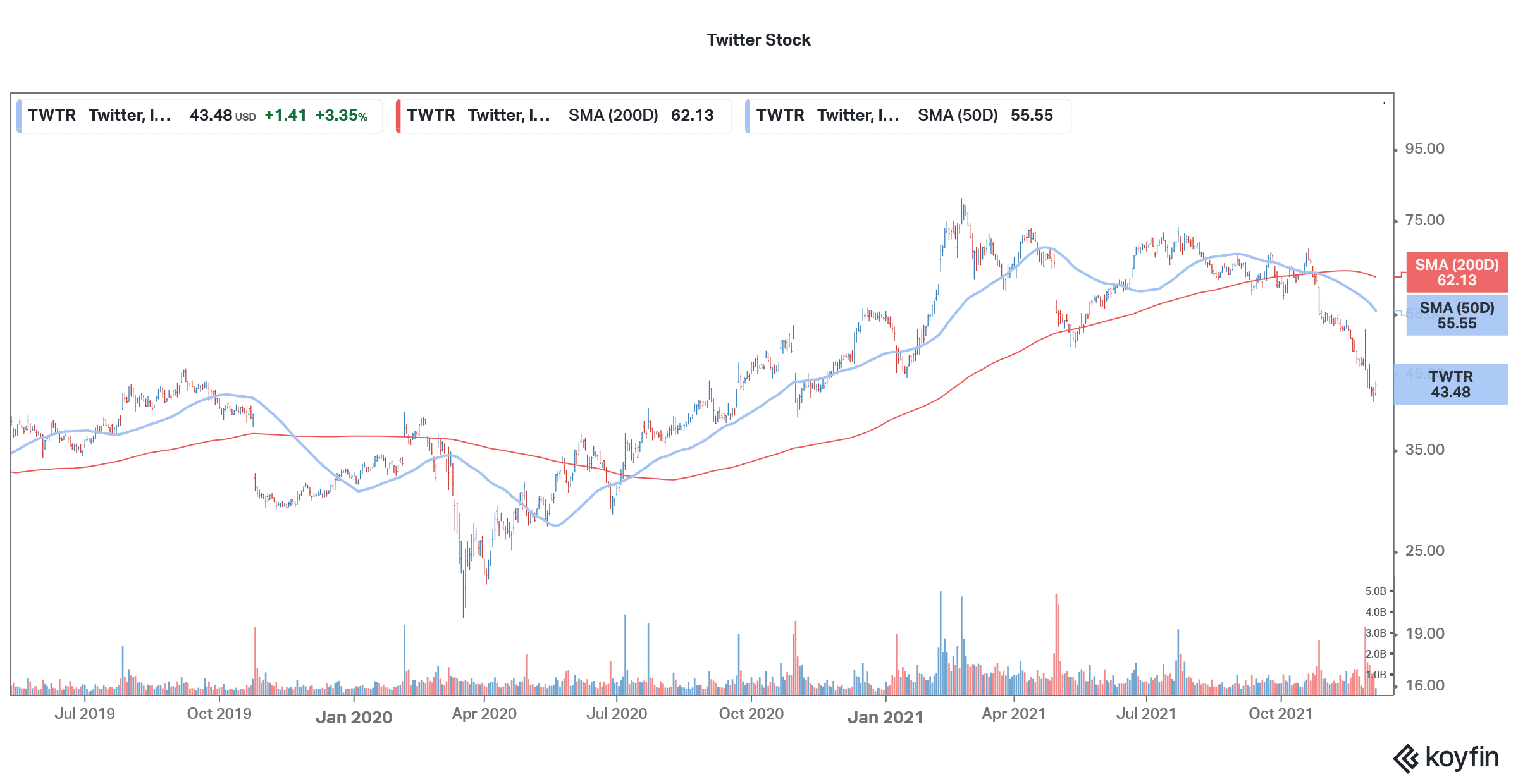 Twitter stock is having a dismal run in 2021. From slowing growth to concerns over the company's outlook under the leadership of its new CEO Parag Agrawal, nothing has been going right for Twitter stock. It hit a new 52-week low last week and is among the worst-performing major tech stocks of the year. Meanwhile, after the crash, the stock's valuations now look reasonable, and it looks like a good buy in December. While there are valid concerns over the company including its ability to hit the projected 2023 users, at these prices, it looks a good buy.
Twitter looks like a good tech stock to buy after the crash
Cathie Wood of ARK Invest has also been adding Twitter shares. Notably, after the recent crash, Twitter stock even trades below its street low target price. While the concerns about the stock are not unfounded, at these prices, it looks like a good tech stock to buy.
68% of all retail investor accounts lose money when trading CFDs with this provider.
Grab (NYSE: GRAB)
Southeast Asian delivery app Grab was recently listed on the US markets through a SPAC (special purpose acquisition company) merger and the stock plummeted on the listing day. While Grab had the distinction of being the biggest SPAC merger of all time, it got another dubious distinction of becoming the worst debut by a Southeast Asian company on the US markets.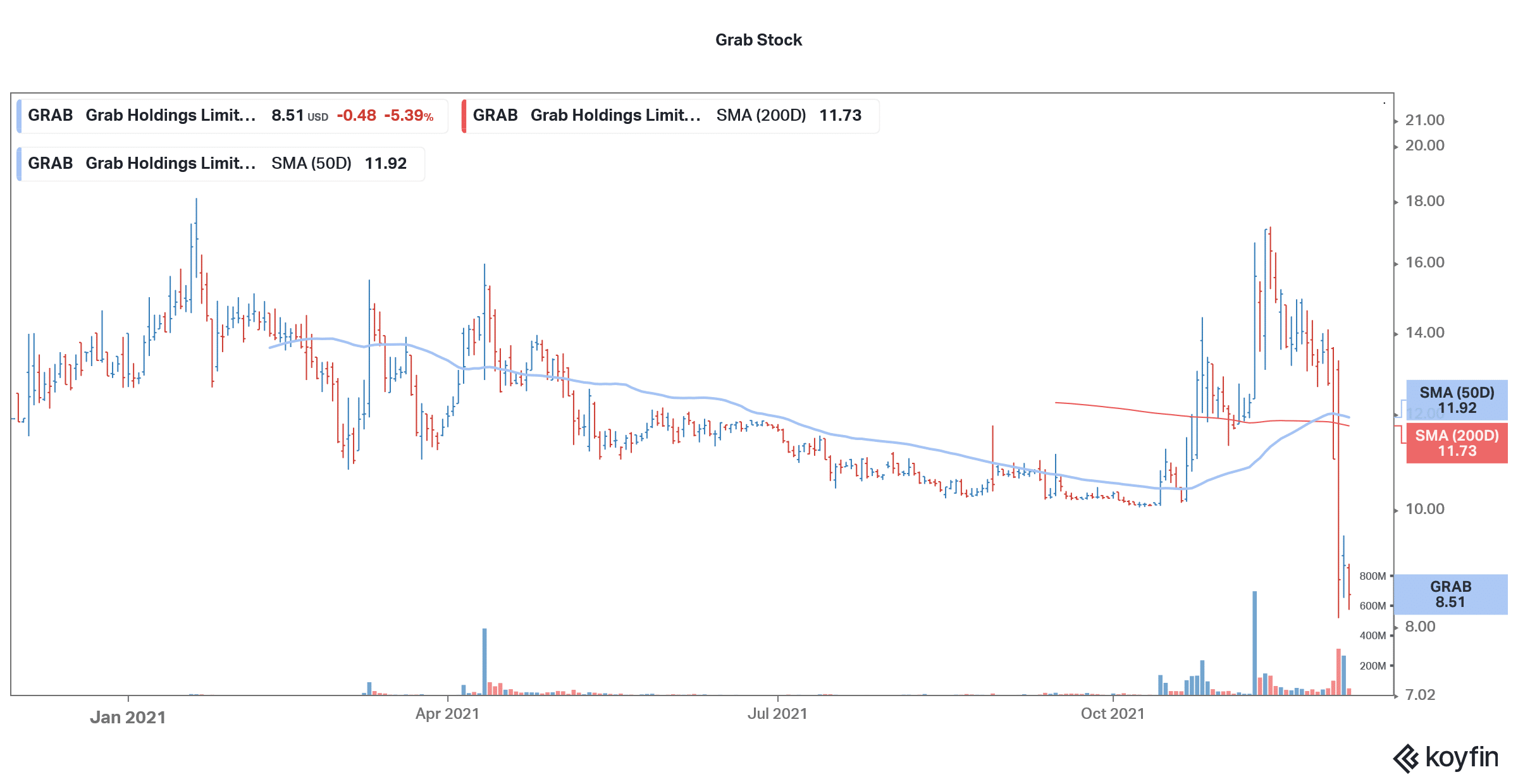 Grab looks like a good tech stock for 2022
Grab stock was looking overvalued as it surged before the merger. However, the valuations now look much more reasonable after the 21% fall on the listing date. JPMorgan has initiated coverage on the stock with an overweight rating and a $12.5 target price. Grab has a strong position in Southeast Asia. The region has a total population of 670 million and Grab sees its total addressable market rising to $180 billion by 2025. The company expects to post revenues of $4.5 billion and an adjusted EBITDA of $0.5 billion by 2025.
Overall, Grab looks like a good tech stock to buy in December. The company is a super app and is present in several businesses like ride-hailing, delivery, and financial services. If you want to play the consumption story in Southeast Asia through a tech stock, Grab will fit the bill.
68% of all retail investor accounts lose money when trading CFDs with this provider.
Uber (NYSE: UBER)
Ride-hailing and delivery companies with the exception of DoorDash haven't really created wealth for investors after the listing. Uber, Lyft, Deliveroo, and Didi—all trade below their IPO price. Incidentally, Grab also followed the same trajectory after the listing. Meanwhile, Uber stock has started to look attractive after the recent underperformance, which has been in part driven by the crash in Didi, where Uber is the second-largest stockholder.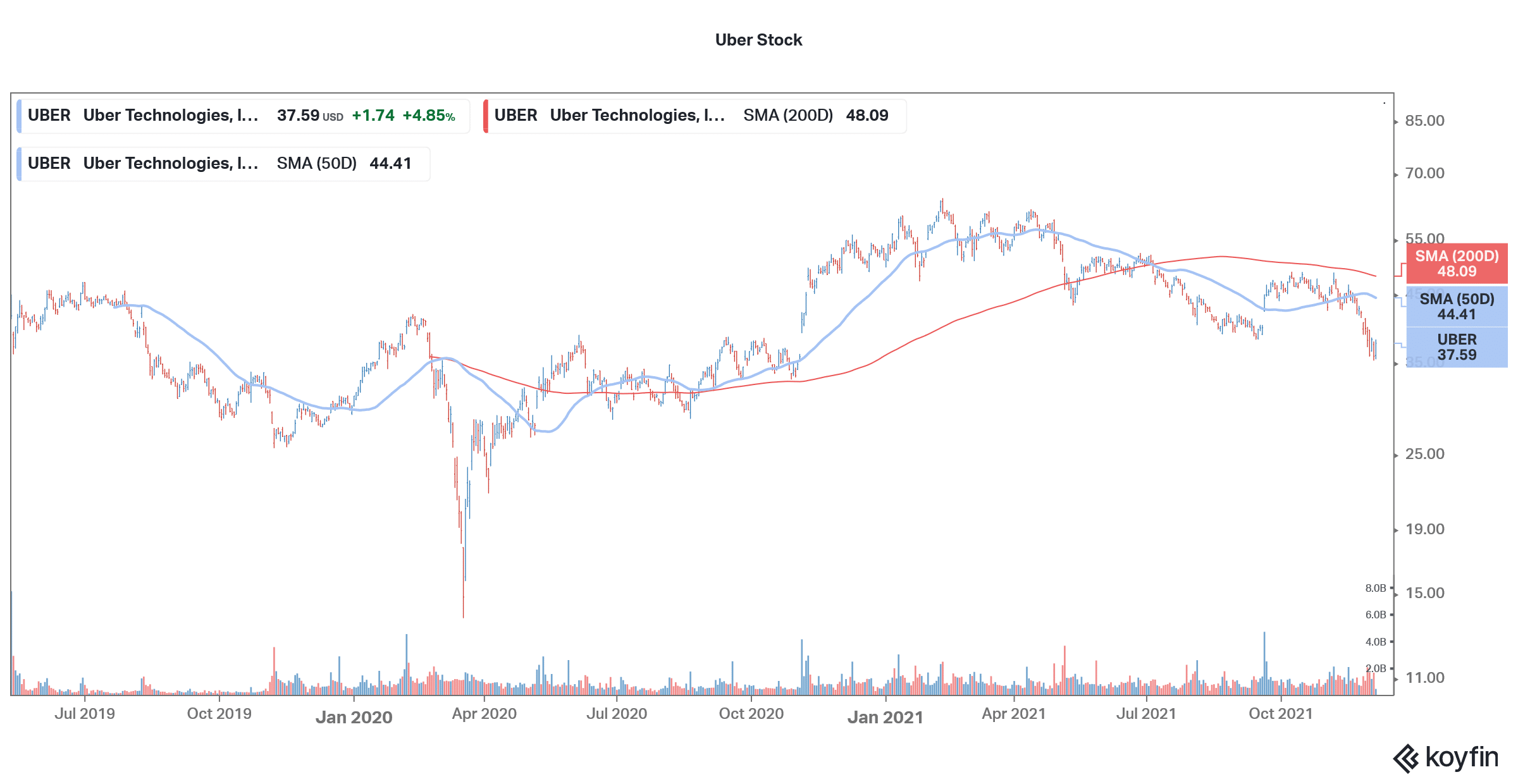 UBS finds Uber a good tech stock
Last week, UBS issued a bullish note on Uber stock and said that it expects the stock to more than double now. "We think shares price in significant underperformance vs. Lyft and DoorDash in both Mobility and Delivery business. We think that as the company drives Mobility margins and continues to expand their Delivery business through share gains, new verticals and advertising, shares could re-rate in a rather large 'catch up trade," said UBS in its note.
JPMorgan has also listed Uber as among the best tech stocks for 2022. However, not all believe that it's the right time to buy the stock. Quint Tatro, chief investment officer at Joule Financial believes that the time is still not right to buy Uber stock. Miller Tabak's Matt Maley is also among those who prefer to stay on the sidelines for now in Uber stock.
Uber looks an attractive tech stock for 2022
Meanwhile, given Uber's focus on achieving profitability, and the diversified business between delivery and ride-hailing, it looks like a good tech stock for 2022. The stock's valuations have come down and look attractive at these prices.
68% of all retail investor accounts lose money when trading CFDs with this provider.
Meta Platforms (NYSE: MVRS)
Mark Zuckerberg-led Facebook has changed its name to Meta Platforms and now trades under the ticker symbol MVRS. It trades at a steep discount to other tech stocks, including FAANG peers. The stock was strong in the first half of 2021 but has since come under pressure after the Whistleblower allegations. The company has also been facing regulatory heat and its plans to launch an Instagram account for teenagers were blocked.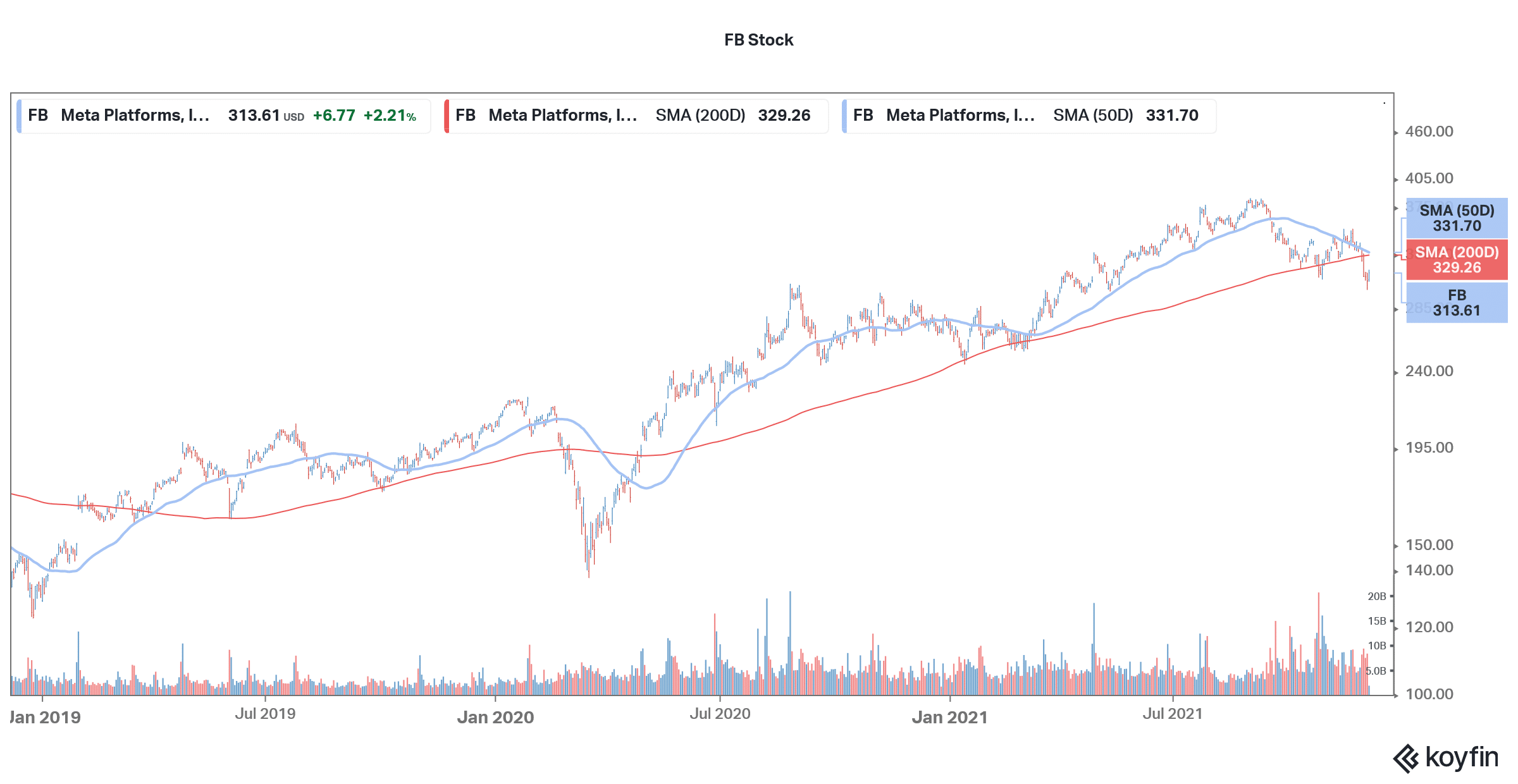 Meta Platforms is a good tech stock with attractive valuations
Meta Platforms looks like an attractive tech stock and the valuation disconnect is a good buy. Wall Street analysts have also been turning incrementally bullish on the stock. Notably, while other tech stocks like Apple, Microsoft, and Alphabet have seen a contraction of valuation multiples, Meta Platforms' valuation multiples have come down.
Meanwhile, the stock should see some rerating as regulatory fears subside. Also, as the company progresses on its metaverse plans, it could see a rerating. For now, MVRS looks among the best stocks to buy in December.
68% of all retail investor accounts lose money when trading CFDs with this provider.
Zoom Video Communications (NYSE: ZM)
Zoom Video Communications stock has been out of favor with markets, just like other stay-at-home tech stocks. The stock recently hit its 52-week low even as its earnings and guidance were better than expected. Markets have been concerned about the slowing growth in stay-at-home companies. However, after the crash, ZM now looks like a good tech stock to buy.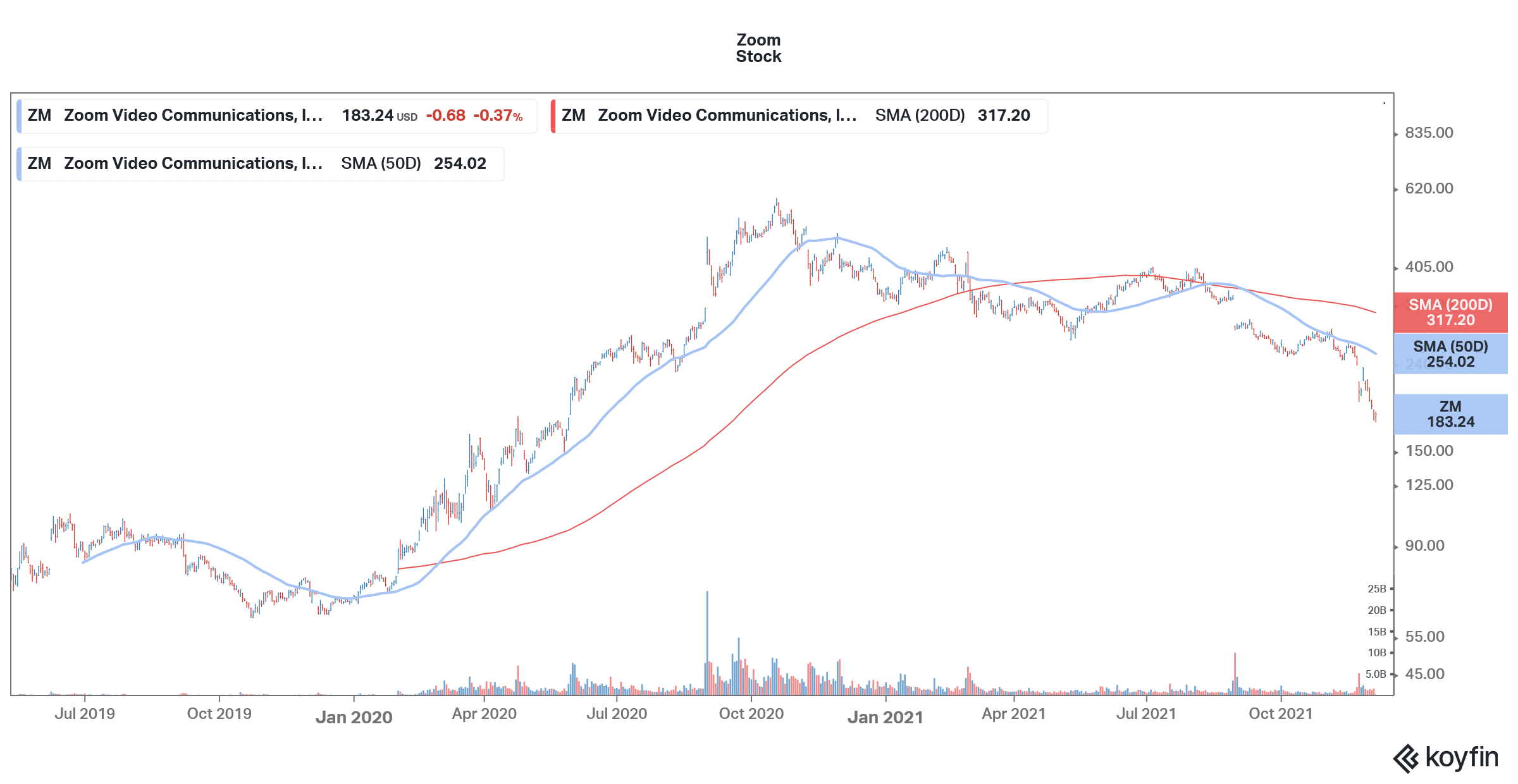 ZM is a play on the rebound in stay-at-home tech stocks
ZM is a play on a possible rebound in stay-at-home tech stocks. The sector has seen a massive correction and could see a rebound in 2022. Notably, this year, these names have seen unfavorable comps from last year's highs. However, we should see a more structural kind of growth next year. Zoom has become an integral part of our lives even as its importance has reduced amid the reopening.
Also, the hybrid model of some employees working remotely while others reporting to the office looks here to stay and companies like Zoom would be prime beneficiaries. If you are looking for a beaten-down stay-at-home tech stock, which trades at attractive valuations and offers secular growth, Zoom should definitely be on your radar.
Buy ZM Stock at eToro from just $50 Now!