5 Best Short-Term Stocks to Buy in September 2021
US stock markets are outperforming most other global markets in 2021 like they did last year. While stocks have come off their highs, they still trade close to records. While most observers advise long-term investing, there can be good short-term trading opportunities in the markets. Here are the five best short-term stocks to buy in September 2021.
Lucid Motors (NYSE: LCID)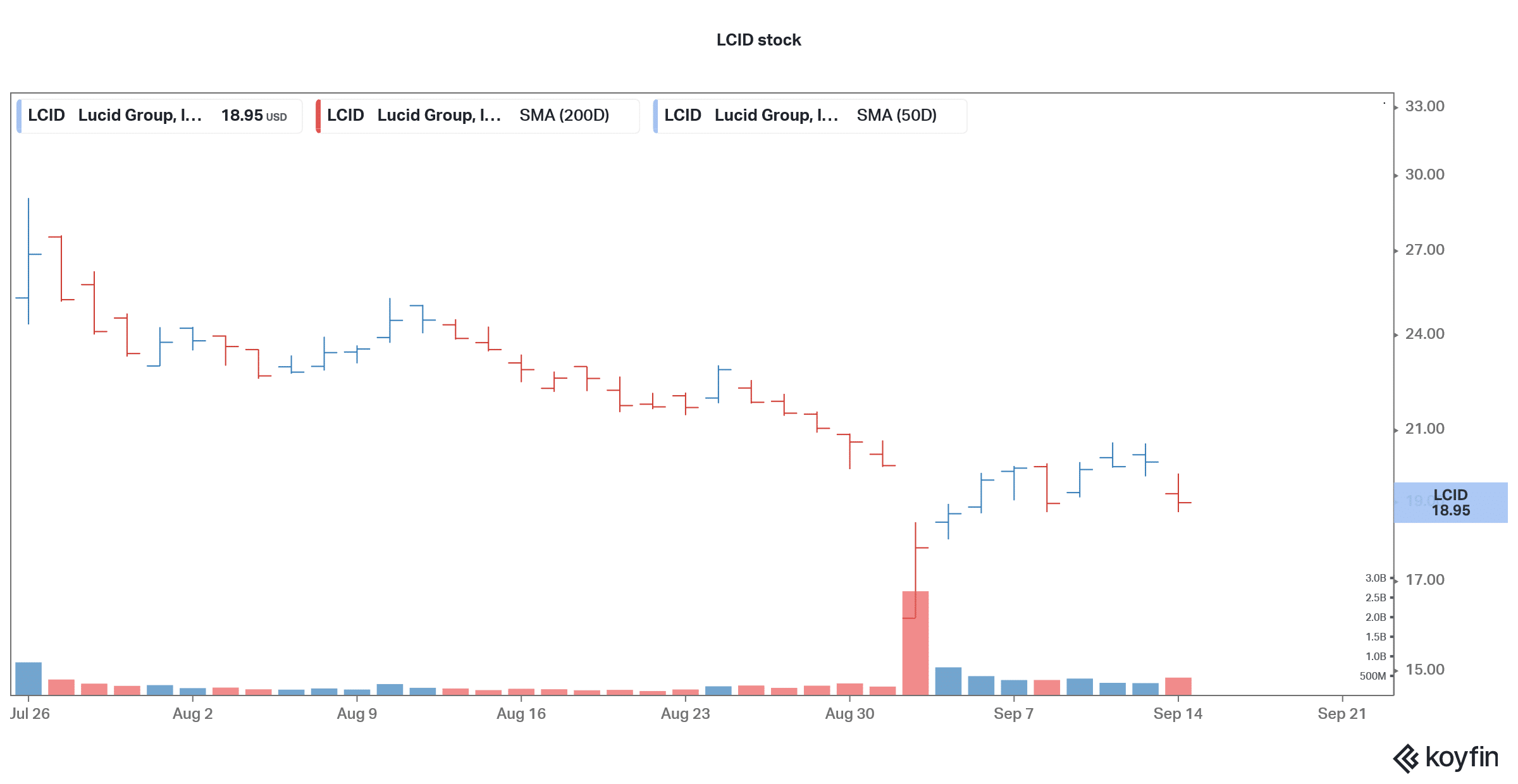 Lucid Motors went public earlier this year only and has looked weak since the listing. While it saw the usual bump around the listing day, it fell victim to the typical "post-merger fatigue" subsequently. However, there are near-term catalysts for the stock which makes it a good short-term stock to buy.
Later this month, Lucid Motors is set to showcase its assembly lines for analysts. It would also begin deliveries later this year. These two catalysts could take the stock higher. Notably, most observers have appreciated the specifications of Lucid's Air sedan. The model would have a higher range than Tesla's revamped Model S Plaid. While the Model S Plaid plus would have had a higher range than Plaid, Tesla's CEO Elon Musk backed out from launching the model as he thought the range of the Plaid model is good enough.
Analysts could issue bullish ratings on Lucid Motors stock
CFRA and Citi have issued a bullish note on Lucid Motors stock. However, Morgan Stanley analyst Adam Jonas initiated coverage with a sell rating. Citi initiated coverage with a buy rating and a $28 target price earlier this month.
"Right now, Lucid is among the few capable of challenging Tesla's premium brand position as an EV/tech leader," said Citi analyst Itay Michaeli. According to Michaeli, "Ultimately, we don't look at Lucid as 'the next Tesla,' but rather an EV platform that resembles much of what we like about Tesla but without some of the risk tied to a lofty 2030 share assumptions & [autonomous vehicle]/[full self-driving] expectations."
Lucid Motors is backed by Saudi Arabia's wealth fund and is led by Peter Rawlinson, a former Tesla employee. The near-term catalysts and the expected uptrend in EV (electric vehicle) stocks make LCID among the best short-term stocks to buy in September.
67% of all retail investor accounts lose money when trading CFDs with this provider.
SoFi (NYSE: SOFI)
SoFi, which merged with a SPAC (special purpose acquisition company) sponsored by Chamath Palihapitiya is another good short-term stock for September. While there has been a rally in fintech stocks, especially the BNPL (buy-now-pay-later) companies like Affirm, SoFi hasn't participated in the rally.  The stock has gained only about 1.5% over the last month and trades at almost half of its 52-week highs.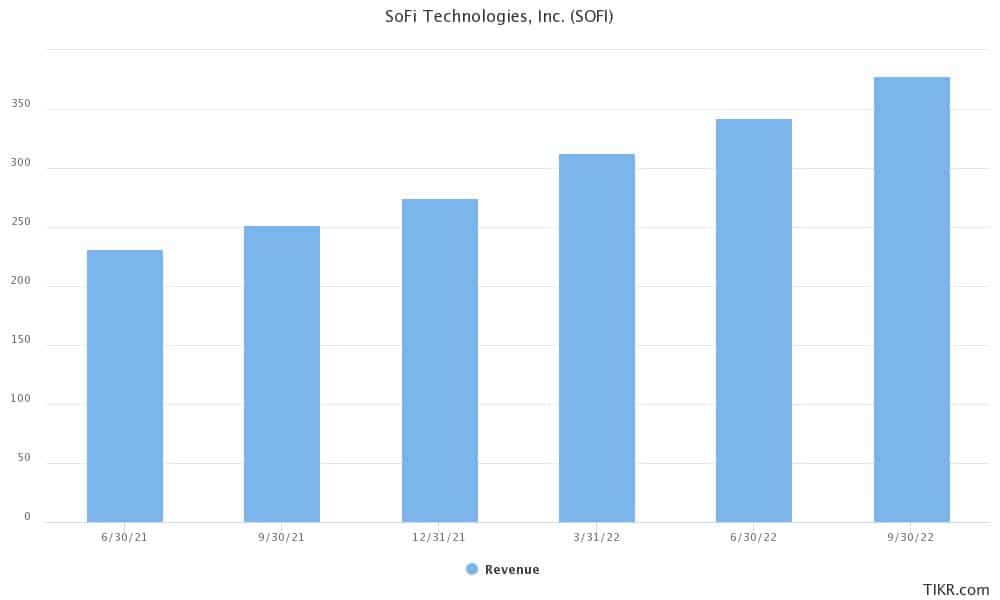 Why SoFi looks like a good short-term stock to buy
There are a couple of reasons why SoFi looks like a good short-term stock to buy. Firstly, the stock's valuation multiples look attractive as compares to other fintech names. The stock could play a catch-up trade to other fintech stocks in the short term. Also, the company is expected to get a bank charter which could be another short-term price driver.
Rosenblatt analyst Sean Horgan, who is bullish on SOFI and has a $30 target price, believes that SOFI is well-positioned to get a bank charter. According to Horgan, "SOFI direct deposit is just scratching the surface." However, he adds, "if/when SOFI receives a bank license, there will be a step-function change in the differentiation it can add."
Wall Street analysts are also bullish on SOFI stock and it has four buys and one hold ratings. Its median target price of $25.50 is a premium of 76.1% over the next 12 months. SoFi is among those stocks that look good long-term buys along with offering solid short-term upside. If you are looking at a good short-term stock to buy, which you could also hold for the long term, SOFI looks like a good bet.
67% of all retail investor accounts lose money when trading CFDs with this provider.
Atlas Crest Investment Corp. (NYSE: ACIC)
Atlas Crest is a SPAC that is taking Archer Aviation public. The merger has been approved and the stock trades very near the SPAC IPO price of $10. Archer Aviation is a UAM (urban air mobility) company. The sector has been under pressure of late but holds good long-term potential.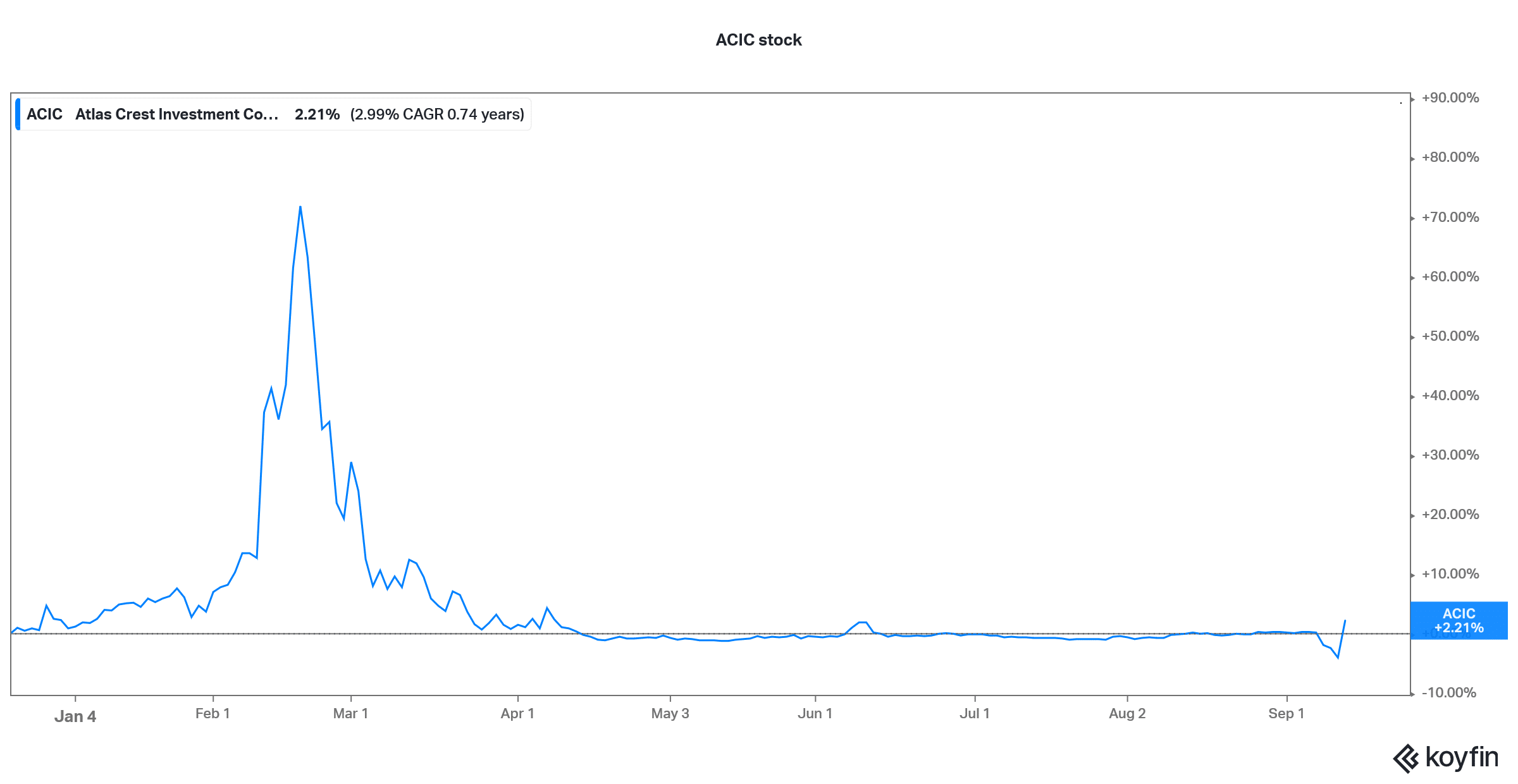 If you are looking at a SPAC stock to buy for the short term, ACIC looks like a good bet. The stock could see some upside once the merger closes. Over the long term also, the stock has a bullish forecast. Once UAM picks up as most analysts believe, companies like Archer Aviation would be in a prime position.
67% of all retail investor accounts lose money when trading CFDs with this provider.
Tesla (NYSE: TSLA)
After the 740% rise in 2020, Tesla stock has looked weak in 2021. EV (electric vehicle) stocks have been under pressure this year even as legacy automakers are outperforming. Meanwhile, there are several triggers that make Tesla a good short-term stock. Unlike Chinese EV companies which release monthly deliveries, Tesla releases the delivery report quarterly.
Early next month, the Elon Musk-run company would release its third-quarter deliveries. The company's delivery report could help buoy sentiments. Also, later this year, the Berlin Gigafactory is also expected to come online. These two triggers make Tesla a good short-term stock. TSLA is trading at a big discount to its 52-week highs, and if market sentiments turn positive, it could recover some of its recent losses.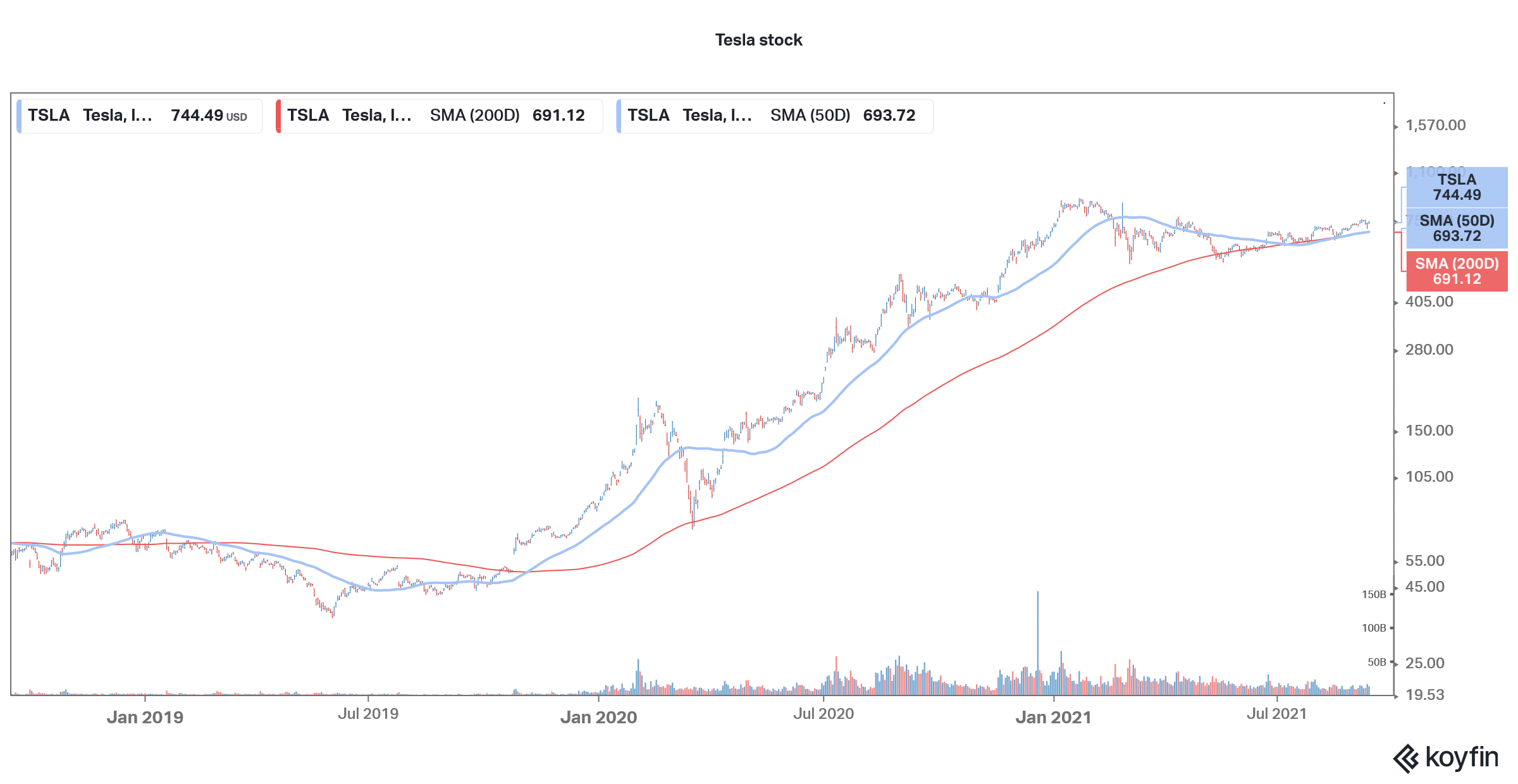 Analysts on Tesla stock
Wall Street analysts have always been divided on Tesla stock that's why we see such dispersion in its target prices. Last month, Morgan Stanley reiterated the stock as overweight expressing optimism over the company's AI capabilities. "Tesla is running one of the world's largest, and arguably most ambitious, R&D laboratories to tackle the world's hardest problems. Investors can't resist funding the effort," it said in its note.
While the stock's valuations might appear too bloated for many, there is a big army of Musk fans who see immense value in the stock. The stock looks a good bet in the short term and a positive surprise in third-quarter deliveries could take the stock higher. It is looking good on the charts also and has managed to hold the 50-day and 200-day SMA (simple moving average).
67% of all retail investor accounts lose money when trading CFDs with this provider.
NIO (NYSE: NIO)
NIO has underperformed other Chinese EV companies this year. NIO's valuation multiples are now at a significant discount to what we've seen over the last year. The company's production has taken a hit due to the chip shortage and its deliveries fell behind Li Auto and Xpeng Motors in both July and August. However, the chip shortage situation should eventually get better.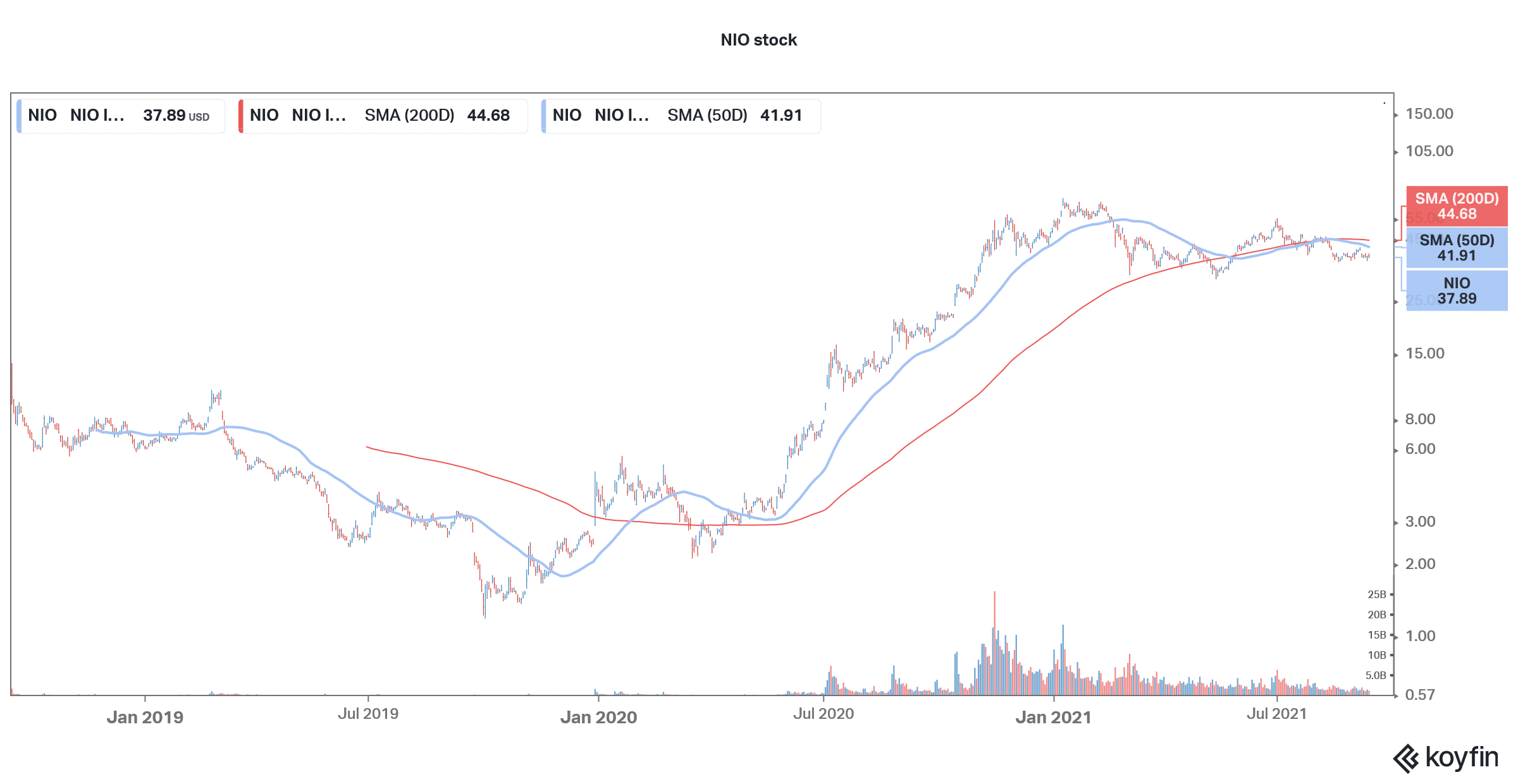 The company lowered its third-quarter delivery guidance also. However, historically it has managed to deliver more cars than it guides for.
The company's September delivery report could help propel the stock higher. Overall, NIO looks like a good short-term stock to buy in September.
Buy NIO Stock at eToro from just $50 Now!