5 Best Long-Term Stocks to Buy in January 2022
Please note that we are not authorised to provide any investment advice. The information on this page should be construed for information purposes only. We may earn commissions from the products mentioned on this site.
There has been a tectonic sector rotation in US stock markets over the last few months. As a result, some of the growth names have tumbled and are trading near 52-week lows. Some of these look attractive buys, especially for long-term investors.
While short-term trading has its own charm, most investors including Warren Buffett made wealth by long-term investing. Here are the five stocks that long-term investors can consider.
Nvidia (NYSE: NVDA)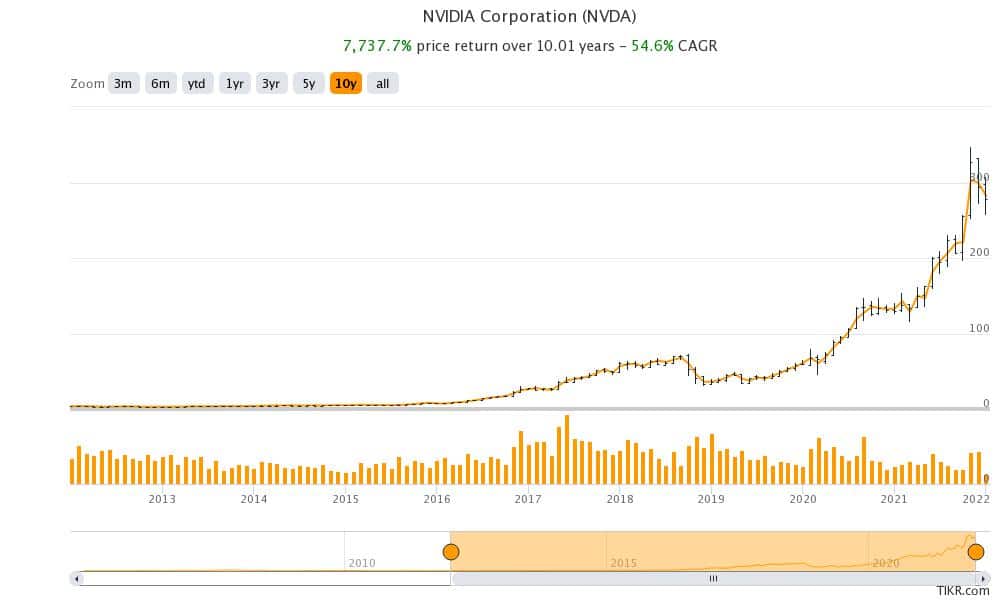 Nvidia stock has created significant wealth for investors over the last decade and was among the best performing S&P 500 stocks in 2020 and 2021. The stock has tumbled sharply from its peaks and now looks like a good buy for the long-term at these prices.
Nvidia is a play on multiple themes ranging from blockchain, 5G, autonomous driving, and the metaverse. JPMorgan, which is bullish on NVDA stock sees data centers/computing, PC gaming, and autonomous driving the company's growth.
Nvidia could see strong growth amid the continued momentum in gaming. Metaverse could be another long-term driver for the stock where the company has come up with its Omniverse. Several brokerages including Citi and UBS have listed it as a top pick for 2022.
Nvidia's long-term outlook looks positive
The long-term forecast for Nvidia stock looks quite bullish looking at the various high growth themes that the company is targeting. The stock looks a good ancillary play on the digital transformation. Notably, the autonomous car industry would require a lot of high-quality chips, just like electric cars. NVIDIA is positioning itself to gain a strong position in the market.
If you are looking to buy a stock for the long-term, Nvidia is one company that should be on your radar.
68% of all retail investor accounts lose money when trading CFDs with this provider.
Block (NYSE: SQ)
Square, which has changed its name to Block looks another good buy for the long-term. The stock has fallen sharply from its peak and now offers a good entry point for investors. Block is among the must-have fintech stocks. The industry looks promising in the long term and within the space, Block is a good name to own.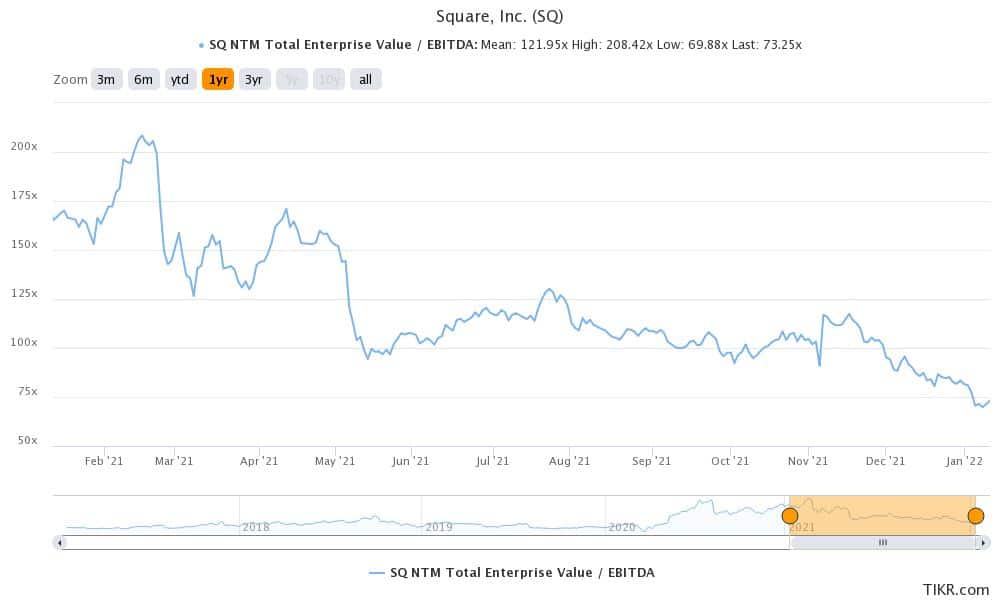 Block is a good long-term stock in the fintech industry
Block CFO Amrita Ahuja believes that there is a $100 billion TAM (total addressable market) for the company's Seller App and a $60 billion TAM for its Cash App. Currently, Block only has a 2-3% share of these markets
If you are looking to buy a fintech stock for the long-term Block looks a good option and Jefferies has termed it as a "must-own stock." Block has also diversified into the BNPL (buy-now-pay-later) market and last year it announced the acquisition of Australian BNPL company Afterpay.
68% of all retail investor accounts lose money when trading CFDs with this provider.
Amazon (NYSE: AMZN)
While Amazon stock has beaten the markets by a big margin since the IPO, its returns trailed that of the S&P 500 as well as FAANG peers in 2021. However, the stock could outperform in 2022 and is among the most compelling long-term investment opportunities. The company has exposure to e-commerce, fintech, streaming, cloud, and digital advertising, all of which are secular growth stories.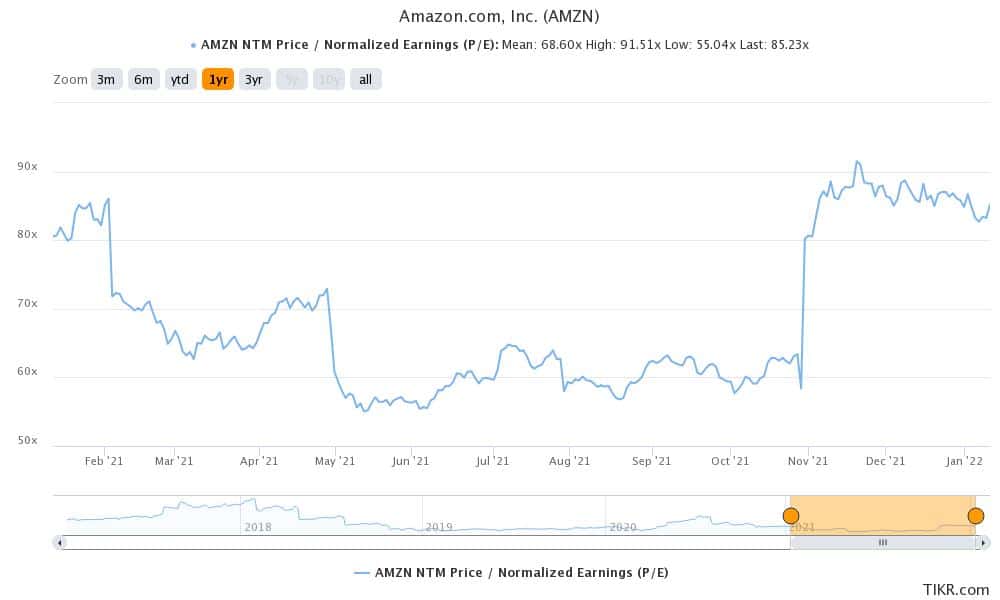 Amazon is a secular long-term growth story
Brokerages are bullish on Amazon stock this year and Cowen, RBC, Bank of America, Jefferies, and Goldman Sachs are among the firms that have listed it as a top pick for 2022. Yesterday, Morgan Stanley also reiterated the stock as overweight while raising the target price from $4,000 to $4,200.
"In '22, we see accelerating, share-gaining N. America retail and improving profitability from efficiencies and alleviation of labor/supply chain pressures leading to improved profitability and increased investor conviction in AMZN's long-term share-gaining story," it said in its note.
68% of all retail investor accounts lose money when trading CFDs with this provider.
Berkshire Hathaway (NYSE: BRK.B)
Led by the legendary Warren Buffett, Berkshire Hathaway stock has outperformed the markets by a wide margin since 1965. Its performance this century has been far from satisfactory though as the conglomerate largely stayed away from tech stocks which have led the markets higher.
Berkshire Hathaway stock has outperformed in the long-term
Berkshire Hathaway is a conglomerate and it can be tough to understand the business. In his 2018 annual letter, the company's chairman and legendary value investor Warren Buffett beautifully explained the business and termed it a "forest" with "five groves." These are the insurance business, various non-insurance subsidiaries, the portfolio of publicly traded companies, companies where Berkshire is a majority stockholder, and finally the cash which is invested in short-term treasury notes.
If you are looking to buy a stock that can outperform the S&P 500 over the long term, you can consider Berkshire Hathaway.
68% of all retail investor accounts lose money when trading CFDs with this provider.
Vanguard S&P 500 ETF (NYSE: VOO)
If you are an equity investor, an S&P 500 fund should be a core part of your portfolio. Berkshire Hathaway chairman Warren Buffett has been advocating investing in S&P 500 index funds due to their lower cost. At the 2020 annual shareholder meeting, which was held virtually, he said "I don't think most people are in a position to pick single stocks; a few may be, but on balance, I think people are much better off buying a cross-section of America and just forgetting about it." He was referring to the S&P 500 as a cross-section of America. Berkshire Hathaway, which has otherwise been struggling to find good investment opportunities, has also invested some funds in S&P 500 ETFs.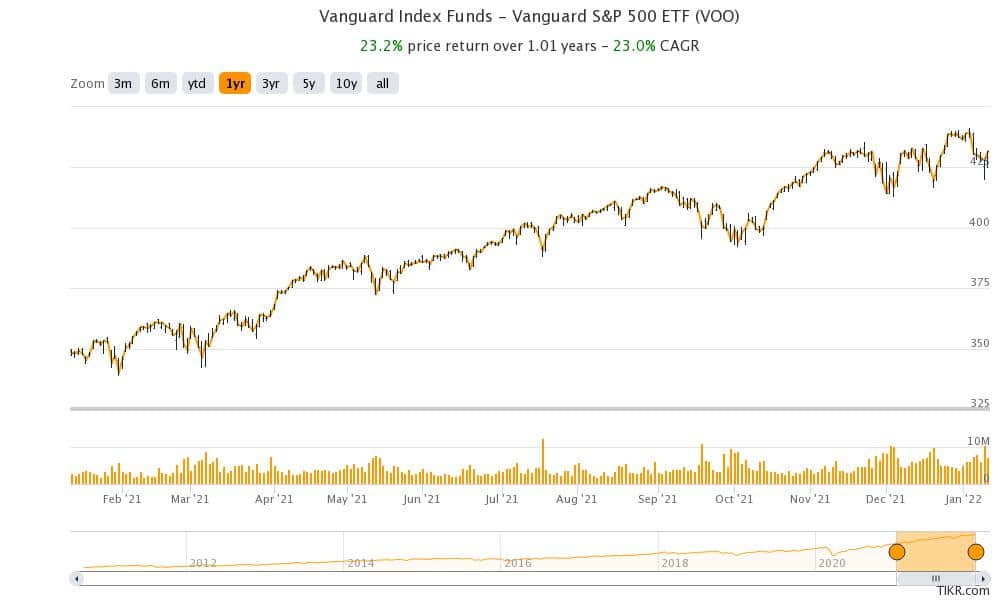 VOO has a low expense ratio
VOO has a low expense ratio of 3 basis points annually. While S&P 500 S&P 500 ETF is the most popular and liquid ETF tracking the S&P 500, its annual expense ratio is around thrice of VOO. If you are looking to hold VOO for long, the small difference in expense ratio could make a significant difference.
ETF investing has become quite popular, especially among long-term investors. 2021 was a record year for ETF inflows as their low costs and transparency make than an attractive investment vehicle.
Buy VOO ETF at eToro from just $50 Now!