5 Best ETF Stocks to Invest in December 2021
ETF investing has become very popular and total ETF assets are now around $7 trillion. US ETFs saw inflows of $78 billion in November which was similar to October. 2021 looks set to be a record year for ETF inflows as investors choose them over the actively managed funds.
ETFs can be a good investing strategy especially for investors who lack the time or analytical skills to pick individual stocks. Their low expense ratio makes them an attractive investment option. Here are the five best ETFs that you can buy in December 2021.
ARK Innovation ETF (ARKK)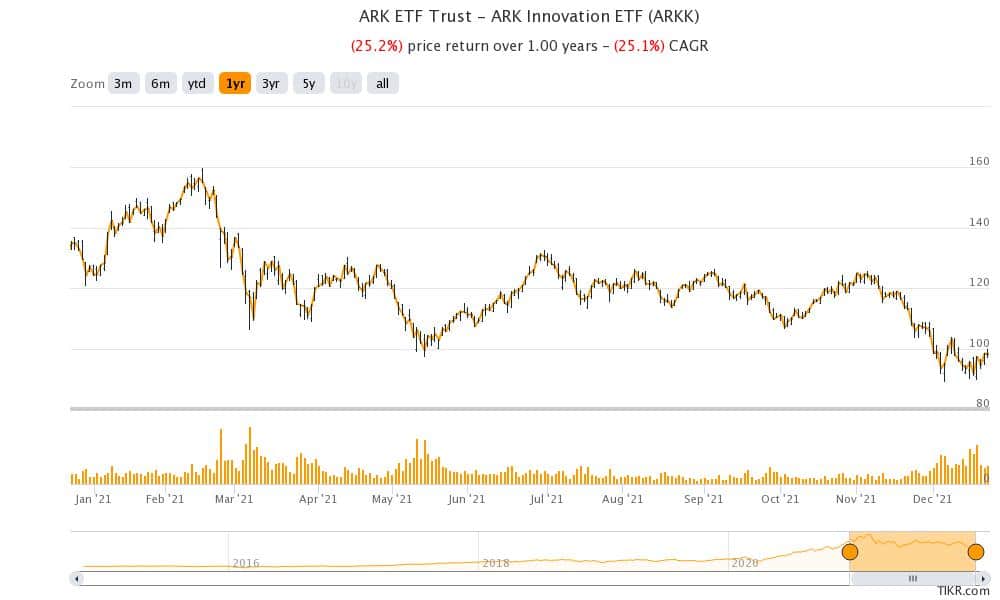 ARK Innovation ETF is the flagship ETF of ARK Invest. ARKK has underperformed badly and recently fell to a multi-month low. However, if you are looking to buy an ETF for the long term, ARKK looks like a good bet. The fund is a bet on Cathie Wood's style of growth investing. Many have been critical of Wood amid the recent underperformance of ARK funds. However, Wood has a flair for picking up winners early. The current underperformance of ARKK looks like a good buying opportunity.
ARKK is a good growth ETF
If you are a growth investor, ARKK is one ETF that you should consider. Tesla is the top holding for the fund. The stock is outperforming fellow EV stocks in 2021 and Wood expects the stock to triple by 2025. The company is a leader in the EV space and is a good play on the EV revolution.
68% of all retail investor accounts lose money when trading CFDs with this provider.
Invesco KBW Bank ETF (KBWB)
Bank stocks have outperformed in 2021 as the increase in interest rates and improving balance sheets helped propel the earnings from the 2020 lows. The US Federal Reserve has already increased the pace of tapering and would end the monthly bond-buying in the first quarter of 2022.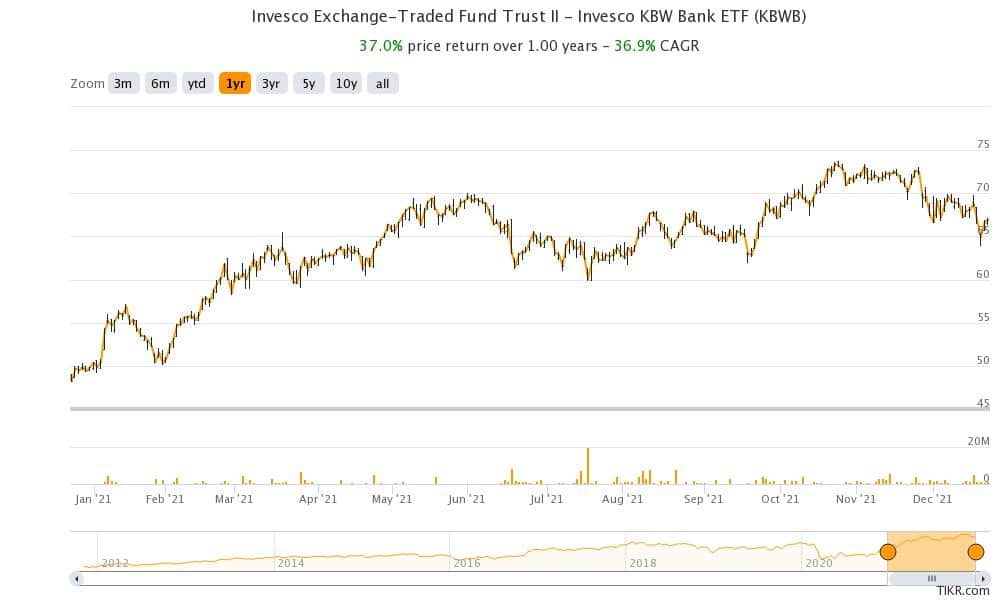 Unless the economic conditions deteriorate significantly, the Fed looks on track to increase the interest rates sometime next year. The dot plat after the meeting earlier this month showed that the Fed anticipates three rate hikes in 2022. A rising rate environment is positive for banks.
KBWB is a good ETF to play the banking sector
If you are looking to invest in an ETF that can give you diversified exposure to banks, KBWB looks like a good bet.
If seeks to invest at least 80% of the funds in the KBW Nasdaq Bank Index and has an annual expense ratio of 35 basis points. The portfolio has 25 stocks and Wells Fargo, PNC Financial Services, Bank of America, JPMorgan Chase, and Citigroup are its top five holdings.
68% of all retail investor accounts lose money when trading CFDs with this provider.
Vanguard S&P 500 ETF (NYSE: VOO)
If you are an equity investor, an S&P 500 fund should be a core part of your portfolio. Berkshire Hathaway chairman Warren Buffett has been advocating investing in S&P 500 index funds due to their lower cost. At last year's annual shareholder meeting he said "I don't think most people are in a position to pick single stocks; a few may be, but on balance, I think people are much better off buying a cross section of America and just forgetting about it." He was referring to the S&P 500 as a cross-section of America. Berkshire Hathaway, which has otherwise been struggling to find good investment opportunities, has also invested some funds in S&P 500 ETFs.

VOO has a low expense ratio
VOO has a low expense ratio of 3 basis points annually. While S&P 500 S&P 500 ETF is the most popular and liquid ETF tracking the S&P 500, its annual expense ratio is around thrice of VOO. If you are looking to hold VOO for long, the small difference in expense ratio could make a significant difference.
The consensus estimates for S&P 500 call for a 6% upside in 2022. The index delivered double-digit returns in 2019 and 2020 and looks set to deliver double-digit returns this year also. The projected returns for 2022 might seem low considering what the markets have delivered over the last three years. However, an S&P 500 should ideally be a core part of every investor's portfolio irrespective of the market cycle.
68% of all retail investor accounts lose money when trading CFDs with this provider.
VanEck Vectors Gold Miners ETF (GDX)
The outlook for gold looks positive looking at the current geopolitical environment. While the expected increase in interest rates is a negative for non-interest bearish assets like gold, it might be prudent to allocate some funds towards gold. Gold is a good hedge against inflation which is currently running at multi-year highs.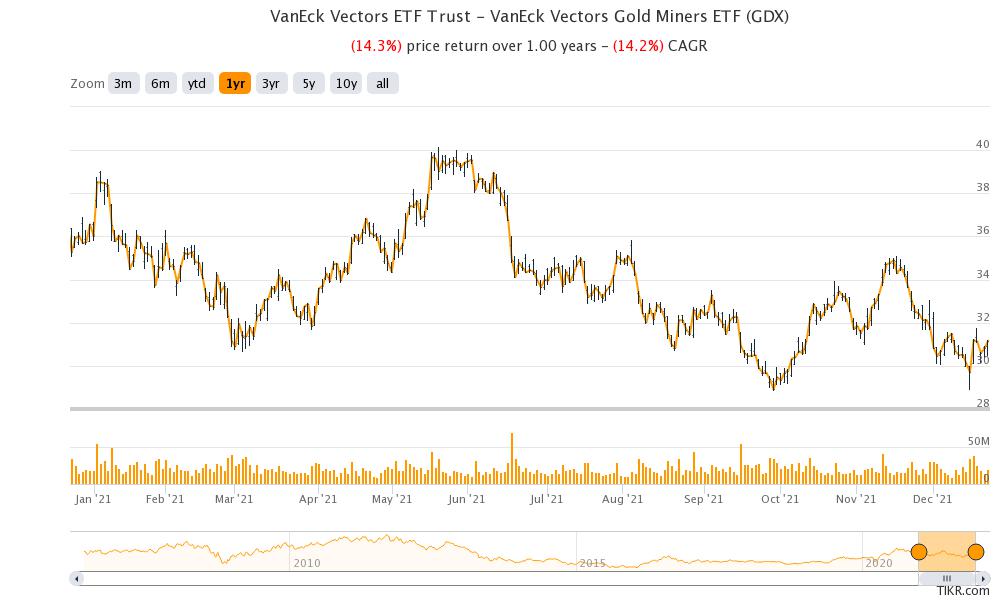 GDX invests in gold mining companies
There are several ways to invest in gold and you can choose from physical gold as well as ETFs that invest in physical gold. GDX, which invests in gold mining companies, is a leveraged play on gold prices. This basically means that its price rises or falls more than the movement in gold prices. The ETF has assets of around $14 billion with a gross expense ratio of 0.51%. It invests in gold companies across the world. However, it is overweight on Canadian gold companies and they account for around half of the portfolio.
GDX looks like a good ETF to buy for 2022. While the ETF has underperformed in 2021 and is down sharply from its peaks, it can be a good way to diversify your portfolio.
68% of all retail investor accounts lose money when trading CFDs with this provider.
Global X U.S. Infrastructure Development ETF (NYSE: PAVE)
The infrastructure sector has a positive outlook for the medium term after the passage of the bipartisan infrastructure bill. If you are looking to play the infrastructure story in a diversified way, PAVE looks like a good bet.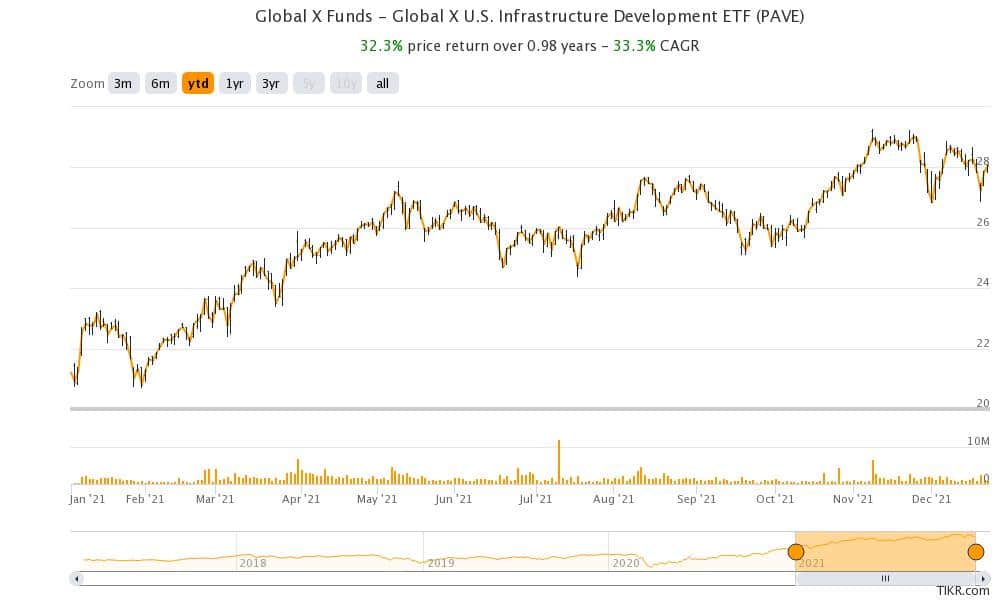 PAVE is a good way to play the infrastructure investments
According to the fund documents, PAVE "seeks to invest in companies that stand to benefit from a potential increase in infrastructure activity in the United States, including those involved in the production of raw materials, heavy equipment, engineering, and construction."
PAVE has an expense ratio of 0.47% and holds 98 stocks as part of the portfolio. Nucor, which is the largest US-based steel producer and gets a large part of its revenues from steel products used in the nonresidential construction sector, is its top holding.
Eaton and Vulcan Materials are the other two top holdings of PAVE. The ETF is up 32.3% in 2021 and is outperforming the S&P 500. Looking at the expected increase in infrastructure spending, PAVE looks like a good ETF to buy in December 2021.
Buy PAVE ETF at eToro from just $50 Now!