0x Price up by 18.14% – Time to Buy ZRX Coin?
Please note that we are not authorised to provide any investment advice. The content on this page is for information purposes only.
Coinbase provides lower transaction costs for NFT through the 0x Project, building adoption for 0x and causing investors to buy ZRX.
The Crypto market makes recovery as it surges by 2.62% in the last 24 hours, with a live market cap of $1.28 trillion.
0x protocol gains momentum in the crypto market, following a series B round to expand web3 infrastructure.
ZRX is the native crypto asset of the 0x Project. 0x is an infrastructure protocol that allows users to trade ERC20 tokens and other cryptocurrencies on the Ethereum blockchain without relying on centralized platforms.
The protocol's native token ranks as the 100th valuable asset, dominating 0.03% of the crypto market. ZRX has a 24-hour trading volume of $110 million, which is up by 155.08% in the last 24 hours. The crypto asset has a live market cap of $376 million, indicating an 18.14% increase in the past 24 hours.
With these technical surges, investors are looking to buy ZRX and expand their crypto portfolios. Additionally, technical indicators indicate that ZRX is at the beginning of what seems to be a bull run. These positive indicators are as a result of the fundamental elements relevant to the asset's growth.
0x Project Partners with Coinbase NFT
ZRX's price movement relies on fundamental improvements and partnerships that build adoption and advance buying potential. 0x Project's partnership with Coinbase, centered on powering the new social marketplace for NFTs, is to positively affect ZRX's price.
With the 0x Protocol v4, the protocol is said to be 54% gas efficient, thereby providing lower trading costs to users and encouraging investors to buy ZRX. 0x has multi-chain swap support and the most robust feature set of any NFT exchange protocol. These features are essential for Coinbase NFT marketplace scalability.
0x Labs Raised $70 million in Series B Round
To enhance web3's core exchange infrastructure, 0x Labs has raised $70 million in a Series B financing headed by Greylock. Pantera, OpenSea, Jump Crypto, and other crypto businesses are also supporting the series B financing. 0x Labs' mission is to assist enterprises in overcoming the challenges of accessing decentralized marketplaces across all web3 exchange stack layers.
The funding will help to expand the 0x Labs team, its products, and its services. This expansion will include Matcha, the search engine for tokens; the 0x Protocol, an open-source backbone for decentralised exchange; and the 0x API, which supplies multi-chain aggregated liquidity as a service.
The funding will also allow 0x Labs to achieve its vision of building a tokenised system where assets can be transferred easily from one source to its recipient. These partnerships and integrations help the 0x Project build adoption and scale above resistance prices.
0x Project Technical Analysis
Technical indicators of the 0x Project show that its asset just completed a brief bearish run to attain price corrections. At press time, the crypto asset trades below the 61.8% Fibonacci retracement value of $0.74 and below the 50-hour Simple Moving Average (SMA) value of $0.63.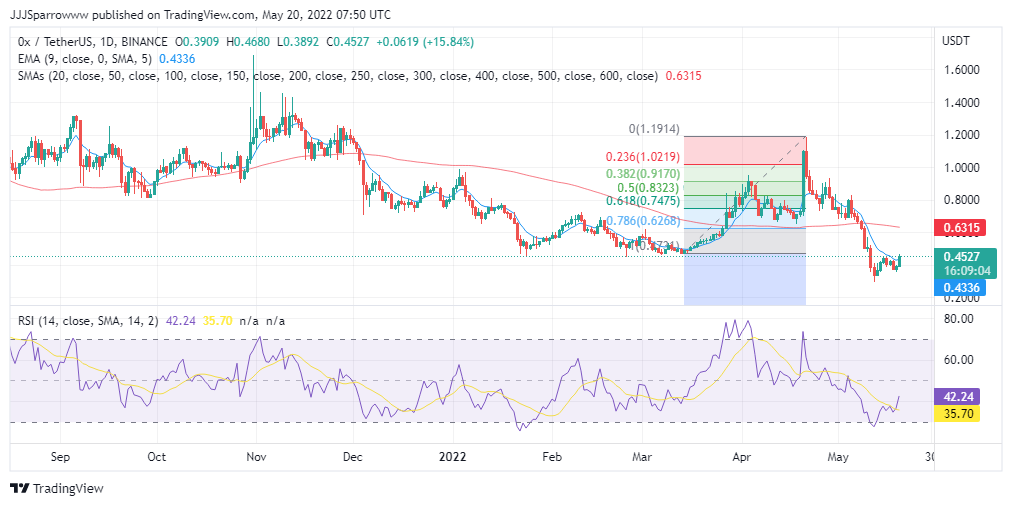 The Relative Strength Index (RSI) figure of 42 demonstrates that ZRX is trading in the underbought region with momentum building steadily. This RSI reveals that investors are gradually buying into the crypto asset as it scales higher on charts.
However, charts show that 0x Project is trading above the 50-hour Exponential Moving Average (EMA) value of $0.45, which provides a great opportunity for investors to buy ZRX and earn profits.
Buy ZRX at eToro from just $50 Now!