0x Is up 4.84% – Time to Buy ZRX?
Please note that we are not authorised to provide any investment advice. The content on this page is for information purposes only.
0x Labs Raises $70M in Series B Round: Time to Buy 0x
Coinbase Partners 0x to Power Its Social NFT Platform
0x Deploys NFT Swap Standard on Polygon and Beyond
0x maintains an uptrend with a 4.84% increase in the past 24 hours. With the recent cryptocurrency market's bull run, is this an opportunity for investors to buy ZRX and gain?
0x Labs Raises $70M in Series B Round
0x Labs announced the completion of a $70 million Series B funding round.
0x's new round of funding will go into various projects, including improving Matcha, its token search engine, and spreading the service to more blockchains. The service entails building a tokenised world where all value can flow freely. Ethereum, Polygon, Fantom, Avalanche, Optimism, BNB Chain, and Celo are the seven blockchains it currently supports.
This development came after Coinbase announced that 0x will power its newly launched social NFT marketplace. Coinbase took part in the Series B funding of 0x, led by Greylock. Pantera Capital, OpenSea, LinkedIn co-founder Reid Hoffman, and actor Jared Leto were other participants.
As the NFT and token marketplace ecosystems become increasingly congested, 0x aims to become the platform's default sponsor of peer-to-peer token transactions.
Coinbase Partners 0x to power Its Social NFT Platform
Coinbase has teamed with Ethereum-based decentralised exchange (DEX) 0x to enable 0x's newly announced social non-fungible token (NFT) platform.
The exchange has teamed up with 0x to power its newly released social non-fungible token (NFT) platform. Due to 0x's capacity to offer cheaper transaction fees than other competing chains, Coinbase has chosen the protocol to power its newly established social NFT marketplace.
We're proud to partner with @Coinbase_NFT to power their new social marketplace for NFTs! ⚡️

By using 0x Protocol, Coinbase provides better ways to discover, buy, sell, and connect around NFTs at the lowest transaction costs for users ⛽️https://t.co/GwZUsh3xzj

— 0x (@0xProject) April 20, 2022
Following the news of the significant cooperation with crypto exchange Coinbase, the price of 0x's token (ZRX) has reached an almost five-month high of $1.18.
According to 0x Labs, their smart contracts have built-in benefits, including 54% lower gas costs, inventor royalties, and free non-custodial listings on any 0x-based NFT markets.
Coinbase NFT was announced in October 2021 and recently went live in a limited beta-access version. It can only be used with self-custody wallets like Coinbase Wallet and MetaMask and wallets that support the WalletConnect protocol.
The exchange hopes to offer optional NFT custody services in the future and the ability to buy NFTs with a Coinbase account or a credit card.
​​0x Deploys NFT Swap Standard on Polygon and Beyond
Following its successful integration on the Ethereum mainnet, 0x revealed that its pioneering NFT swap standard has been adopted on several other networks.
By providing an open-source and trusted standard for developers to build on, 0x Protocol v4 will open up new potential for NFT markets and decentralised apps (dapps) on Polygon, Binance Smart Chain, Fantom, Avalanche, Celo, and other chains.
0x's objective is to create a tokenised society where all values can flow freely. It's the only way to create fully decentralised and interoperable NFT apps and markets. The improved version of the 0x Protocol v4, first unveiled in January will be a big help in realising this aim.
The platform's developers outlined the benefits of integrating creator-focused and gas-saving capabilities. Web3 participants will have a multi-chain experience, which will save them time spent on learning how to utilise different blockchains, building separate wallets, and paying more dollars in traction fees.
ZRX Technical Analysis
At press time, ZRX is trading at $0.44. However, the digital asset has slumped in the previous month by 39.2%. If you are looking to invest in cryptocurrency , this price level provides an excellent opportunity to buy ZRX and ride the market bull wave.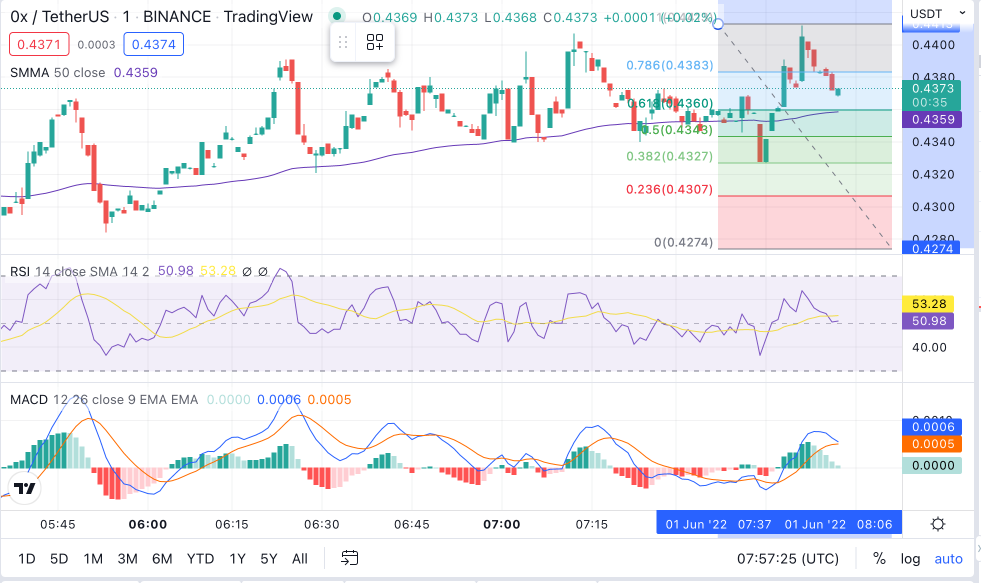 0x is bullish at press time. The digital asset is trading below the 78.6% Fibonacci retracement level of $0.4383. This indicator could pose a resistance level for the crypto asset in the short term. However, a bullish rebound might see ZRX break above the current resistance indicator of $0.4383 before the month's end.
ZRX's Relative Strength Index (RSI) is 50.98. This value indicates that the digital asset is in the underbought zone. Hence, this provides an excellent opportunity for investors planning to buy cryptocurrency to earn profits and rise with the broader crypto market.
Currently, the digital asset is trading above the 50-hour Simple Moving Average (SMA) indicator of $0.4359. This value further indicates that the cryptocurrency is bullish.
The crypto asset's moving average convergence and divergence (MACD) value also exhibits a buy signal.
Buy ZRX at eToro from just $50 Now!