Disney Stock Price Falls 3% – Time to Buy DIS Stock?
Please note that we are not authorised to provide any investment advice. The content on this page is for information purposes only.
Disney (DIS) stock fell 3% yesterday and is now down 4% for the year, underperforming the markets by a wide margin. The stock has lost almost 19% from its 52-week highs and is in a correction zone.
Why has DIS stock been falling and is it time to buy the stock after the recent underperformance?
Disney stock technical analysis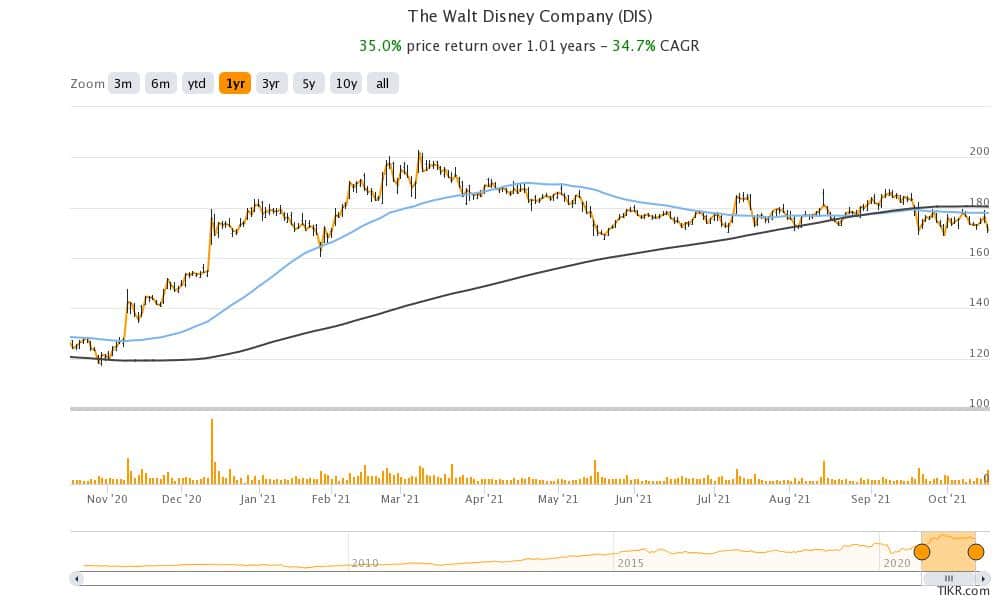 Disney stock is not looking too bullish on the charts. It has been facing strong resistance at the 50-day SMA (simple moving average) and has failed to cross above the price channel despite multiple attempts. It also trades below the 100-day and 200-day SMA, which is another bearish technical signal. The stock also trades below the short-term moving averages like the 10-day, 20-day, and 30-day SMA.
Last month, there was a death cross formation in DIS stock after its 50-day SMA fell below the 200-day SMA. While the death cross is a lagging indicator and is preceded by a downwards price action, traders see it as a sign of affirmation on the stock's bearish technical outlook. The 12,26 MACD (moving average convergence divergence) also gives a sell signal for Disney stock while its 14-day RSI (relative strength index) is a neutral indicator.
67% of all retail investor accounts lose money when trading CFDs with this provider
DIS stock recent developments
Disney stock fell last month after the company pointed to slower streaming subscriber growth in the quarter. DIS CEO Bob Chapek pointed to "headwinds" in the streaming service and said that the net subscriber addition would be in "low single-digit millions" in the quarter. Disney stock tumbled after the update as the forecast was way below what analysts were expecting.
After the fall, Credit Suisse said that it remains bullish on the stock and reaffirmed its buy rating. "Disney lost $14B of market cap on Tuesday, almost entirely when CEO Bob Chapek made his business update commentary. That amounts to ~$5 million for every Disney+Hotstar subscriber we removed from our model, subscribers that are clocking in at $0.45/mo of subscription revenue – we removed $4m of revenue from F4Q21 and $16m of revenue from FY22," said Credit Suisse in its note.
Disney stock long term forecast
Here it is worth noting that while there are short-term issues with Disney's streaming service, the company has maintained its long-term forecast. It expects Disney+ subscriber numbers to be between 230-260 million by the fiscal year 2024. After adding the subscribers for Hulu and ESPN+, it expects to have been 300-350 million subscribers by then. The company was recently rumored to spin off ESPN+ but it has denied the rumors.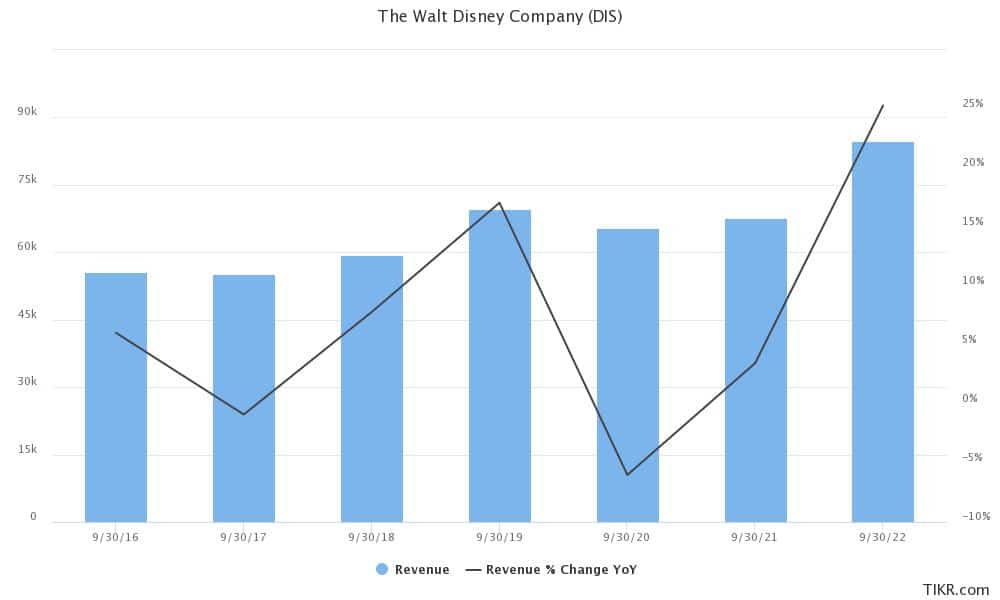 Over the long-term, the streaming business would contribute significantly to Disney's earnings. While the operations are currently posting losses, they are expected to become profitable in the coming years and drive the company's profitability. Analysts expect the company's revenue to rise 3.5% this fiscal year and 25.3% in the next fiscal year.
DIS stock forecast
Wall Street analysts also have a bullish forecast for DIS stock and it has received a buy rating from 23 out of the 29 analysts polled by CNN Business. Six analysts have a hold rating. None of the analysts rate the stock as a sell. Disney has a median target price of $210 which is a 19% premium over current prices. The street high target price of $263 is a premium of 49% over current prices.
Barclays downgraded Disney stock
Meanwhile, yesterday Barclays downgraded DIS stock from overweight to underweight. It was a rare downgrade for Disney stock but Barclays' analyst Kannan Venkateshwar expressed concern over the slowing subscriber growth. He also sounded apprehensive about the long-term projections provided by the company.
According to Venkateshwar "The roll out of Disney+ has been the most successful streaming launch ever, which is remarkable given that the company achieved this with very little new content." To be sure, Disney streaming has been a success story as it raked in over 100 million subscribers in 16 months despite being a late entrant in the industry.
However, Venkateshwar sees growth slowing and said "This year however, Disney+ growth has slowed significantly, despite launching new franchise titles, day and date movie releases and Star+. Part of this slowdown could be a function of growth pull forward into 2020 and promo roll offs, but we believe it could be due to structural factors capping growth."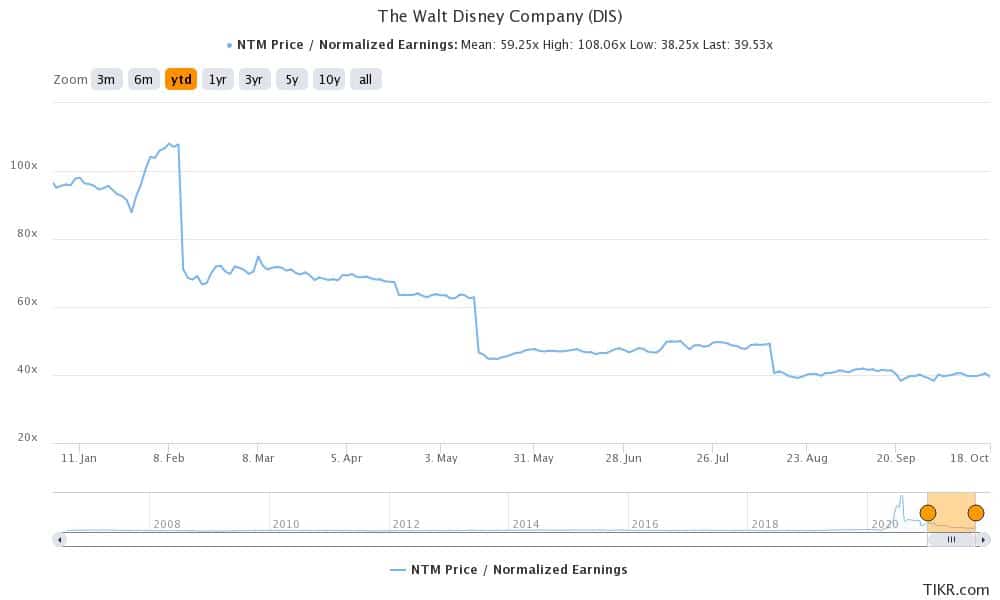 Jim Cramer on DIS stock
Meanwhile, Jim Cramer is not too perturbed by the downgrade. He said that he continues to own Disney stock and called it "a great long-term story." Here it is worth noting that while over the long-term streaming will add value for DIS stockholders, it is also a story on the short-term earnings revival amid the reopening of its Parks.
Should you buy DIS stock?
Disney looks like a good stock to buy and the recent fall has only made it more attractive. The stock trades at an NTM (next-12 months) PE of only about 39x which is much lower than pure-play streaming companies like Netflix. Disney's valuation multiple would come down further as the Parks segment sees a rebound in earnings.
Disney had suspended its dividend last year but might restore it back in the medium term. Overall, DIS is among the best names to play the combination of streaming growth and reopening.
Buy DIS Stock at eToro from just $50 Now!