Exodus Review – Is Exodus Safe? Features and Security Explained
Exodus is a popular cryptocurrency wallet that supports over 150+ coins. Compatible across desktop, mobile, and hardware devices, this wallet offers a simple and secure way to store your digital token investments.
In this Exodus review, we explore key metrics surrounding security, user-friendliness, core features, supported tokens, and more.
Recommended Crypto Wallet – eToro
What is Exodus?
Launched in 2016, Exodus is a digital asset wallet that allows you to store your cryptocurrency tokens in a simple and secure manner. Like most wallets, Exodus also allows you to send and receive funds at the click of a button. Exodus is referred to as a 'multi-currency wallet', insofar that it offers support for over 150+ coins.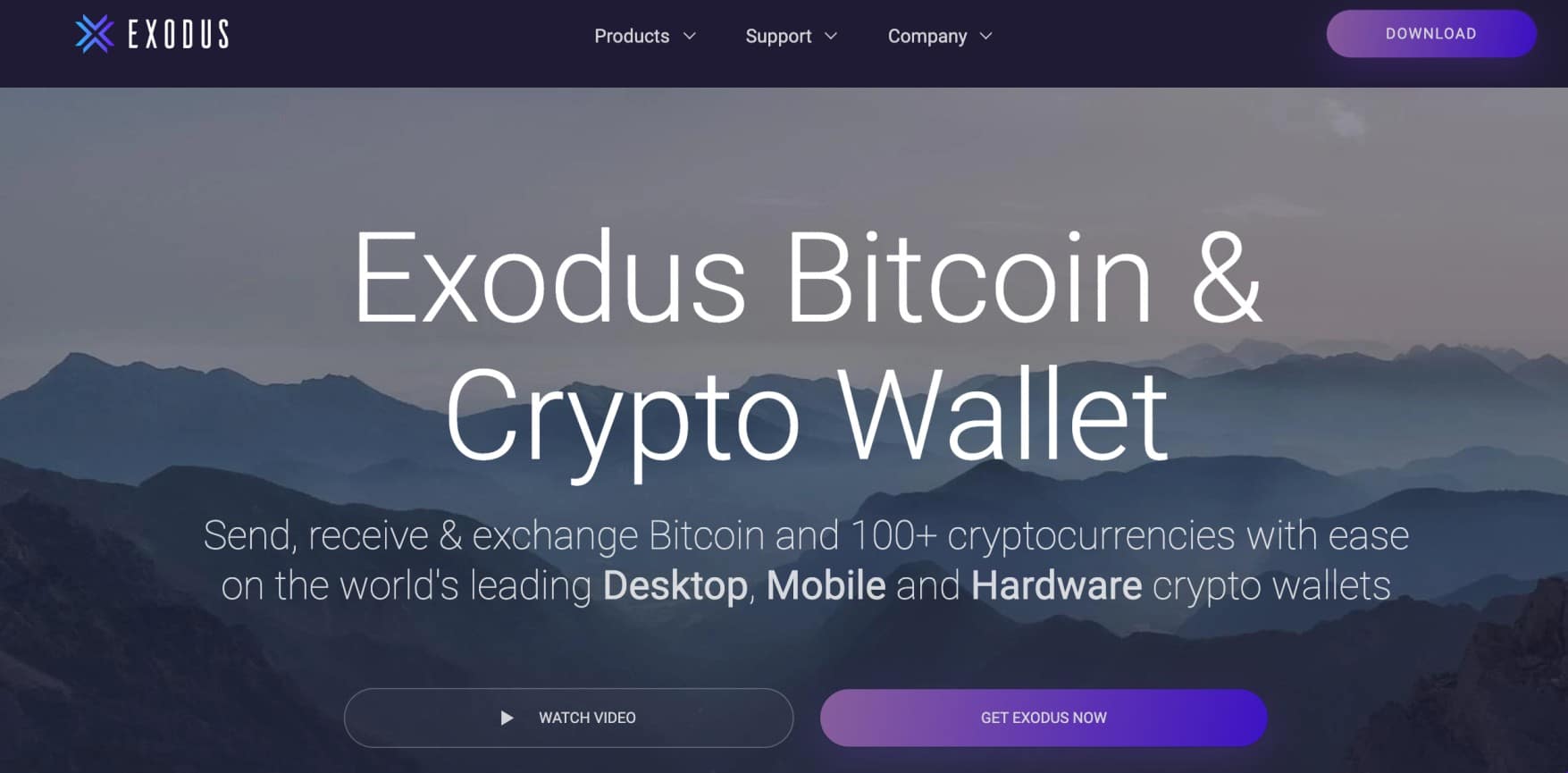 This includes digital currencies of all shapes, sizes, and networks – such as Bitcoin, Tether, Binance Coin, and heaps of ERC-20 tokens. In terms of accessibility, most users elect to operate the Exodus wallet on their mobile device – with both iOS and Android apps supported. With that said, you also have the option of downloading Exodus to your desktop computer.
For added security, Exodus is also compatible with Trezor hardware devices. Ultimately, our Exodus review found that the wallet is especially suitable for those with little to no knowledge of cryptocurrency security. This is because all supported versions of the wallet are very easy on the eye, so you can safely store your crypto investments without needing any prior experience.
Exodus Pros and Cons
If you're looking for a fast-track overview of whether or not this wallet is right for you – check out the pros and cons that our Exodus review concluded.
Pros
Great for beginners
150+ crypto assets supported
Compatible with mobile, desktop, and hardware devices
Token exchange services
Cons
Fees on crypto exchanges are unclear
Wide spreads when swapping tokens
No recourse if you lose your private keys
No support for crypto purchases with fiat
2FA is only available when connecting wallet to Trezor
Cryptoassets are highly volatile unregulated investment products. No EU investor protection. 67% of retail investor accounts lose money when trading CFDs with this provider.
Exodus Supported Coins
In the first segment of our Exodus review, we sought to explore what tokens and networks the wallet supported. In a nutshell, Exodus is a multi-currency wallet, meaning that it is compatible with a wide range of projects. In fact, at the time of writing, Exodus supports over 150+ digital tokens from various networks.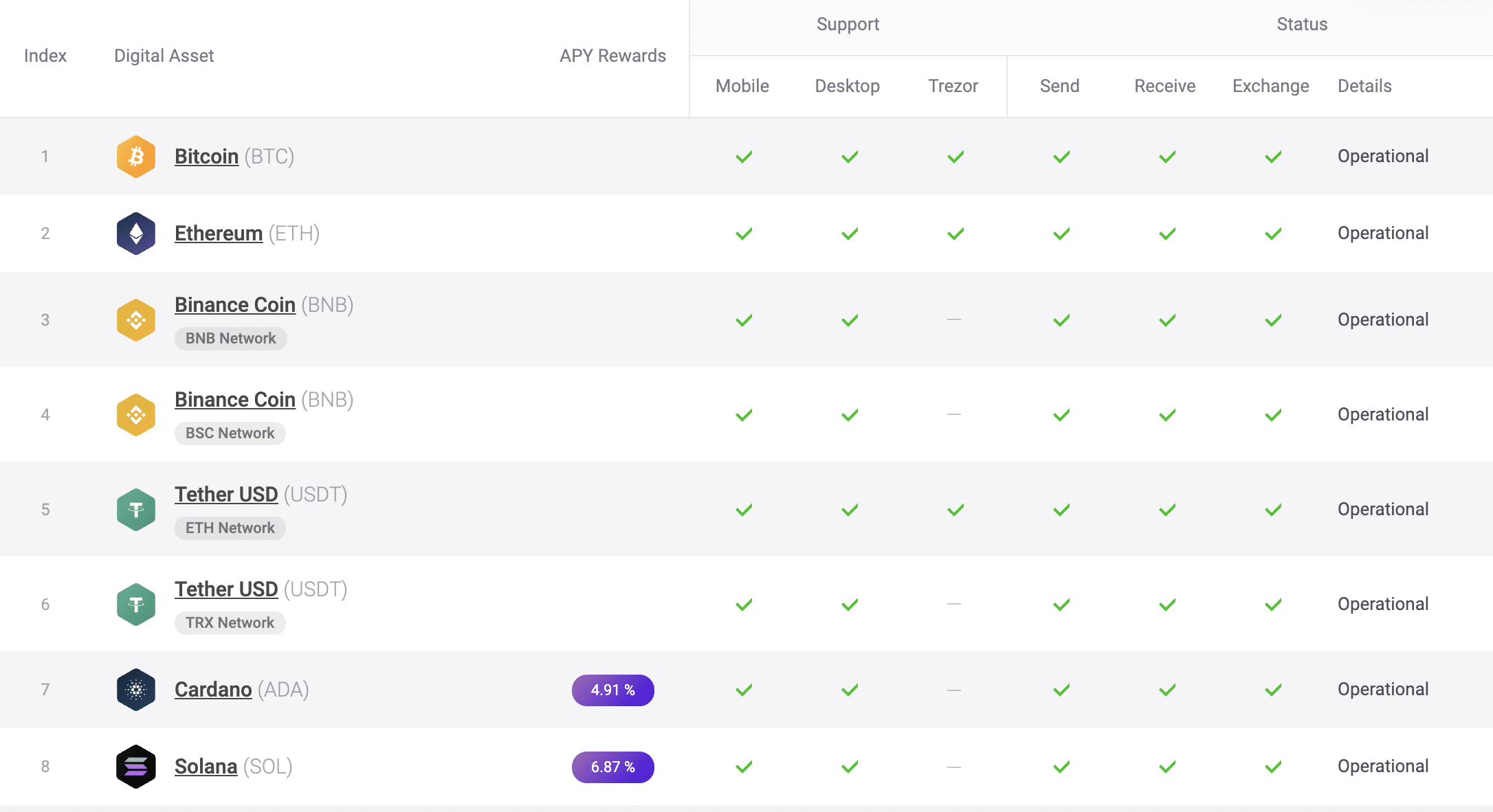 This includes large-cap projects like Bitcoin, Ethereum, Tether, Binance Coin, Cardano, EOS, Shiba Inu, Dogecoin, and Solana. You will also find plenty of support for recently launched DeFi and BSc coins as well as a good selection of ERC-20 tokens. It is important to note that some digital tokens are only supported on certain device types – so be sure to check this before proceeding.
Exodus Device Types
As we briefly noted earlier in this Exodus review, this wallet offers support for three core device types – mobile, desktop, and hardware. Let's break down each device option so that you can choose the best one for your needs.
Exodus Desktop Wallet
If you prefer to keep tabs on your cryptocurrency investments from your desktop computer, Exodus has you covered. This is because the provider offers downloadable software that is compatible with a number of leading operating systems. Not only does this include Windows and Mac, but Linux, too.
The main downside with the Exodus desktop wallet is that you will only be able to send and receive funds when you have access to your device. On the other hand, there is no reason why you cannot utilize both the mobile and desktop versions of Exodus concurrently.
Exodus Mobile Wallet
If you are looking for the perfect blend between convenience and security, it might be worth considering the Exodus mobile app. Put simply, this will allow you to access your cryptocurrency wallet funds while on the move – as it's simply a case of opening the app and entering your password credentials.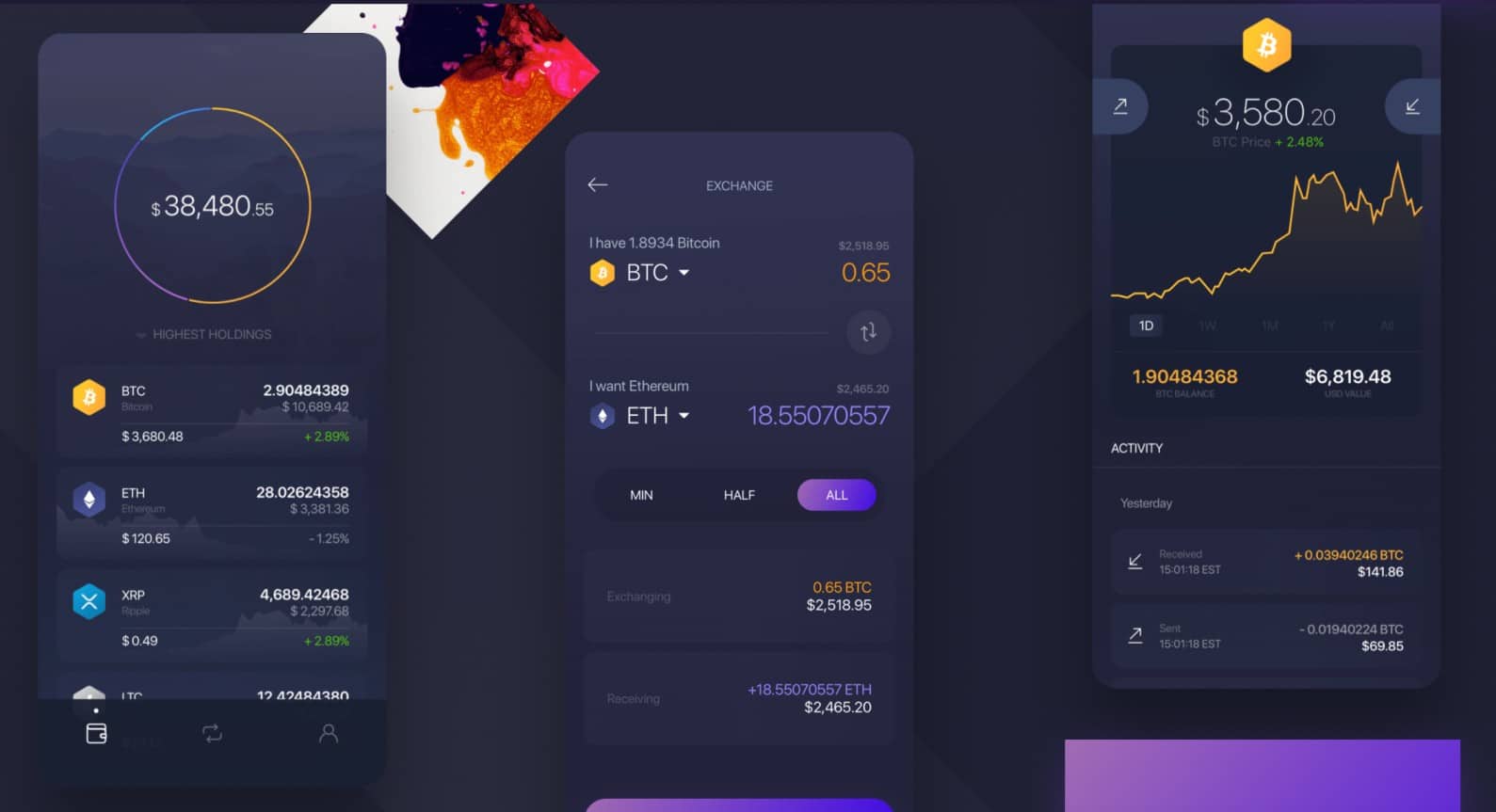 The Exodus app is available to download free of charge from Google Play and the App Store. Once you have set the wallet up on your phone, you will notice straight away just how user-friendly it is. In terms of sending funds to another person, the Exodus app comes with a handy QR scanning feature. This enables you to scan the receiver's unique cryptocurrency wallet address – which alleviates the risk of making an error.
If you're looking for the best crypto apps, look no further. Our list includes some of the most popular and highly-rated apps out there. Whether you're looking to keep track of your investments or just want to learn more about cryptocurrencies, these apps have you covered. So don't wait any longer – check them out today!
Exodus Hardware Wallet
Exodus itself doesn't offer a hardware wallet. The wallet provider does, however, offer direct integration with Trezor.
For those unaware, Trezor is a leading hardware wallet that has been operational since 2014.
If you're holding a significant amount of cryptocurrency funds and seek the most secure way of storing your digital wealth – using a hardware wallet is by far the safest option.
Although you can use the Trezor hardware wallet on its own, using it with Exodus is well worth considering.
This is because Exodus offers a much more user-friendly interface than its Trezor counterpart and more flexibility when it comes to sending and receiving funds. After all, you can access your Exodus wallet funds not only from the hardware device itself but on your mobile phone or desktop computer.
Exodus Core Features
So now that we have covered device types, in this section of our Exodus review we are going to explore what core features the wallet offers.
Exchange Services
One of the main features offered by Exodus is its exchange services. In a nutshell, this allows you to swap one digital token with another without needing to leave the wallet interface. This subsequently removes the need to transfer tokens to a centralized exchange to make the swap. The process of exchanging crypto tokens within the Exodus wallet is actually fairly straightforward.
First, upon clicking on the 'Exchange' button, you will need to select the cryptocurrency that you currently hold and wish to swap for another token.
Underneath the 'Receive' tax, you then need to select the token that you wish to obtain.
For instance, if you want to swap Bitcoin for Ethereum, it's just a case of selecting the respective tokens from the drop-down box.
You will, of course, also need to enter the number of tokens that you want to exchange.
In doing so, you will then be told how much of the receiving token you will get.
Although the exchange process is simple, a major drawback here is the fees involved. In fact, this issue is two-fold.  Firstly, our Exodus wallet review found that you are not informed what the specific exchange fee is in percentage terms. Instead, you need to figure this out for yourself by performing a calculation against the current spot price.
Second, when we tested the exchange fees out for ourselves across multiple different coins, we found the rate to be expensive. In many cases, this averaged a spread of between 3-5%. If you're actively involved in the cryptocurrency trading arena, then you will know that this does not represent good value.
Automatic Address Checker
It goes without saying that sending digital tokens to an incorrect wallet address can be fatal. After all, even the slightest of mistakes can result in the funds being sent to the wrong wallet, meaning that the funds will remain lost forever. With this in mind, Exodus has installed a core tool that automatically checks wallet addresses for errors.
For example, let's suppose that you are looking to transfer Bitcoin from Exodus to another wallet that you own.
By mistake, you paste in the wallet address for Bitcoin Cash as opposed to Bitcoin.
However, once you paste the address in, Exodus will know that this is incorrect, as it does not correspond to an active Bitcoin wallet location.
As a result, you will be notified of this and thus – unable to send the funds to the wrong address.
Our Exodus review found that this safeguard is offered across all of the digital currencies that the wallet supports.
Knowledge Base
Exodus offers a significant amount of educational tools that ensure you get the most out of the wallet. Not only does this include a comprehensive FAQ section, but a full range of how-to videos. You will also find a dedicated blog section, which offers up-to-date articles on a variety of industry developments.
Fiat Currency Pricing
The vast majority of cryptocurrency wallets allow you to view the current value of your holdings in US dollars. After all, USD is the benchmark currency of the digital asset industry. With that said, our Exodus review found that you can choose from a wide number of options for your wallet's default fiat currency. This includes everything from British pounds and Canadian dollars to Swiss francs and the euro.
Exodus Fees
When you send digital tokens from Exodus to another wallet, this will result in a network fee. This is derived from the respective network of the digital token you are sending and thus – will vary based on market conditions. In other words, Exodus has no control over the network fee that you are required to pay.
The good news is that you can view the applicable network fee for the coin being transferred and the size of the transaction before you proceed.
Furthermore, and perhaps most importantly, our Exodus review found that the wallet provider does not charge a mark-up when you send funds.
On the contrary, the network fee that you pay goes directly to the blockchain.
If you're wondering how Exodus makes its money, this largely comes from its exchange services, which we discussed earlier. We noted that a specific fee isn't displayed when you make an exchange, so you need to calculate the mark up yourself. As per our research, we found that you will pay between 2-5% to swap digital currencies within Exodus – which is huge.
This expensive fee policy is in stark contrast to what is offered by the likes of eToro – which is a popular wallet backed by a regulated brokerage. Put simply, when you perform a crypto-to-crypto conversion from within the eToro wallet, you will pay a fee of just 0.1% (minimum $20).
Is Exodus Safe?
Although features, supported coins, and fees are crucial metrics to consider when choosing the best wallet for your needs, nothing is quite as important as the security of your digital funds. As such, our Exodus review team sought to explore whether or not this wallet is safe.
Password and Backup Phrase
First and foremost, when you first set up your Exodus wallet, you will be asked to set up a password. You will need to enter this password every time you wish to access your Exodus wallet – irrespective of the device being used. As a result, make sure that your password is both secure and memorable.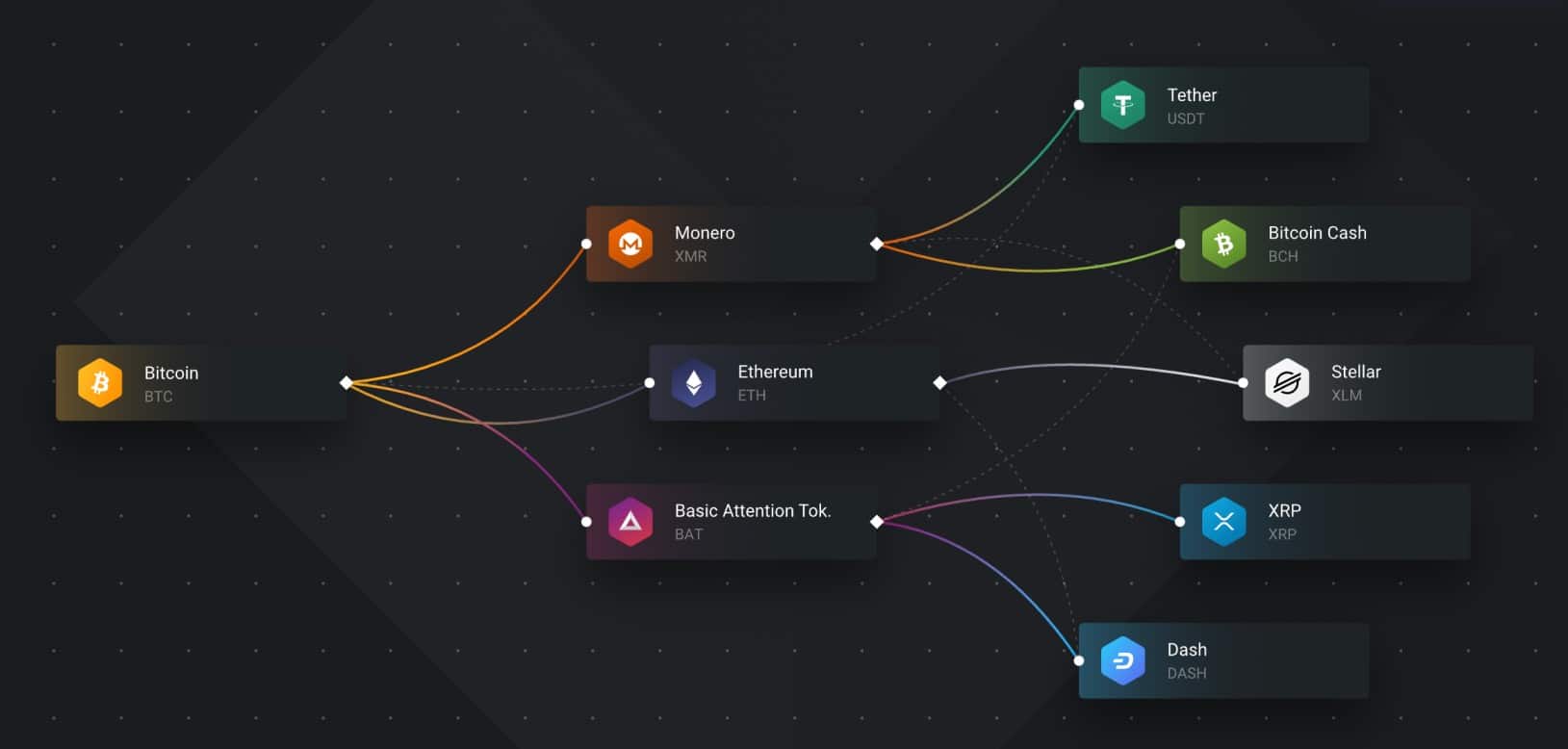 Additionally, you will also be presented with a 12-word passphrase. This essentially represents your Exodus private keys in user-friendly form, so it's crucial that you write the passphrase down onto a piece of paper and store it somewhere safe. If you ever forget your password or lose the device that the Exodus wallet is stored on, your 12-word passphrase will ensure that you regain access to your cryptocurrency funds.
Encrypted Private Keys
Exodus is a non-custodial wallet. Put simply, this means that Exodus – and no other entity for that matter, has access to your private keys. On the contrary, when you set the wallet up, the private keys are stored locally on your device. This does, of course, come with its pros and cons.
On the one hand, by using Exodus, you will have 100% control over your digital assets.
This means that nobody can gain access to your wallet unless they know the make-up of your private keys.
On the other hand, if you were to misplace your private keys or your wallet is hacked remotely, Exodus will not be able to help.
If you are a complete newbie in the cryptocurrency space, you might be better suited for a custodian wallet that is offered by a credible and reputable provider. eToro, for instance, is regulated by the SEC, ASIC, and the FCA. This wallet provider ensures that if you were to lose your private keys, the eToro team should be able to help.
Wallet Lock
Our Exodus review also found that the wallet offers a locking tool. This enables you to lock your wallet for a certain period of time, during which you won't be able to send or receive funds. You can choose to do this from just 5-minutes up to 2 hours.
Regulation
As a stand-alone wallet provider, Exodus is not a regulated entity. This means that you will have no recourse should the worst happen and your Exodus wallet is hacked.
Exodus Customer Support
Perhaps the most notable stand-out feature of Exodus – in comparison to most of its market counterparts, is that the wallet offers a top-rated customer support team.
This consists of a 24-hour live chat facility, meaning that you can speak with a support agent in real-time. Additionally, our Exodus review found that support is also available via email and social media.
eToro vs Exodus – Comparison
Our research team has reviewed dozens of leading cryptocurrency wallets in this marketplace. We found that although Exodus offers a reasonably secure service with several interesting tools and features, better options can be found elsewhere. To help you make an informed decision, the section below offers a comparison between Exodus and eToro.
Safety and Regulation
First and foremost, eToro offers a much safer way to secure your crypto assets. Sure, Exodus offers a password and passphrase safety net, as well as a lock feature. However, Exodus isn't regulated in any way, shape, or form. This is in stark contrast to eToro, which is authorized and regulated by a number of reputable bodies.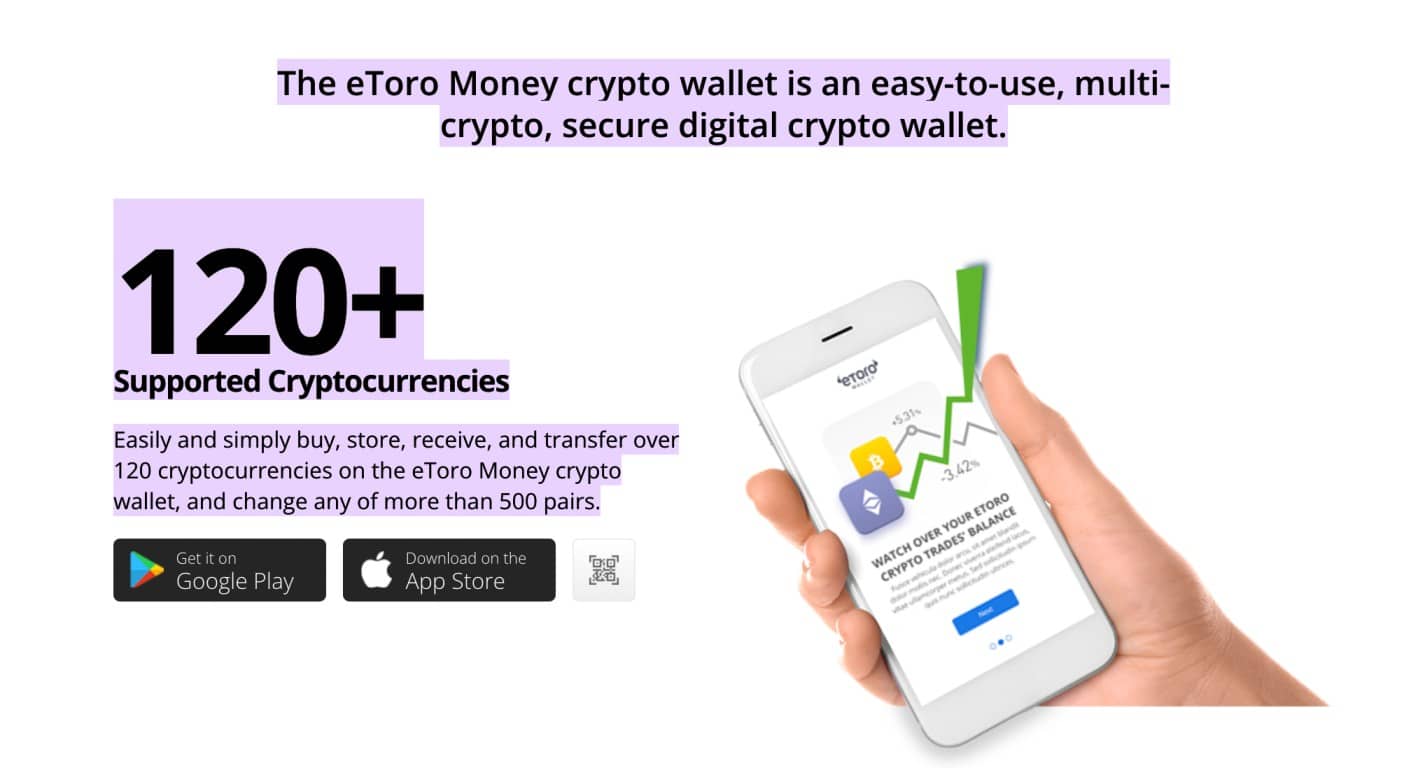 For instance, the wallet is a regulated DLT provider licensed by the Gibraltar Financial Services Commission. Furthermore, the eToro brokerage platform, which backs the wallet, is regulated by the SEC, FCA, ASIC, and CySEC.
Additionally, Exodus is a non-custodial wallet, which means that you will have nowhere to turn if you misplace your private keys or your device is hacked remotely. eToro, on the other hand, is far more suited for beginners, as the wallet provider offers an Unlosable Private Key tool. This enables you to recover your wallet funds in the event you are unable to gain access.
Exchange Services
As noted earlier in our Exodus review, the provider allows you to exchange one cryptocurrency for another from within the wallet interface. This does, however, come with an extortionate spread that averages 2-5%.
When using the eToro wallet, you will be able to swap 120+ cryptocurrencies at a conversion fee of just 0.1%. This makes eToro is a far better option if you find yourself swapping digital tokens on a regular basis.
Looking for the best Bitcoin trading platforms? Look no further! We've got you covered with our list of the top platforms. Featuring robust security measures, low fees, and a variety of features, these platforms are perfect for any trader. So what are you waiting for? Start exploring today!
Buy Crypto
Exodus does not allow you to buy and sell crypto from within its wallet interface. This is a major drawback, meaning that Exodus users will instead need to buy digital tokens from a centralized exchange and then transfer them back to their wallet.

Once again, eToro stands out in this respect, as the provider allows you to buy cryptocurrency directly from within the app at industry-leading fees. In fact, eToro operates a spread-only pricing structure which starts from just 0.75%.
Payments
As a regulated brokerage firm, eToro has the legal remit to support major fiat currencies. In turn, this means that you can add funds to your account with a number of convenient payment methods. This includes everything from debit and credit cards to e-wallets and bank transfers. Exodus is unable to offer fiat services, not least because the wallet provider operates as an unregulated entity.
Exodus Review – Conclusion
In summary, our Exodus review found that the wallet is relatively good when it comes to security and user-friendliness. Plus, the wallet is compatible with over 150+ supported tokens – which is ideal if you have a diverse portfolio of crypto assets.
However, Exodus is expensive when it comes to exchanging tokens from within the wallet. Most importantly, Exodus is an unregulated entity and you will have nowhere to turn if your wallet is hacked or you lose your private keys.
With this in mind, we much prefer a regulated alternative in the shape of eToro. This popular cryptocurrency wallet supports over 120+ digital tokens, all of which can be exchanged at a conversion fee of just 0.10%. Plus, eToro allows you to buy crypto with fiat money on a spread-only basis.
eToro – Best Crypto Wallet for Safety and Features
FAQ
Has Exodus wallet ever been hacked?
What fees does Exodus charge?
What coins does Exodus support?