Voyager Token Price Prediction – Voyager Token Forecast 2021, 2022, 2025 & 2030
If you are based in the US, you may have heard of (or had experience with) the Voyager app. Voyager offers a great way to trade cryptocurrencies through your smartphone – with the Voyager Token also providing many excellent benefits for holders.
In this article, we'll cover our Voyager Price Prediction in detail. We'll explore what the Voyager Token is and how it works before showing you where you can invest in cryptocurrencies today – completely commission-free!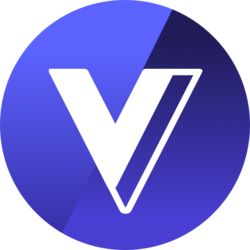 Voyager Token (VGX)
Price
Voyager Token Price Prediction 2021 to 2022
If you've read any of our other cryptocurrency price predictions, you'll know that we cover all of the bases when it comes to investing – and this Voyager Token stock forecast is no different. However, if you're simply looking for a quick rundown of our Voyager Token prediction 2021, then look no further! The points below showcase our findings and projections for the months ahead.
One Month – The current Voyager Token price (VGX) has gradually decreased since the middle of August. We believe that VGX may head lower in the short term, declining to the $2.20 level.
Three Months – This area represents a support level where price has been rejected twice in the past month. If we see another strong rejection, it could provide the impetus for the VGX price to head towards the $3.40 level over the next three months.
Start of 2022 – The $3.40 area is where the price was rejected from aggressively in September, so we may see some consolidation around here. If the price can break this level, we'll likely see a push towards $3.80 by the beginning of 2022.
67% of retail investor accounts lose money when trading CFDs with this provider.
Voyager Token Price History – the Story of 2021 So Far
Before we dive into our Voyager Token forecast, it's essential to understand what this altcoin is and how it works. Understanding the asset is crucial to investing in cryptocurrency and can help separate worthwhile investments from poor investments. With that in mind, let's take a look at Voyager Token and its price history.
The first thing to note is that Voyager Token is the native cryptocurrency of Voyager, which is a mobile-based platform that allows users to trade the crypto market commission-free. Like many crypto exchanges, Voyager will enable users to seamlessly exchange one cryptocurrency for another, allowing users to speculate on price increases. Through this process, users can gain exposure to the growing sectors of DeFi projects and NFTs.
As VGX is the native cryptocurrency of the Voyager app, it has certain valuable benefits for holders. The main advantage is that it enables staking, which is when users hold their tokens on the platform to aid in specific processes. Through staking, VGX holders can earn quite substantial returns – up to 7%, according to the Voyager website!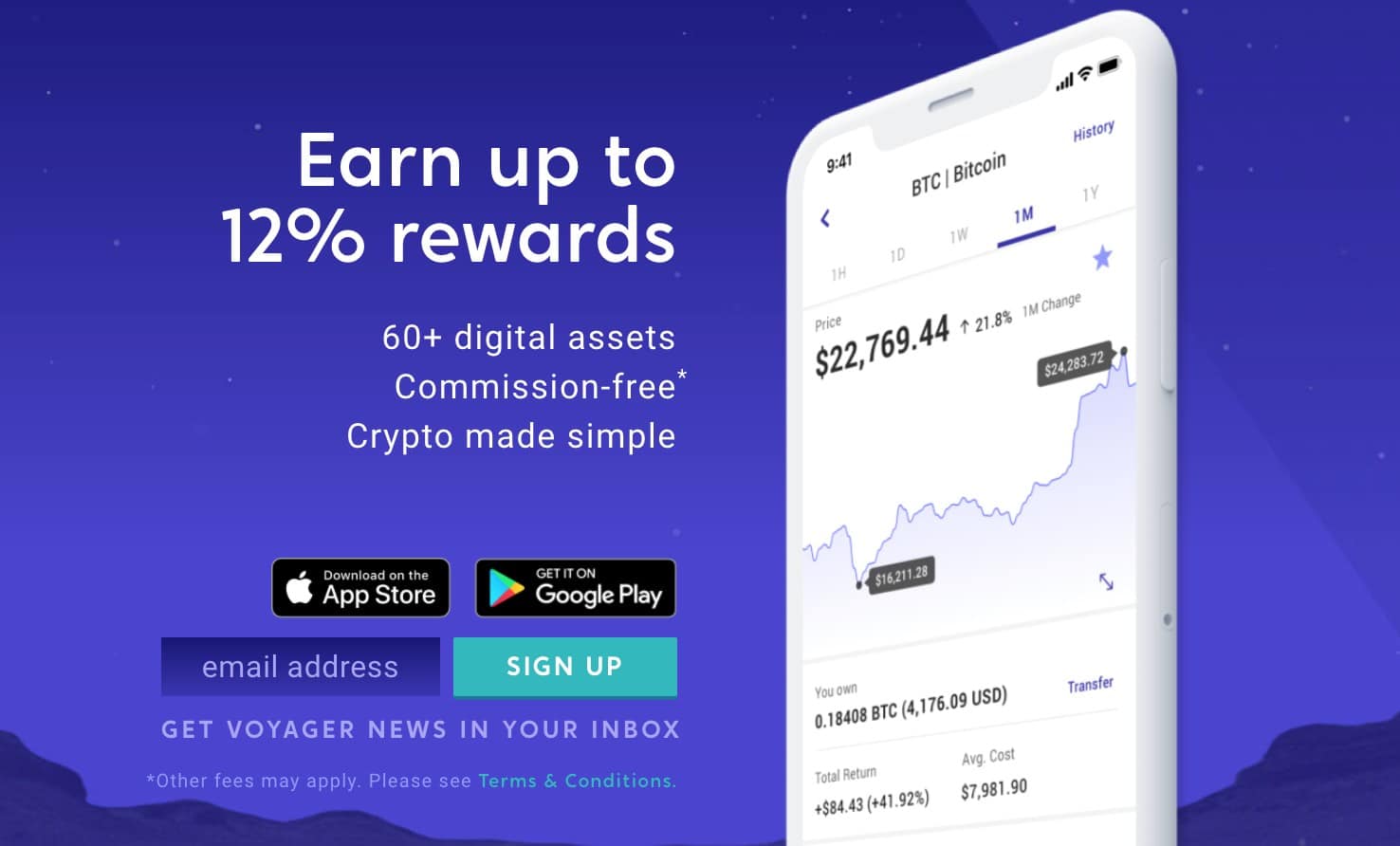 These rewards are deposited into your account every month, providing a much better return than you'd get in a bank account. In addition, the more VGX that you hold on the app, the higher you will rank on Voyager's loyalty program. Higher ranks receive more significant annual bonuses, larger rewards when referring a friend, and higher 'crypto back' rewards.
Overall, by holding this crypto asset, you'll be able to gain exposure to Voyager's performance whilst also generating a return in the process. This '2 in 1' benefit is great if you believe the future price of VGX will be much higher than it is currently, as you'll be able to create a passive return whilst waiting on any price increases.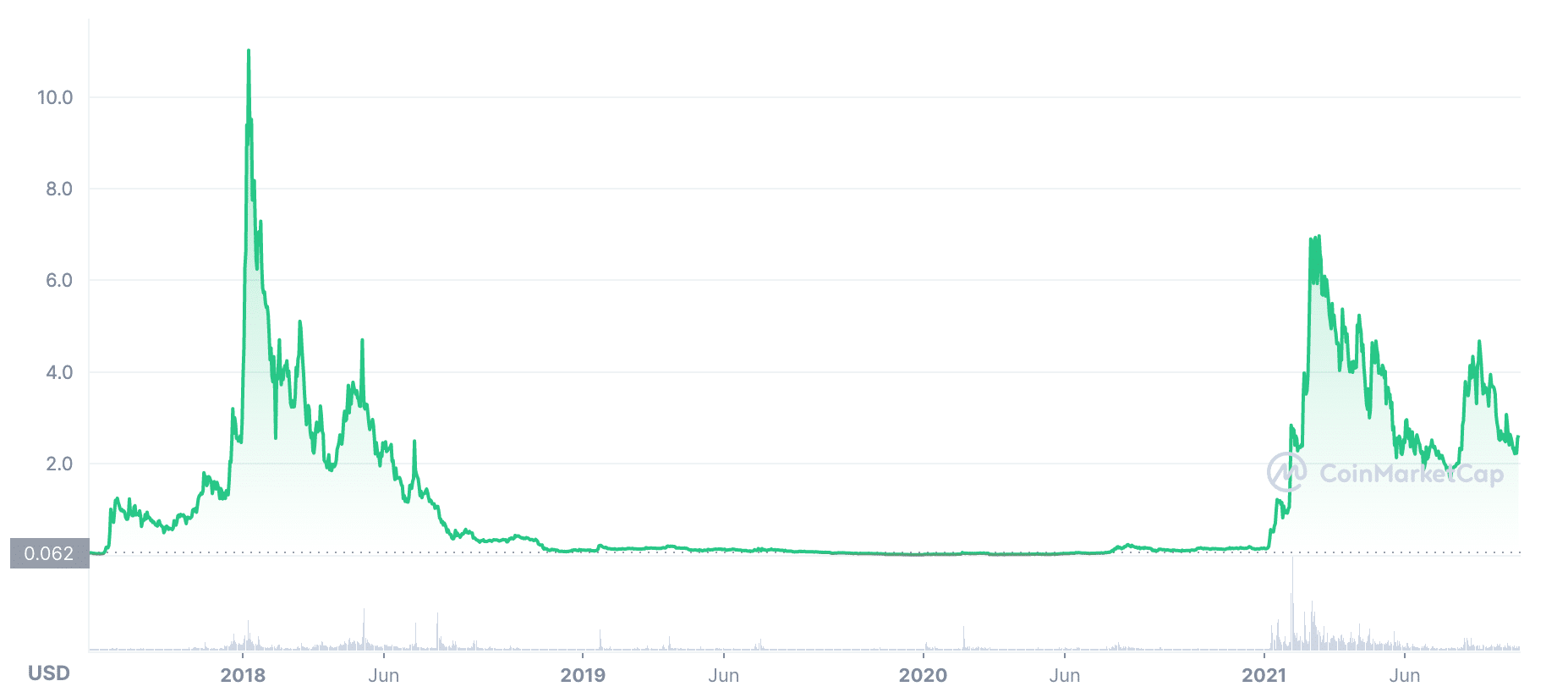 The price chart shows that the VGX token spiked to an all-time high of $10 in January 2018. Unfortunately for VGX investors, these heights were short-lived, and the VGX price was trading at a fraction of a cent by January 2019. There was another significant spike in February 2021 as VGX rose to $6.87 – but again, this was only temporary, and the price crashed back down.
At the time of writing, the Voyager Token price live is trading around 73% lower than all-time highs. There has been a noticeable uptick in momentum and trading volume over the last month, with more people entering the market looking to buy VGX. Only time will tell where the price may head, but the fact that Voyager Token is receiving more publicity can only be seen as a good thing.
Voyager Token Price Forecast
Optimal cryptocurrency investing follows a similar methodology to when you buy stocks, in the sense that you should have an idea of where the price may head in the future. To do this, you need to consider the various factors that may shape the asset's price. With that in mind, this section of our Voyager Token prediction looks at the technical and fundamental elements that may affect the price.
Technical Analysis
Price analysis is a good way of projecting a coin's movements, as the price chart can provide clear signs about the market's sentiment. In the case of VGX, the chart is dominated by the two huge spikes that occurred in January 2018 and February 2021. These spikes highlight how volatile this token is – but also the returns potential it has.
The VGX price is trending downwards at present, although momentum is beginning to slow slightly. Price is approaching the $2 level, which represents a robust psychological barrier to break. We'd imagine that this level will hold, and the price may rebound, providing the impetus for an upward move. If this occurs, our Voyager Token prediction estimates that price may head back to the $4.60 level over the medium term, representing the highs of August 2021.
Fundamental Analysis
According to data gathered from CoinMarketCap, VGX currently has a market cap of $748 million. This is derived from a circulating supply of over 278 million VGX tokens. Notably, the trading volume over the last day is $5.67 million, up 15% from the previous day.

67% of retail investor accounts lose money when trading CFDs with this provider.
These figures combine to make VGX the 107th largest cryptocurrency in the world right now. For VGX to break into the top 100, the developers need to add different use cases for this token. Right now, only Voyager users can benefit from it – and with the amount of competition in the trading space, it's unlikely that Voyager will ever have enough market share to dominate.
If Voyager can add some additional use cases for the token, following the lead set by dominant cryptos such as Bitcoin (BTC) and Ethereum (ETH), it'll help the token become more appealing to the broader market. Potential options include using VGX as a payment method or implementing VGX into DeFi protocols.
Voyager Token Price Prediction 2025 – Long Term Outlook
If you are experienced at investing in cryptocurrency UK, you'll understand the importance of making long-term projections about your chosen asset – and VGX is no different. Looking at the historical data, you can see that VGX does have the capacity to reach a high valuation – yet it seems to struggle to maintain these heights.
Notably, Voyager is expanding rapidly, with over $3 billion of assets under management during June 2021. Furthermore, Voyager is looking into different geographical areas to expand into, including Canada. If the app can become more commonplace in these areas, it'll increase the usage of the VGX token – thereby increasing its price.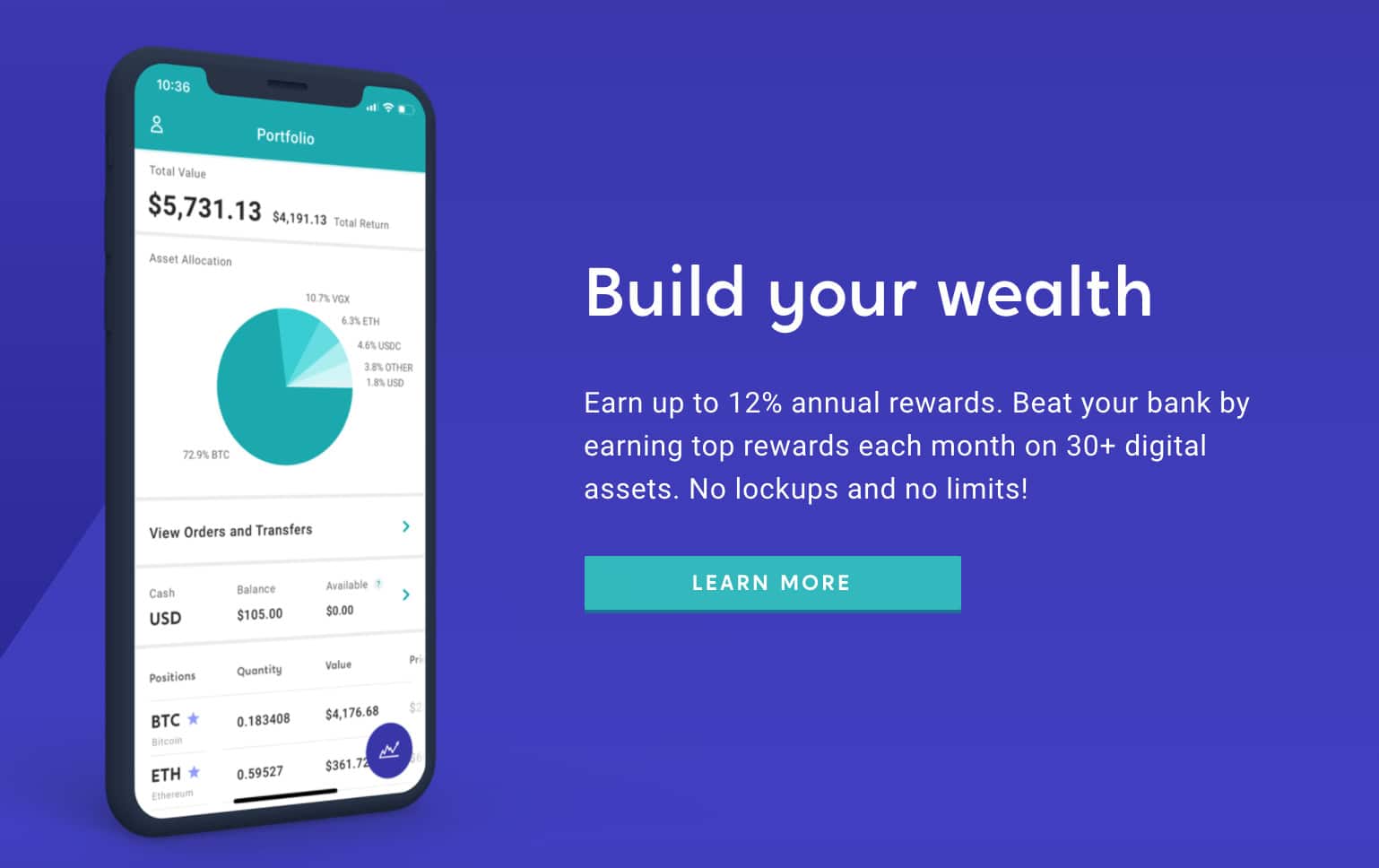 Finally, Bloomberg recently reported that Voyager is expanding into the payments services sector through the company's acquisition of Coinify APS, which is used in 150 different countries. If Voyager can implement their native digital asset into this new system, it'll add a much-needed use case, making the token more appealing to retail investors.
With all of that in mind, our Voyager Token price prediction 2025 is encouraging. We believe that, as crypto's popularity continues to rise, so too will the usage of the Voyager platform. Any popularity increase will naturally help the price of VGX to grow, meaning we could see the token valued at $6 by 2025.

Looking even further ahead, our Voyager Token price prediction 2030 estimates that the coin could return to $10, which is the all-time high experienced in 2018. That price point is a significant milestone for VGX, and any bullish momentum will naturally have this point in mind. If Voyager can improve on VGX's usage for non-Voyager users, we may see this valuation met by 2030.
Voyager Token Price Chart
As this Voyager Token forecast has highlighted, although this coin is relatively small, we can still foresee some large price increases on the horizon. VGX doesn't have a solid community backing like Dogecoin, which makes it hard for the token to generate any positive hype. We'd like to see the Voyager marketing team improve in this realm, which will undoubtedly help the price in the future.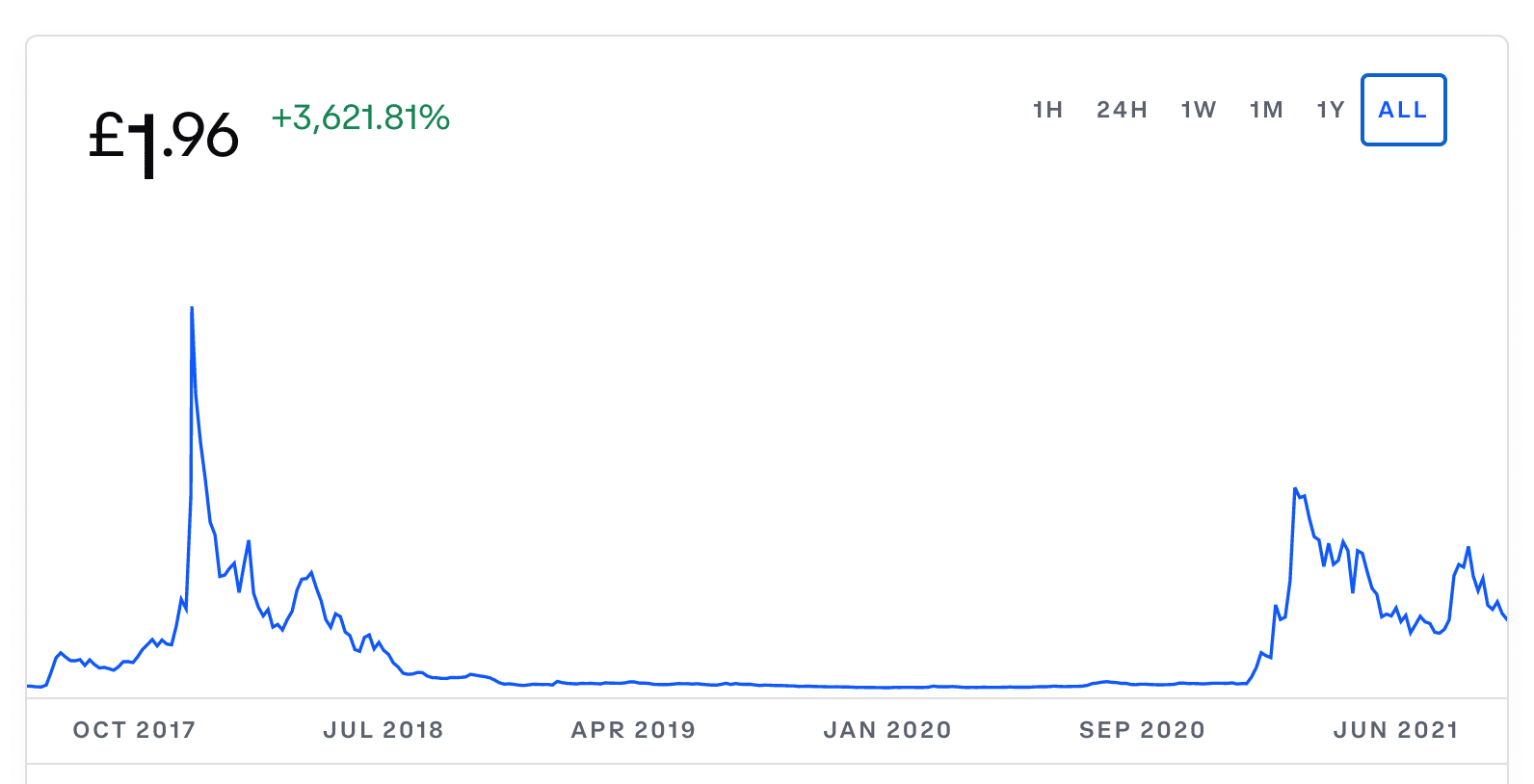 67% of retail investor accounts lose money when trading CFDs with this provider.
Furthermore, if decentralised exchanges such as Uniswap become more popular, it will be easier to trade VGX. Right now, VGX isn't listed on many of the best investment platforms UK, making it hard for investors to speculate on price movements. If more and more places begin offering VGX as a tradeable asset, it'll help to increase liquidity and make it easier for people to buy the token. Undoubtedly, this will have a positive effect on the token's price in the long run.
Where to Invest in Voyager Token
The final section of this Voyager Token prediction will be dedicated to the process of purchasing VGX. At present, many of the best trading platforms do not offer VGX as a tradeable asset. Thus, if you wanted to invest in VGX, you'd have to purchase it through the Voyager app (if you are US-based) or through a decentralised crypto exchange, such as Uniswap.
However, if you're looking to buy cryptocurrency more generally, then the platform we'd recommend is eToro. eToro is regulated by the FCA, ASIC, and CySEC, three of the most reputable entities in the industry. Although eToro doesn't currently offer VGX, there's certainly scope for them to add it if the token grows in stature.
One of the main reasons we recommend eToro is because they are a commission-free broker. This means that when you place a trade, you don't have to pay any of the hefty transaction costs that some other brokers charge. What's more, eToro's fees are included in the spread, which tends to be pretty tight during peak trading hours.
eToro's minimum deposit is only $50, making them one of the most accessible CFD brokers for beginner traders. Users can fund their accounts via credit/debit card, bank transfer, and a selection of popular e-wallets. eToro even offers a handy demo account, which is free to use.
Finally, eToro offers a wide range of alternative assets to invest in if you are so inclined. Users can buy CFDs on stocks, bonds, currencies, commodities, and ETFs, making building a solid, diversified portfolio easy. For this reason and the reasons listed above, eToro is comfortably our recommended broker for investing this year.
Voyager Token Price Prediction – Conclusion
To summarise, this Voyager Token prediction has discussed VGX and the token's future outlook, paying specific attention to the technical and fundamental factors affecting the price. VGX looks to be a great addition to the cryptocurrency ecosystem and one that will enable users to generate yields that are larger than banks offer. If the Voyager developers can add one or two more compelling use cases, then we may see some significant value increases for VGX going forward.
So, if you'd like to begin trading the crypto market today, then we'd recommend using eToro. eToro is one of the world's largest brokers, boasting 20 million users across the globe. In addition, eToro charges no commissions when you place a trade, with investments allowed from as little as $50!


67% of retail investor accounts lose money when trading CFDs with this provider.
FAQs
What is the price of Voyager Token right now?
What drives the price of Voyager Token?
Where can I buy Voyager Token?
Why is Voyager Token going down?
What will Voyager Token be worth by 2022?
What will Voyager Token be worth in 2025?